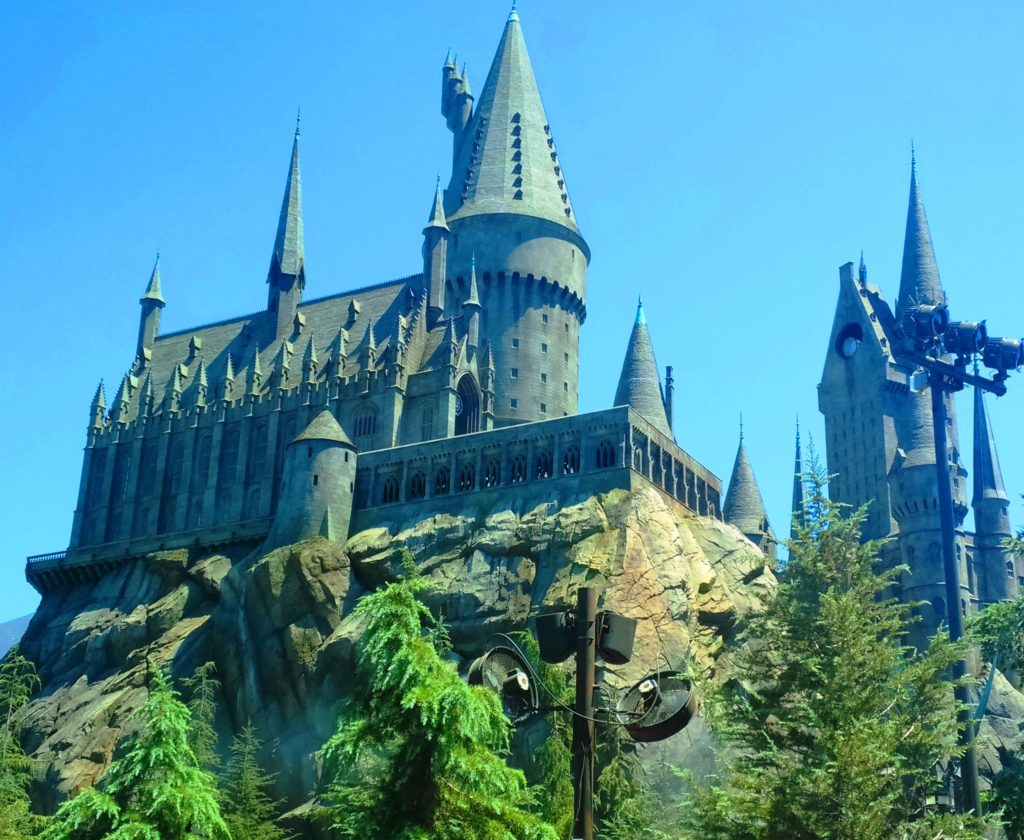 This post contains affiliate links and our team will be compensated if you make a purchase after clicking on the links.

Every magical kingdom needs a good castle, and with the addition of "The Wizarding World of Harry Potter" attraction, Universal Studios Hollywood now has one of the best I've seen this side of Transylvania or even Hogwarts.
Opened in April of this year, the attraction is inspired by J.K. Rowling's  world-famous stories and characters that were brought to life in eight Warner Bros. films. "The Wizarding World of Harry Potter" has been masterfully recreated with impeccable detail as a real-world interpretation at Universal Studios Hollywood. The land, which took five years to create, is faithful to the visual landscape found in the movies and books, including Hogwarts castle which serves as the main focal point.
The highlight of the scary fairytale land is the ride "Harry Potter and the Forbidden Journey." A pioneering achievement in theme park ride technology, the virtual reality coaster is designed in hyper-realistic 3D-HD to fully immerse guests inside the young, bespectacled wizard's world. The multidimensional thrill ride features groundbreaking robotics, fused with elaborate filmed action sequences and immersive visceral effects.
In this updated adaptation of the ride, guests sport Quidditch-inspired 3D goggles as they venture through journeys experienced by Harry and his friends, spiraling and pivoting 360-degrees along an elevated ride track. To get to the ride itself, guests wait in a line that meanders through Hogwarts Castle. While waiting their turn, visitors can admire talking portraits and newspapers, medieval architecture and all things Harry Potter.
"I am delighted to see 'The Wizarding World of Harry Potter' brought to life in a way that is so close to what I imagined when writing the books," says J.K. Rowling. "I'm thrilled that Harry Potter fans can now experience the wonderful immersive experience created at Universal Studios Hollywood."
I experienced the new attraction this week and was blown away by the special effects of the "Harry Potter and the Forbidden Journey" and by the stunning design of the entire enchanting village. From snow-capped roofs and cobblestone streets to an historic British feel, the land is charming, whimsical and is right out of the movies.
To get to "The Wizarding World of Harry Potter" I just looked for the giant castle peaks rising above the park and followed them to a large archway, where two gargoyle statures of hogs with wings are standing guard. Upon entering the land of Hogsmeade, I found everything one would expect in a quaint little village. There was merchants hard at work, a train conductor welcoming new arrivals and lots of authentic food and beverages to sample at multiple locations.
Tasty highlights of "The Wizarding World of Harry Potter" the eateries Three Broomsticks, Hog's Head pub, and Butterbeer carts, all of which are serving up delicious and fun fare. Prepared by Universal Studios Hollywood's executive chef and culinary team, the eclectic British menu includes Bangers & Mash; Shepherd's Pie; Beef Sunday Roast (prime rib of beef with Yorkshire pudding and gravy), Beef, Lamb & Guinness Stew; and Fish & Chips. Rounding the menu are decadent treats such as Butterbeer potted cream and sticky toffee pudding.
Also within "The Wizarding World of Harry Potter," is the fun, family coaster, "Flight of the Hippogriff."
Other rides and attractions at Universal Studios include renowned, behind-the-scenes Studio Tour featuring the intense "King Kong 360 3-D" attraction and the "Fast & Furious—Supercharged" thrill ride; the 3D-HD adventure "Transformers:  The Ride-3D," "Revenge of the Mummy—The Ride," "Jurassic Park —The Ride," and "The Simpsons Ride."
Universal Studios is located at 100 Universal City Plaza, Universal City, CA 91608. The Studio Tour is included with all theme park admission. For more information on current pricing, specials and hours, visit: www.universalstudioshollywood.com