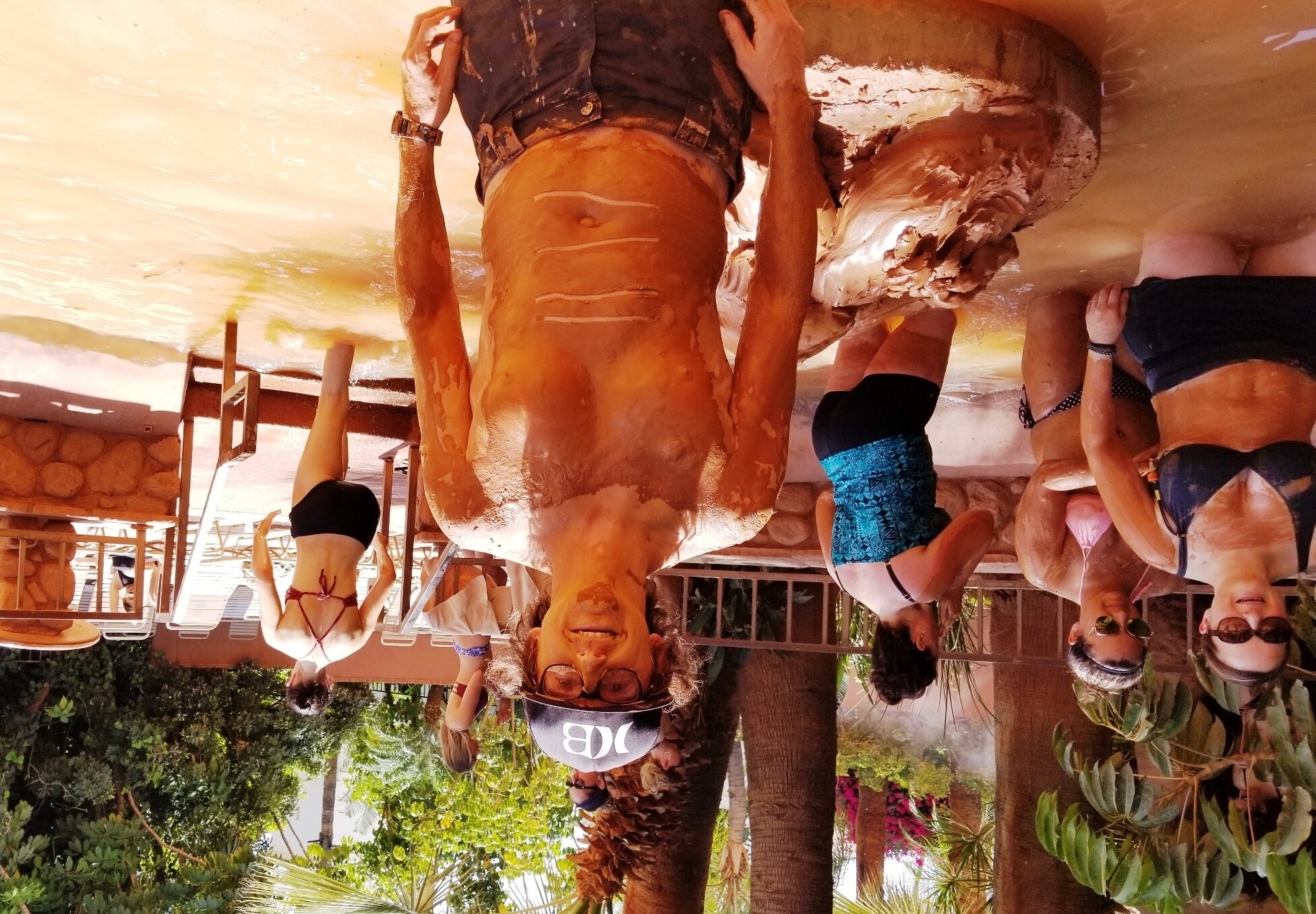 This post contains affiliate links and our team will be compensated if you make a purchase after clicking on the links.

Life can get hectic with work, school, traffic or kids. When this happens one must remember the importance of keeping the mind, body and soul in good form. To help keep my Zen in the right place, I love to visit Glen Ivy Hot Springs, a soothing sanctuary located in the majestic rolling hills of Corona, about 50 miles southeast of Pasadena.
The luxurious spa features natural spring mineral baths, a large therapeutic mud pit, 19 pools, Jacuzzi's, saunas, fitness classes, and a host of traditional and exotic massages and body treatments. There is also a gourmet restaurant, quick stop café, gift shop and acres of lush gardens that inspire relaxation and inner peace.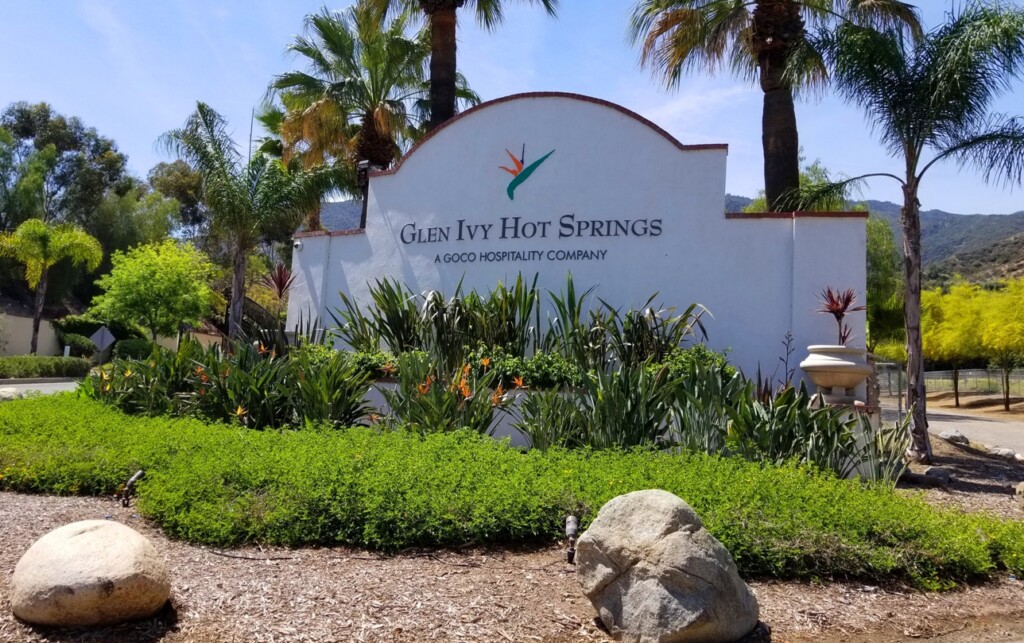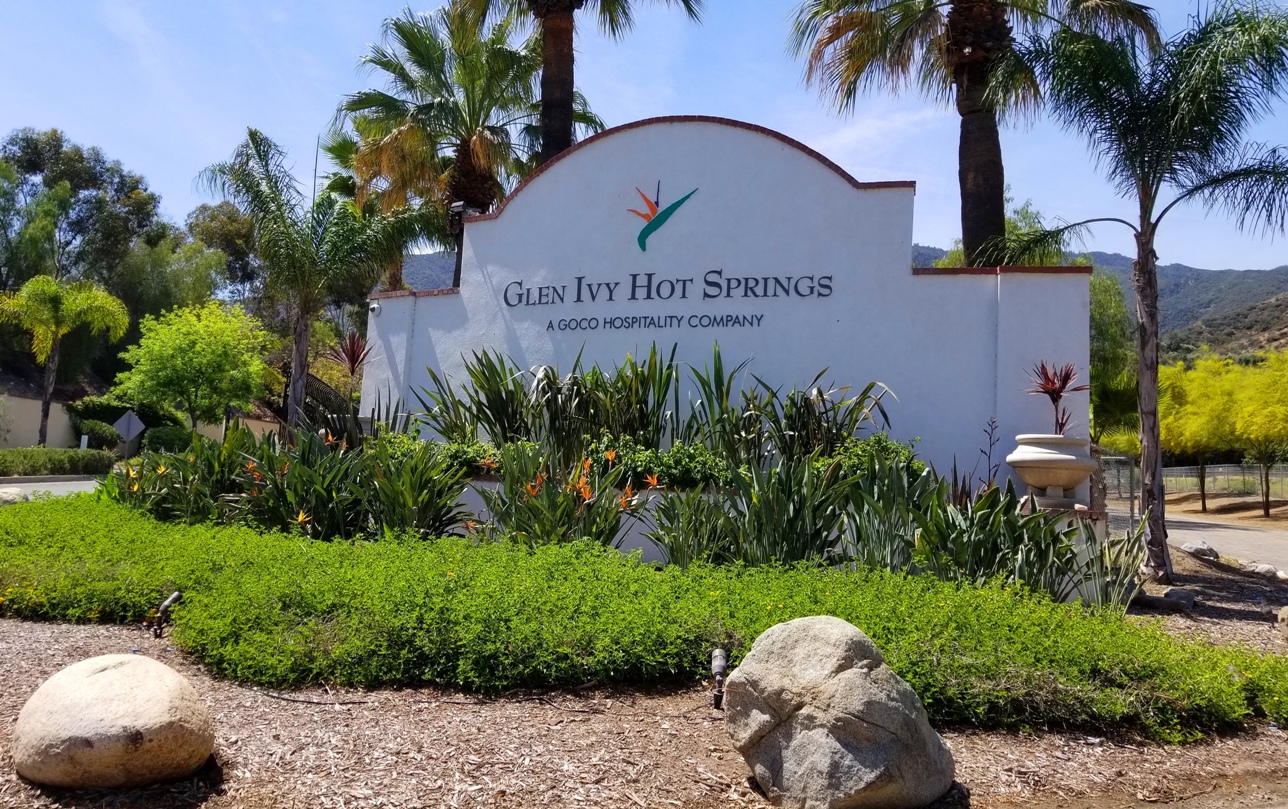 Glen Ivy Hot Springs is an oasis in Corona, California
My recent getaway to Glen Ivy began when a friend and I checked-in at the front desk and were led to the Bath House, where we changed into swimsuits and plush Glen Ivy robes. The men's and women's Bath House features lockers, showers, toiletries, an indoor Roman Bath, Jacuzzis, a steam room and lounge areas with TVs. The women's area has an indoor pool.
After changing we headed for a soak in the historic mineral baths. First used by local Native Americans, the naturally flowing waters from Coldwater Canyon in the Temescal Valley have been a source of relaxation for hundreds of years. Rich with minerals, the sulfurous hot water comes up from the ground into a series of tubs, where guests soak in 104-degree pleasure. The minerals in the water are absorbed through the skin, while the heat soothes the muscles.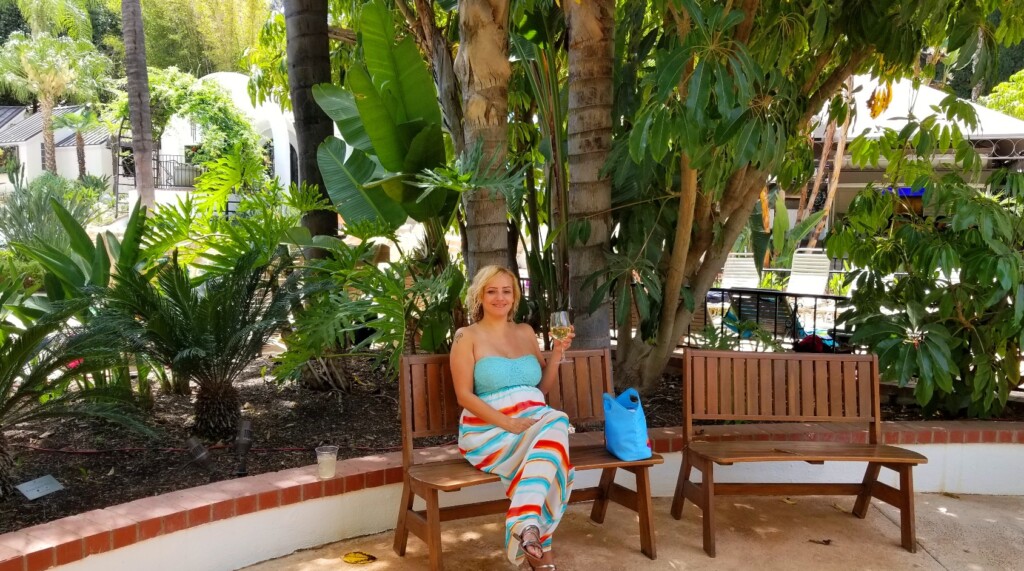 Nothing like a glass of wine in between mineral baths, mud treatments and massages 
After 20 rejuvenating minutes in the mineral baths we ventured to Club Mud, a unique outdoor mud pit where a mountain of red clay rises in the middle of a large warm pool. Here we meticulously covered our bodies and face in mud and then sat in a cave-like drying chamber with other guests as the substance dried and caked on our skin. Once the mud dried, we stepped into an outdoor shower and washed it all off with Glen Ivy's lavender-scented body cleansing gel.
Since ancient times, red clay has been used as a purifying agent for the skin. Glen Ivy says the mud draws impurities from the pores, while releasing waste and dead skin cells and tightening and revitalizing the skin. All I know is that when I left Club Mud, my skin felt clean and very soft.
Our next stop was lunch at The Ivy Kitchen, the resort's signature restaurant. Blending market freshness with stylish dining, the eatery offers tasty and healthy sandwiches, wraps, burgers, soups, salads and more. While dining on a serene patio surrounded by trees and the sound of trickling water, I enjoyed an seared rare Ahi tuna burger with wasabi and sesame soy aioli and cucumber Asian slaw on a toasted brioche bun. My friend had a Greek chicken lavash wrap with herb-marinated chicken breast, Kalamata olives, organic greens, red onion, cucumber, tomato, grilled artichoke hearts and yogurt spread.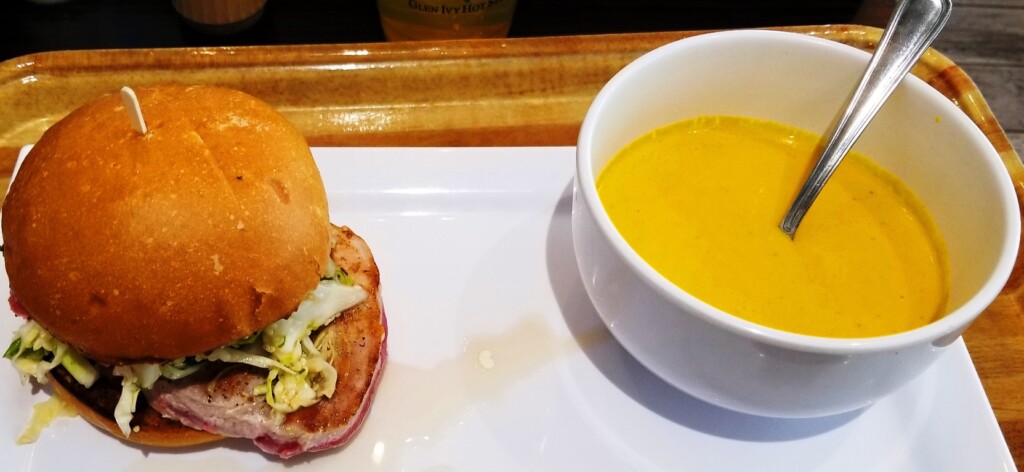 A seared ahi burger and carrot & ginger soup are a sampling of The Ivy Kitchen's menu 
After lunch we grabbed a couple bloody Mary's from Lounge 1860, the hip pool side bar, and then relaxed by the water, with an incredible view of the Santa Ana Mountains towering above. Next, my friend headed to her massage and I tried the hot and cold cycle pools.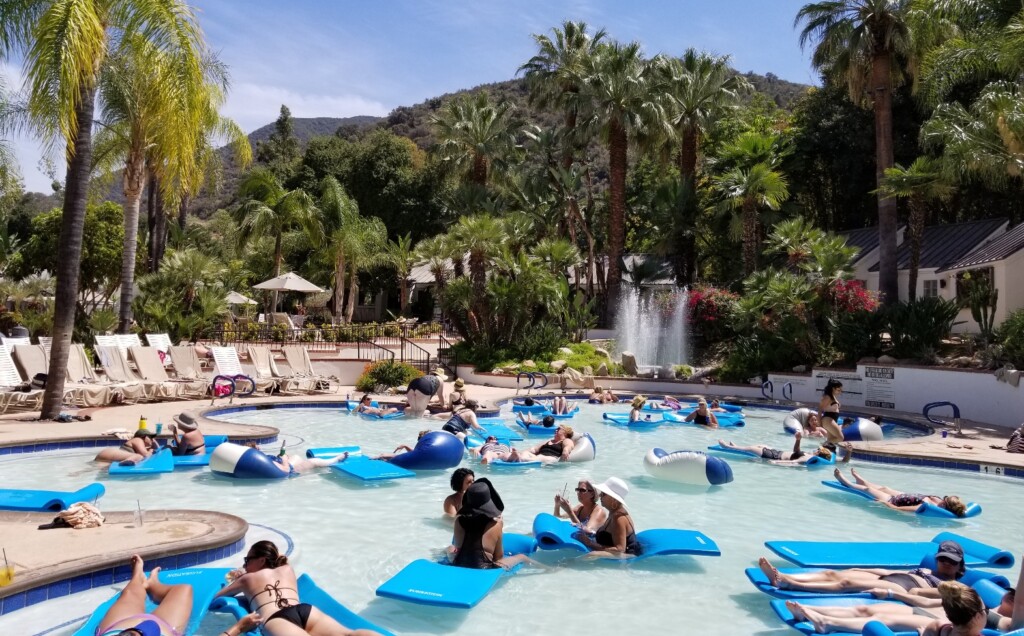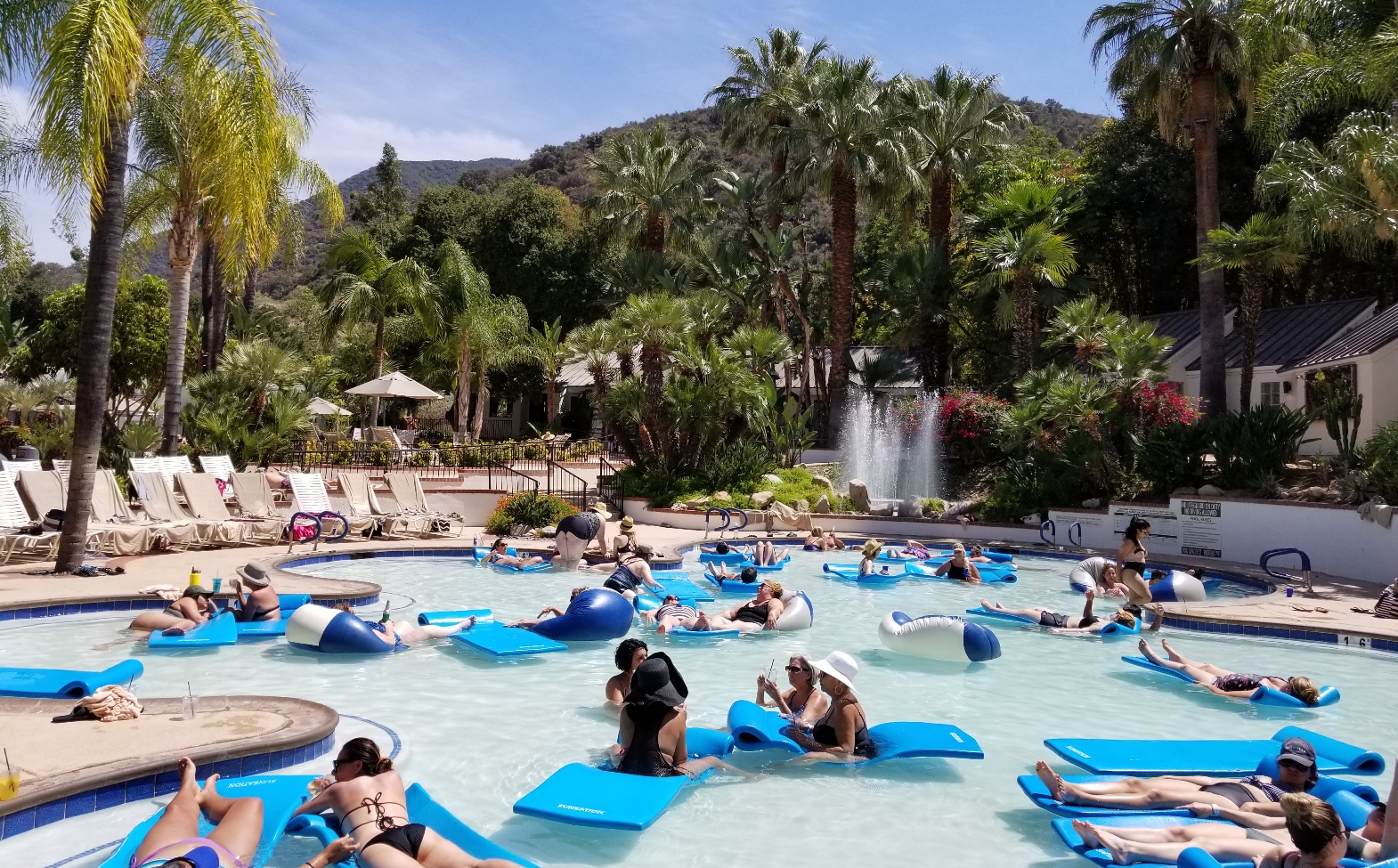 With numerous pools and mineral baths, Glen Ivy is a perfect place to relax and revive
Hot and cold hydrotherapy pools are a quick-fire health boost. Experts say that switching between these hot and cold plunge pools will charge your immune system, flush out toxins, reboot circulation, and wake you up and calm you down.
While I was jumping between the hot and cold pools, my friend was experiencing the Warm Stone Ritual Massage. This soothing and detoxifying treatment uses heated basalt stones and therapeutic essential oils to massage your body. It relieves muscle tension and boosts metabolism.
Another soothing massage takes place on Glen Ivy's new quartz table. Based on the Ancient Greek concept of psammotherapy, the warm quartz sand ergonomically positions the body, offering extreme relaxing effects to the body and soul. The deep, dry heat of quartz sand will aid in reaching maximum relaxation while alleviating muscle and joint pain.
General admission to the resort, also called "Taking of the Waters," is $50 (Monday – Friday)
$70 (Saturday – Sunday; holidays). This includes access to Glen Ivy's gardens, lounge areas, pools and mineral baths, a hot and cold plunge, saline pool, and lap pool, in addition to Club Mud, saunas, steam rooms, showers, and fitness and wellness classes. Individual body treatments and massages are extra.
Glen Ivy Hot Springs is located at 25000 Glen Ivy Rd. Corona, Ca. 92883. Current hours: daily 9am – 6 pm Sunday-Wednesday, and 9am – 9pm Thursday-Saturday For more information on treatments, current specials and appointments, call 888.453.6489 or visit: www.glenivy.com