This post contains affiliate links and our team will be compensated if you make a purchase after clicking on the links.

Debuting earlier this week, Flo's V8 Cafe in Cars Land has a brand new menu that creates a more contemporary feel with comfort food, diner favorites, and more choices for the whole family. The food will be split up into quick and sit down options. After years of Guests asking if Flo serves burgers, the chefs can finally share their specialty burger called the Ka-Cheeseburger. The burger boasts a 1/3 pound angus beef patty on a classic seasame seed bun. Served with cheddar cheese, thousand island, and caramelized onions, it's the feature fare for anyone who needs a quick refuel.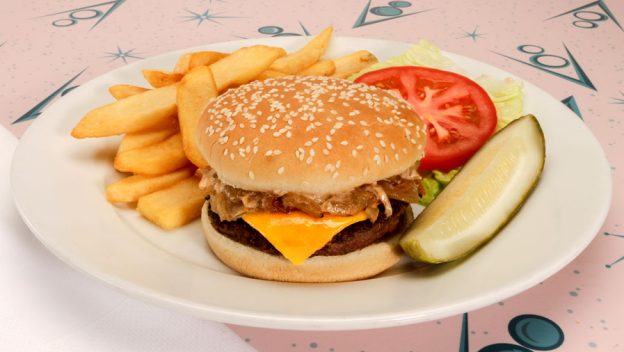 If you aren't racing in just for a burger, Ramone will have his own Low and Slow Club Sandwich featuring turkey breast, crisp bacon, avacado-bacon may, lettuce, and tomato on toasted white bread. Just like a classic diner, there will also be a tuna sandwich dubbed the Fin-tastic Tuna Sandwich that will feature albacore tuna salad, lettuce, and tomato on toasted wheat. These will also be on the "Pit Stop Classics" menu.
The cafe will be serving up other offerings on their "Drive In Dishes" menu, with Flo's Famous Fried Chicken, Cobb de Ville Salad, and Fillmore's Pot Pie. Checkered Flag Chicken Noodle Soup will be available as well along with mystery Blue Plate Specials. These specials will be subject to availability and aren't listed on the menu, providing a variety of fun food offerings that will keep you coming back for more.
The little racers out there will have a kids menu as well through a series of child friendly offerings like the Micro Burger, Chicken Fenders, Mack's Mac and Cheese, as well as the Taillight Turkey Slider. Each item will come with fresh fruit, baby carrots, and choice of low-fat milk or small bottle of water.
For dessert, the famous Flo's Classic Shakes will be here to stay. The flavors have not changed, with vanilla, chocolate, and strawberry being offered with "Road Gravel" topping (cookies and cream crumbles). The milkshakes will be joined by a rotational dessert, kicking off with strawberry pie.
For the adults out there, draft beer and wine options will still be made available that include Victory Prima Pilsner and Bear Republic Racer 5 IPA as well as Kendall-Jackson VR Chardonnay, Coppola Rosso & Bianco, and Red Sangria. The menu is available right now in the heart of Cars Land at Disney California Adventure!
You can learn more by visiting Disneyland's official site!