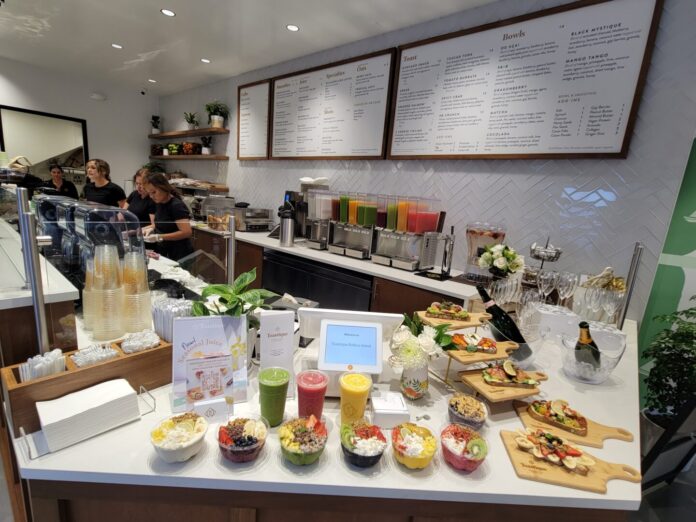 This post contains affiliate links and our team will be compensated if you make a purchase after clicking on the links.

Toastique celebrates the grand opening of the vibrant and health-friendly food and drink establishment known for its eye-catching artisan toast, wellness smoothies, cold-pressed juices, espresso drinks, and collagen lattes. The one-stop boutique gourmet shop that uses fresh and seasonal products makes Balboa Island their first location in California. Toastique's mission is to make "eating healthy accessible and exciting, simple to understand and appreciate, and easy to enjoy."
Creative creations of chilly satisfaction come in appealing flavors—a mix and match of seven bowl choices as well as seven smoothie choices composed of wholehearted ingredients. Fresh fruits include strawberry, banana, blueberry, acai, pitaya (dragon fruit), mango, kiwi, pineapple, coconut, chopped dates, lime, and goji berries.
The delectable artisan toast includes a wide variety of cool selections. Toast menu items are spread throughout eight choices. Avocado Smash and Smoked Salmon will be immediate favorites among Greek, Three Cheese Italian, Tuscan Tuna, Tomato Burrata, Spicy Crab, and PB Crunch. Selected bread is made between multigrain, rustico, sourdough, jalapeño cheddar, and cranberry walnut raisin. These are designed to complement the palette with ingredients like watermelon radish, tomatoes, chili oil, cucumber, arugula, olives, feta, paprika, capers, roasted garlic onion jam, sriracha aioli, just to name a few.
Additional ingredients join the fun to a healthy lifestyle. Waiting in glass containers are nuts, granola, chia seeds, flax seeds, hemp seeds, blue spirulina, activated charcoal, and cacao. Many menu items also have the option for add-ons at an additional price. For quicker service, pre-packaged energy bites are the way to go. Requests can be made for nut and gluten-free orders.
Cold-pressed juices come in large containers while wellness shots come in smaller sizes. you can't go wrong when these little wonders are packed with beets, carrots, ginger, turmeric, spinach, cucumber, celery, kale, cayenne, and so much more. Don't forget the overnight oats to satisfy that rumbling hunger. If the coffee and espresso raise an eyebrow, the collagen-iced lattes will have beet, matcha, turmeric, or blueberry lavender mixed with almond milk.
There's simply no doubt that Toastique has what it takes to make better lifestyle choices easier to decide. Everything on the menu has the possibility to pair food and drinks well with one another. This is the kind of boost needed to encourage more customers that eating healthy doesn't have to be a chore. Toastique Gourmet Toast and Juice Bar is located at 226 Marine Ave, Newport Beach, CA 92662 open daily from 7 a.m. until 5 p.m.