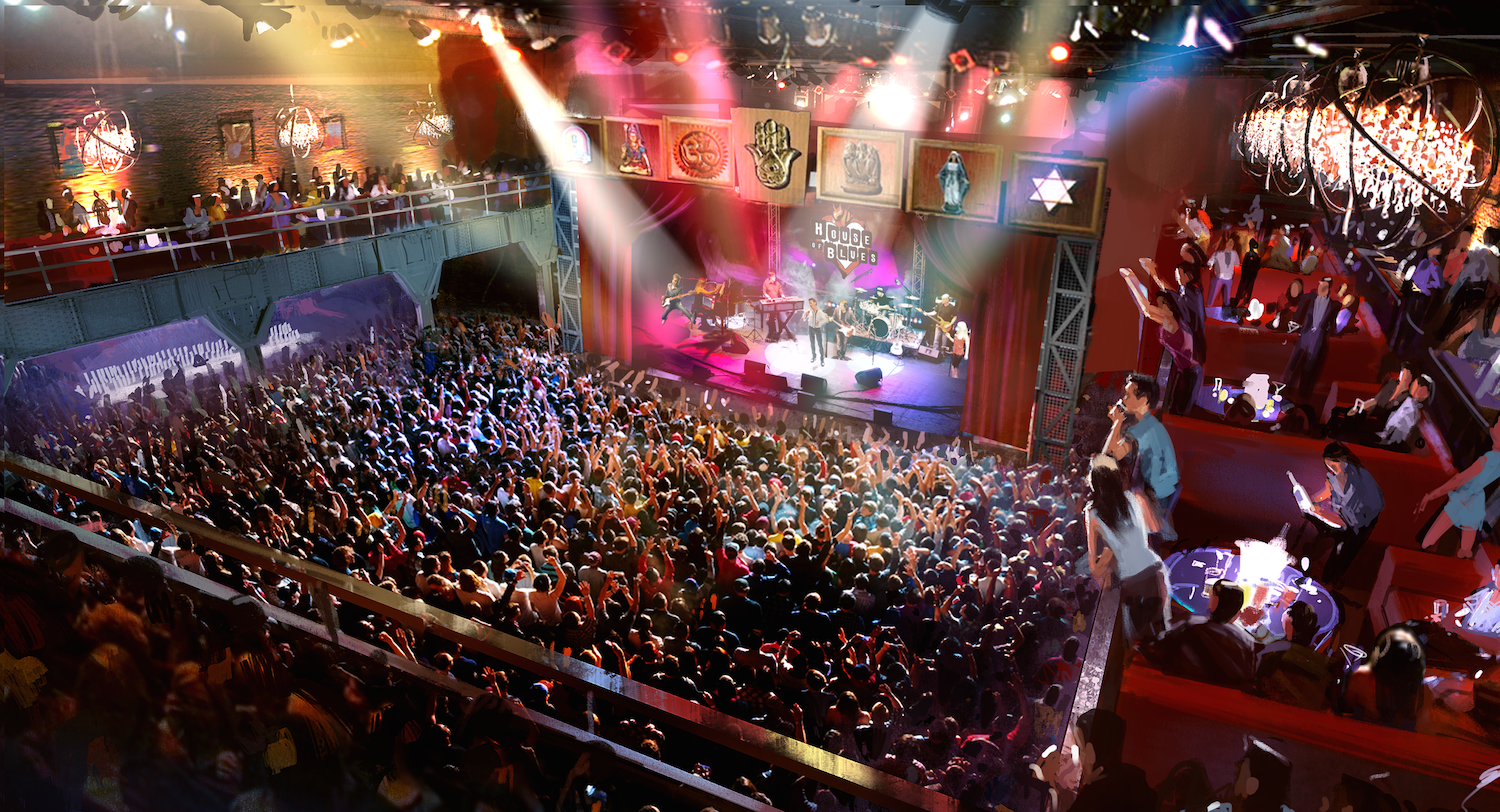 This post contains affiliate links and our team will be compensated if you make a purchase after clicking on the links.

The new House of Blues Anaheim – the first new House of Blues to be built in the U.S. in a decade – is set to open March 2017 – and will kick off a yearlong 25th anniversary of legendary music halls and restaurants.
The first House of Blues opened in Harvard Square in Cambridge, MA, in November 1992. Opening 25 years later the new House of Blues Anaheim will represent the ultimate House of Blues experience, combining the best of the past with the most advanced technologies of the future.
"House of Blues Anaheim will embrace our same familiar rock and roll vibe with contemporary flourishes that ensures our musical, culinary and sensory experience fits future generations while solidly representing our historic roots," said Ron Bension, president, House of Blues Entertainment. "The venue pays homage to the past 25 years and celebrates the next 25 to come."
House of Blues Anaheim combines 44,000 square feet of space, more than twice the size of the former location, with live music in four unique entertainment spaces all under one roof.
The main concert hall will welcome up to 2,200 concert goers yet still maintain the intimate feel that the House of Blues brand is universally recognized for. Bension said, "The room will offer 'incredible' sight lines, state-of-the-art sound and lighting, and an opportunity for fans to get up close and personal with the performers on stage." All four of HOB Anaheim's entertainment and food spaces will have the most advanced sound system of any House of Blues, and the location will feature live entertainment every night.
A second live music and special event space, The Parish, will offer an even more intimate musical experience with a capacity of only 400 guests. Designed for singer/songwriters, local artists, smaller touring bands, and intimate showcases, the room can adjust to accommodate lounge seating or a standing-room configuration with optimum sight lines from every angle.
The party will continue in the legendary Foundation Room, a VIP club open to all guests most nights, which includes a spectacular culinary menu, inviting lounge, the hottest DJs, and a unique craft cocktail program. The Foundation Room membership program offers enhanced benefits such as priority ticketing providing advanced ticket purchase privileges; premium seating and dedicated concierge services for the members entire evening experience; VIP tables and bottle service; insider access to pre-concert events and after show parties; and elite status savings on dining, drinks, merchandise, and for reserving private parties.
House of Blues Restaurant and Bar will introduce the ultimate food-meets-music experience. A new menu will present a twist on soulful comfort food. The bar will span from inside to out onto a spacious open-air patio with a robust craft beer menu and a creative cocktail program. The intimate restaurant stage will welcome live music most nights.
"No venue has ever combined all of this under one roof," said Bension. "Some nights will have four bands playing in four separate performance spaces at the same time. It will truly be a 4-D live music entertainment experience."
The first performances at House of Blues Anaheim will be announced soon with tickets on sale mid-November.
For more information, stay connected to http://houseofblues.com/anaheim