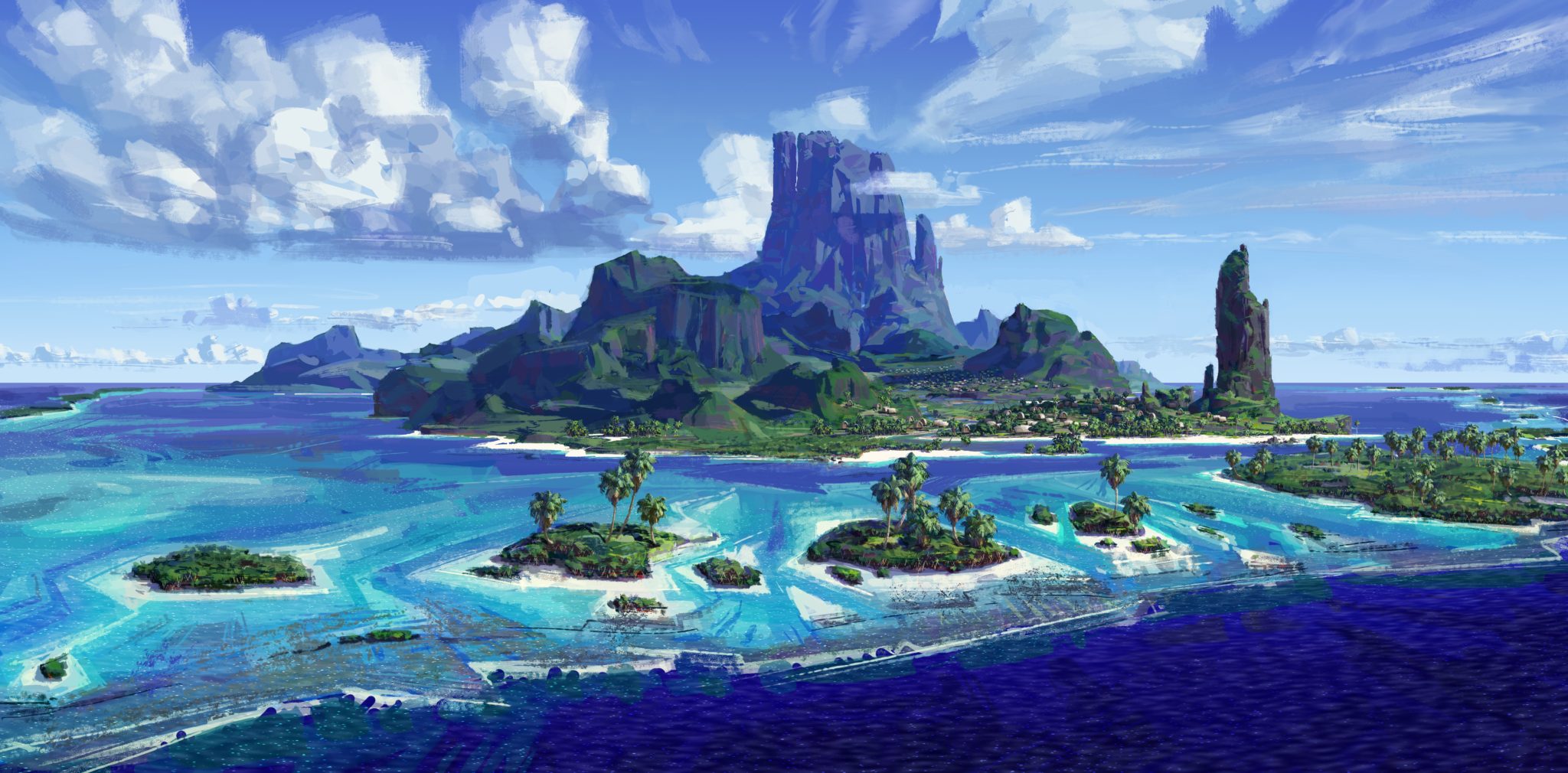 This post contains affiliate links and our team will be compensated if you make a purchase after clicking on the links.

With credits like "Aladdin" and "The Little Mermaid" under their belts, directors John Musker and Ron Clements have a storied background in hand-drawn animation, in addition to CG work on several of their projects. But when they envisioned "Moana," they knew their approach would be different. "What we endeavored to do with the ocean and island settings in this film really called for CG animation," says Clements. "The lighting and textures and dimension we can achieve in CG create an incredible, really immersive experience."
Adds Musker, "The islands, the skylines, the mountains, even the characters all have a sculptural quality to them that comes through really well in CG animation."
But Musker says that they aren't creating a photo-real look. "We have developed a world that's a slightly caricatured version of the Pacific Islands we've experienced," he says. "The colors, already rich, are pushed a little. We want the look of this film to be so enveloping that you want to jump right in."
This past summer we sat down with Jessica Julius (Sr. Creative Executive), Ian Gooding (Production Designer), Andy Harkness (Art Director, Environments & Color), Adolph Lusinsky (Director of Cinematography, Lighting) to learn how they created the look for "Moana." One of the challenges the team had to overcome was to make this film in a specific time and place.
Production designer Ian Gooding, who lived in Jamaica until he was 20, says that the research trips proved more valuable than he expected. "There's a lot of things that you just take for granted," he says. "For example, everyone imagines coconut trees swaying in the wind, but the truth is that the little leaflets might be affected by a breeze, and then the boughs will move if you have a lot of wind, but the trunks remain still. I didn't know that even though I had five of those trees in my back yard when I was growing up."
Gooding and his team of artists put a lot of time into capturing the right motion of breaking waves on the shoreline. "It's very different from what we get in California," he says. "Many of the islands there have huge coral reefs in the lagoons, so the big swells that come across the Pacific break there. What you get on the shore is a little chop. We also had to consider factors like rainfall, the presence of volcanoes and even the type of rock that forms the sand."
The film features more than 60 species of vegetation, including varieties ancient Polynesians may have brought with them from their home islands, like specific coconut trees, bread fruit and taro. Filmmakers did take artistic license in some cases, adding color to the landscape that may not have existed on the islands till many years later.
The island of Motunui was designed in part when it received its name. "Motu means 'island' and nui means 'big,'" says Gooding. "So it's meant to be pretty large." That fact proved challenging, because they wanted to be able to include establishing shots that would showcase the entire island—but in reality, they found that to get far enough away to do so, the atmosphere would obscure the island. They ultimately scaled the island to make it appear large and fanciful with exaggerated verticals. "We had to adjust the scale a bit to make the height of the mountain more realistic and to make the size of the island something we could capture," says Gooding.
Adding to their challenges was the reality that was compelling Moana to venture out into the ocean. "Trouble is brewing," says Gooding. "All is not right on this island. The crops are failing, the fish are not as plentiful. We really battled the need to create a pleasant, beautiful setting and still show that something is going terribly wrong."