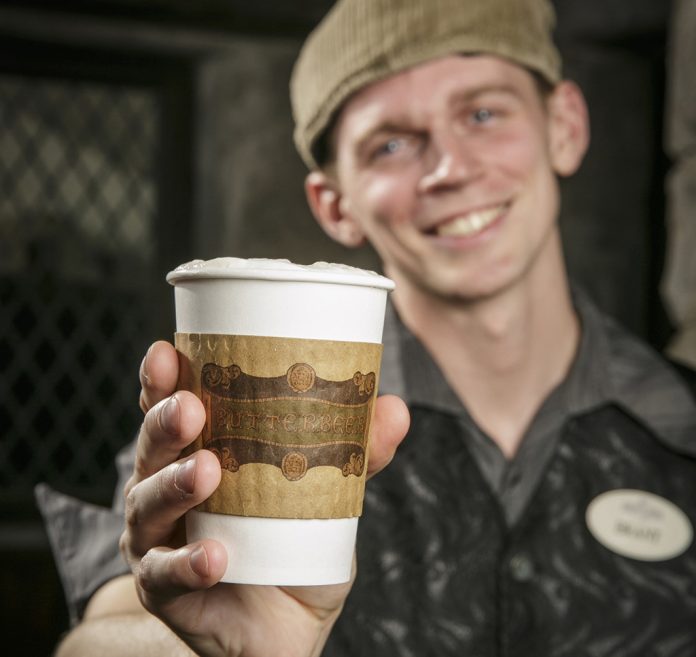 This post contains affiliate links and our team will be compensated if you make a purchase after clicking on the links.

Delightful, delicious and hot. Three wonderful words that describe hot Butterbeer™, the newest addition that will be offered seasonally at Three Broomsticks™ at "The Wizarding World of Harry Potter™" at Universal Studios Hollywood™.
Like its traditional and frozen counterparts, hot Butterbeer is reminiscent of butterscotch and shortbread that's been perfectly fine-tuned as a Hogsmeade treat.
Three Broomsticks, an aged rustic tavern, caters to guests with an array of authentic British breakfast, lunchtime and dinner fare while they are seated at custom-made wooden tables, chairs and benches in a warm and inviting atmosphere inspired by the Harry Potter books and films.
The eclectic menu offers such tasty staples as Bangers & Mash (savory grilled English sausages with creamy mashed potatoes and minted peas), Shepherd's Pie (ground beef and vegetables, crowned with a crust of mashed potatoes), Beef Sunday Roast (prime rib of beef with Yorkshire pudding, roast potatoes and gravy), Beef, Lamb & Guinness Stew, and Fish & Chips. In addition to Butterbeer Potted Cream, Sticky Toffee Pudding rounds out the hearty British fare.
Scrumptious traditional English breakfast items invite guests to start their day at "The Wizarding World of Harry Potter," including the Eggy Bread breakfast (freshly baked baguette dipped in a cinnamon egg batter and lightly sautéed, sprinkled with powder sugar and served with bacon, strawberries and real maple syrup.), as well as traditional English breakfast (fresh scrambled eggs, sausage links, bacon, baked beans, baked tomato, and potatoes) and traditional American breakfast (fresh scrambled eggs, potatoes, bacon and link sausage with butter croissant).
Gathering inspiration from historic British taverns, the adjoining Hog's Head pub features original draught beers and spirits created exclusively for the land, including Hog's Head Brew, Dragon's Scale, Wizard's Brew and Fire Whiskey. Also available are Pumpkin Fizz and Gilly Water and the three Butterbeer choices: traditional, frozen and hot.