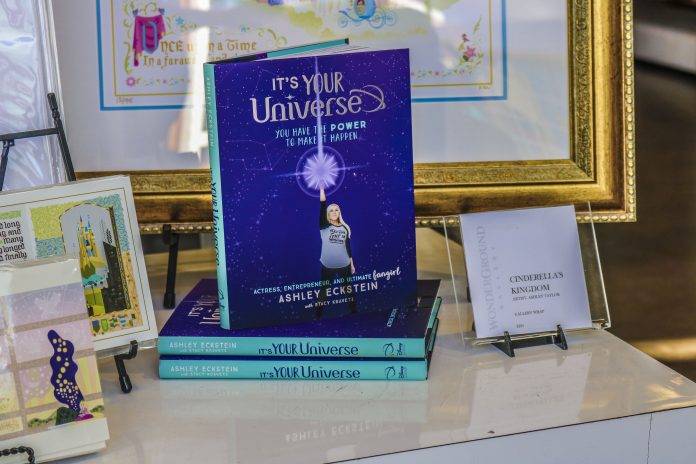 This post contains affiliate links and our team will be compensated if you make a purchase after clicking on the links.

Ashley Eckstein's new book, It's Your Universe: You Have the Power to Make it Happen, has hit the shelves and in honor of the new book and its author, fans gathered in Downtown Disney this past Friday to meet Eckstein and grab a copy of her latest work.
Eckstein was joined by book illustrator and artist, Ashley Taylor, who also debuted a new art print based off the the famous magic mirror from Snow White and the Seven Dwarves. "I wrote this Princess mantra and Ashley and I worked on this design together. We used the magic mirror because it always tells the truth and we hope you'll say this mantra while looking in the mirror surrounded by all the Princesses. Each line represents a different Princess and the lesson she teaches us," Eckstein stated to her fans on social media.
In It's Your Universe, Eckstein shares her life experiences and lessons learned from her journey along with lessons from some of the most beloved characters in the Disney universe.  As fans read the book, they will find quotes, photos, and illustrations that act as a personal guide through the role models and influential figures in her life. From her early Disney aspirations, to becoming part of the world of Star Wars as Ahsoka Tano, to the launch of her own fashion line, Her Universe, Eckstein has been a beacon of hope for young people across the world. The book serves as an a source of inspiration and empowerment for others to chase their dreams and work hard to make them a reality.
For anyone still wanting the chance to meet Eckstein and take home a signed copy of her new book, it's not too late. Her nationwide book tour has one more stop in Southern California. Check out all the details below!
Friday, June 15th
Hot Topic Store
Glendale Galleria, Glendale, CA 2:00 PM-4:00 PM PST
Joined by Ashley Taylor
It's Your Universe: You Have the Power to Make it Happen is available in bookstores everywhere, and can be found through Disney Books.