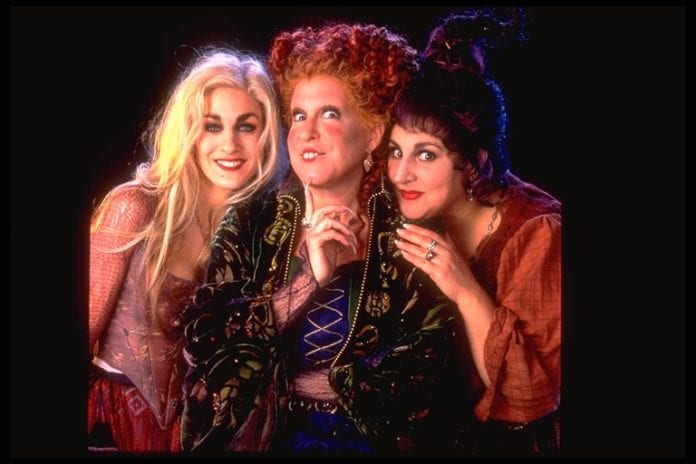 This post contains affiliate links and our team will be compensated if you make a purchase after clicking on the links.

Freeform announced today that Bette Midler will join Kathy Najimy and Sarah Jessica Parker for the network's "Hocus Pocus 25th Anniversary Halloween Bash," an all-star party in honor of the cult classic film's milestone anniversary. The two-hour special, filmed at the iconic Hollywood Forever Cemetery to celebrate the movie's status as a Halloween staple, will premiere on SATURDAY, OCT. 20 at 8:15-10:15 p.m. EDT/PDT, as part of Freeform's "31 Nights of Halloween" programming event.
Hosted by Vanessa Hudgens and Jordan Fisher, "Hocus Pocus 25th Anniversary Halloween Bash" will feature exclusive interviews with the Sanderson sisters themselves, Bette Midler ("Winifred Sanderson"), Kathy Najimy ("Mary Sanderson"), and Sarah Jessica Parker ("Sarah Sanderson"), plus musical performances by Dove Cameron, Sofia Carson, Jordin Sparks, Jordan Fisher, Emily Estefan, PrettyMuch and Junior New System, as well as a "Hocus Pocus" themed costume contest, judged by Sharon Osbourne, Kelly Osbourne, Margaret Cho and hosted by Ross Mathews. The special will also include exclusive interviews with "Hocus Pocus" cast and crew members Kenny Ortega (Director), Mick Garris (Writer), David Kirschner (Writer), Omri Katz ("Max"), Thora Birch ("Dani"), Vinessa Shaw ("Allison"), Sean Murray ("Thackery"), Amanda Shepherd ("Emily"), Doug Jones ("Billy Butcherson"), Larry Bagby ("Ernie"), Jason Marsden (voice of "Thackery Binx"), Tobias Jelinek ("Jay"), Peggy Holmes (choreographer) and John Debney (Composer). Drag superstar Lady Bunny will be rocking the spooky beats throughout the evening as the resident DJ.
The night of Oct. 20 will be full of bewitching fun as the network will also be airing a "Pop'n Knowledge" edition of "Hocus Pocus," before and after the Bash at 6:05 p.m. EDT/PDT and 10:15 p.m. EDT/PDT. The special edition will celebrate everything about the iconic film and the fandom with a mix of trivia, funny observations and commentary around key moments and quotes. This "Pop'n Knowledge" version of "Hocus Pocus" is an experience no fan should miss!
"Hocus Pocus 25th Anniversary Halloween Bash" is executive produced by Kenny Ortega and Michael Levitt.
Twenty-five years after its theatrical release, "Hocus Pocus" is more popular than ever – exclusively airing on Freeform during the Network's "31 Nights of Halloween" stunt, the film reached 8.2 million Total Viewers in its first week. If NATO's average ticket price of $8.97 were applied to the film's performance, "Hocus Pocus" would have had a weekend box-office equivalent of approximately $73.6 million in its first five days if it were released today.
During the first week of "31 Nights of Halloween," Freeform ranked as the No. 1 cable network in the daypart among Women 18-34 (164,000) and Females 12-34 (202,000).
Freeform has expanded their annual Halloween programming event to "31 Nights of Halloween," bringing more thrills and chills to the entire month. From Oct. 1, the network will be invaded by everyone's favorite witches, a murderous barber, out of control dinosaurs and everything else that goes bump in the night. "Hocus Pocus" will air throughout the most haunting stunt on television, as well as conclude the event with a day-long marathon featuring the Sanderson Sisters on Oct. 31.