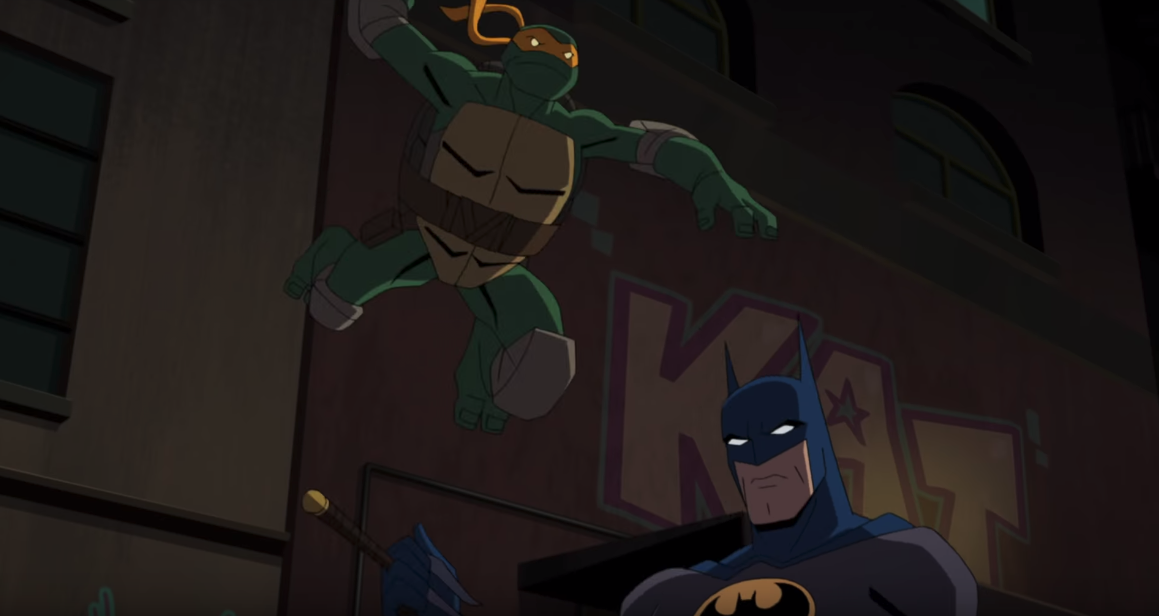 This post contains affiliate links and our team will be compensated if you make a purchase after clicking on the links.

Cowabunga!  Hey, dude and dudettes!  The next major crossover event of 2019 now belongs to Batman vs. Teenage Mutant Ninja Turtles!  Based on the comic book miniseries that debuted in late 2015, the Teenage Mutant Ninja Turtles (TMNT) follow Shredder and his Foot Clan soldiers to Gotham City.  There they must try to team up and get along with Batman, Robin, and Batgirl in order to defeat the mastermind of an evil plot to destroy the city.  Ra's al Ghul enlists not only the aid of Shredder but also The Joker and other inmates of Arkham Asylum.
This animated feature is a love letter to any fan of Batman and the turtles, particularly any child growing up in the 1990s.  It's playing with your Batman and TMNT figures straight out of the toy box.  Best described as nostalgia fuel over-load.  Not only do you get the promised fight as suggested by the movie's title, but you get Batman vs. Shredder, TMNT vs Batman's Rogues Gallery, and so much more.  On top of the fight sequences being well choreographed for an animated film, but you also get likely or unlikely pairings that help compare and contrast personalities and characteristics.  There are moments shared between Batman and Leonardo, Robin and Raphael, Batgirl and Donatello, and even Michelangelo and Alfred Pennyworth.  It all feels seamless and natural, not at all distracting as everyone bounces off of each other.  There are so many stimuli and references to previous incarnations of each franchise that dives deep into everyone's mythology, respectively.  You can tell the filmmakers did a lot of research and are big fans themselves.  There were even character arcs depicting this unusual team becoming a family that you wouldn't have thought was possible to fit into this jam-packed animated feature.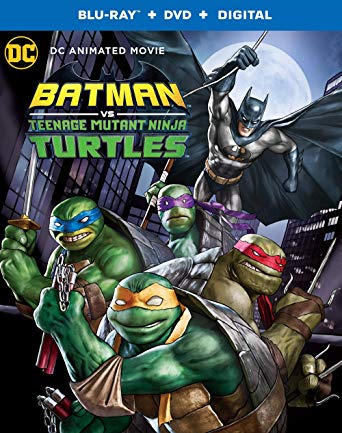 Be aware that this movie is rated PG-13 and thus is designed for a more mature audience.  The fantasy violence can be unexpected with characters physically suffering, bleeding, and facing deadly consequences.  Although this movie is set in its own separate universe away from any other incarnation of the franchises, there are still fun references to previous works that long-time fans will appreciate.  This movie is best viewed and shared with a group of friends and family who are also big fans of Batman and TMNT, and thus a must-own.
The Batman vs. Teenage Mutant Ninja Turtles all-star cast is led by Troy Baker (Batman: Arkham Origins, The Last of Us) as the voice of both Batman and the Joker – making Baker the first actor to ever play both roles in the same film. Opposite Baker are the Ninja Turtles themselves – Emmy Award/Golden Globe Award/SAG Award winner Darren Criss (American Crime Story: The Assassination of Gianni Versace, Glee) as Raphael, Kyle Mooney (Saturday Night Live) as Michelangelo, Baron Vaughn (Grace and Frankie) as Donatello, and Eric Bauza (Looney Tunes Cartoons, The Woody Woodpecker Show) as Leonardo.
Batman vs. Teenage Mutant Ninja Turtles Enhanced Content
Ultra HD Blu-ray Combo Pack, Blu-ray Combo Pack and Digital
Cowabunga, Batman! When Comic Worlds Collide (Featurette)– Superhero crossovers have inspired some of the most unique comics of all time. Explore the concept of the crossover, and see the creativity that ensues when the worlds of Batman and the Teenage Mutant Ninja Turtles meet.
Fight Night in Gotham (Featurette) – DC animated movies have continued to push the realism of hand-to-hand combat on-screen. Take an exciting look at both Batman's and the Ninja Turtles' fighting styles, and how the creators make it feel like you're in the fight!
A Sneak Peek at the next DC Universe Movie, Batman: Hush – An advance look at the next animated film in the popular DC Universe Movies collection.
The 4K Ultra HD Blu-ray disc of Batman vs. Teenage Mutant Ninja Turtles will feature Dolby VisionTM HDR that dramatically expands the color palette and contrast range and uses dynamic metadata to automatically optimize the picture for every screen, frame by frame. The 4K Ultra HD Blu-ray disc of Batman vs. Teenage Mutant Ninja Turtles will also feature a Dolby Atmos® soundtrack remixed specifically for the home theater environment to place and move audio anywhere in the room, including overhead. To experience Dolby Atmos at home, a Dolby Atmos enabled AV receiver and additional speakers are required, or a Dolby Atmos-enabled soundbar. Dolby Atmos soundtracks are also fully backward compatible with traditional audio configurations and legacy home entertainment equipment.
Batman vs. Teenage Mutant Ninja Turtles will also be available on Movies Anywhere. Using the free Movies Anywhere app and website, consumers can access all their eligible movies by connecting their Movies Anywhere account with their participating digital retailer accounts.
Fans can also own Batman vs. Teenage Mutant Ninja Turtles via purchase from digital retailers.