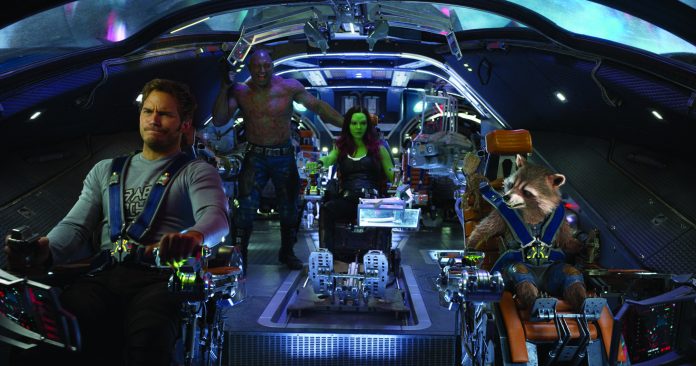 This post contains affiliate links and our team will be compensated if you make a purchase after clicking on the links.

After months of waiting, fans will finally get a chance to bring home Star Lord and the Guardians of the Galaxy with the new Guardians of the Galaxy Vol 2. Blu Ray/DVD combo pack.
Along with the film, comes a solid slate of special features that focus on different important aspects of the film's development that include cast, music, special effects, and direction. In addition, the disc includes a series of deleted/extended scenes, audio commentary, a blooper reel, and a look into Marvel's upcoming Thor: Ragnarok.
One of the most memorable additions to the film is the full discoed out music video, Guardians Inferno. The retro tribute features the entire cast of the film in their groovy best along with the legendary David Hasselhoff. Previewed on Marvel's official social media, the song is a great way to add a nod to the goofy, fun, and musical atmosphere of the franchise.
Music, which is one of the most popular and distinguishable features of the Guardians series, also goes more in depth with the behind the scenes featurette included in the set. Director, James Gunn, speaks directly about the significance of music in the series, and how it adds to the evolution of music in the sequel. Growing with the characters, the soundtrack packs a lot of power, and for those who may want to dive more in depth into the meaning behind the selection and scoring of the film, this is a great opportunity to get a mind blowing glimpse into the musical universe of the Guardians story.
One specific element that really grabs your attention is the use of music during the production process. Traditional film generates a soundtrack and score during the post production phase, revolving around edits and referenced film material. Gunn's style for this film; however, breaks tradition. Scoring had taken place prior to production, which allowed the actors to use the power and pace of the score and shape it in with their work as the cameras were rolling. Though unconventional, it adds an extra element that really makes this series standout in an amazing way.
Other features focus in on the technological and special effects, which Gunn describes as groundbreaking and a historical achievement. For those hardcore Marvel fans, this is a definite add to the collection. For those on the go, the set also comes with a digital copy that automatically adds it to your "Disney Movies Anywhere" collection. Disney Movie Rewards fans will also receive bonus points for the set, which provides special perks and surprises. You can purchase the Blu Ray/DVD combo pack at any major retailer or click here to buy from Amazon Now.
For those who need another "Guardians" fix, the soundtrack is available for purchase in a special vinyl edition as well as a limited compact cassette. You can view Guardians of the Galaxy and other Marvel soundtrack selections by visiting, http://disneymusic.shop.musictoday.com/dept/marvel?cp=81712_82045