This post contains affiliate links and our team will be compensated if you make a purchase after clicking on the links.

Wow… was my very first reaction to The Bodyguard.  I honestly went into this performance not expecting a lot, as I am not a huge fan of Whitney Houston's music. The suspense of this show is real and the musical numbers were phenomenal. From the moment the show began, I was pulled between being on the edge of my seat and dancing out of it.
Though I believe the statute of limitation on spoiler alerts for this story ended in the mid-1990's, I will not spoil the story for you.  The premise is that big-time celebrity singing sensation Rachel Marron (Deborah Cox) has been receiving threatening letters directly to her private dressing rooms right under the nose of her security detail.  As the letters begin to intensify and one of her costumes is stolen, her manager reaches out to professional body guard Bill Farmer (Judson Mills) desperately seeking his assistance in keeping her safe.  Hesitant to work with a celebrity, Farmer initially is disinterested in the opportunity, but upon finding that Marron has a young son, he offers to at least look into the situation for one day.  His fondness for Marron and her family grows and thus forms the story of Rachel's family, her stalker, and her body guard. Does the stalker get her? Can Farmer protect her? Buy your ticket to the show, and you too can be on the edge of your seat.
Deborah Cox as Rachel Marron was of course, the stand out.  Her vocal performance, dancing and energy truly embodied the role.  Judson Mills as Frank Farmer–the bodyguard namesake for the musical– had an air about him that was George Clooney-esque.  Mills' performance was extremely charming and his chemistry with Cox was comfortable and believable. Rachel's sister Nicki (played by Jasmin Richardson) had a dark and unfortunate story.  Richardson gave an amazing performance with heart that really allowed you to feel for her character and her vocals were well-matched with Cox.  Rachel's entourage of manager Bill (Charles Gray), press agent Sy (Jonathan Hadley), and former body guard Tony (Alex Corrado), are all great personalities and do a fantastic job adding (sometimes comical) stress to every situation. Kevelin B. Jones III wowed the audience with his dancing and singing as Rachel Marron's son Fletcher and Jorge Paniagua created an almost palpable sense of fear as Rachel Marron's dangerously calculated stalker.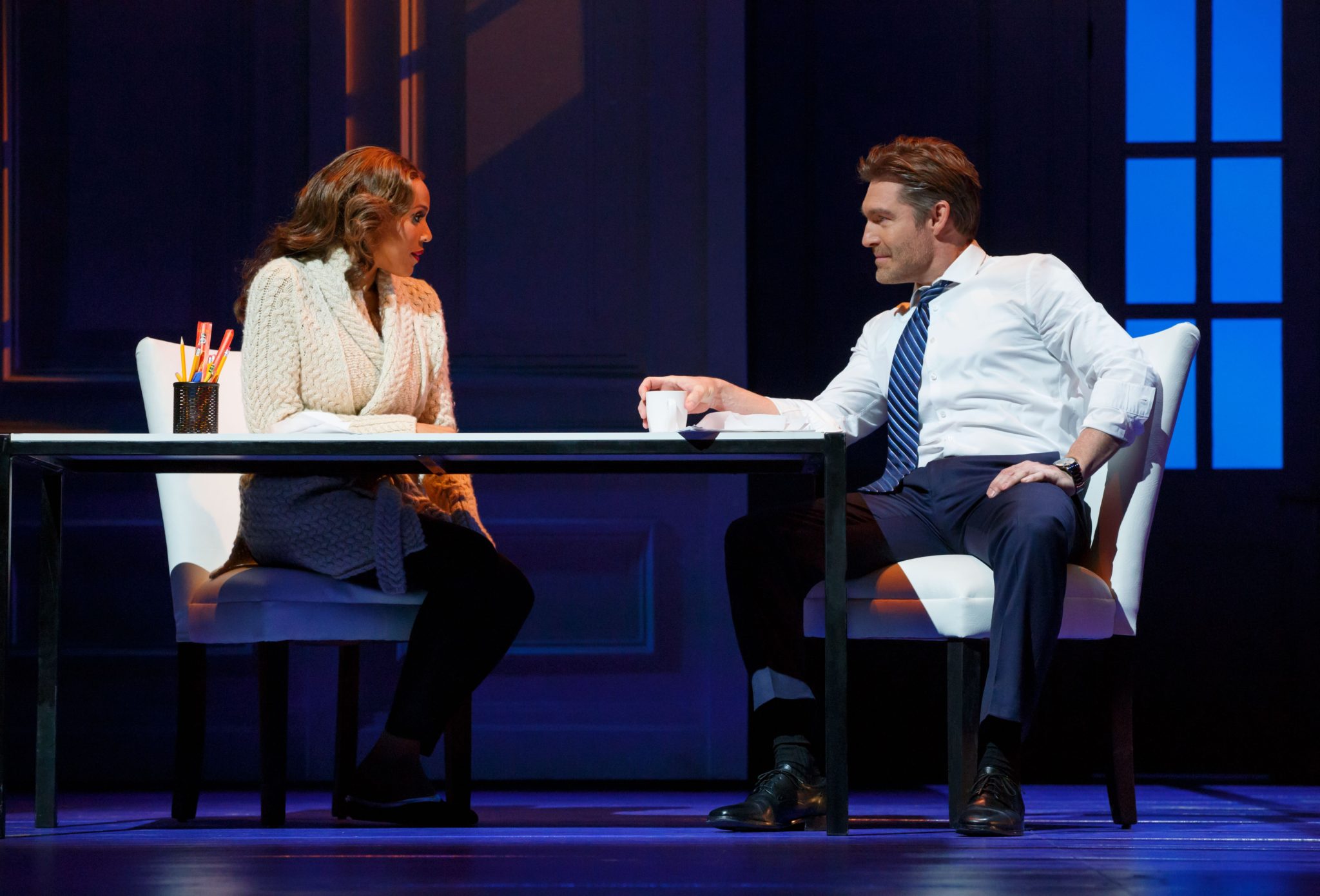 Aside from the performances, the staging stood out to me the most.  Using very minimal sets, basic lighting and projectors, the show has an in-between feel of being both a stage production and a movie. The use of sliding doors allowed them to shift focus on different sized scenes all over the stage. This focus allowed the audience to concentrate on certain people and situations while other staging and people were moved elsewhere. It was seamless. Scenery shifted quickly from a cabin in the woods to on-stage at The Oscars without a long dark scene.
Overall, we were wowed by the show and how much we loved it.  The musical numbers were exciting–like being at a concert. The story moments were poignant and I empathized with the characters.  Cox and Mills chemistry was warm and I loved when they were on stage.  I laughed, I screamed and I was amazed.  Though still not a Whitney Houston fan, (this is the rare situation where I will likely not be blaring the soundtrack on the drive home) within the context of this musical the music was really great.  It was a very effective use of her music and the lyrics. I would definitely recommend The Bodyguard.
The Bodyguard will be performing at Segerstrom Hall until June 11, 2017, tickets start at $29 and are available online at SCFTA.org, by calling (714) 556-2787 and at the Box Office at 600 Town Center Drive in Costa Mesa.