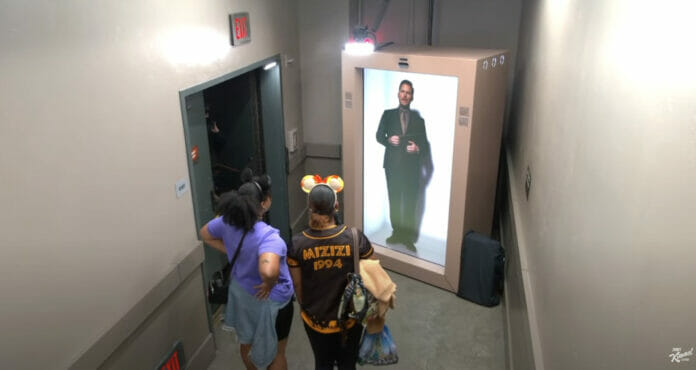 This post contains affiliate links and our team will be compensated if you make a purchase after clicking on the links.

On Thursday, April 27th, Jimmy Kimmel & Chris Pratt along with a studio audience pulled off a remarkable stunt to promote Chris Pratt's new film from Marvel Studios, Guardians of the Galaxy Volume 3, and they did it all live from Jimmy Kimmel's Hollywood Studio.
The stunt involved a mixture of "AI" as Chris Pratt jokes throughout the stunt (which is simply Chris Pratt miming the robotic nature of an "AI" through the course of that stunt), a live 3d image projector (think of an advanced zoom call screen), cast members from the Guardians of the Galaxy: Mission Breakout attraction (which is at Disney California Adventure Park) ushering the unsuspecting guests to experience the "AI", and finally Jimmy Kimmel and his live studio audience to pull of one of the best promotional materials for a film I have ever seen.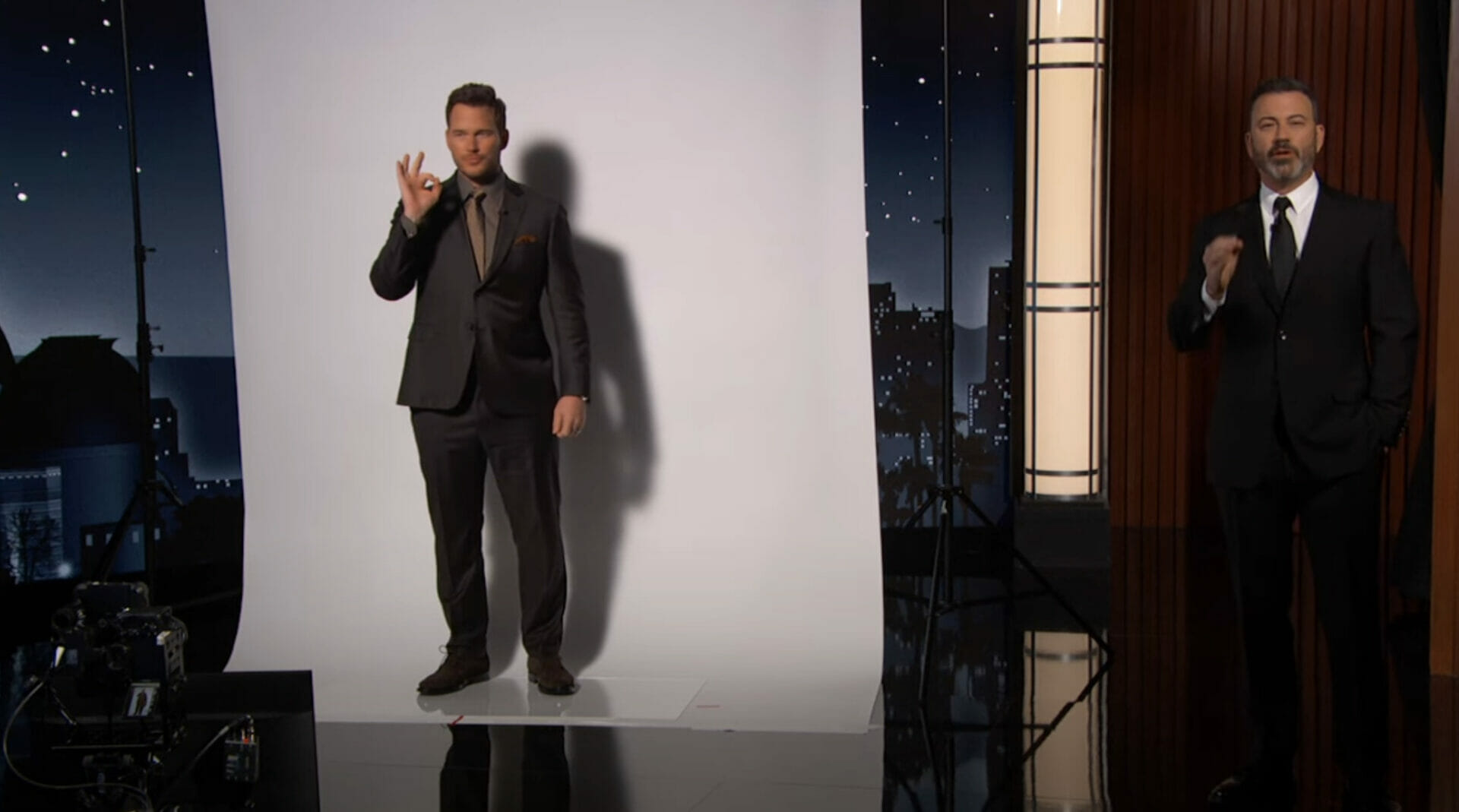 The skit which I'll refer to it further, first leads unsuspecting guests who appear to have been selected while exiting the ride, to a cast member hallway just beyond the ride's exit. Once ushered into this hallway hilarity ensues. Chris Pratt playing his "AI" counterpart greets guests as just that an "AI" counterpart, Pratt then proceeds to interact with the guests as a software program, acting and miming as a computer program would.
The Chris Pratt computer program acts out what you would think an "AI" of Chris Pratt would act and sound like, except with a blend of his own unique humor, that no computer could ever hope to replicate. This type of humor has the guests confused and in shock, but all in good fun. Pratt speaks with more than a few guests as his "AI" counterpart while also encouraging them and flat-out asking them if they plan to watch his new Marvel Studios film.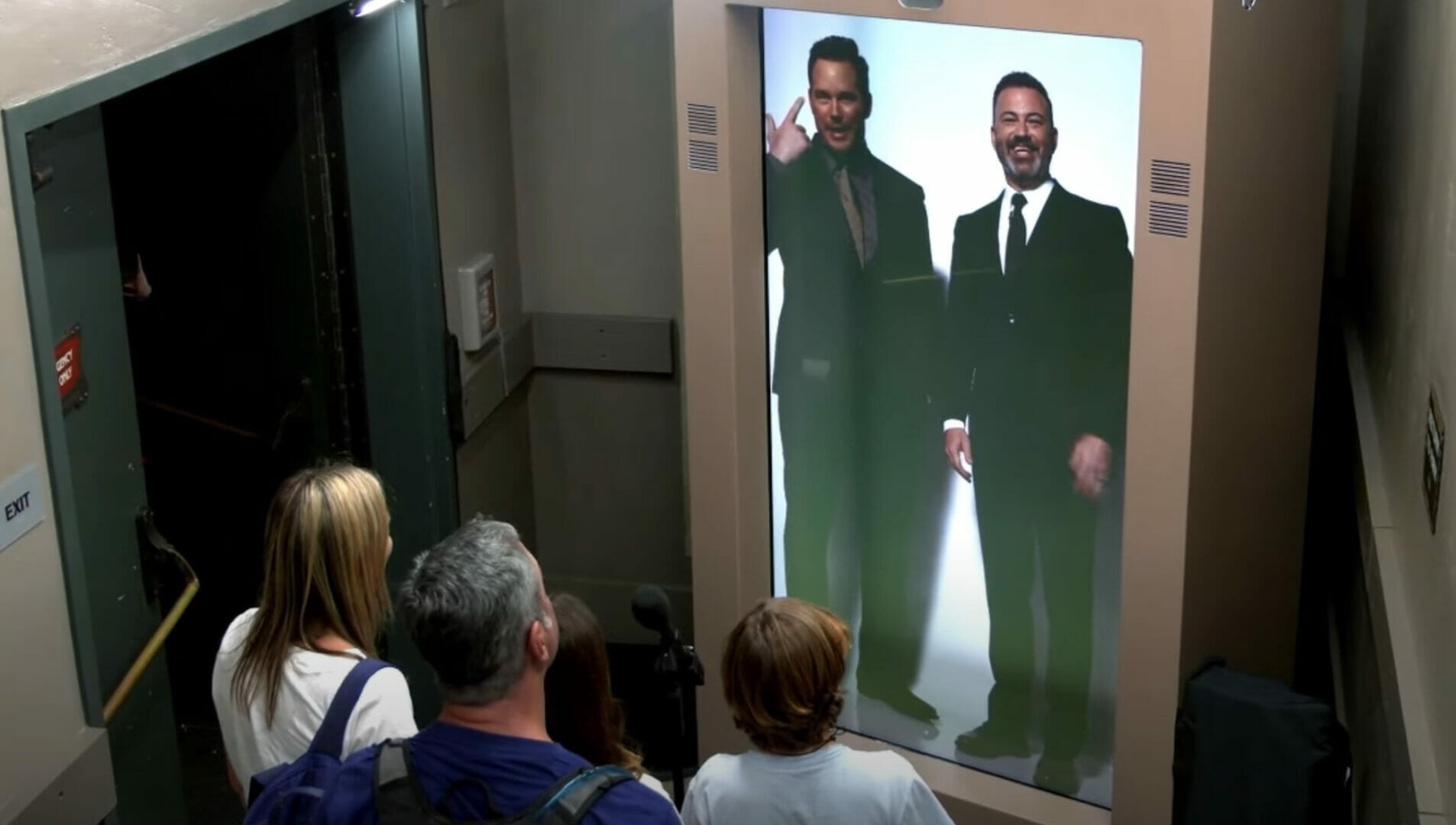 The skit ends with Pratt welcoming Jimmy Kimmel to join him in this large screen projector to reveal to the guests that he and Jimmy are actually just that, themselves, and that they are live from Hollywood. Pratt was on the show Thursday night promoting the new Guardians of the Galaxy Film before he attended the World Premiere of his movie across the street at the Dolby Theater.
What a great way to get ready for a Walt Disney Studios and Marvel Studios World Premiere, then by spreading some Disney magic to Disneyland Resort Park fans who just experienced one of the most unique attractions from Disney Parks. Guardians of the Galaxy Volume 3 comes exclusively to theaters on May 5th.
Watch the video below
Disney is the parent company of ABC Studios, Jimmy Kimmel Live, and Disney Parks.