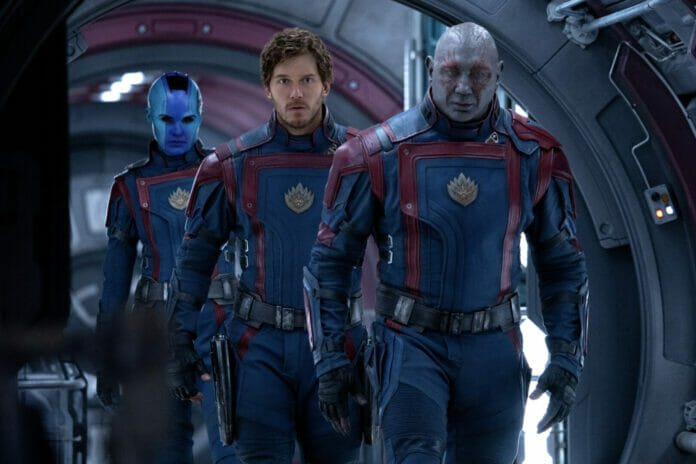 This post contains affiliate links and our team will be compensated if you make a purchase after clicking on the links.

The Guardians of the Galaxy are back! Maybe not as the cast as you remember them exactly, there have been some additions as of late to the roster, but this is truly a return to form for these fan-favorite characters. This rag-tag crew has been through a storied journey on film together and sometimes apart, but never alone, to become just a true family of misfits we have come to know and love. That journey has spanned the course of five film appearances as well as one Disney+ original Holiday Special, with each project seemingly knitting these characters closer together and at the same time adding additional members along the way. 
The last few MCU projects that have featured these characters have been woven into the larger MCU and cleverly disguised as character-driven pieces that have showcased that these Guardians of the Galaxy thrive in that form of storytelling.  What affects one of these Guardians seems to affect all in their larger story. Just like us fans, the MCU experience on screen is different post-Endgame, and those repercussions are felt that much more in this film.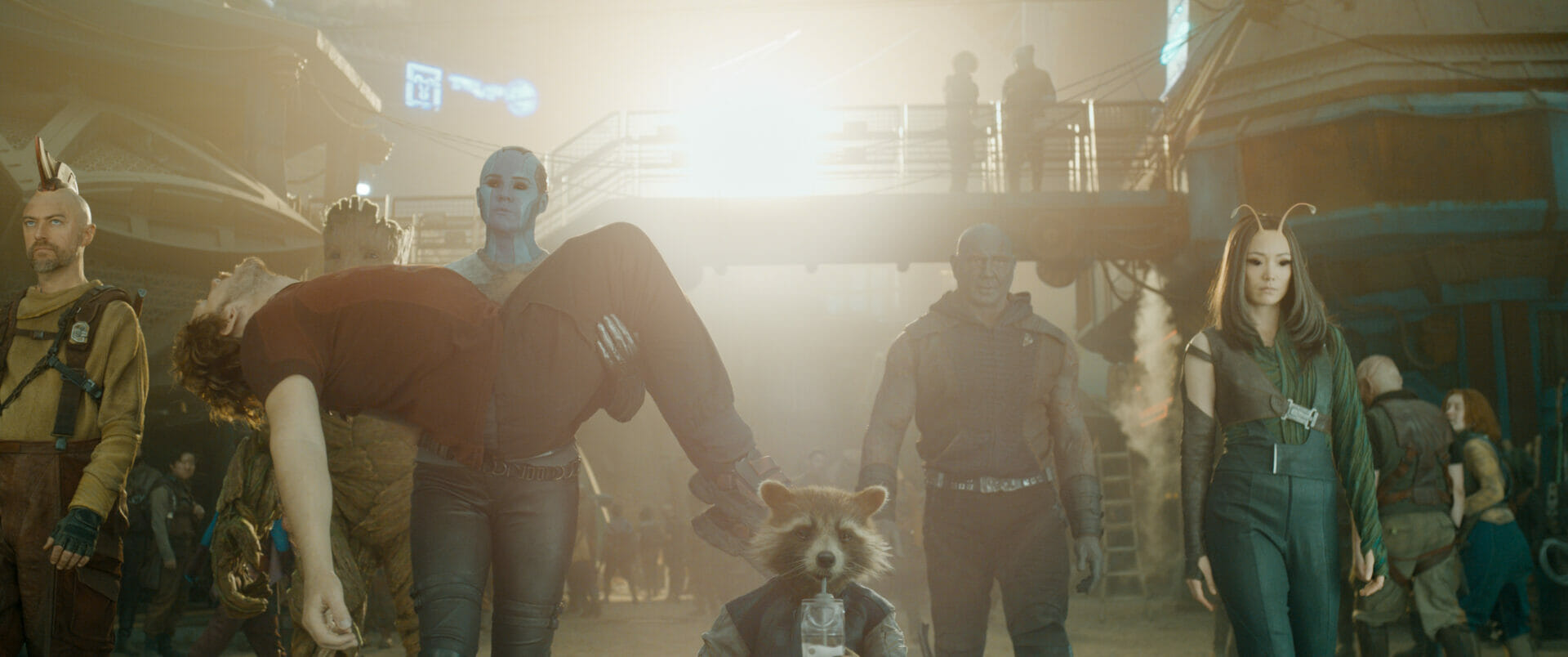 The Guardians are dealing with the loss of Gamora (played masterfully once again by Zoe Saldana), who was once a part of their beloved family, and the love interest for Chris Pratt's "Peter Quill." As Pratt's character deals with the loss of Gamora, in more amusing ways than one, he delivers a heartfelt performance as he continues to deal with love and loss throughout the film all while his character also continues to grow with his found family. As this family continues to grow and friends come and go, some pains for these characters stay the same.
That is where this story begins as well as ends. This film takes us through the pains, emotional and physical traits these characters endured and yet still throughout the course of the film suffer because of how strong their bond is with one another. Indeed some of these painful experiences on screen may be upsetting for most viewers to watch but none are done for the sake of shock but rather to drive these characters and their stories throughout the film.
These shocking scenes, seen as flashbacks directed by James Gunn, evoke storytelling that was perfected by Francis Ford Coppola in The Godfather Part II. In that film the flashbacks served as a backstory to the Corelene family, here they serve as a tragic backstory to Rocket.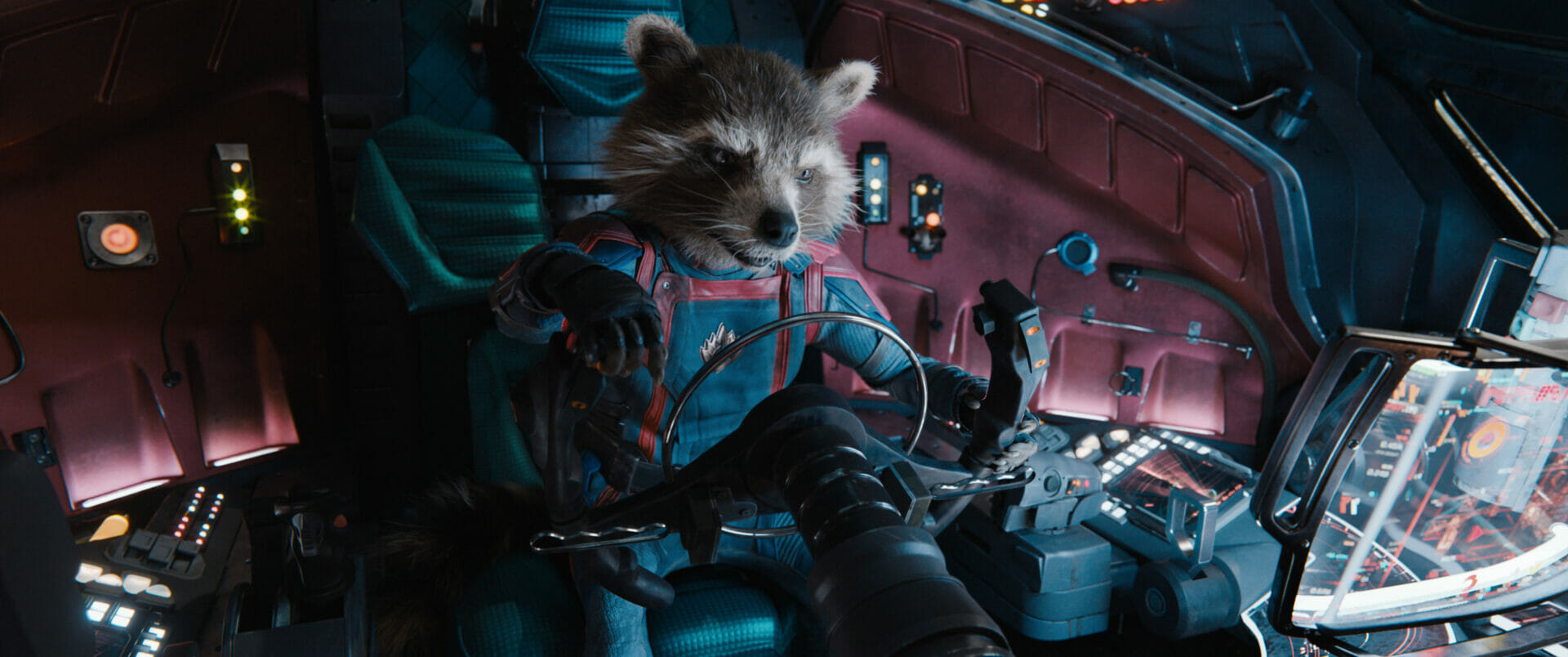 The story starts with and gives a fitting end to the story arc of Rocket (voiced by Bradley Cooper), this always-seemingly oddball has been portrayed throughout his time in the MCU as brash, selfish, and a little more than arrogant. His character has developed beyond those characteristics in recent MCU projects, to become an essential part of this family, as well as truly a Guardian of the ENTIRE Galaxy (you'll remember he teamed up with the Avengers to bring back half the universe).
His character's portrayal in this film as being the brains of the operation is highlighted in this film. It is what drives the plot, and that is not a task that is taken lightly here by the production, this essential part of the movie, and one on which the crux of the movie stands, is what gives its most human element.
Rocket's skill set which has been showcased throughout the course of his time in the MCU is finally given a back story explored as being both a blessing and curse. Rocket is a unique being in the larger MCU, that is even compared to those he's played alongside a talking tree and a literal god.  His existence and skills are explored throughout the film, and through engaging storytelling.
As characters' motivations are explored and character arcs are brought to their furthest reach, this is when you realize that this film is what has been so missed in the MCU lately and also makes it worth watching. The action is a return to form for direction and CGI-filled pandemonium that has been missed in the MCU, and only this group has been able to bring time and time again.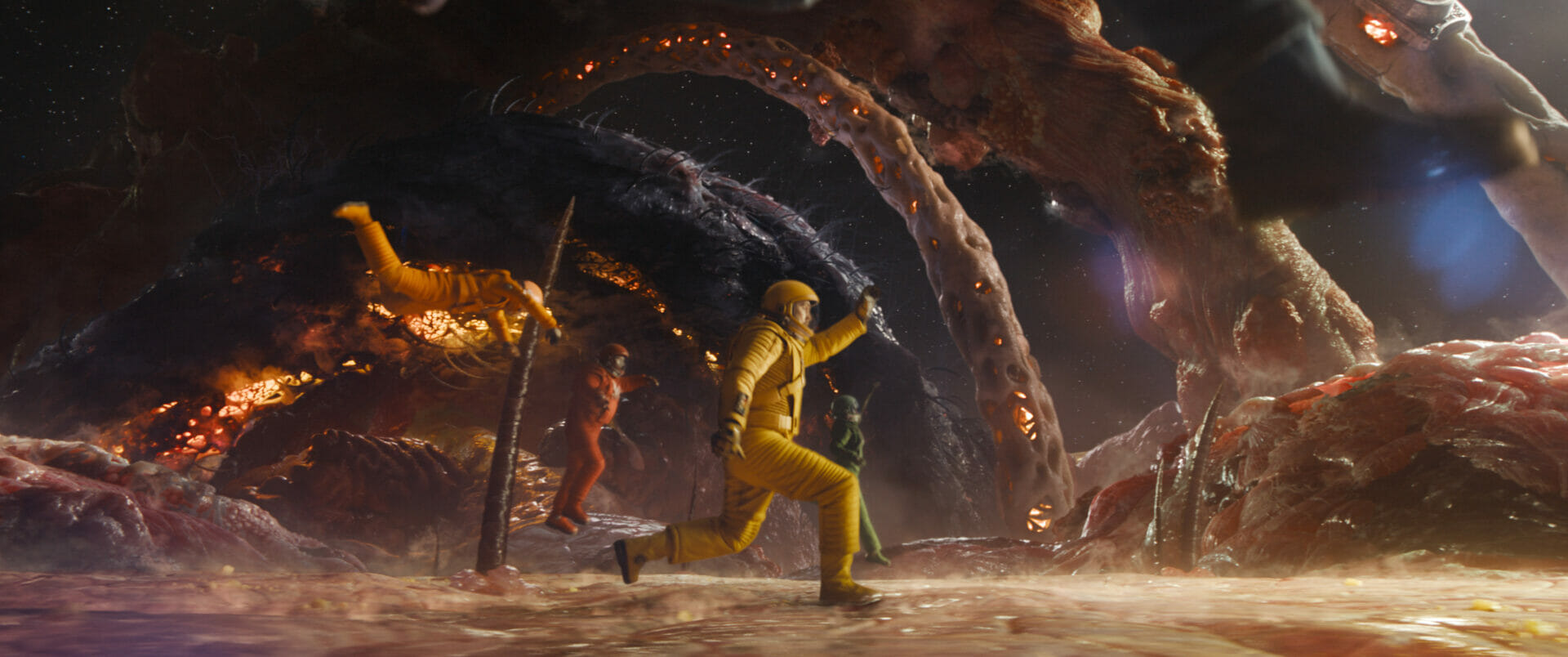 The action sequences are spread throughout and are not as often made as large as expected to be, but when the action sequences are on the big screen along with the movie's soundtrack, you can't be expected not to be grinning from ear to ear. The larger set pieces for some of the sequences are executed well by James Gunn and Co., and the CGI-fueled beatdowns these characters are known for are done in tighter set pieces amongst all the CGI madness and they are the better for it, including one of the best-extended fight sequences in recent MCU memory.  Everyone brings their A-game for this action-packed, emotional send-off to the Guardians. 
Each of the Guardians has their time to shine in this epic conclusion, and each of their own motivations and story arcs is so wonderfully explored here, that you don't even mind the runtime at a little over the two-hour mark. While some things by films end change for our characters it feels as if some things stay the same, and that's not a bad thing, this is found in "Drax" played by Dave Bautista, and Pom Klementieff's "Mantis" with these two there are guaranteed brand of humor and familiarity that can always be depended on for those moments as well as heartfelt ones, they deliver a performance that reminds us why we have grown to love every member.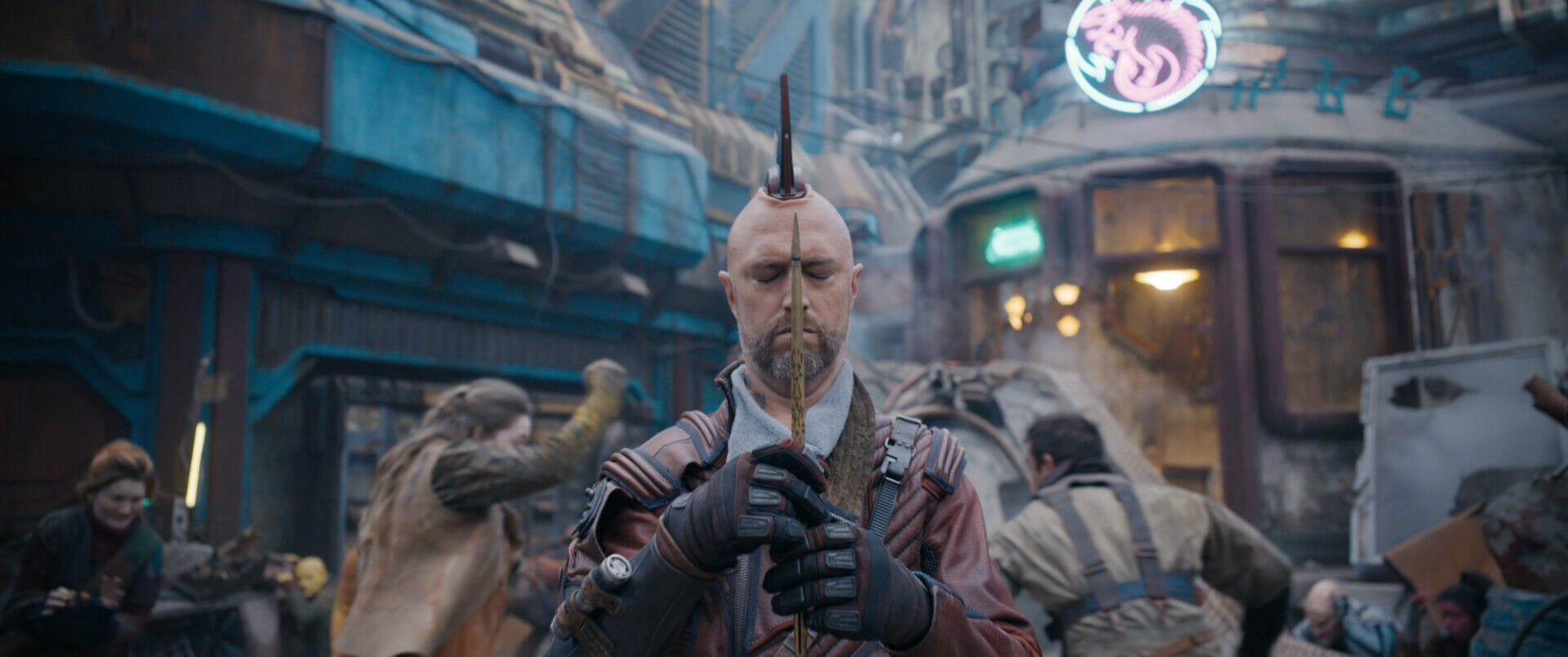 Amongst others returning is "Kraglin" played by Sean Gunn. His character has been an essential part of this team, and this really shows throughout the film. His presence feels familiar and is welcomed amongst many of the other returning characters, as they finish their story arcs. The team would also not be complete without Karen Gillain's "Nebula" as well as Vin Diesel's "Groot".
These characters' sacrifices for the rest of their found family throughout this series and in the larger MCU are not taken for granted. They have both been core parts of the larger MCU including being in both Avengers three and four respectively. These characters remind us not to underestimate what easily could just be a talking tree and an android in any other sci-fi film as of late, but in this movie, their characters are truly unsung heroes.
Filling out the rest of the cast is Maria Bakalova as "Cosmo the Space Dog" who is a joining member of the Guardians, a character that has been showcased since they were featured as an easter egg in the first film. This character's addition pays off in a really nice way for this story and is a welcome addition. Appearing as the film's antagonists are Will Poulter as "Adam Warlock" and Chukwudi Iwuji as the High Evolutionary respectively.
Poulter, it would seem like Bakalova's character has been hinted at since the first film as an easter egg as well. His inclusion is what fans have been tepidly hoping for and does not disappoint that his character gets to play. Although many find him underused in this film, beyond being a simple Superman in this story, his character does come with a promise.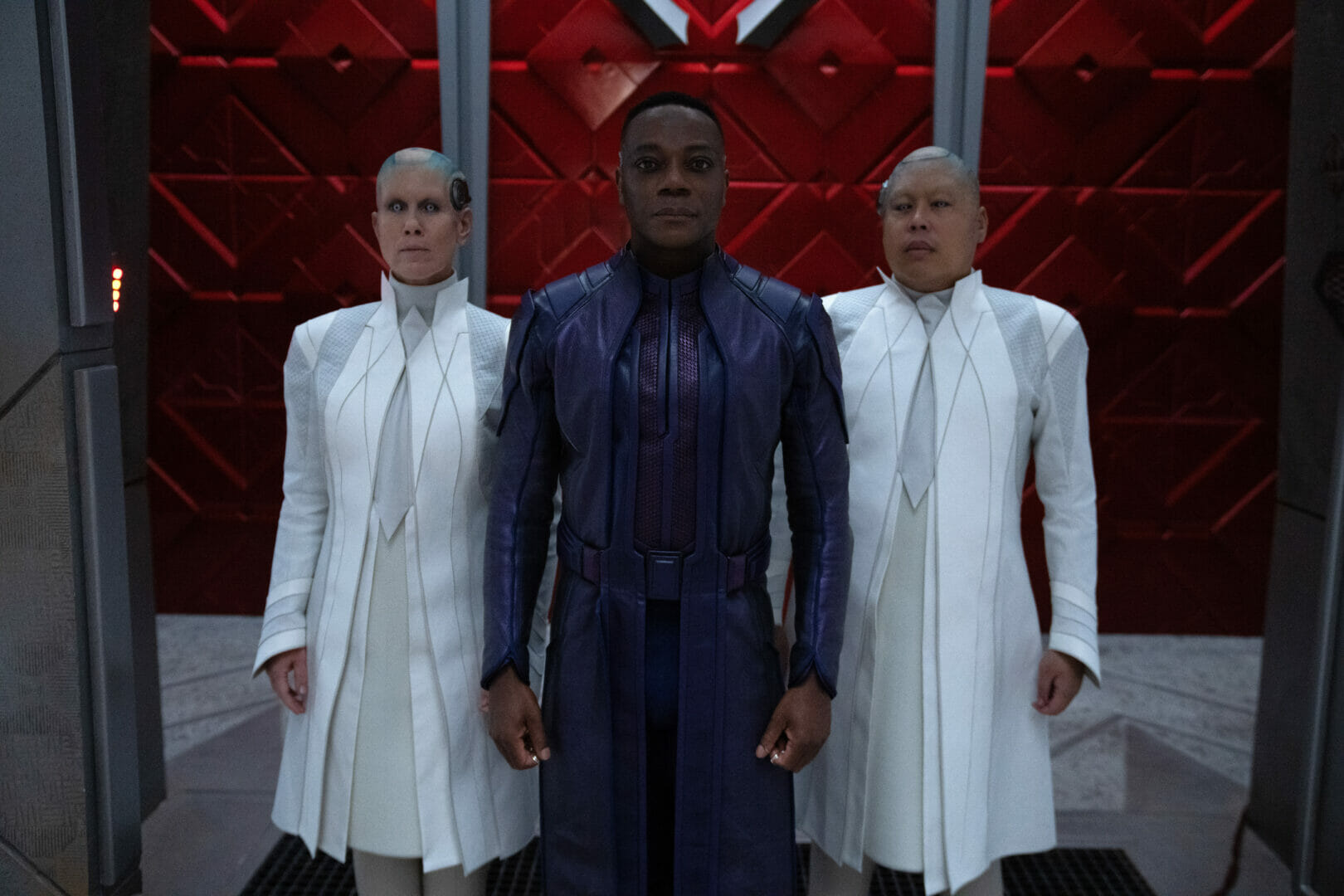 The most compelling character is Iwuji as the film's villain, whose story and motivations are intertwined with the existence of Rocket. He evokes a Bond villain in his portrayal in this film and one that is dying to be seen on the big screen. His villainous story told throughout the movie, is what feels like what has been missing as of late. You'll find there are no redeeming qualities for him, he's just evil plain and simple. He is played by Iwujii in such an over-the-top way, it leaves you wanting more. 
With more motivations largely explored and story arcs finished by the movie's end, this film may very well leave the audience satisfied with the fact that we were able to say goodbye to this unique family in such an awesome and heartfelt way. If the Avengers characters gave us a satisfying conclusion to their character arcs in "Avengers Endgame" then the same can be said for this group.
The Guardian's story concluding with this trilogy is done so with the love and care of a creative team that outpaces those other projects the studio has been releasing as of late. This is the same studio that has brought us great character-driven moments in their movies and has seemed to be burnout with the handling of most of them.
The Ant-Man character just concluded his trilogy and left many fans feeling as if the studio is running out of good stories and ideas within their projects. There appears to be no burnout here, just simply an exciting conclusion to these character-driven stories that have kept us coming back time and time again and that is done so well under the direction of James Gunn, we are left yet wanting more and more.
Marvel fans can only hope for this level of storytelling and direction to return to the big screen, but for now, we can be grateful to the cast and crew for telling such a satisfying ending to what may very well be the best Marvel Trilogy for the foreseeable future.