This post contains affiliate links and our team will be compensated if you make a purchase after clicking on the links.

We may be stuck at home, but our minds and memories can take us anywhere in the world. So over the next few weeks, I would like to look back at some of my favorite getaways.
A trip that often dances in my memory is the Caribbean cruise I took a few years back with Windstar Cruises. Featuring motorized sailing yachts that are about a third the size of today's average cruise ships, Windstar offers a unique, intimate traveling experience.
The voyage began aboard the sleek, 342-passenger Wind Surf, which took us to the beautiful islands of Iles des Saintes, Nevis, St. Barthelemy, St. Martin, St. John and St. Thomas.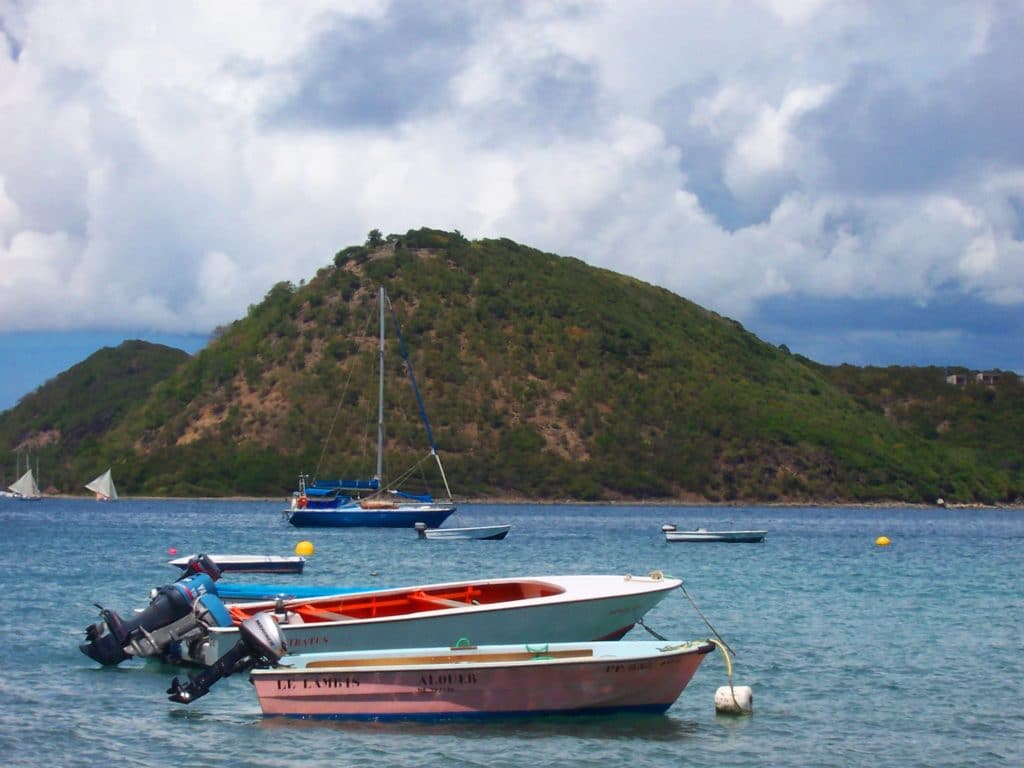 Iles des Saintes, my favorite island in the French Antilles, was discovered by Christopher Columbus in 1493. This charming little hideaway is painted with colorful fishing boats bobbing offshore and tanned, french-speaking residents traversing narrow, semi-paved streets with scooters, bicycles and bare feet. The island canvas is completed with the tiny shopping village of Bourg, sandwiched between white sandy beaches, with turquoise waters, and verdant green hills, speckled with red-roofed dwellings.
While in Iles des Saintes, I hiked to the ruins of Fort Napoleon, an 1867 garrison built by the island's inhabitants to defend against attacking Carib and English armies. I then found Pont Piere Beach, where I went snorkeling in a secluded cove and relaxed on a deserted beach, while the Wind Surf danced on the horizon and wild goats and fisherman strolled past.
Back onboard the Wind Surf I explored the 617-foot-long ship. The vessel boasts five towering masts and seven massive, computer-operated sails can propel her if the wind is right. If its man-made power the captain needs, then four diesel-electric engines are at the ready.
Because of her size, the Wind Surf, like all Windstar ships, can drop anchor in exotic ports too small for the big guys. And because these vessels carry a fraction of the passenger load, embarking and disembarking takes minutes instead of hours.
In the morning, the lush green mountains of Nevis engulfed my cabin windows. Rushing ashore, I found a beautiful cone-shaped island with colorful buildings, friendly locals, uniformed school children, and wondering goats and chickens. I gathered my water and sun screen and joined an expedition into the island's stunning rainforest in search of vervet monkeys, wild donkeys and Zebra butterflies.
The trek took us through a thick canopy of vegetation that wound past wild coffee and cherries, mango trees and bamboo, and a host of exotic medicinal plants. In a while, we dipped beneath the branches of a towering breadfruit tree and emerged from the jungles of Nevis. Here I peered down the mountain to see the glistening profile of Wind Surf, anchored in a horseshoe bay.
From Nevis the Wind Surf sailed to St. Barthelemy, where we anchored off the tiny French island around noon. Because of the ship's diminutive size we parked close enough to see a hilltop sprinkled with luxurious retreats. While here, I joined a van tour of the island.
Also known as St. Barts, St. Barthelemy is a Caribbean haven for the rich and famous – or those lucky enough to have been born there. The island is highlighted by narrow hillside streets, with secluded coves; sandy beaches; and luxurious resorts, hanging above emerald lagoons. There is also duty-free shopping; chic sidewalk cafes; mopeds and tiny cars; and a continuous air show, in which planes skim the main highway to land on a mountaintop airstrip the size of a football field.
Back aboard the Wind Surf, the chef prepared a Caribbean buffet in the lounge. Highlighted a whole roasted pig, fresh crab and shrimp, and numerous coconut and curry dishes, the exotic feast brought everyone out of their cabins. Dinner was followed by a variety show, staring the ship's crew.
In the morning we sailed into St. Martin, the smallest landmass in the world shared by two countries. The Dutch own sixteen miles and the French own 21. On the French side, I saw salt ponds and the largest lagoon in the Caribbean. On the Dutch side, I found gambling and great bargains on duty free alcohol.
Our last island stop was St. John, where I hiked over a mountain and ended up at Honeymoon Beach, a beautifully secluded paradise. While cooling in the clear, bath-like water, I was invited aboard a nearby sailboat and given cold beer.
For more info on a Windstar Cruise to the Caribbean or other exotic destinations, visit www.windstarcruises.com.