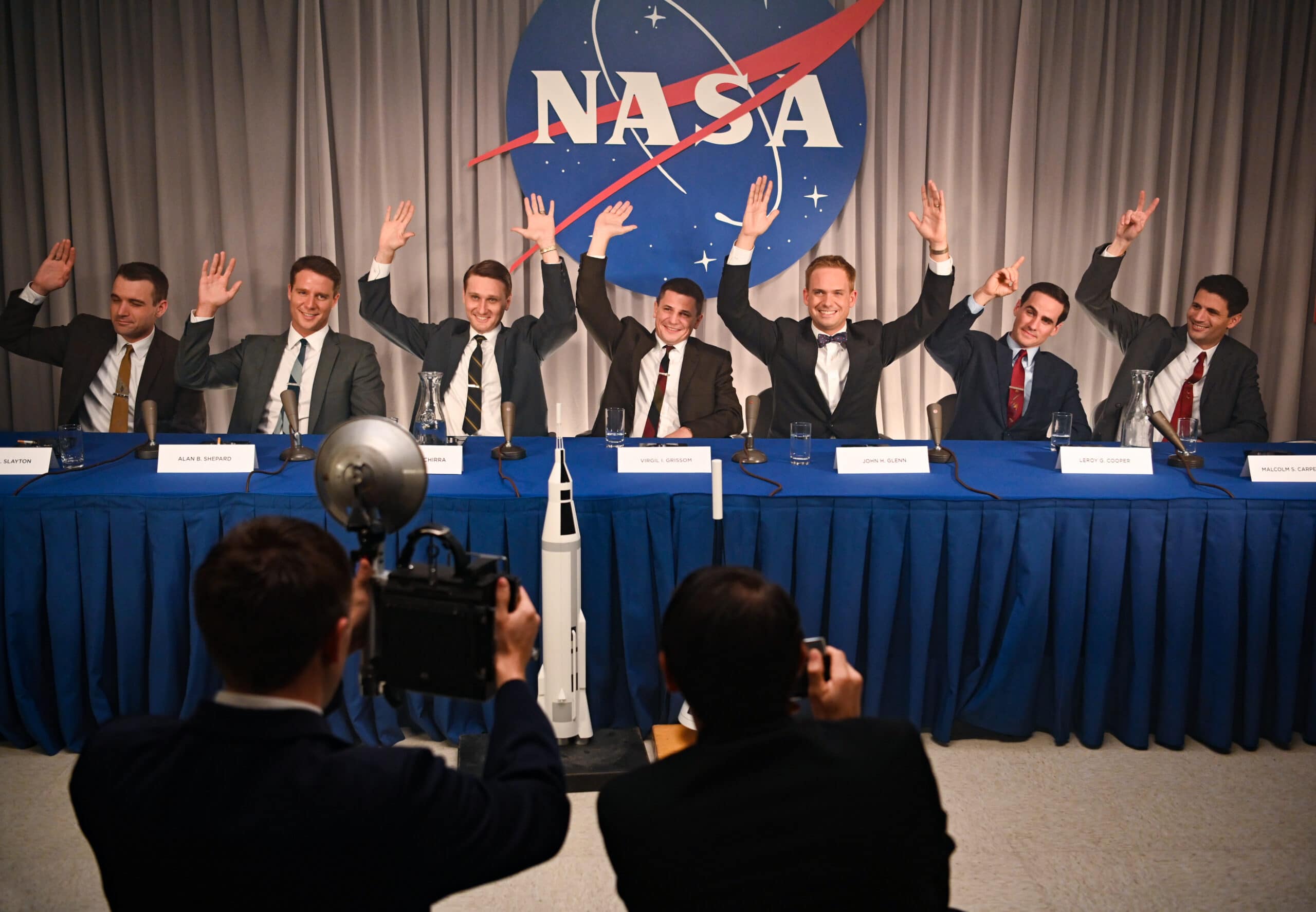 This post contains affiliate links and our team will be compensated if you make a purchase after clicking on the links.

As part of its Comic-Con@Home panel for its upcoming original series "The Right Stuff," Disney+ released a sneak peek from the service's first scripted series from National Geographic. Premiering this fall, "The Right Stuff" tells the incredible story of America's first astronauts, the Mercury Seven, during the early days of the U.S. Space Program.
Moderated by former NASA Astronaut Dr. Mae Jemison, the panel featured cast members Patrick J. Adams ("Major John Glenn"), Jake McDorman ("Lieutenant Commander Alan Shepard"), Colin O'Donoghue ("Captain Gordon Cooper"), Michael Trotter ("Gus Grissom"), Aaron Staton ("Wally Schirra"), Micah Stock ("Deke Slayton"), James Lafferty ("Scott Carpenter"), Nora Zehetner ("Annie Glenn"), Shannon Lucio ("Louise Shepard"), Eloise Mumford ("Trudy Cooper"), Eric Ladin ("Chris Kraft"), and Patrick Fischler ("Bob Gilruth"), Showrunner and Executive Producer Mark Lafferty, and Executive Producer Jennifer Davisson.
Watch Full Panel:
Based on the iconic bestseller by Tom Wolfe, "The Right Stuff" is an inspirational look at the early days of the U.S. Space Program and the incredible story of America's first astronauts, the Mercury Seven.
The eight-episode, scripted series takes a clear-eyed look at what would become America's first "reality show," as ambitious astronauts and their families become instant celebrities in a competition that could kill them or make them immortal.
The two men at the center of the story are Major John Glenn, a revered test pilot and committed family man with unwavering principles, portrayed by Patrick J. Adams ("Suits"), and Lieutenant Commander Alan Shepard, one of the best test pilots in Navy history, portrayed by Jake McDorman ("What We Do in the Shadows," "Lady Bird").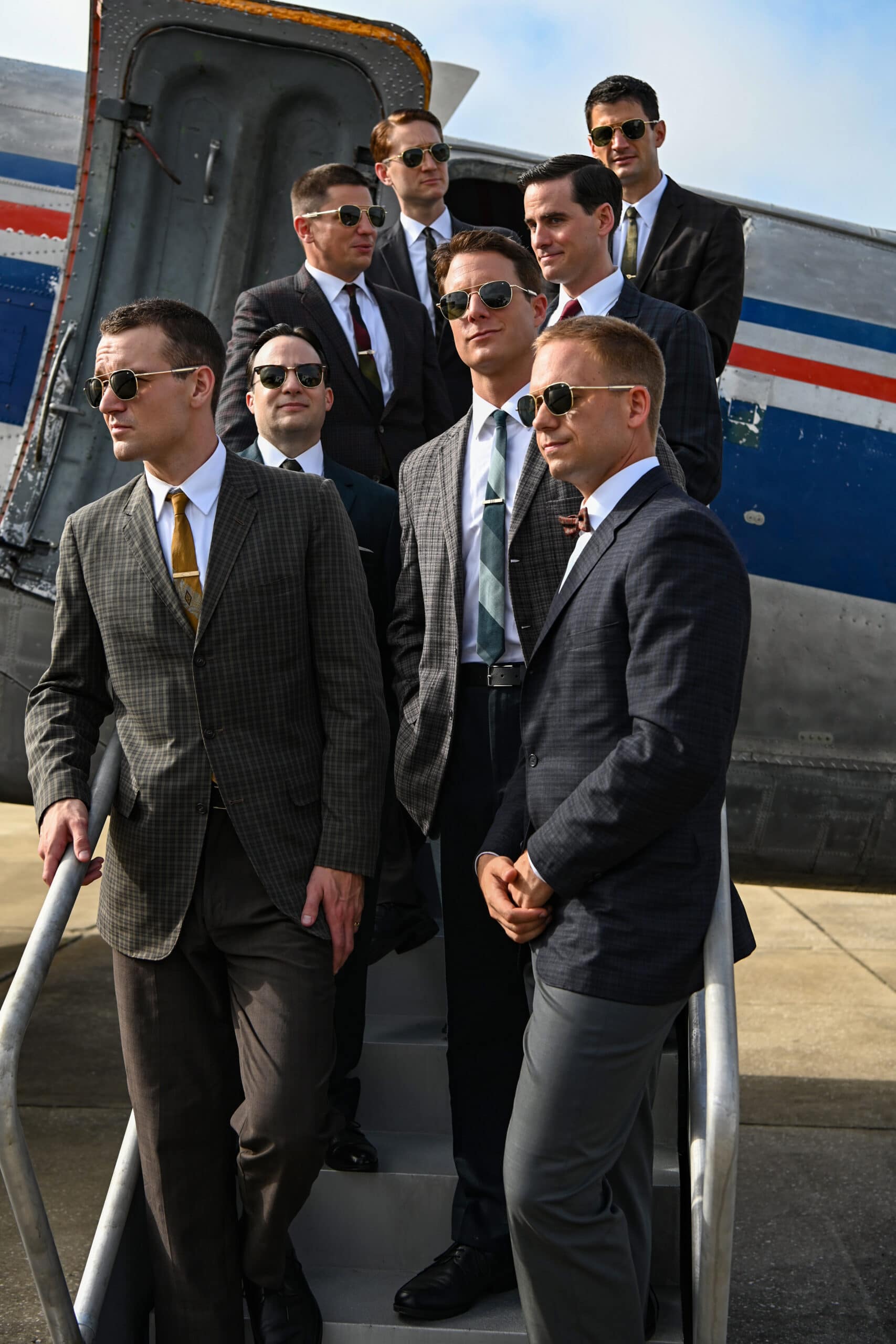 At the height of the Cold War in 1959, the Soviet Union dominates the space race, and America fears it is a nation in decline.  Newly-formed NASA has the monumental task of sending a man into space, and its engineers estimate they need decades to accomplish the feat. They are given two years. Dubbed Project Mercury, the program recruits and trains just seven astronauts from a handful of the military's best pilots.
"This true story of scientific innovation and human perseverance could not be more timely," said Courteney Monroe, president, National Geographic Global Television Networks. "National Geographic's The Right Stuff' is an aspirational story about exploration, ambition, determination, and resilience and reminds us that human beings can achieve the extraordinary when united by a common purpose.
This series provides a compelling behind-the-scenes look at the flawed, but heroic Mercury 7 astronauts and we are thrilled that it has found its perfect home on Disney+."
Within days of being presented to the world, the Mercury Seven become instant celebrities, forged into heroes before they achieve a single heroic act. At a time when many wondered if America's glory days were behind it, The Right Stuff is an aspirational story about how ordinary human beings can achieve the extraordinary.
As much about who we are today as it is about historic achievements, the series evokes the wonder of this singular era, when the free world looked towards a new horizon of hope as we first stepped off the bounds of our only home to venture into the vast unknown.
"Tom Wolfe's book brilliantly captured a critical moment in American history that really resonated with all of us at Appian Way and Nat Geo," noted Davisson, "Disney+ is the perfect partner to bring forth this story of what it takes to truly achieve something extraordinary, but also the personal costs of that ambition."
The rest of the Mercury Seven includes Lieutenant Gordon Cooper, portrayed by Colin O'Donoghue ("Once Upon a Time," "Carrie Pilby," "The Rite"), the youngest of the seven who was selected to everyone's surprise; Wally Schirra, portrayed by Aaron Staton ("Mad Men," "Narcos: Mexico," "Castle Rock"), a competitive pilot with a gift for pulling pranks; Scott Carpenter, portrayed by James Lafferty ("The Haunting of Hill House," "Small Town Crime"), a soulful man who was dubbed "The Poet" by the other astronauts; Deke Slayton, portrayed by Micah Stock ("Brittany Runs a Marathon," "Escape at Dannemora"), a taciturn but incredibly intelligent pilot and engineer; and Gus Grissom, portrayed by Michael Trotter ("Underground," "The Evening Hour"), a no-nonsense test pilot who eventually becomes the second man in space.