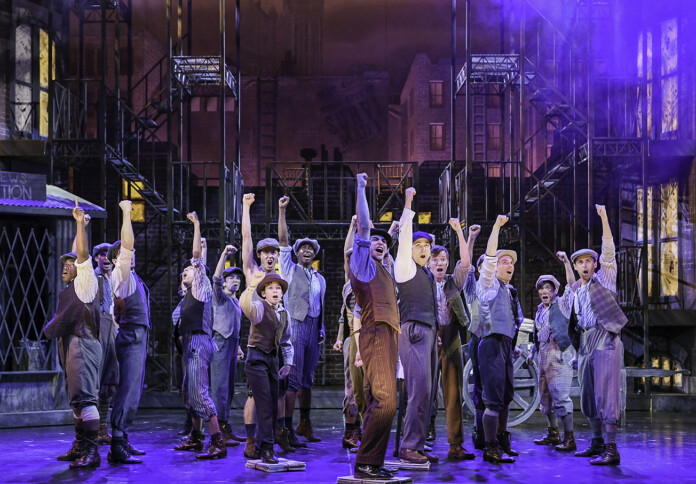 This post contains affiliate links and our team will be compensated if you make a purchase after clicking on the links.

Extra! Extra! Newsboys "Seize the Day" with a brand new production of the Tony-award winning musical as 3-D Theatricals presents "Disney's Newsies" at the Cerritos Center for the Performing Arts!
Live theater is back and better than ever in Cerritos after a two year absence. The audience and especially the cast and crew of this state-of-the-art facility is ready to stop the presses and knock your socks off with this high-energy spectacular.
Based on the true story of the Newsboys Strike of 1899 and the 1992 Disney live-action musical film of the same name, this family-friendly production centers on Jack Kelly, a rebellious newsboy who dreams of being an artist far away from New York City for Santa Fe. When publishing giant, Joseph Pulitzer, raises newspaper prices at the newsboys' expense, Jack and his fellow newsies band together in protest with the help of a new reporter, Katherine, making New York wake up to the power of "the little man."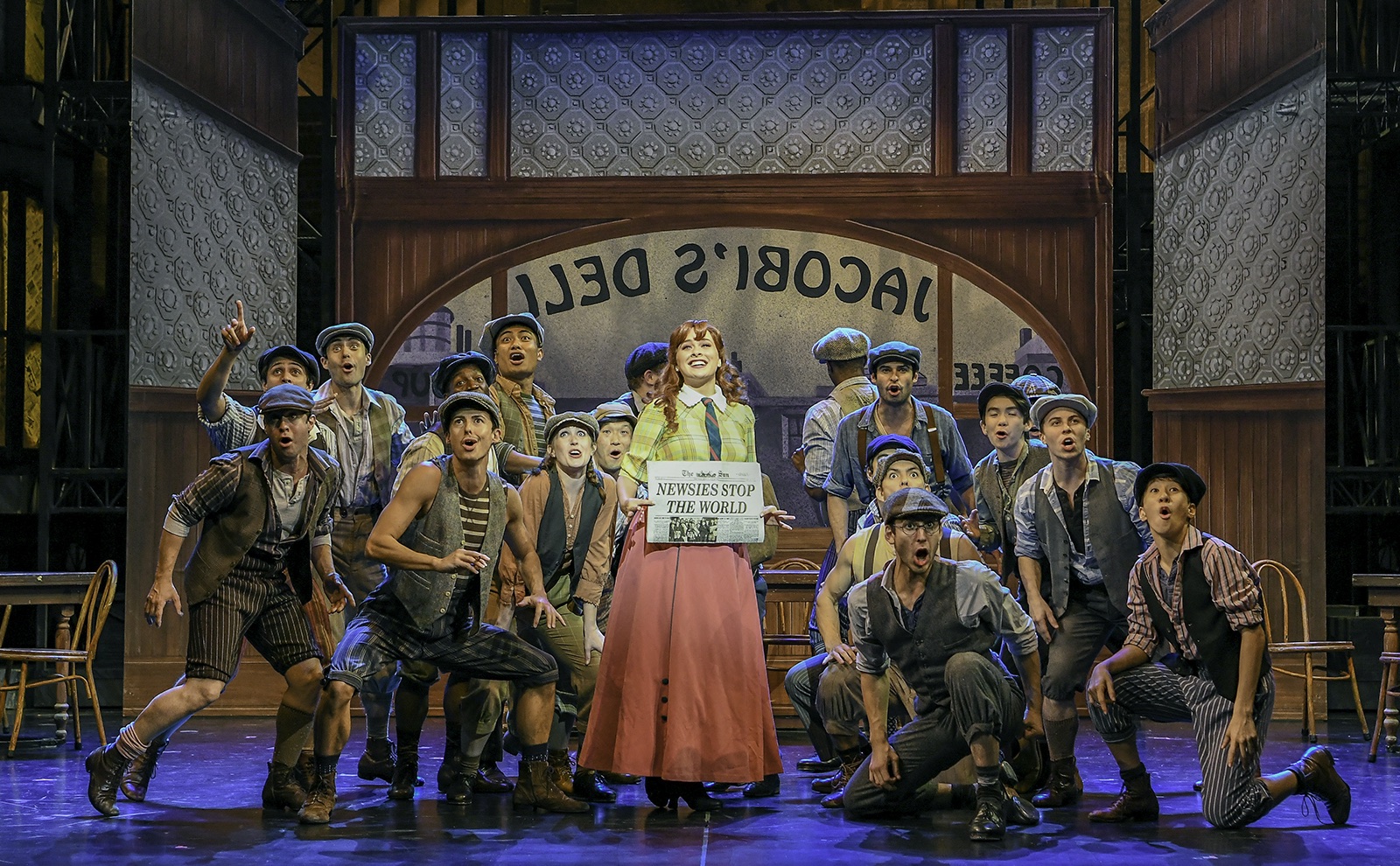 It's a classic and timeless tale of David vs Goliath. It's a fascinating set of circumstances when a real-life event turned into an underappreciated live-action film musical with so much love and devotion from fans that found new life on stage. The behind the scenes story is just as fascinating as the story audiences will adore again and again. There's no challenge the "Newsies" have yet to face and has overcome. There are even members of the cast that have waited two long years to be able to perform this show for fans.
Production designs consists of brick housing for the wings of the stage and metal scaffolding center stage. The scaffolding is manually pushed in, out, spins, and manipulated to fit the required settings providing the illusion of fire escapes, fenced gates, theater seating, backstage rigging, dreadful housing, and may appear limited at first glance, but the transfiguration and performers sell the space.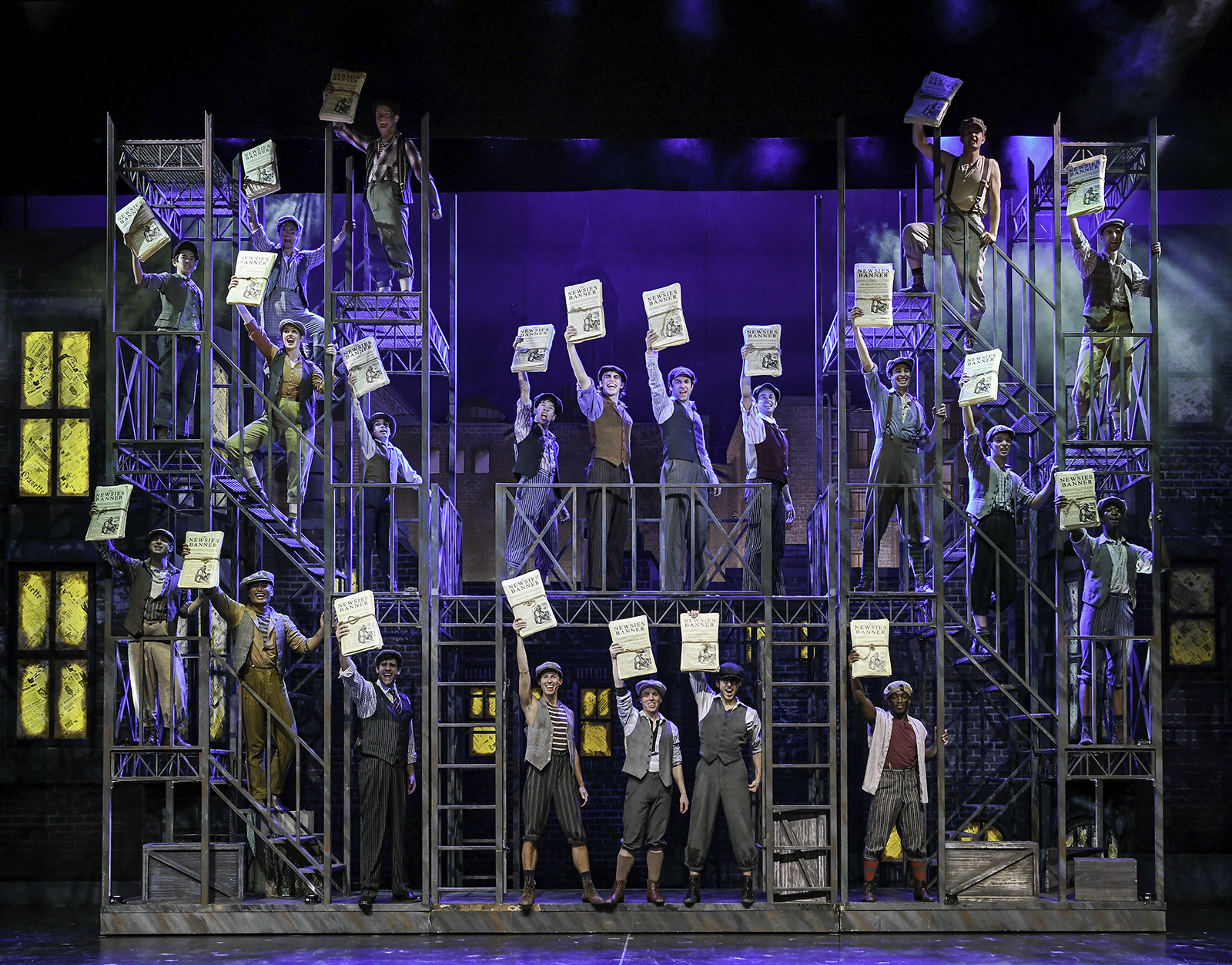 Several occasions call for the stage to open up for Medda's stage show, Pulitzer's office, and local restaurant. Thankfully projections are limited to a rooftop backdrop and animated chalkboard signage as the stage relies more on showcasing the performers interacting with the practical applications of the talented design team.
"Newsies" stacks up an impressive cast of performers who deserve front page news. Dillion Klena as dreamy "Jack Kelly". Charming looks and deviant voice can only take him and his cohorts so far. Allison Sheppard as the sweet writer "Katherine". Is her alliance a good sell? Norman Large as nefarious "Joseph Pulitzer" stirs up trouble retaining his power and influence.
The audience favorite and show-stopping numbers with "Carrying the Banner", "Seize the Day" and "King of New York" will want to make you jump out of your seat to join the cast in flips, spins, and kicks. The gravity-defying acrobatics whisks the audience into a heart-pounding whirl of joy. You'll buy into and eat up the irresistible toe-tapping, high-energy of "Newsies". Outperforming the movie and surpasses the convenience of streaming services. This show is meant to be experienced live on stage with an excitable audience.

Newsies Ticket and Showtime Info:
Playing now thru Sunday, May 29, 2022. Performances are Fridays at 8pm; Saturdays at 2pm and 8pm; and Sundays at 2pm. There will be no performance on Saturday, May 14 at 2pm. There will be an additional performance on Thursday, May 26 at 7:30pm. Tickets range from $20-$100. Tickets can be purchased by visiting www.3Dtheatricals.org or by calling (562) 916-8500.