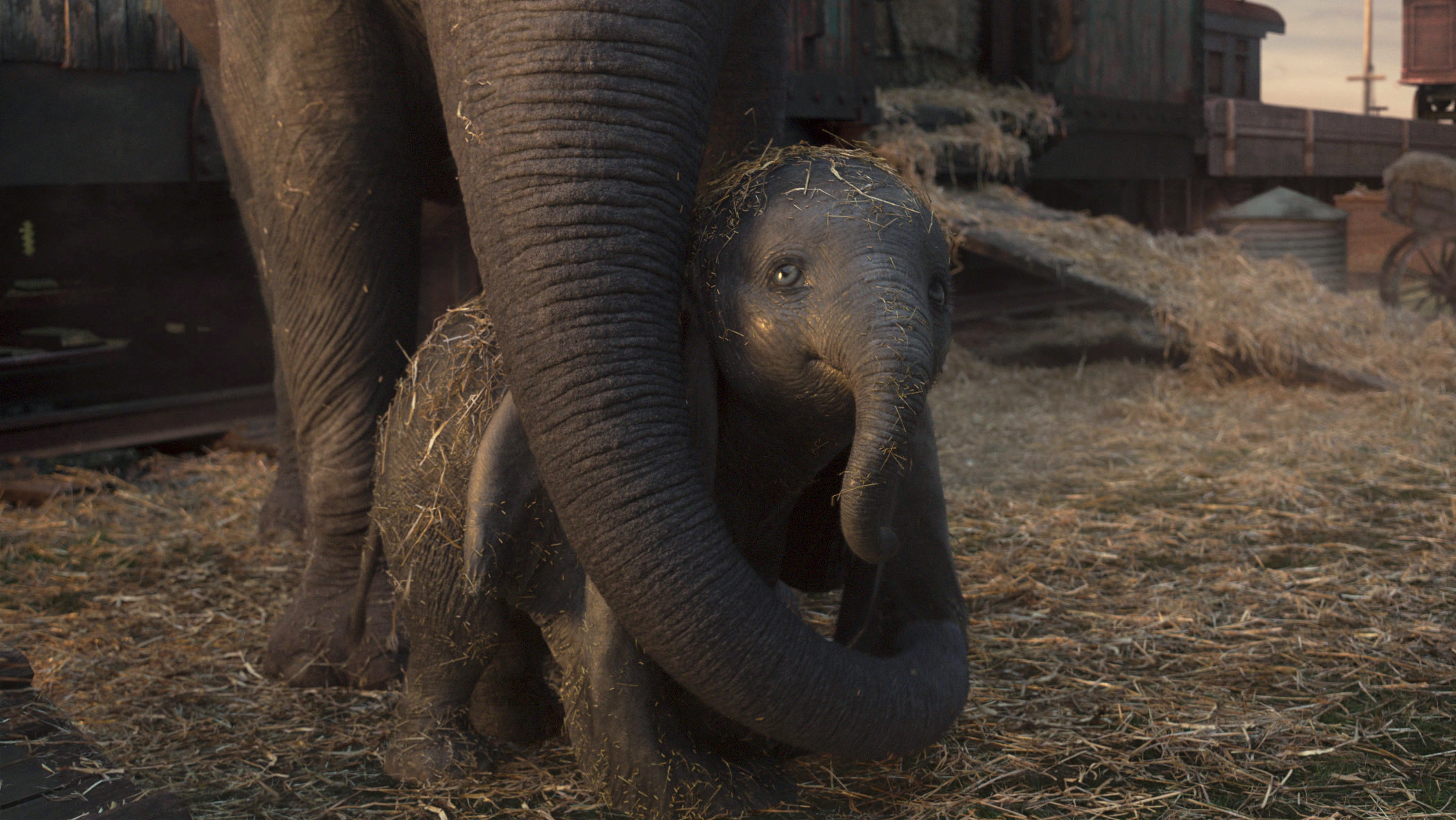 This post contains affiliate links and our team will be compensated if you make a purchase after clicking on the links.

Disney's newest live-action remake takes on the eighth wonder of the world, "DUMBO", hitting theaters this Friday! This reimagination of Walt Disney's classic film expands on the story to include new characters, plot points, and a few new villains. With a film as significant in the Walt Disney Company's history as the 1941 classic, how does the 2019 remake compare? In this review, I discuss the overall plot (how it derives from the original story), character (actor performances), and Visual Effects of Disney's newest film.
Disclaimer: This is not an opinion-free review. While this review does not contain spoilers for the overall film, I allude to particular scenes and plot points in my overall evaluation of the film. Continue at your own risk.
Plot
The movie begins with a circus troop in Sarasota, FL in the Spring of 1919. The train, Casey Jr., travels across the United States south and stops for two weeks at Joplin, MO. Circus owner Max Medici (played by Danny DeVito) enlists former Stallion Star Holt Farrier (played by Colin Farrell) after his return from fighting in The Great War. Holt and his two children Milly (played by Nico Parker) and Joe (played by Finley Hobbins) are enlisted to care for a pregnant Asian elephant, Jumbo. Two days after Holt's return to the Medici Bros. Circus troop, a newborn elephant joins whose oversized ears make him a peculiar specimen. Jumbo Jr. becomes the laughingstock in an already struggling circus in a performance accident that gives him the titular name of Dumbo.
Courtesy of Walt Disney Studios
After the discovery that Dumbo can fly, the Emperor of Enchantment V.A. Vandevere (Michael Keaton) recruits the special pachyderm for his newest expansion to his larger-than-life entertainment venture, Dreamland. Dumbo soars to new heights alongside a charming and spectacular aerial artist, Colette Marchant (played by Eva Green), until Holt and the Farrier children learn that beneath its shiny mystical facade, Dreamland is full of dark secrets.
Director Tim Burton ("Alice in Wonderland"; "Charlie and the Chocolate Factory"), along with the assistance of screenplay writer Ehren Kruger ("Tron: Legacy") expand on the Walt Disney classic, but fail to provide the same level of magic that the original does. Burton is known for dark fantasies, but it feels restrained in "DUMBO" as if he was not allowed to provide the same level of grit and dark as in classics such as "Edward Scissorhands" and "Beetlejuice".
Characters
With a stellar cast including Colin Farrell, Michael Keaton, Eva Green, and Alan Arkin, the standout performance by far of this film is Danny DeVito's circus ringmaster, Maximilian Medici. From the first moments of the film to the very end, DeVito provides whimsy and childlike wonder to the struggling circus owner. DeVito is the comic relief and serves as a reminder to moviegoers that this is a new adaptation of the story.
Courtesy of Walt Disney Studios
The rest of the cast (with the exception of certain scenes by Eva Green and Colin Farrell) fail to convince the audience of the high stakes and the dangers of the film. One of the most disappointing performances comes from Academy award-winning actor, Michael Keaton. Keaton, who plays V.A. Vandervere, provides a lackluster performance of what could have been a sinister character. Instead, Keaton portrays a cookie-cutter antagonist that fails to convince the audience that Dumbo and the rest of the Medici Bros. Circus troop are in danger. This is Keaton's third franchise with Tim Burton, after such memorable performances such as Beetlejuice and Batman. Keaton defined nerd culture in 1988 and also showed how sinister he could be as an antagonist in his portrayal of The Vulture in "Spider-Man: Homecoming" in 2017, which is why it is disappointing that the performance of V.A. Vandervere feels slipshod.
The children actors, to no fault of their own, struggle to portray to the audience the importance of saving baby Dumbo. Milly (played by Nico Parker) is the daughter of cowboy performer, Holt Farrier, but she doesn't want to be a circus performer. Instead, Milly wants to dedicate her life to science. It's through this passion of science that she discovers Dumbo's ability to fly. When Dumbo loses his mother, Milly checks on the baby elephant and tells him about how she misses her mother. This scene, in particular, had the possibility to be a tearjerker but Parker's monotonous voice and expressionless face conveys to the audience what she is saying to Dumbo is disingenuous. Joe (played by Finley Hobbins) has even less of a speaking role. It took me until the halfway point of the film to know that his name is Joe. The two roles are an adaptation of Timothy the Mouse's role in Walt Disney's classic version. Milly and Joe are supposed to be the voice for the voiceless, which is a tall order to fill for any actor (especially for two young actors). Unfortunately, Parker's lack of visible concern along with Hobbins' lack of presence somewhat diminishes Dumbo's stardom.
Visual Effects
As the name suggests, Dumbo is one of the prominent characters (but not the main character) that is brought to life with the extensive use of CGI in the film. For the most part, the eighth wonder of the world is visually stunning. When we first meet Dumbo from when he is hiding in a pile of hay, even when he is dressed as a clown with white face paint, moviegoers fall in love with the adorable elephant blue eyes. The quality of the visual effects drops whenever a character rides on Dumbo's back. This is apparent when Eva Green's Collette Marchant practices with Dumbo for their performance debut; when Green is "sitting" on Dumbo it looks believable, but in a far-away shot the rendering of the CGI elephant and the acrobat looks unfinished.
Conclusion
Tim Burton's version of the Walt Disney 1941 classic reimagines the story so Dumbo is not the main character of his story. Rather, Dumbo serves as a supporting character for the Farrier Family story. Timothy the Mouse and other classic characters from the original film are not as prominent in this film, distancing itself from the original. While this film was not my cup of tea, I'm a Disney snob who loves the 1941 classic version. However, this film is a great way to bring the classic story for a modern audience. If you have little siblings or younger moviegoers in your party, they will enjoy this film.
Make sure to check out "DUMBO" in theaters this Friday, March 29th.