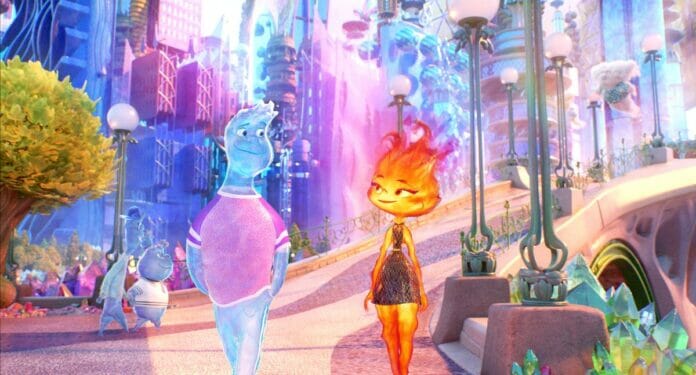 This post contains affiliate links and our team will be compensated if you make a purchase after clicking on the links.

Disney and Pixar's Elemental Tickets are now on sale at El Capitan Theatre including two fan event screenings.
Prior to the movie, guests can step into their element with an all-new H2Whoah Show, plus snap a picture at a themed photo op.
The fan event screenings will take place at 7:00 pm on Thursday, June 15, and Friday, June 16, each with their own exclusive items included with a ticket. The Thursday Fan Event is $40 and the Friday Fan Event is $50. Each screening is shown in Dolby Vision 3D.
Attendees at the Thursday Fan Event will receive one Elemental Mini Basketball Hoop, popcorn, beverage and event credential, and lanyard with their ticket.
Attendees at the Friday Fan Event will receive one set of 4 Elemental Color Changing Cups, popcorn, a beverage, an event credential, and a lanyard with their ticket.
Daily showtimes for "Elemental" in Dolby Vision 3D from June 16 through June 25 are 3:45 pm, 7:00 pm, and 10:15 pm. 2D screenings are available at 9:30 am and 12:30 pm daily. Dates and showtimes are subject to change.
Tickets are on sale now at www.elcapitantickets.com and https://www.fandango.com/el-capitan-theatre-aacon/theater-page. All seats are reserved. Tickets are $22 for adults and $18 for children and seniors.
Sensory Inclusive Screenings (shown in 2D) are available June 20 at 7:00 pm. Open Caption screenings (shown in 2D) are available June 21 at 7:00 pm. Spanish Dubbed screenings (shown in 3D) are available on June 25 at 12:30 pm.