This post contains affiliate links and our team will be compensated if you make a purchase after clicking on the links.

So how do you take a psychotic villain who's hell-bent on kidnapping Dalmatians and skinning them to design a coat, and make that person…likable? Going into Cruella, it was hard to know what to expect. When Disney released their first trailer in February 2021, the internet reaction was clearly divided. And a number of comparisons were immediately drawn to films like Joker, Birds of Prey and The Devil Wears Prada. But that doesn't appear to have been by accident.
Cruella actually leans heavily into the themes and styles of these movies, and it's all the better for it. Whereas 2014's Maleficent took a fantastic villain and watered her down, Cruella fully embraces that sometimes people are just born bad – and lets us find out why. But let's go back in time a bit…
All the way back in 2013, news broke that Disney was developing a live-action film based on 101 Dalmatians' Cruella de Vil. Following hot on the heels of the then-upcoming Maleficent, this would be the Mouse's second exploratory film about a classic villain. And while that film ended up being commercially successful, it was a critical mixed bag.
Rather than retelling the Sleeping Beauty story, they chose to make one of their best baddies into a sympathetic protagonist. Yes, she was sort of evil – but mostly just misunderstood. It was a severely missed opportunity for its fantastic lead casting. Would Cruella follow in the same footsteps and end up a disappointment? Turns out, we were years way from finding out.
After two+ years of no news, Emma Stone was cast in the lead role in January 2016. And for almost three years, a number of writers and directors became involved with the project before departing. It started to seem like the film was going to be scrapped. But finally, director Craig Gillespie boarded the project in December 2018. His most recent film I, Tonya, which explored the life of figure skater Tonya Harding through a darkly comedic lens, had been met with critical and awards acclaim.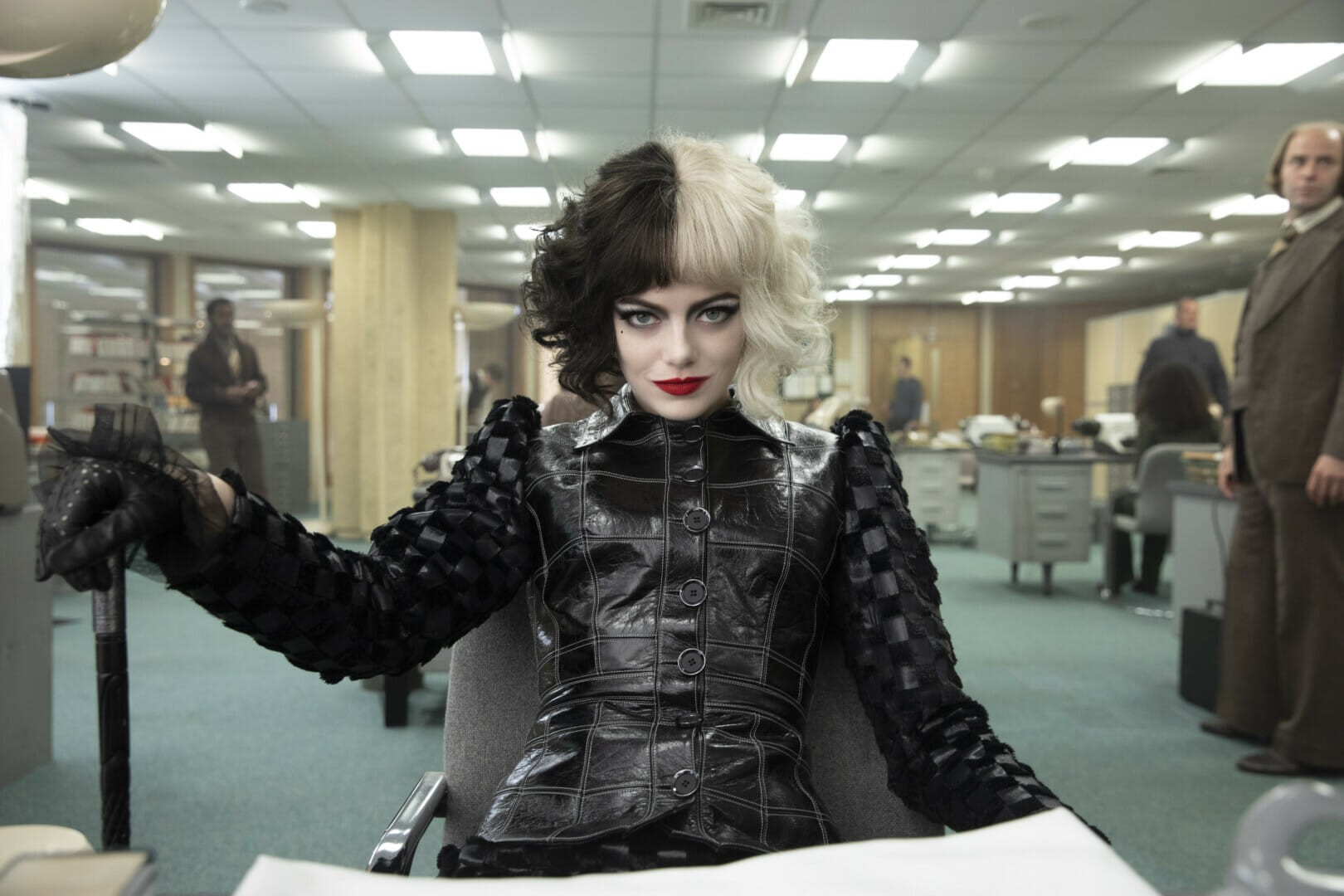 By May 2019, writers Tony McNamara (The Favourite) and Dana Fox came on to complete the screenplay. Emma Thompson was cast as the Baroness, touted as the main antagonist of the film who is responsible for Cruella's change into the villain we've come to know. Joel Fry (Yesterday) and Paul Walter Hauser (Richard Jewell) also joined as Cruella's crime duo Jasper and Horace. And finally Mark Strong, Kirby-Howell Baptiste and Emily Beecham rounded out the remaining cast.
At D23 in August 2019, it was revealed that principal photography had begun. Originally scheduled for release in December 2020, the film shifted to May 2021 due to the pandemic. Although it will simultaneously stream on Disney+ with Premier Access, the film faces a much broader theater release opportunity than Raya and the Last Dragon did just two months ago. And it will help kick off the summer box office season after more than a year of non-existent tentpole releases.
We are first introduced to a young Estella in 1964, living outside the city with her single mother Catherine. With her unique black/white hair, love for unique fashion and rambunctious personality, her wilder side is nicknamed "Cruella."  Estella struggles at school and tussles with classmates until she's expelled. Her mother decides it's time to move to London and try to start over. But a terrible accident befalls her, for which Estella appears responsible. She attempts to run and loses her only heirloom – a red necklace. Now orphaned, Estella stows aboard a truck and continues on to London.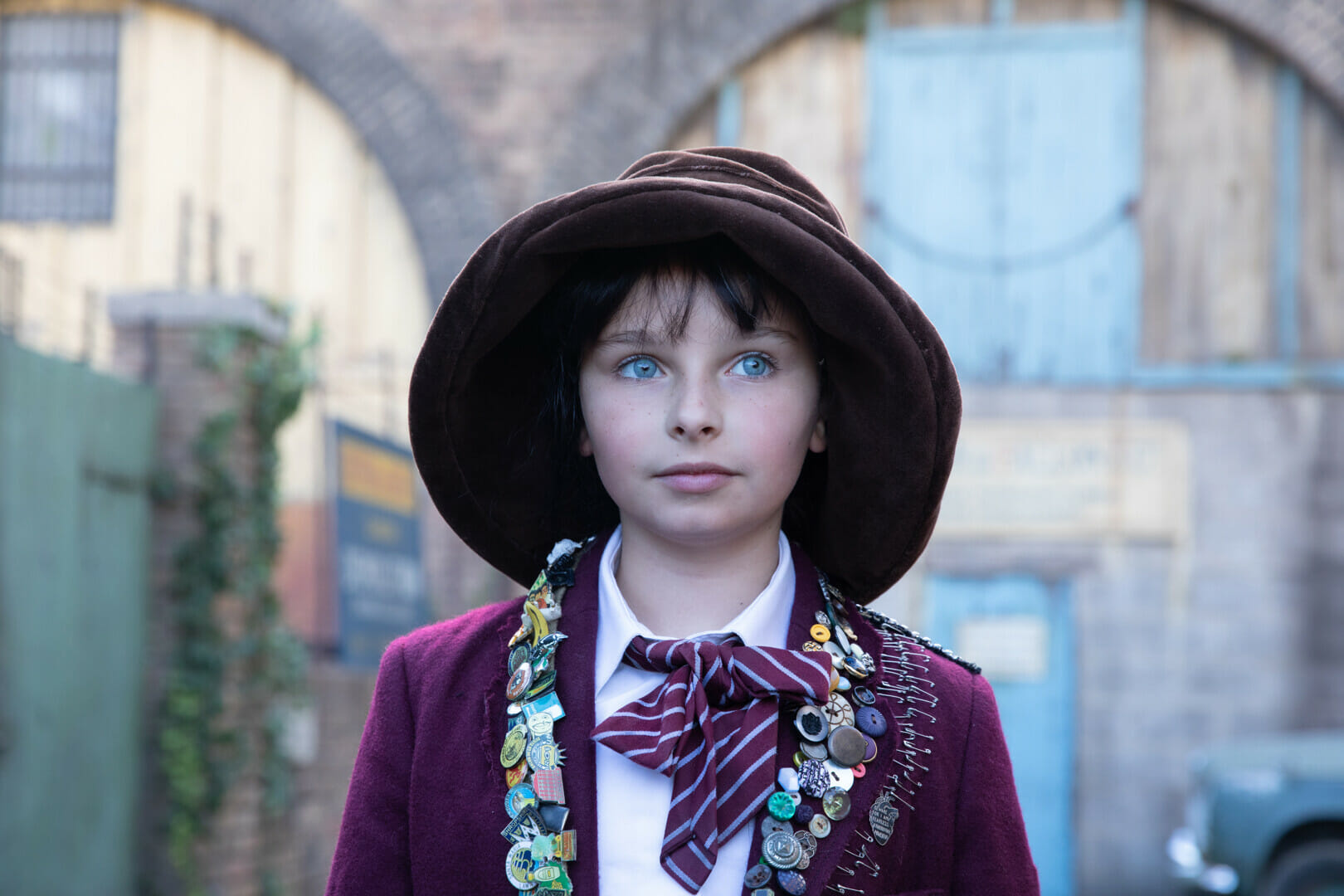 With no possessions and nowhere to live, she follows two homeless boys (Jasper and Horace) back to their hideout. Realizing the potential of their new trio, they live a life of crime and theft to stay afloat. Growing from adolescents to young adults, bouncing from job to job, stealing when they can and moving on to the next score. But Estella feels she is meant for something more and wishes to pursue a career in fashion.
After securing a legitimate job with a renowned fashion designer known as The Baroness (Thompson), Estella begins to come into her own. But there are connections to her new boss that are yet to be revealed. She learns The Baroness has actually acquired the red necklace she once had as a child, and a plan to steal it back emerges. And whilst working under her, Estella embraces her own designer alter-ego Cruella in an effort to ruin The Baroness' reign as London's fashion icon. Thus, a war between designers is born.
Let's talk about the casting. Glenn Close had an iconic turn as Cruella de Vil in the 1996 remake, and many felt it was going to be hard to match. Fortunately, those fears were all for naught. Emma Stone absolutely crushes it and makes it her own. She subtly changes from Estella, just trying to survive in the world to a confident and devilishly exuberant Cruella, out for revenge. Through her wild outfits, hairstyles and make-up, each new look is more elaborate and little more mad.
Equally brilliant as the adversarial Baroness is Emma Thompson. Comparisons will inevitably be drawn to Meryl Streep's role in The Devil Wears Prada, but Thompson is even more ruthless. Stalking above her employees in the design studio, taking credit for their work, and inflicting physical harm in some instances. Her interactions with Stone and other characters are sharp-tongued, and often sinisterly hilarious. And her outfits are equally lavish.
The rest of the supporting cast is strong as well. Joel Fry and Paul Walter Hauser are perfect as Jasper and Horace, the right and left-hand men of Cruella's bad deeds. Mark Strong also does well per usual playing a subdued but ultimately vital role as the valet to Thompson. Additional supporting cast members Kirby-Howell Baptiste, Emily Beecham, John McCrea and Kayvan Novak all do well in their respective roles. 
From a production standpoint, the film is stellar. Firstly, the soundtrack is killer. During the viewing, I found myself adding multiple songs to my music library. Setting the film in 1970s London during the birth of punk subculture was a brilliant move. Costume designer Jenny Beavan (Mad Max: Fury Road) nailed the period and designed some truly stunning pieces.
There were some breathtaking long takes from cinematographer Nicolas Karakatsanis (I, Tonya) and opulent sets from production designer Fiona Crombie (The Favourite), all of which really added to the mood and time period.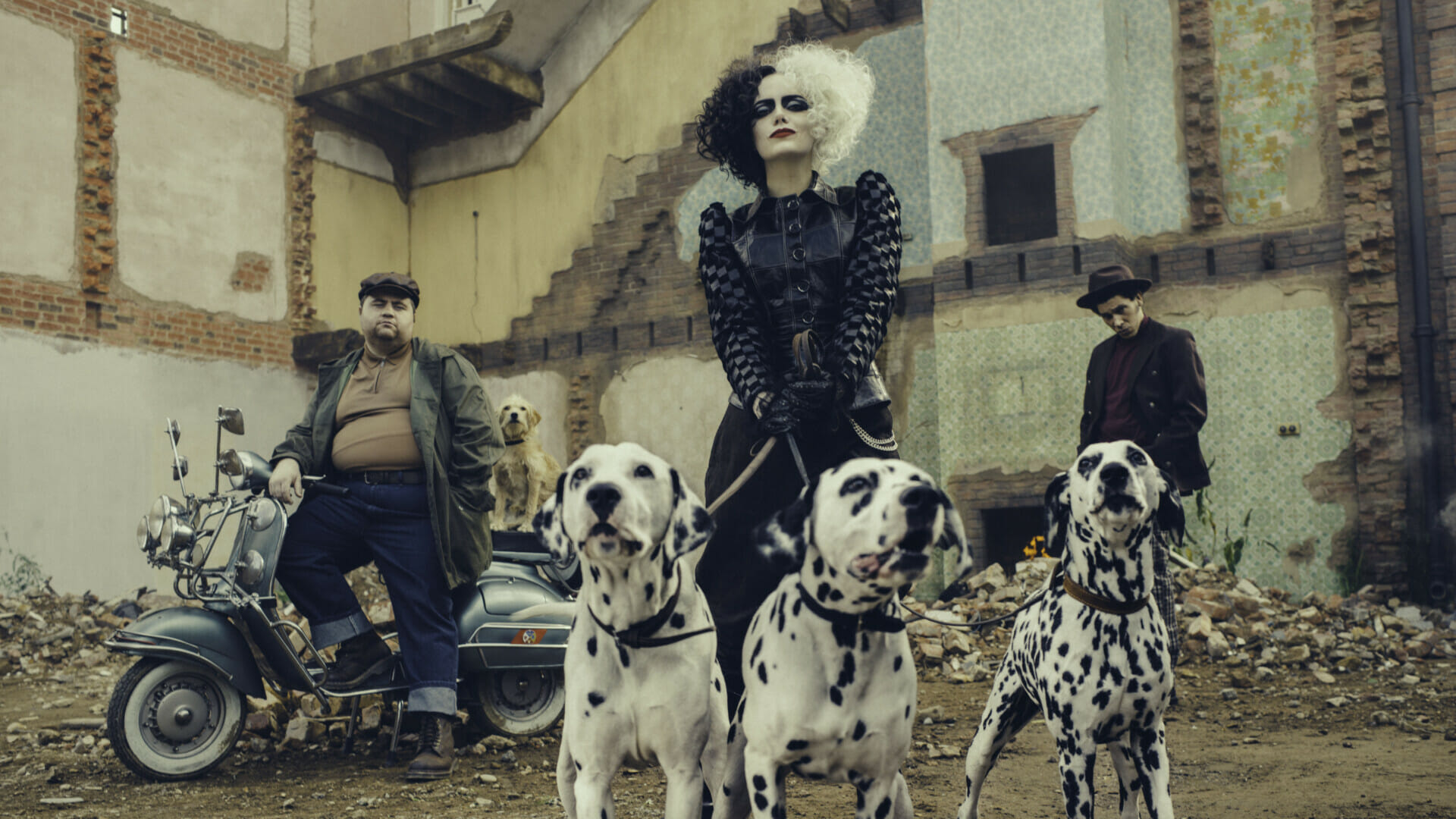 As a prequel/origin story, how well does it tie into the original 101 Dalmatians and Cruella de Vil we've come to know? Similar to Joker, this feels like more of an inspired-by-origin story rather than a true prequel. Necessary changes were made to the Cruella character to make her someone you'd root for, but still on the crazy side. Dalmatians are still an important part of the story but in a creative new way. And there are definitely some great call-backs to the original story, especially in the end credits.
The only complaint with the film are some of the montage sequences of Cruella working to overshadow The Baroness. Several of them are overlaid with newspaper headlines showing Cruella's rise in the fashion world. Stylistically, it was very busy and sometimes too quick, which made it hard to appreciate the outfits being displayed and read the headlines at the same time. While this is a small nitpick, the scenes could have lingered just a few seconds longer or have been edited a bit differently for the same effect.
Overall, Cruella is a damn good time. Standout performances from Stone and Thompson, wicked humor and lavish art direction. While Disney has faltered on some of the live-action recent remakes for either being too similar or too different, Cruella seems to hit the sweet spot.
More than anything, it feels like a grown-up movie too. It's dark and it has some pretty heavy moments but isn't too scary for kids. Disney aficionados will be pleasantly surprised by the story and likely find it to be one of their best reboots yet.
Score: 8.5 / 10
CRUELLA debuts in theatres and on Disney+ with Premier Access starting May 28th.