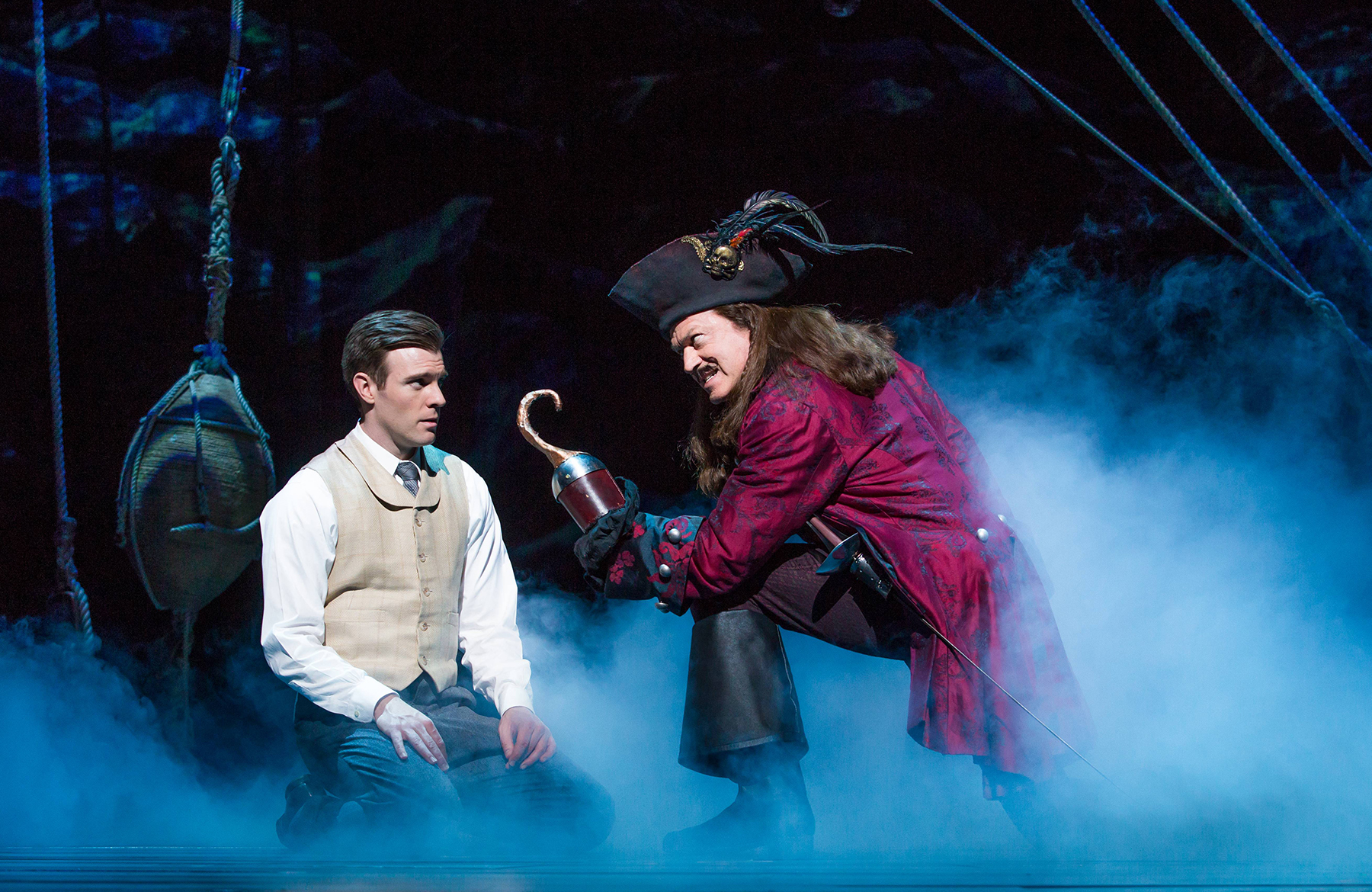 This post contains affiliate links and our team will be compensated if you make a purchase after clicking on the links.

In a fast-paced world that demands responsibility, Finding Neverland reminds us all of the importance of keeping your inner-child alive. Finally arriving in Orange County, the North American tour of this remarkable show does not disappoint.  Fans of the show will almost immediately notice the differences between the tour and the original Broadway presentation. The differences are simple, but obvious.  There are two new songs at the beginning of the first act that replace three from the original show.  The new songs fit well into this show and will not stand out to anyone who is unfamiliar with Finding Neverland or its original Broadway recording.
It begins with a lively fairy who soars across the curtain, and Peter Pan dancing around the stage to the beautiful prologue. Enter, J.M. Barrie (Billy Harrigan Tighe), the Scottish author and playwright who brought Peter Pan out of Neverland and into the hearts of children all over the world. From here, you enter the story (inspired by true events) of how Peter Pan came to be. Barrie was already a successful playwright, but needed something fresh and new to bring to the theater due to pressure from his theatrical producer, Charles Frohman (Tom Hewitt).  He finds inspiration in a family he meets near his home; four young boys named Peter (Ben Kreiger), George (Finn Faulconer), Jack (Mitchell Wray), and Michael (Jordan Cole), their mother Sylvia Llewelyn Davies (Christine Dwyer), and their meddling grandmother Mrs. Du Maurier (Karen Murphy). From this point, their lives are changed forever as they remind each other and those around them the importance of being a child at-heart and having an imagination regardless of your physical age.
Though Tighe swapped J.M. Barrie's Scottish accent for a British one, his singing was clear, crisp, and a treat to the ears. His performance was bright, bringing a refreshing youthfulness and optimism to the character. Tom Hewitt provided an amazing performance as Charles, exuding a presence similar to Oliver Warbucks from Annie, and his comedic timing was spot-on. The obvious stand out in any show featuring children is always the children themselves, and the boys in this show held their own, dazzling the audience with singing and musical prowess. I am impressed by any child who can play their own instrument and sing in front of an audience, let alone simultaneously pull on the heartstrings of over 1,800 audience-members. Ben Kreiger did an amazing job as Peter, the brother who needed the most influence to reach his inner-child. Kreiger's vocal duets with Billy Harrigan Tighe were beautiful and pure. Karen Murphy's soprano vocals were sorely missed during the first act, but enchanted us periodically throughout the second act. Lastly, but most definitely not least, Christine Dwyer enchanted with her performance of Sylvia, a voice clear as a bell, and a warmness that made you feel for her character as if you knew her personally.
The music of Finding Neverland is uplifting and whimsical, the ensemble cast truly brought each number to life. From the farcical hilarity of "We Own the Night" to the artful choreography of  "Circus of Your Mind" to the clever opening of the second act, "The World is Upsidedown", each cast member brought a believable and fun character to the stage.
Now that I have finally stopped crying, I can tell you that Finding Neverland is certainly a hit, and a show you will not soon forget.  The storytelling is beautiful, the costumes are wonderful, the sets and scene changes are phenomenal, and you will fall in love with the characters. The moment the curtain call began, so did the standing ovation. Bring your inner-child, or your real ones, and see Finding Neverland at Segerstrom Center for the Arts, now through April 2, 2017.