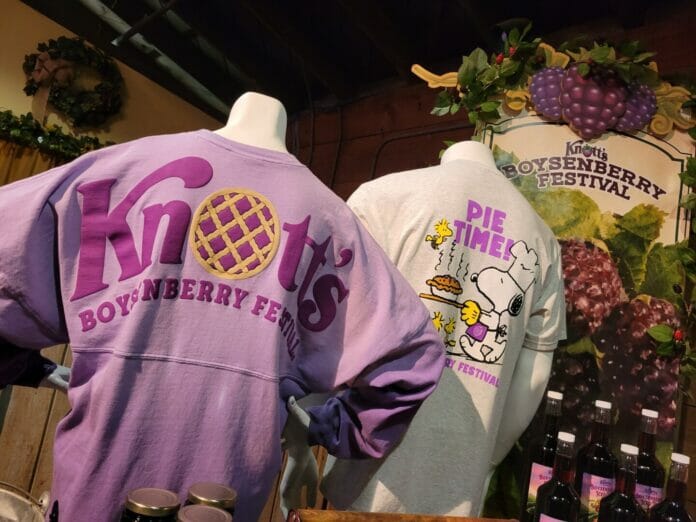 This post contains affiliate links and our team will be compensated if you make a purchase after clicking on the links.

The time has come for fellow foodies to converge upon Knott's Boysenberry Festival 2023. The annual celebration of the sweet and tart fruit as the main ingredient for these specialty dishes, desserts, drinks, and entertainment takes a bite of the Southern California theme park between March 10 through April 16, 2023. A great way to indulge in the new boysenberry delicacies during the festival is by purchasing a tasting card priced at $55. The tasting card offers six tastings from a selection of boysenberry-inspired dishes and drinks. A variety of signature boysenberry items will also be available for purchase a la carte. Tasting cards are available at Knotts.com or at the theme park.
This year's event will introduce entirely new food offerings featuring more than three dozen food and drink items. A few savory dishes to note include cauliflower bites with a boysenberry curry drizzle, and a sushi burrito with spicy crab surimi, avocado, lettuce, crispy onions, sesame, and unagi sauce, all wrapped in nori with a boysenberry sweet chili dipping sauce.
We got our FIRST TASTE on March 2, at a special media event held at Knott's Berry Farm. And we were invited to try out the various foods coming this year. Check out all the amazing Boysenberry goodies coming to this year's festival.
Tasty dessert items can be found throughout the festival, perfect for those with a sweet tooth, including sweet corn nuggets with boysenberry honey, boysenberry bread pudding, and a boysenberry waffle topped with whipped cream and boysenberry maple syrup.
Sweets and Drinks Photo Gallery
Merchandise
Merchandise Photo Gallery
Guests can also purchase over 75 unique boysenberry-inspired creations with limited-edition merchandise found throughout the park. This year's merchandise includes a grand selection of packaged food items perfect for take-home souvenirs. The Berry Market, located in the California Marketplace, also features signature boysenberry items like the refreshing boysenberry sarsaparilla and Knott's classic jams and preserves. Unique boysenberry-inspired artisan products also will be available at the Boysenberry Festival Craft Fair, with over 30 local craft vendors.
Atmosphere and Art Photo Gallery
In addition to the numerous food and drink offerings, the Knott's Boysenberry Festival serves up a wide selection of local crafters, live music, pie-eating contests, museums, an animal farm, and musical performances including a brand-new musical stage show for guests of all ages to enjoy. Guests are invited to celebrate the heritage of California's original theme park with the new show Knott's Preserved. Through song, dance, and storytelling, Knott's Berry Farm comes alive as the audience takes a musical journey from the little ghost town of Calico to the Seaside Boardwalk of the Roaring '20s to commemorate the heritage of the park. Knott's Boysenberry Festival offers endless entertainment.
The Boysenberry Festival is included with admission to Knott's Berry Farm. Additional costs apply for food-tasting experiences within the event. Knott's will have extended hours on select days between the course o the event between March 10 and April 16, allowing guests extra time to take advantage of the limited-time offerings.