This post contains affiliate links and our team will be compensated if you make a purchase after clicking on the links.

Big Bear Lake is a magical place. This is especially true after a good winter storm hits Southern California, leaving the mountains covered with beautiful white powder. I recently visited Big Bear and discovered a cool hotel, a great sandwich shop, lots of fun snow sledding, and more.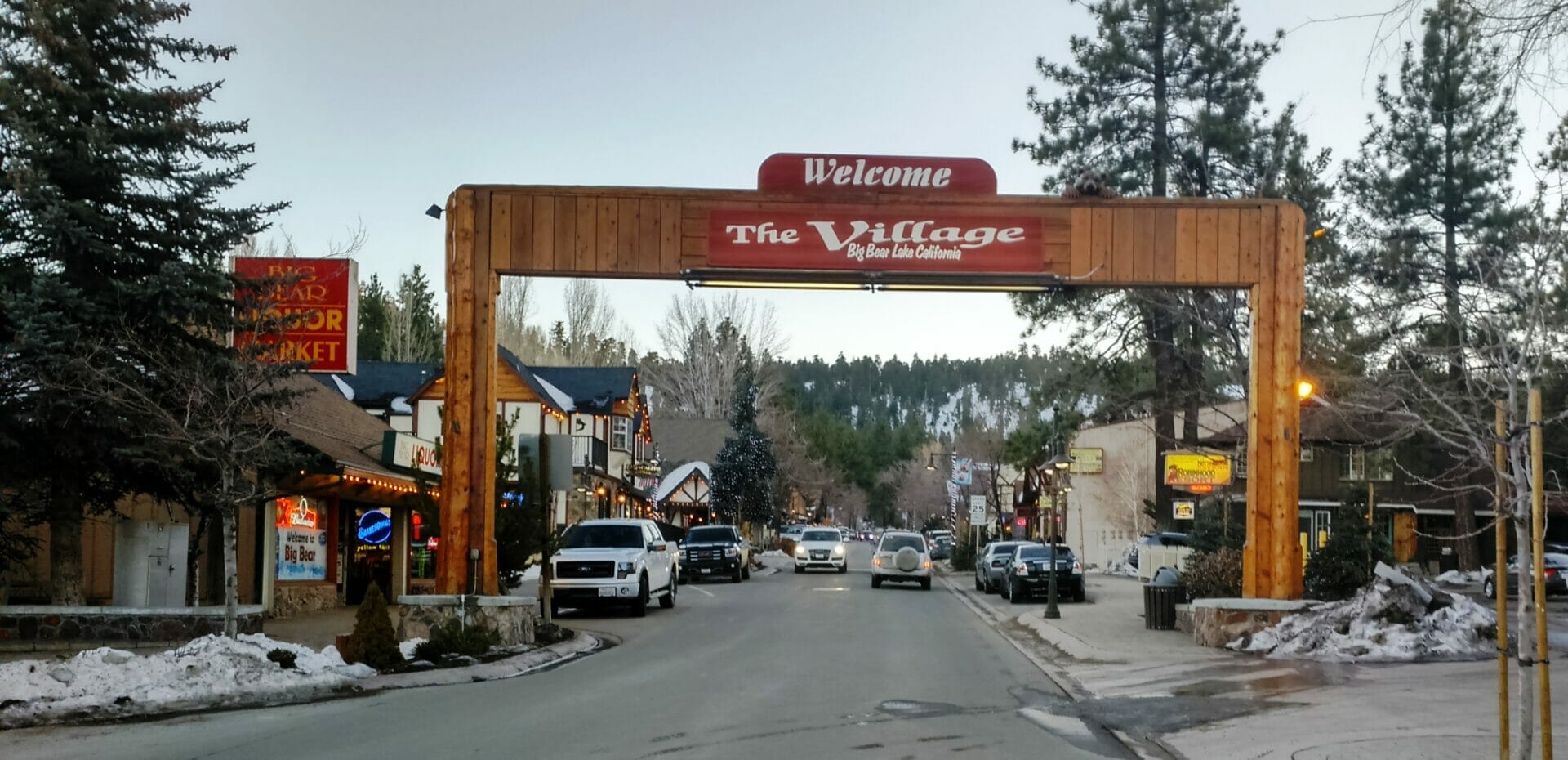 My getaway began when the family and I took the 210 Freeway from Pasadena to San Bernardino, where we transferred to Highway 330. This twisting and turning road led us about 30 miles up the Sierra Nevada Mountains, past incredible vistas overlooking expansive valleys below and bustling cities in the distance. After about 45 minutes we reached Big Bear Village. where we checked into a large, rustic suite at Fireside Lodge (www.firesidelodge.net).
Overlooking the lake and its snow-covered beach, the suite had everything we needed for a three-day, two-night stay. It boasted a full kitchen with stove, fridge, sink, microwave and coffee maker. The room also came with a large living room with fireplace, a separate bedroom, two TVs and two full bathrooms.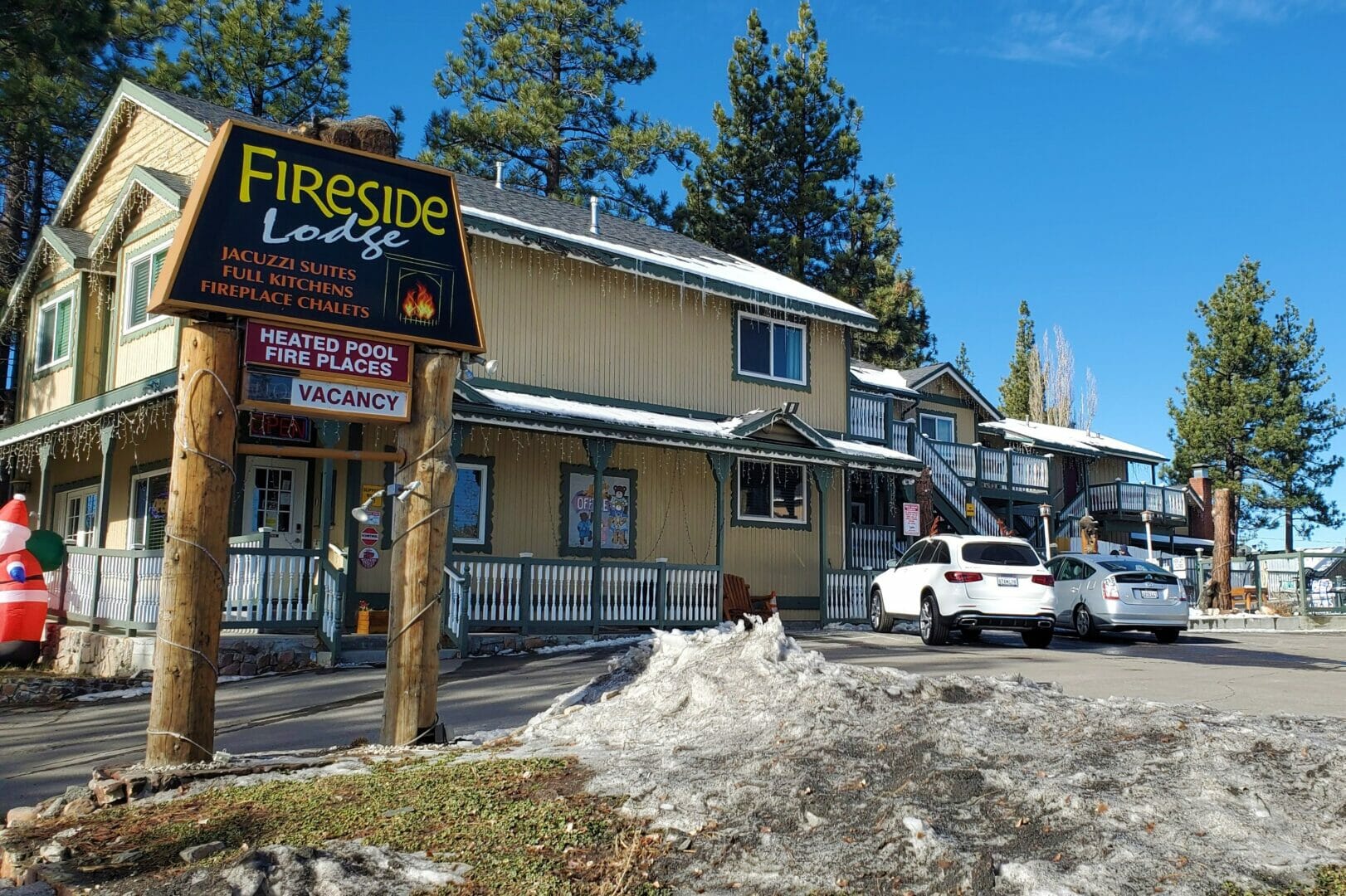 The suite's best feature was the long balcony overlooking Big Bear Lake and the undeveloped mountain forest across the water. From here we watched birds and people walk along the edge of the partially frozen lake.
Besides cozy accommodations, the Fireside Lodge is also centrally located in town. It is only about a mile drive to the Snow Summit ski Resort, and a short walk from "The Village," Big Bear's charming downtown community of shops, restaurants, art galleries and pubs.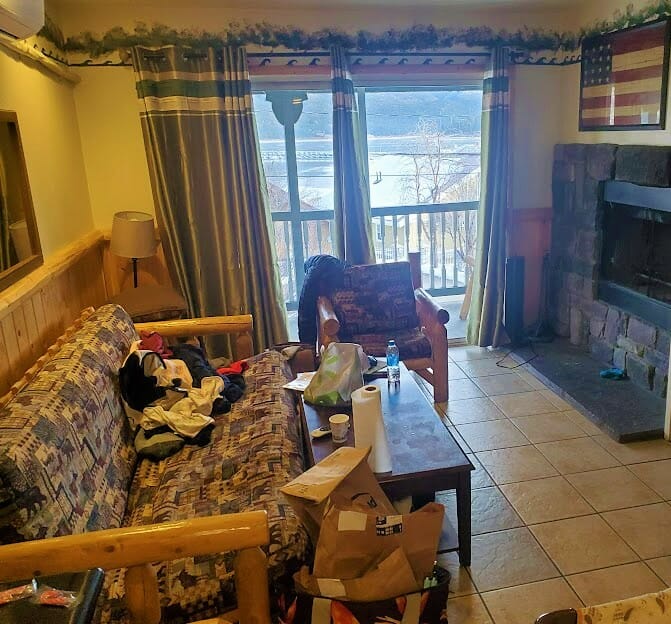 After acquainting ourselves with the suite we put on snow gear and went looking for a place to go sledding. We didn't have to go far because we found a snow-covered parking lot across the street from the lodge that was built on a hill and made a perfect sledding slope. 
After an hour of slipping, sliding and sledding our hands and feet were freezing and our bellies were growling, so we warmed up at the Old German Deli (www.oldgermandeli.com), an authentic deli, serving authentic and traditional German meats, sandwiches and sides and more. Sandwich favorites include Schinkenwurst, Bavarian Loaf, Pepper Loaf, knockwurst, bratwurst, tongue and blood and much more. The deli also sells a host of side dishes, as well as food goods imported from Germany such as pickles, sauerkraut, crackers and more. 
"People love coming to our deli because the food is fresh, authentic and delicious," says Manager Victoria Mednia. "Many people who come here are also reminded of their travels abroad or their childhood in Germany."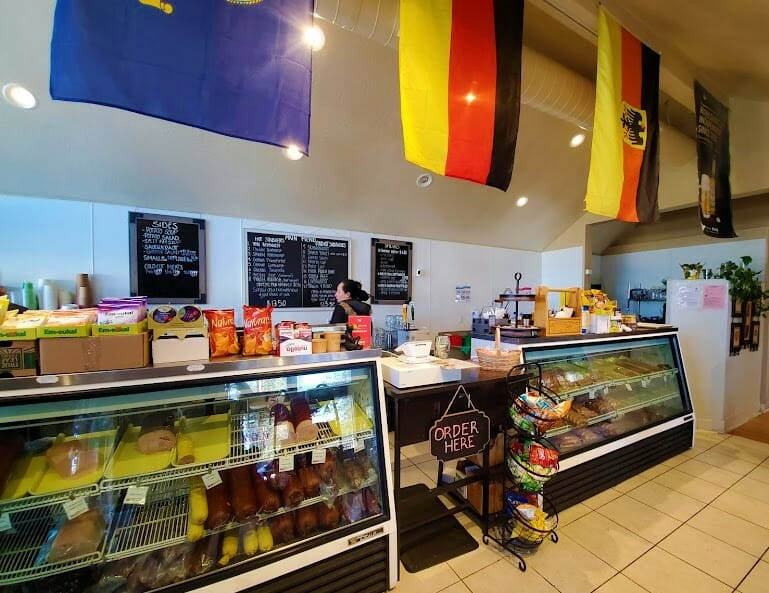 For lunch we enjoyed a delicious Schinkenwurst sandwich with a side of split pea soup, and a German Salami sandwich with potato salad. All sandwiches come with a choice of side, and a boiled egg and pickle. Schinkenwurst is a German luncheon cold cut, similar to bologna, that usually consists of pork, veal, and ham. The one I had was memorable and I would literally drive back to Big Bear just for another one.
After lunch we strolled through charming Big Bear Village, a hub for shopping, sightseeing, dining and nightlife. It's also the site of annual city-wide holiday events like Halloween and Christmas in The Village. "A beautiful sight in any season, The Village features colorful blooms in the spring, bright green trees in the summer, vibrant crimson, orange, and yellow foliage in the fall, and glittering snow in winter that creates a wonderland with twinkling lights," says the website Bigbear.com.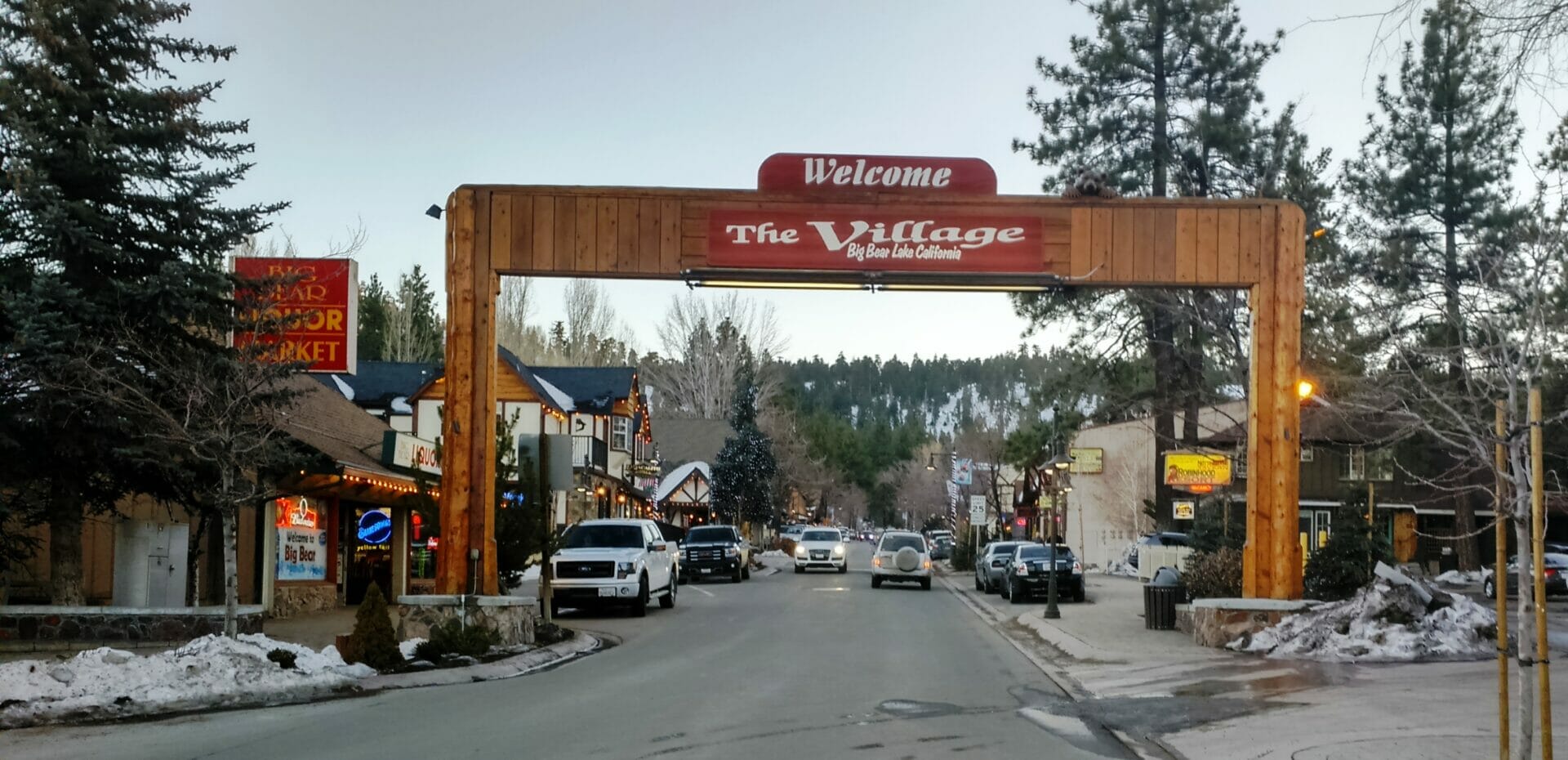 During our walk, The Village was covered in snow and people were walking around and going in and out of shops and restaurants. There were snowmen standing, fire pits crackling, and music playing. It was a very festive atmosphere. 
Our next stop was the lake, where we found a beautiful scene of snow-capped mountain peaks and tall pine trees reflecting off the semi-frozen water. We also found flocks of colorful ducks slipping and sliding across the surface.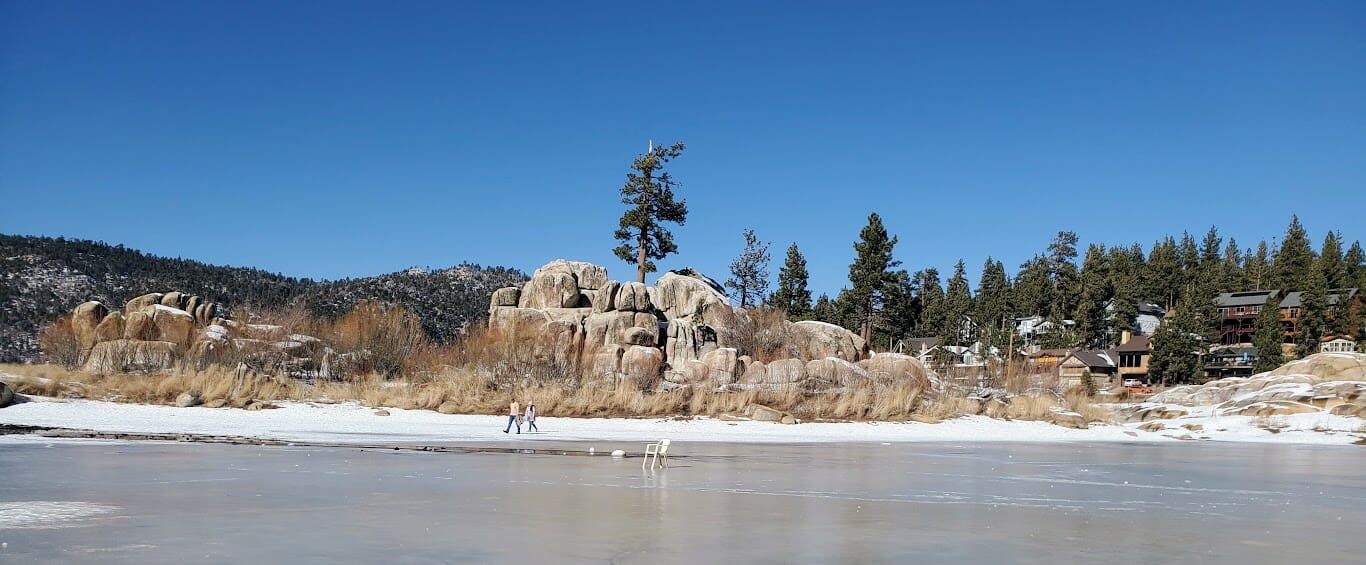 Sitting at an elevation of nearly 6800 ft, Big Bear's legendary lake gets all of its water from snow and rain. It is about 7 miles long going east to west and about a half-mile wide. The shoreline spans over 22 miles and the deepest point is roughly 72 feet. Types of fish normally found in the lake include several species of bass and trout, as well as crappie, bluegill, catfish, sunfish, and pumpkinseed.
From the lake we headed back to the hotel and cooked a steak dinner with potatoes and salad in our kitchen. We then threw some logs in the fireplace and baked chocolate cookies. While eating our dessert, we sat by the fire and watched the moonlight dance on the frozen lake. As the fire snapped and crackled, I thought about what a wonderful place Big Bear is. 
Located in the San Bernardino National Forest, approximately 100 miles of LA, Big Bear's altitude ranges from 6,750 to 9,000 feet. The city enjoy's over 300 days of sunshine each year, with summer temps averaging 80 degrees during the day and 45 at night. Winter brings snowfall with temps in the low 40's during the day and mid 20's at night. Big Bear is home to bald eagles, bears, mountain lions, bobcats, coyotes, deer, and a large number of birds and trees, and rare plants. The town even boasts a solar observatory and an alpine zoo for injured wildlife.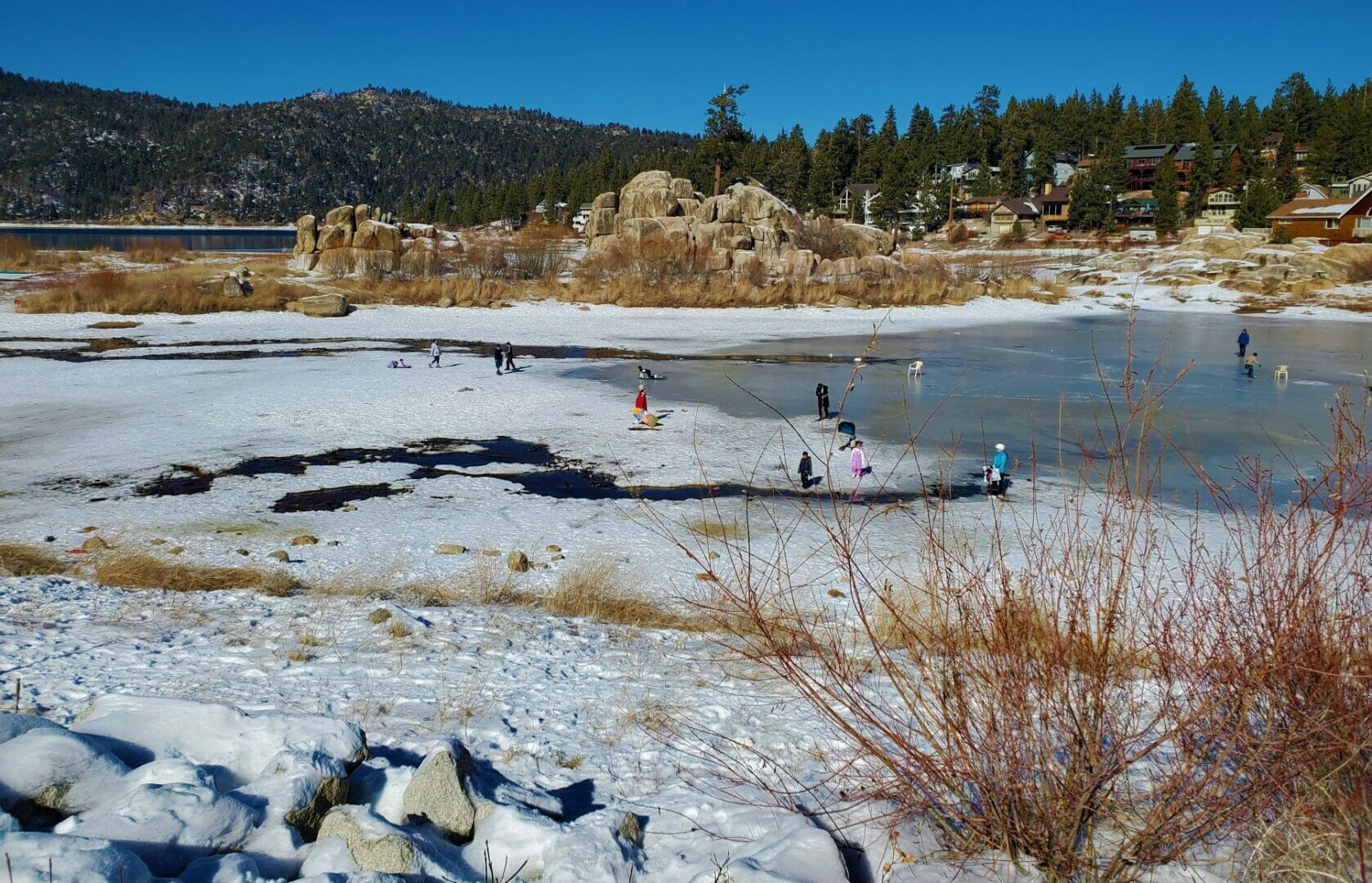 The next morning we drove to Boulder Bay Park, one of Big Bear's most beautiful parks. As the name implies, the park is highlighted by giant boulders stacked around a majestic bay. Here we did some more sledding and walked around in the thin, 40-degree air. 
For more information on visiting Big Bear Lake, visit: www.bigbear.com or call 800 4 – BIG-BEAR. For more info on Fireside Lodge, go to: www.firesidelodge.net