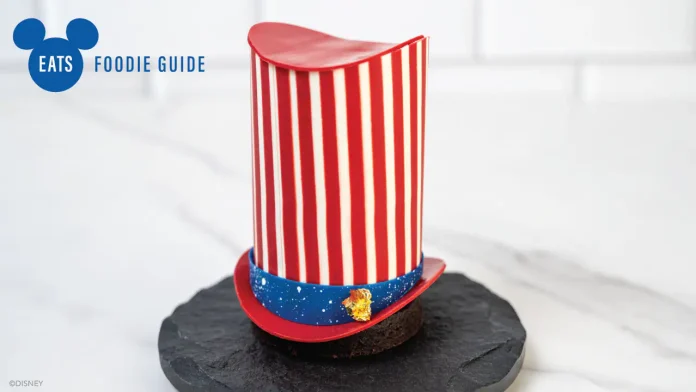 This post contains affiliate links and our team will be compensated if you make a purchase after clicking on the links.

Fourth of July is just around the corner and at Disney Parks, the culinary teams have been bursting with delicious ideas to fill your stomach. From Walt Disney World Resort to Disneyland Resort, there are plenty of tasty ways to celebrate Independence Day this year.
If you're looking for sweet or savory selections to satisfy your taste buds, you'll be happy to indulge in new items like the Fourth of July Shake from Sunshine Seasons and the Red, White & Blue Sundae from Clarabelle's Hand-Scooped Ice Cream. There's also a variety of returning favorites to get a taste of, including the Lemon Mousse Cake at Roaring Fork. It's time we light up your appetite with the full list of can't-miss items coming to Disney Parks this Fourth of July.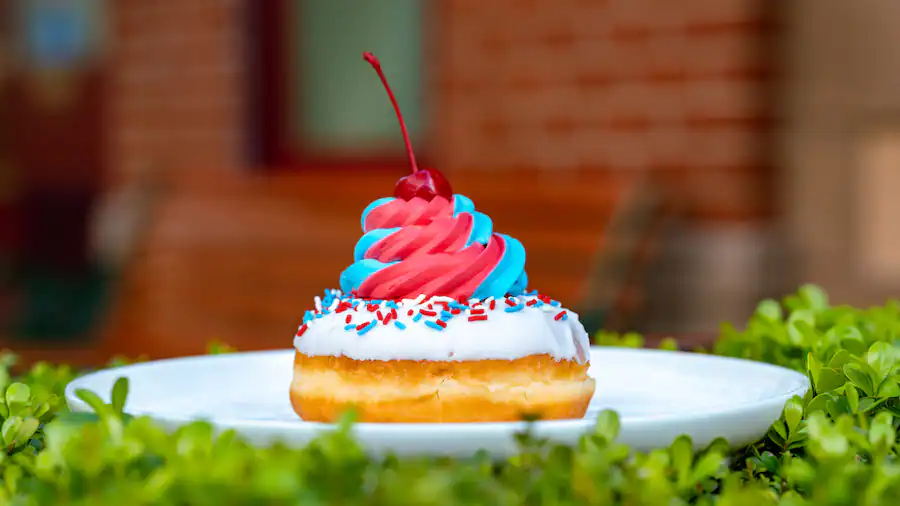 Disneyland Resort
Disneyland Park
Jolly Holiday Bakery Cafe (Available July 1 through 4; mobile order available)
Fourth of July Donut: Cotton candy icing donut filled with strawberry compote, red, white, and blue whipped topping, and sprinkles (New)
Plaza Inn (Available July 4 only)
Fourth of July Dining Package: Slow roasted BBQ pork, fried chicken thigh, smoked sausage, watermelon wedge, small corn on the cob, broccoli salad, sharp cheddar mac & cheese, bread roll, specialty dessert, and specialty beverage (New) (Reservations strongly encouraged) (Kids version available)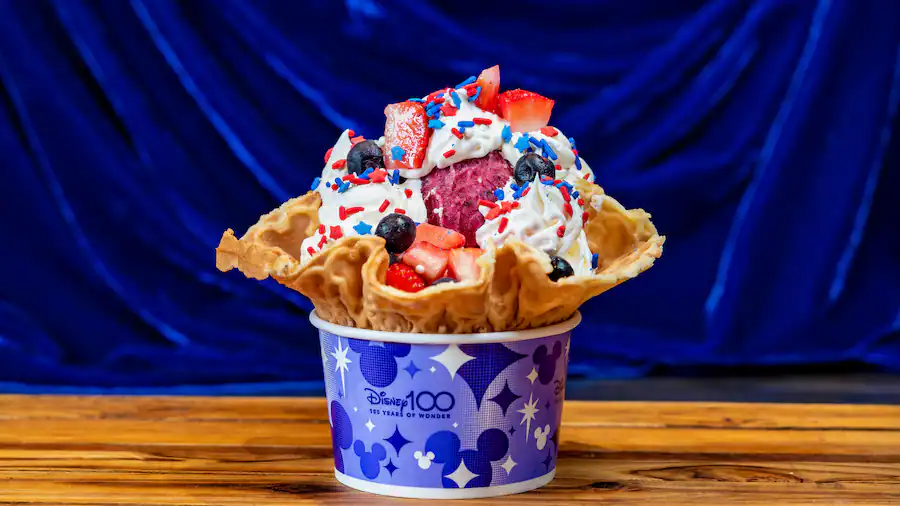 Disney California Adventure Park
Clarabelle's Hand-Scooped Ice Cream (Available June 30 through July 5; mobile order available)
Red, White & Blue Sundae: Strawberry and blueberry sorbets topped with fresh strawberries, blueberries, whipped cream, and sprinkles in a waffle bowl (New)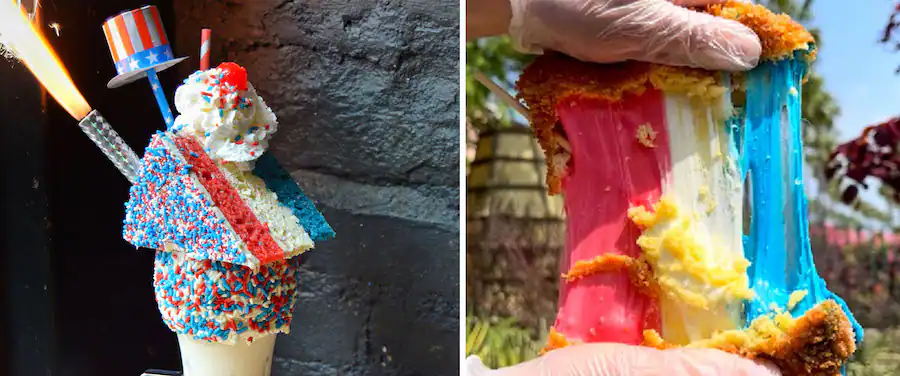 Disneyland Hotel
The Coffee House (Available June 30 through July 9; mobile order available) Red, White, and Blue Cupcake (New)
Downtown Disney District
Black Tap Craft Burgers & Shakes (Available June 30 through July 4)
Red, White, and Blue CakeShake: Vanilla shake featuring a vanilla frosted rim with red, white, and blue sprinkles topped with red, white, and blue cake, whipped cream, more sprinkles, and a cherry
Blue Ribbon Corn Dog (Available July 4 only)
Fourth of July Mozzarella Dog: Red, white, and blue mozzarella cheese, dipped in batter, rolled in panko crumbs, fried, rolled in sugar, and served with a side of sriracha dipping sauce (New)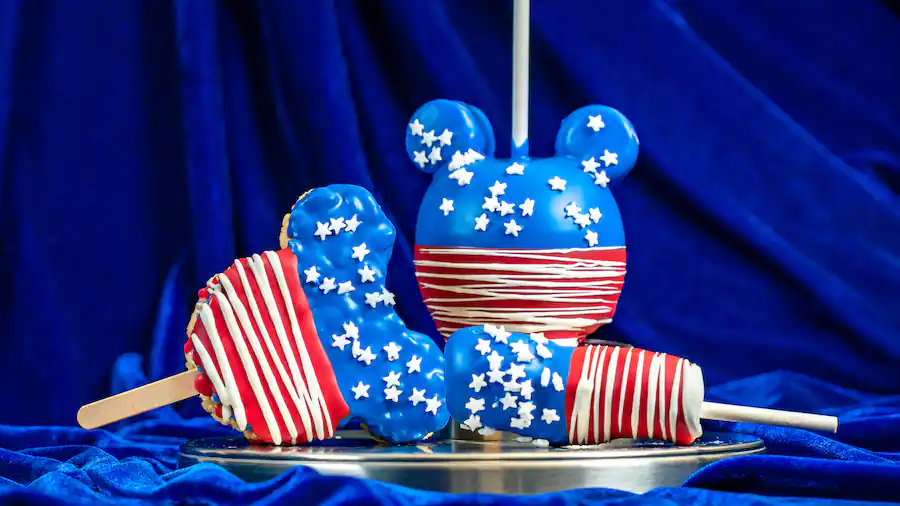 Available at Various Locations at Disneyland Resort including Candy Palace and Candy Kitchen, Pooh Corner, Trolley Treats, Bing Bong's Sweet Stuff, and Marceline's Confectionery (Available June 30 through July 4)
Fourth of July Apple: Granny Smith apple dipped in caramel with marshmallow ears, enrobed in blue-colored white chocolate and red-colored white chocolate, striped with white chocolate, and sprinkled with sugar stars
Fourth of July Marshmallow Wand: Marshmallows dipped in caramel, enrobed in blue, white chocolate and red, white chocolate, striped with white chocolate, and sprinkled with sugar stars
Fourth of July Cereal Treat: Mickey-shaped cereal treat enrobed in blue, white chocolate and red, white chocolate, striped with white chocolate, and sprinkled with sugar stars
Fourth of July Cake Pop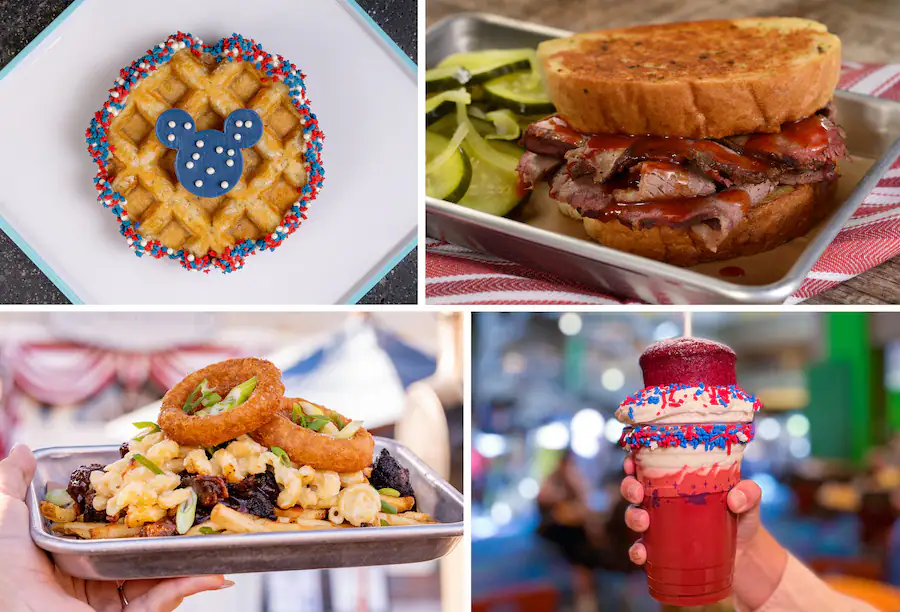 Walt Disney World Resort
EPCOT
Connections Cafe (Available July 4 only)
Fourth of July Liege Waffle: Brioche dough with pearl sugar
Fife & Drum (Currently available)
The American Dream: Frozen Fanta Wild Cherry, vanilla ice cream, and Frozen Fanta Blue Raspberry slushy
Regal Eagle Smokehouse: Craft Drafts & Barbecue (Currently available; mobile order available)
Celebrate the regions of an American backyard barbecue with classic dishes (Some plant-based items available on the menu)
Sunshine Seasons (Available July 1 through 31)
Fourth of July Shake: Red velvet shake with whipped cream and red velvet cake pieces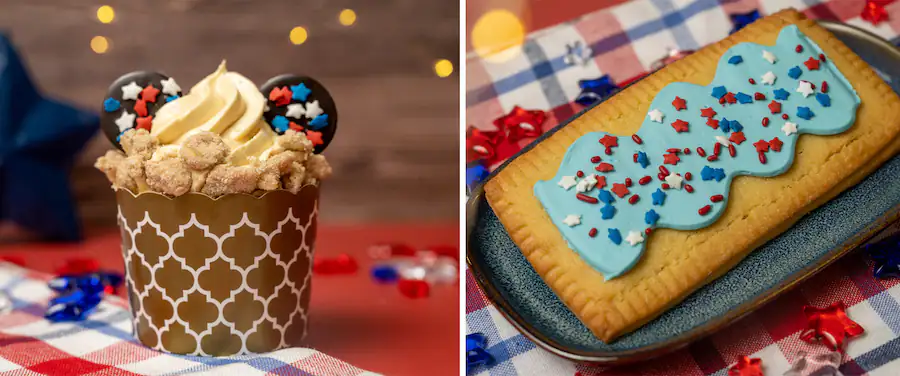 Disney's Hollywood Studios
Backlot Express (Available July 1 through 31)
Mickey Apple Pie Cupcake: Yellow cupcake filled with an apple pie filling, topped with salted caramel buttercream, cinnamon streusel, and garnished with rainbow silver sparkle and red, white, and blue Mickey Ears
Woody's Lunchbox (Available July 1 through 31)
4th of July Lunch Box Tart: Cherry pie filling, vanilla fondant, and star sprinkles
Disney Resort Hotels
Disney's All-Star Movies Resort, Disney's All-Star Music Resort, and Disney's All-Star Sports Resort
Intermission Food Court, World Premiere Food Court, and End Zone Food Court (Available through August 31; mobile order available)
Sweet Summertime Favorites: Hot dog éclair with chocolate buttercream, iced sugar cookie 'fries', and raspberry dipping sauce
Disney's BoardWalk
BoardWalk Deli and Carousel Coffee (Available June 27 through July 4)
Independence Day Cupcake: Cinnamon cupcake, apple pie filling, and vanilla mascarpone cream
Freedom Cheesecake: Red velvet brownie base, vanilla cheesecake, sweet cream, crisp pearls, and white chocolate garnish
Disney's Contemporary Resort
Contempo Café (Available July 1 through 8; mobile order available) Fourth of July Fruit Tart: Blackberry custard topped with fresh berries and a vanilla panna cotta popsicle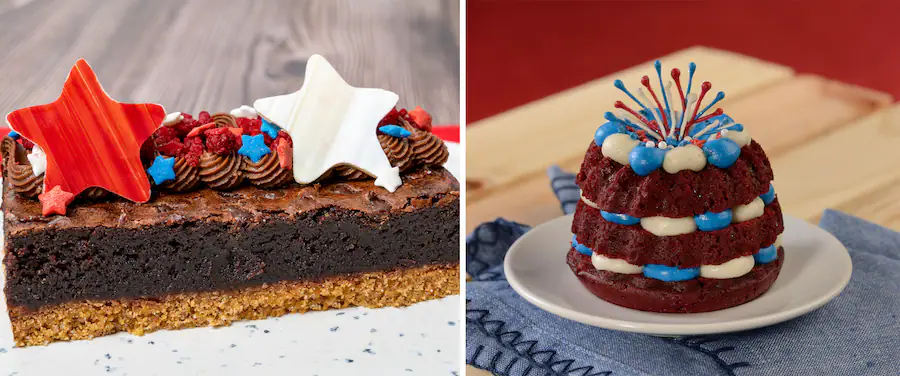 Disney's Caribbean Beach Resort
Centertown Market and Spyglass Grill (Available July 1 through 31; mobile order available)
Star-spangled Brownie Bar: Graham cracker crust and chocolate chip fudgy brownie topped with a brown butter caramel mousse, popping candy, and chocolate décor
Disney's Old Key West Resort and Disney's Saratoga Springs Resort & Spa
Good's Food to Go and The Artist's Palette (Available June 27 through July 4; mobile order available at The Artist's Palette only)
Fourth of July Layer Cake: Layers of red velvet cake with white and blue buttercream filled with a patriotic sprinkle surprise
Disney's Port Orleans Resort – French Quarter and Disney's Port Orleans Resort – Riverside
Sassagoula Floatworks and Food Factory, Riverside Mill Food Court (Available July 1 through 31; mobile order available)
Star-spangled Brownie Bar: Graham cracker crust and chocolate chip fudgy brownie topped with a brown butter caramel mousse, popping candy, and chocolate décor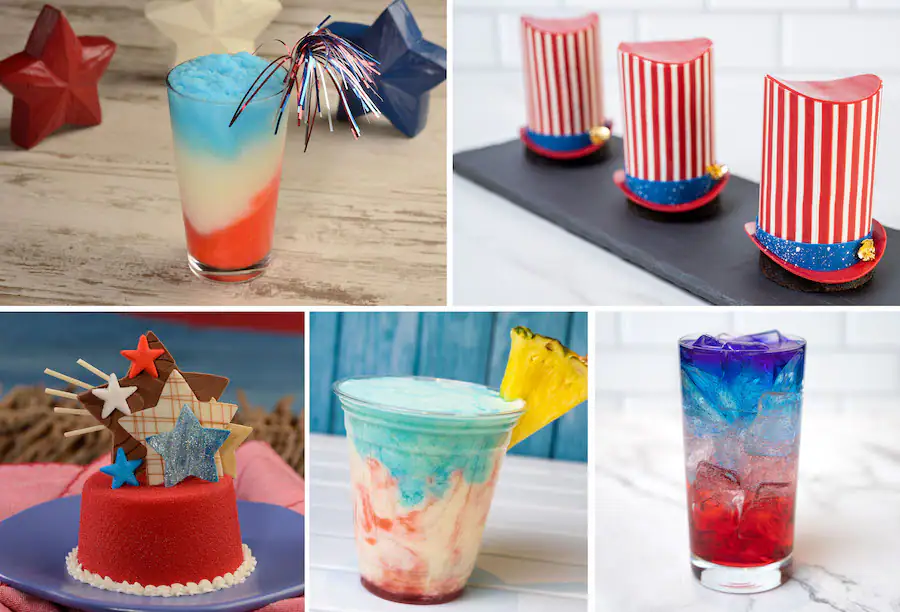 Disney's Riviera Resort
Bar Riva (Available June 30 through July 14)
Patriotic Wave: The Mediterranean Wave with the addition of blue curaçao and hibiscus to celebrate both Independence Day and Bastille Day
Le Petit Café (Available June 27 through July 4)
Patriotic Top Hat: Vanilla bean cheesecake with morello cherries on a Riviera brownie (New)
Disney's Wilderness Lodge
Roaring Fork (Available June 27 through July 4; mobile order available)
Lemon Mousse Cake: Lemon cake and white chocolate lemon mousse with a blueberry compote center and chocolate star décor
Available at Various Disney Resort Hotels (Available June 30 through July 9)
Red, White, and Blue Colada: Bacardi Raspberry Rum blended with flavors of coconut, pineapple, and raspberry purée topped with a float of Bols Blue Curaçao
Red, White, and Blue Gin and Tonic: Empress 1908 Gin, tonic water, and cranberry and pomegranate juices (New)