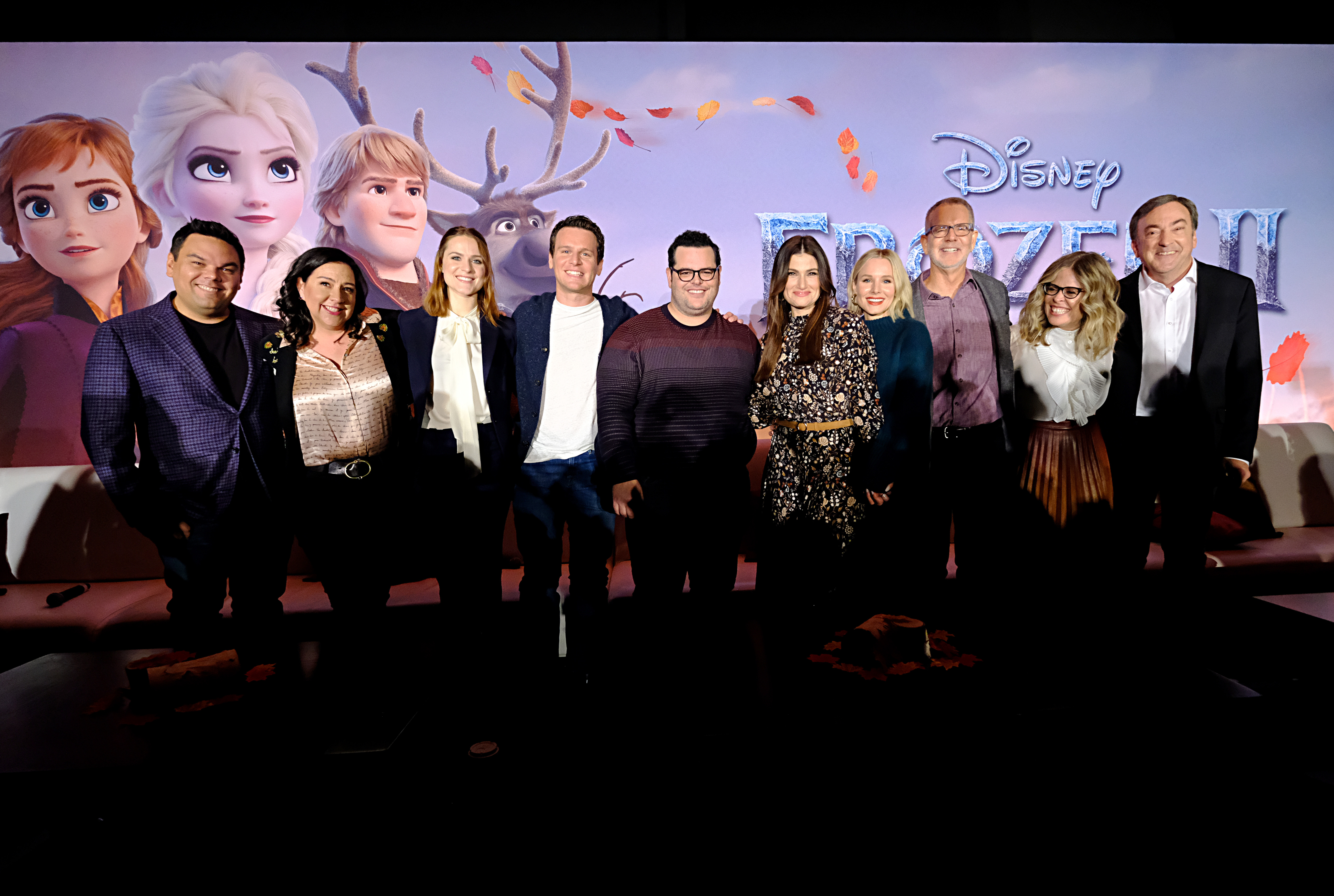 This post contains affiliate links and our team will be compensated if you make a purchase after clicking on the links.

Filmmakers and cast of 'Frozen 2' talk about the return of Elsa & Anna, Kristoff, Sven, and Olaf for an adventurous sequel that has a darker tone than the original film.
On Saturday, November 9, press gathered in Hollywood, CA at 9:00 a.m. to check-in. Right across from the hotel, the Pantages glimmered with gold morning light. The sun illuminated the sign announcing the future production of Frozen on Broadway coming to the glamourous Hollywood theatre this December. It was the perfect place to discuss the behind-the-scenes and decision-making for Disney's newest film: Frozen II.
Six years after the original film, Walt Disney Animation Studios' Frozen II continues the story of the princess sisters, the mountain man, and his reindeer, all accompanied by a loveable snowman as they embark on another quest. The music is bigger, the story is more emotionally complex, and the jokes are funnier. All in all, Frozen II is an exceptional sequel (more on that in our review coming out later this week). With such an evolution in the character development from the original film, it left me wondering: what were the creative choices made that led to such a drastic change?
At 10:13 a.m., the creative team behind Frozen II joined the spectacular voice actors for a panel discussion on what returning to these characters meant to each of them. "It's never ended between Frozen 2 and Frozen 1 for me," said Idina Menzel ('Elsa'), "I still sing 'Let It Go' with the same level of passion." This prompted Kristen Anderson-Lopez, half of the EGOT-winning songwriting duo that worked "Let It Go" (the breakout power ballad of the first Frozen film) to say "There would be no 'Let It Go'…without Jennifer Lee and Chris Buck in the Writers Room…it was created in the idea of a complicated, layered sisterhood." Writer/Director Jennifer Lee and Director Chris Buck drew heavy influence on the story of Frozen from the Nordic legend of "The Ice Queen" written by Hans Christien Andersen.  In that legend, the Ice Queen is a villain with the supernatural powers of ice. It isn't hard to put two-and-two together that Elsa was originally supposed to be the villain of the story, but Lee and Buck reshaped the story to be about sisterly love rather than a story of monsters and humanity.
The sisterly love between Elsa and Anna didn't stop at the characters. In fact, actors Kristen Bell and Idina Menzel felt an immediate connection. Josh Gad, who voices Olaf, reminisced about "proposing" to Idina Menzel at the red carpet premiere. "This girl is the most talented person ever," Gad said, "I told myself 'either I'm going to marry or be part of an animated franchise with her.'"
But even the actors admitted that the first Frozen film was not flawless. One of the biggest criticism from fans was the lack of singing opportunities for Johnathan Groff, a Broadway performing star whose biopic includes Spring Awakening and Hamilton. Kristen Bell, the voice of Anna, had this to say: "That was my one criticism of the first one. I was like, look, it's an excellent film. But Jonathan Groff doesn't sing, so that's how it fails. This time, everybody knew what to do. And Jonathan has, dare I say, I mean it's very difficult to describe and I don't want to blow it, but it is one of the best — it's one of the top three moments of the film." Josh Gad further added, "I think it's the funniest song in Disney Animation history."
I won't give much away, out of respect for those who have not had the opportunity to listen to it (which should be accompanied by the movie visuals for the full effect), but Groff's character, Kristoff, shines in a way vastly different than from the original film. All that I will say is that the intention of this moment was to serve as a model for young boys and young men alike to see that it is okay to express feelings. "You feel what you feel," said Groff, "and I want kids to feel like they can express themselves."
The panel then opened up for questions from the press/media audience to discuss the film. During the Q & A portion of the press conference, a concerned mother asked the panel if the movie was appropriate for children to see due to its darker tone from the original film. The cast shared with the mother that while some scenes may be a bit intense for some audiences, there is no better place to experience such emotions than at the movies.*
"I think it was important to us to remind people of the scope and scale of the first movie that they perhaps had forgotten," producer Peter Del Vecho informed the audience, "The first movie had a lot of action, had a lot of emotion and drama. And I thought it was important — I think we all thought it was important — to very quickly reestablish that to the method that this was a movie for everyone."
CCO/Director/Writer Jennifer Lee echoed Del Vecho's sentiment. "Sometimes we forget, if you go back to old, traditional fairy tales, like Pinnochio and Bambi, they always have a moment that gets a little scary. And that's part of what fairy tales are for. There's so that you as a child and as a person in your life can experience things and you're safely in the seat. And that helps you cope with life. And I think those are really important, and kids reach out. So I think we didn't go into the characters being full of fear and violence in that way. We went to those things we knew that are provocative and mythic and fairy tale."
Kristen Bell further reiterated what Lee and Del Vecho's stance on the tonal shift. While Frozen II is darker than the original, parents and society don't give children "enough credit to be able to understand what we believe to be 'darker' themes and emotions" expressed in stories. Bell addressed the audience member empathetically, saying "I have two little girls too, and I know exactly the feeling that you're talking about. And the more I thought about it, and then having shown it to them a few weeks ago, I really think that we're always asked, 'Why do you think the first one hit?' I think my conclusion is, we don't give kids enough credit — because they're projections of us and we want them to be happy because we want ourselves to be happy all the time. We don't give them enough credit for their ability to digest complex situations and trauma and struggle." Bell alluded to temper tantrums in toddlers as an example of children testing their newfound emotions.
Then almost in a parallel of her character in the film, Kristen Bell addressed looked at Idina Menzel when saying, "And I think in this second one, that's the power of story. You don't have to tell them that the world is a scary place even though it really is. But you can let them see a story that has a resolution…I actually think that it's great for kids to be a little bit on the edge of their seat because it's a safe environment to try on those emotions."
At that very moment, Kristen Bell finished speaking, and the moderator announced that time had run out for the panel. The cast then posed for pictures, sang one of the songs from the new film soundtrack (a bit off-key, but nobody seemed to care), and then proceeded to exit while the press was dismissed.
The sentiments of the actors and the filmmakers are expressing is one of love and passion for their craft. While the trailers for the next chapter of Anna & Elsa show a more troubling adventure than the first one, the movie is fun for the full family. I can say with confidence that if you liked the first Frozen film, you are going to love its sequel!
Frozen II hits theaters nationwide on Friday, November 22nd. Will you enter the Enchanted Forest for part two of the Arendelle tale?