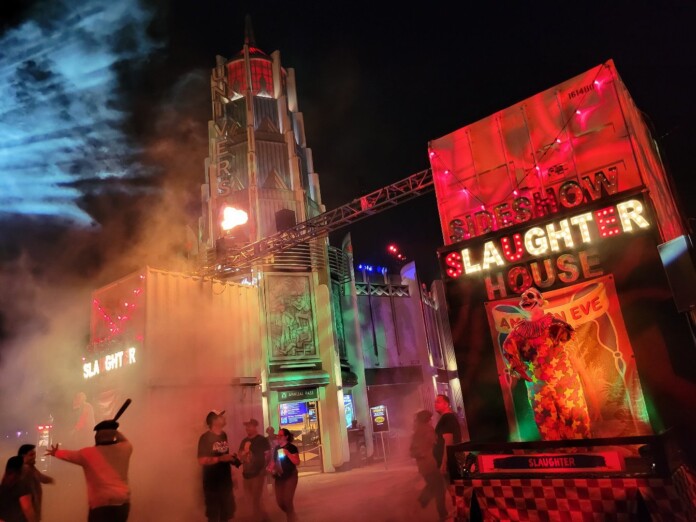 This post contains affiliate links and our team will be compensated if you make a purchase after clicking on the links.

Halloween Horror Nights has emerged at Universal Studios Hollywood with new haunted houses, new addition to the Terror Tram, returning favorites, and sinister wizards to scare up a frightful evening. There's much to experience for the 2022 season building anticipation for many fans of this annual theme park tradition.
The streets are lined with Sideshow Creeps at New York Street as guests enter the park. It wouldn't be a complete welcome without the billowing inferno of flame throwers bursting overhead atop of shipping crates. No live commentator or go-go dancers like in previous years, but turns out not sorely missed either. The Dia de los Muertos themed open area returns with open arms to the Universal Plaza. It's a well-suited respite from rest of the park events with a bar, food, carnival game, and decorated set pieces for photo opportunities.
There's even a backdrop that explains the legend of La Llorona for those not familiar with the fable tale before experiencing the accompanying and well-received haunted house. The character has been brought to life in previous seasons of the Halloween event, but it's such a fan favorite to resist. And thankfully has been well-put together commanding respectable wait times. In the streets of Little Europe, and the exit of the La Lorona haunted house for that matter, is El Pueblo del Terror scare zone dedicated to Hispanic creatures of the night like el cucuy, chupacabra, el cadejo, mictlantecuhtla, tlahuelpuchi, and, of course, the weeping woman.
Stealthy bog monsters lurk in an eerily lit and wickedly decorated Haunted Forest tucked in the Animal Actors show plaza, just before the solitude of the restrooms. This area makes for a relatively quiet recluse from the main pathways and people watching.
Haunted Forest Photo Gallery
The Wizarding World of Harry Potter is not only open to a pathway to more haunted houses, but also to Death Eaters lurking in the dark corners of Hogsmeade. Death Eaters Encounter abound in search of their next victim, or perhaps new followers to their cause. Green lighting and fog add-on to intimidating posture. Be on your guard and arm yourself with a wand and protection spell at the ready.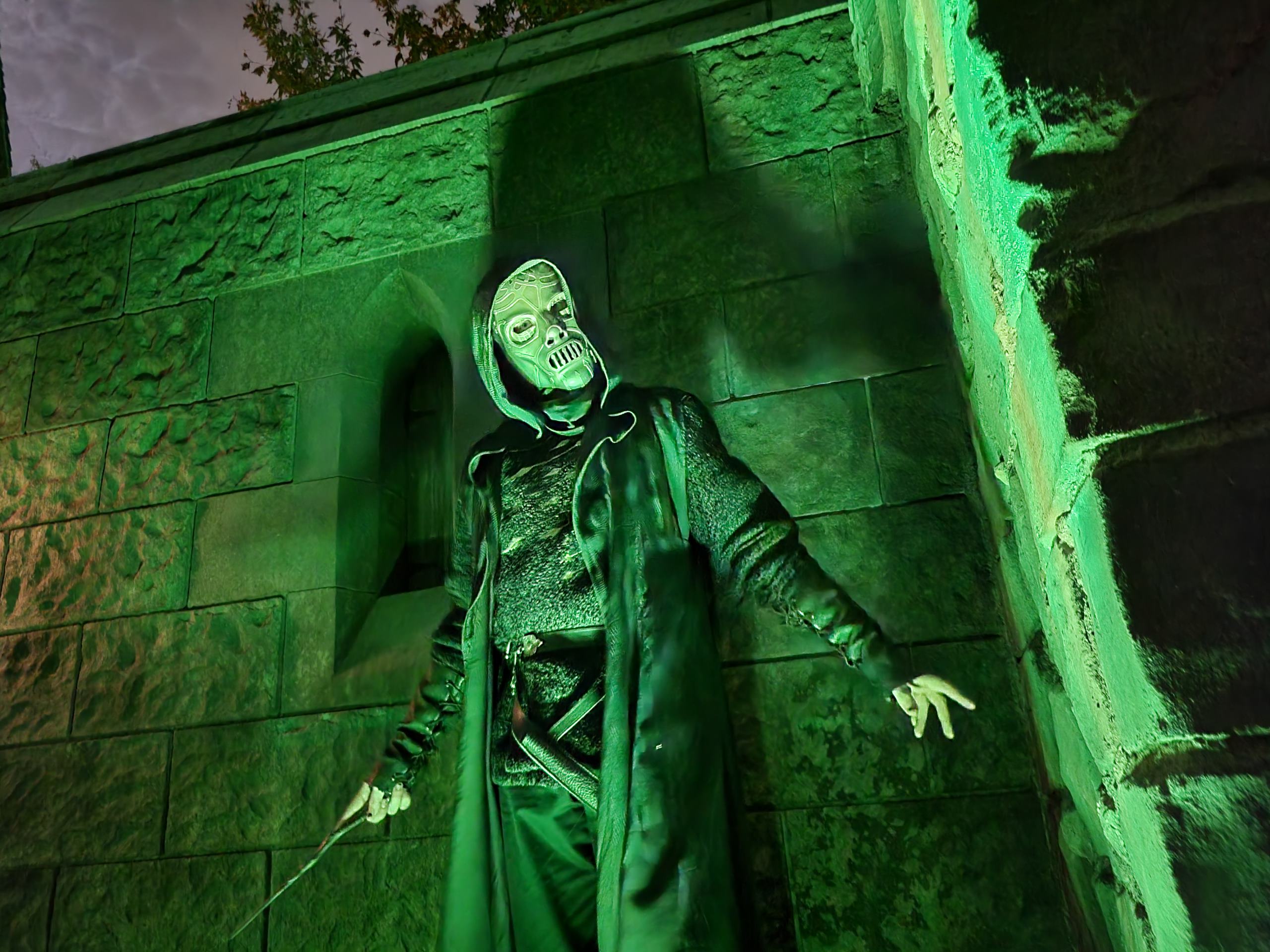 Death Eaters Encounter Photo Gallery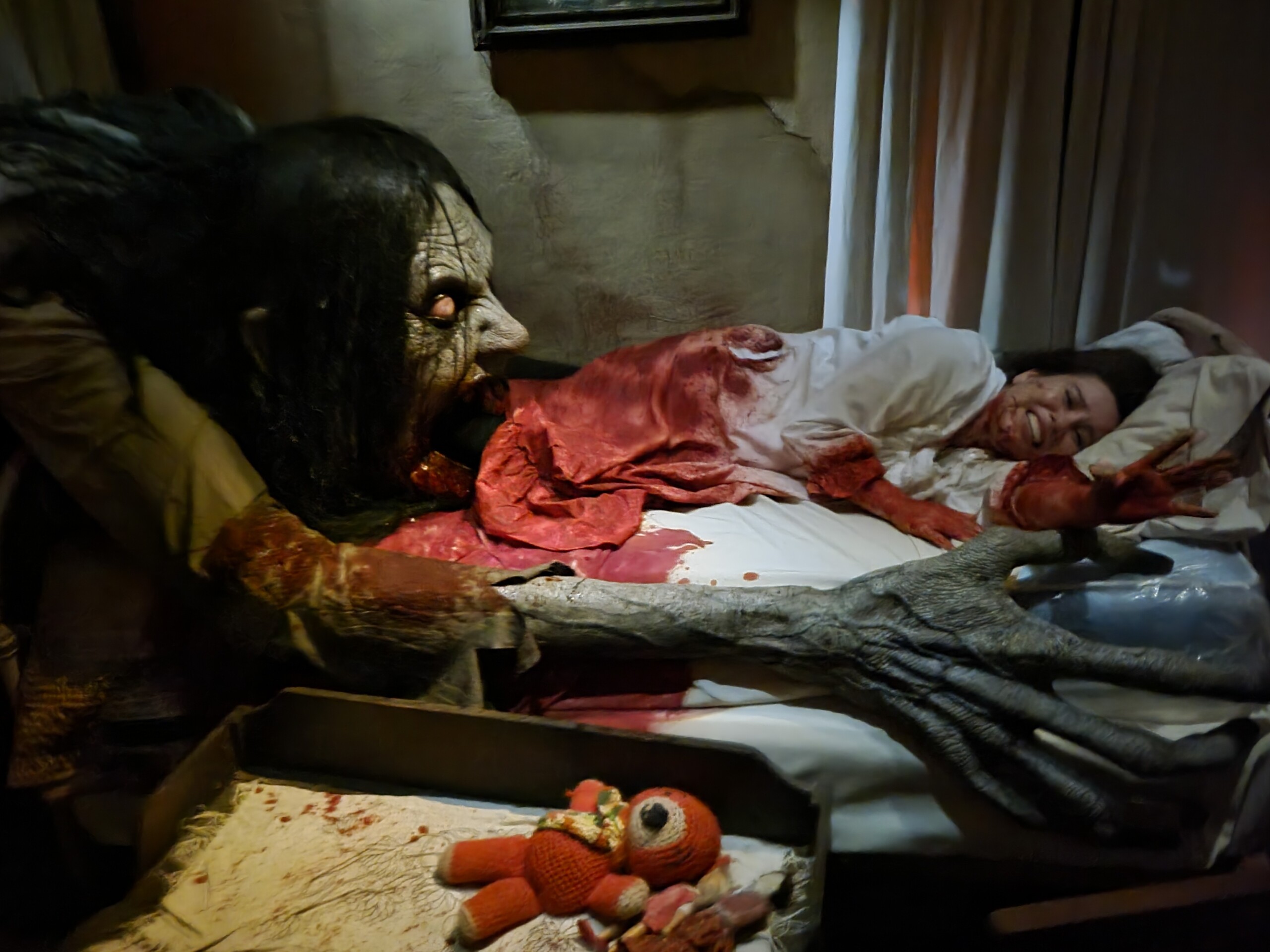 La Llorona: The Weeping Woman brings the tale of a woman who drowned her children and then herself back to terrify. Will you be the next children she tries to drown her sorrows? This haunted house is a huge fan favorite from past years, and for good reason. Easily the longest wait in the Upper Lot. Tucked around every corner is the decaying set design of a discarded mission. The weeping woman appears in various stages reaching from a horse-headed stilt walker to over-sized body devouring children from their beds. And along with the Dia de los Muertos plaza and El Pueblo del Terror scare zone, this center of the theme park made for a very cohesive thematic backdrop.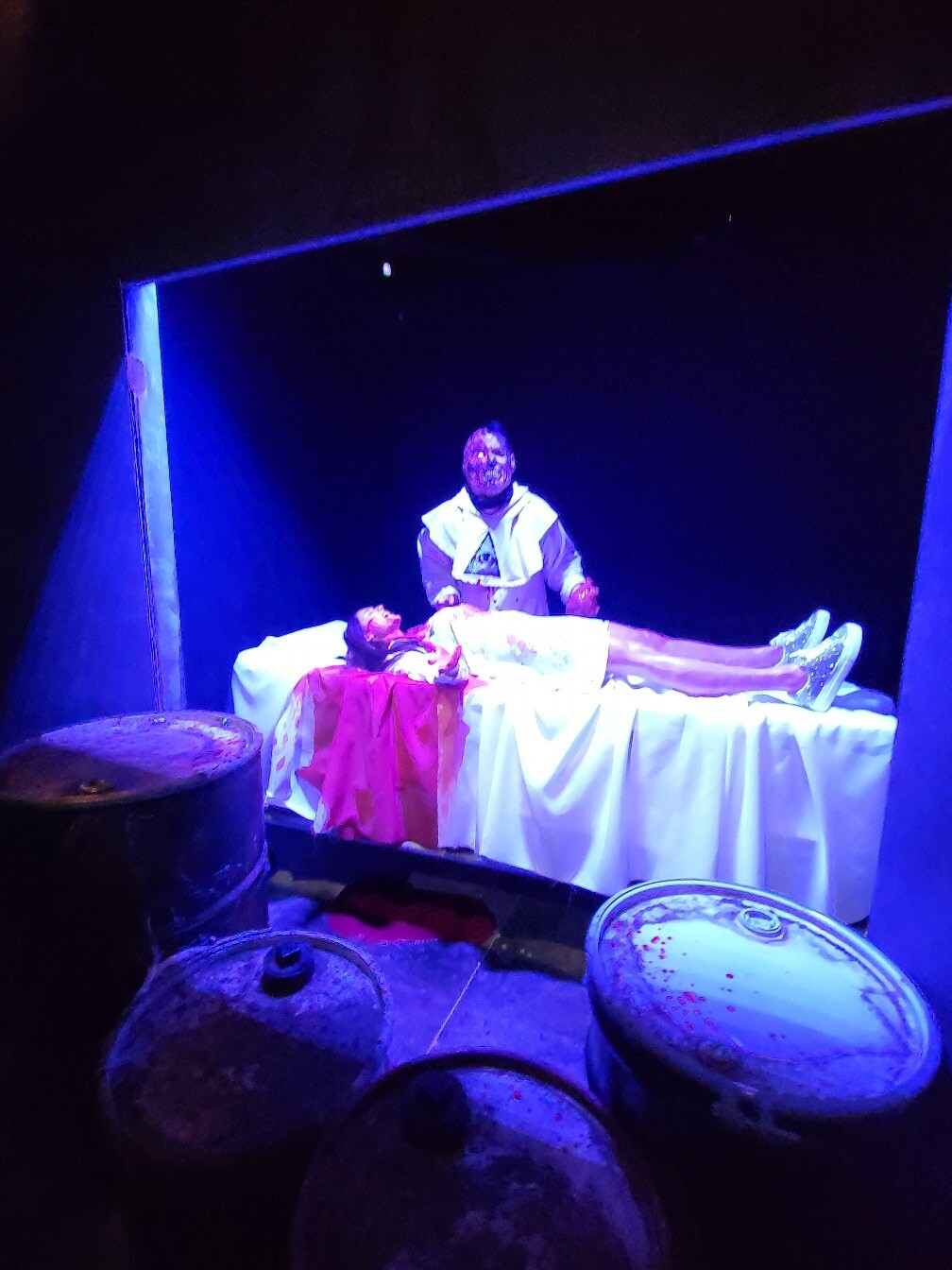 Universal Horror Hotel replaces The Walking Dead haunted house. The pathway is virtually unrecognizable with the exception of the first portion of the queue. A video clip plays to provide a back story of a 1920s Hollywood hotel owned and operated by a serial killer. Everything after the old "Don't Open, Dead Inside" double-doors feels fresh. An elevator attack scene now makes its home here with a convincing thrashing of legs mid-air.
The scares inside has a The Shining meets Bates Motel atmosphere passing through hallways past doors to hotel rooms, bathroom, bedroom, and kitchen. A bloody reoccurring pattern shows up on walls and doors suggesting a sort of participation within a cult. A valiant effort to update the space for original content that fits with the surrounding area of the theme park. However, the entrance wasn't very noticeable and the second half of the interior feels like there is much to be desired.
Universal Hotel Hell Photo Gallery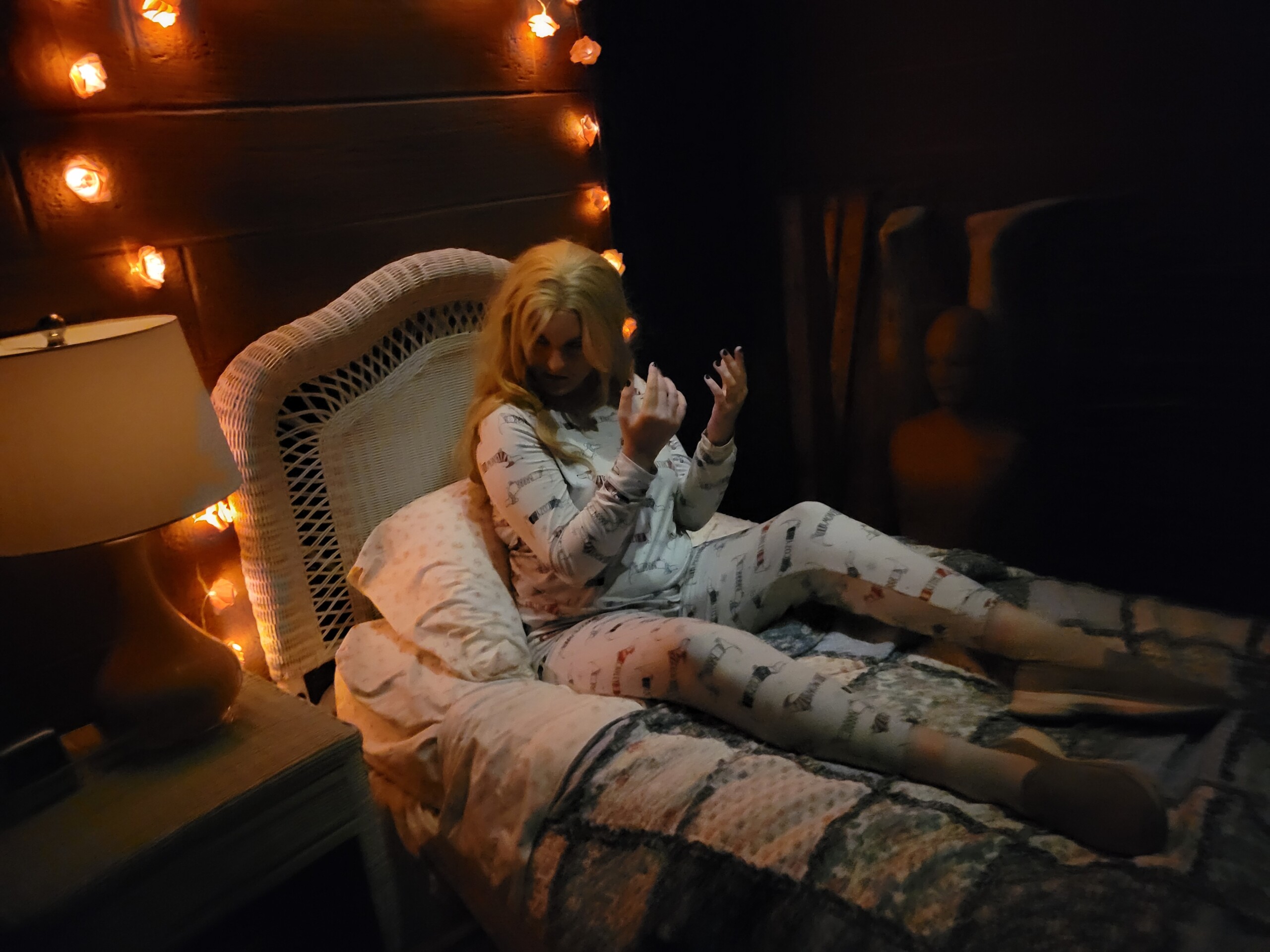 The Horrors of Blumhouse features a new double feature of scares with Freaky and The Black Phone. Freaky follows the body-switching horror comedy between a teenage girl and a serial killer. The Black Phone follows a cunning kidnapper to his hideout. Given the space the Blumhouse experience being placed in the queue for the Waterworld stunt show, the facade was cleverly fitted to be that of an abandoned video rental store. Another challenge was balancing the comedy into the horror of Freaky.
Turns out, it's really, really hard to do because no portion of this house would make anyone chuckle. There were however plenty of sight gags to feast your eyes upon with a glass wine bottle shoved down a throat, toilet seat death, impalement to a wall, and body-switching action behind a false wall. Black twisting hallways and title cards move the days along as well as transitions between movies. The Black Phone segment seemed to have gotten less attention.
Guests will be able to pass through posters of missing children, the black phone, the kidnapper's living room, the kitchen, and basement with bed mattress on the floor. But noticeable iconic moments from the movie such as a black van, black balloons, and basement staircase are absent. The takeaway here seems like the guests are supposed to have the perspective of the child victim.
The only scare character to make an appearance is the kidnapper. Unfortunately doesn't use a spray can on his victims like depicted in the film adaptation. The experience begins and ends with a series of black twisting hallways, which we find less than favorable. Some other people will find that to be scary.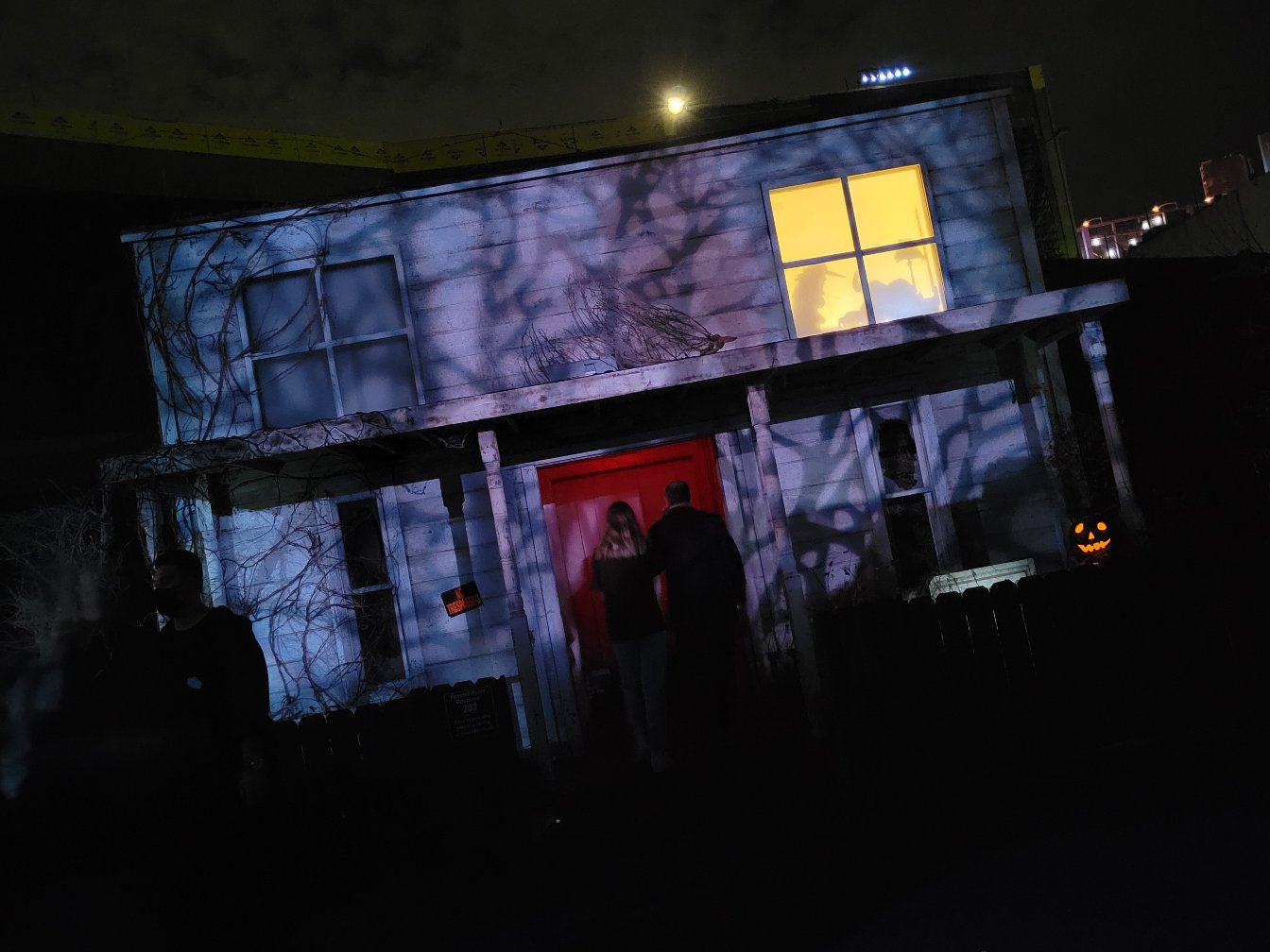 Halloween is another returning favorite amongst diehard horror fans. And is quite relevant with the upcoming new "Halloween Ends" movie release in mid-October. This year focuses on the first movie with Dr. Loomis tracking down his murderous patient Michael Myers while stalking babysitter Laurie Strode.
Visitors inside the Myers house will be immersed in iconic moments like the tombstone of Judith Myers in the bedroom, billowing bed sheets, and a claustrophobic encounter with Michael switching his blade at you in the closet. The performers for Michael kept their body posture respectfully in character, the same could not be said of the Dr. Loomis performance. The haunted house easily wins over its execution and will not disappoint.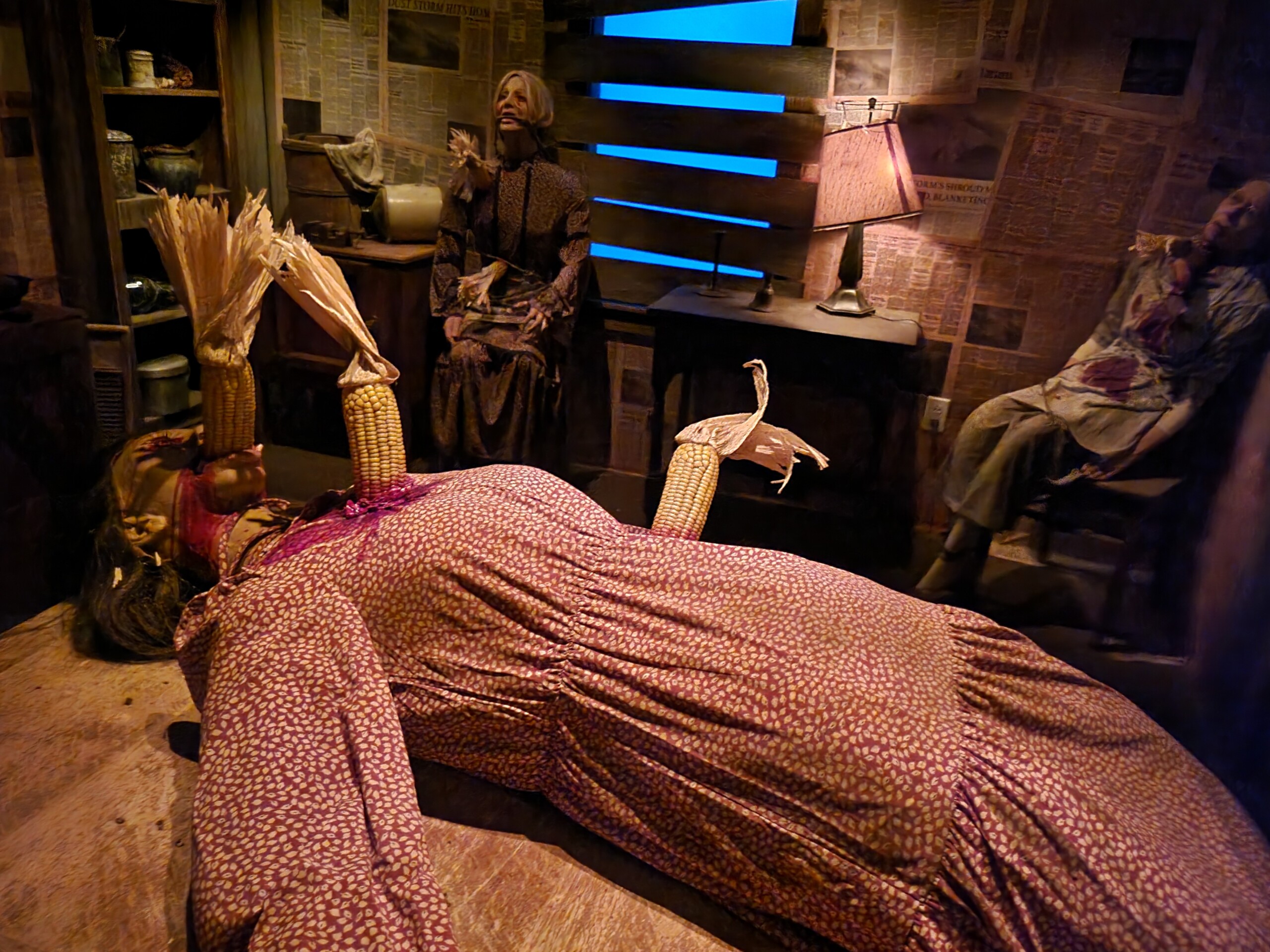 Scarecrow: The Reaping comes high anticipated as a new incarnation of an original favorite maze to the event's Orlando counterpoint. So this has a lot to live up to. Set in the Depression Era and events of the Dust Bowl, farmers are being overrun not only by famine, but by crows and scarecrows coming to life to make them on of their own.
It is obvious how much care was taken to creating this experience. Guests are taken back in time to a farmhouse and barn surrounded by all the fixins of corn, hay, and farming equipment. Be ready to navigate through curtains of cornstalks and animal intestines. This is a house worth going around for a second helping.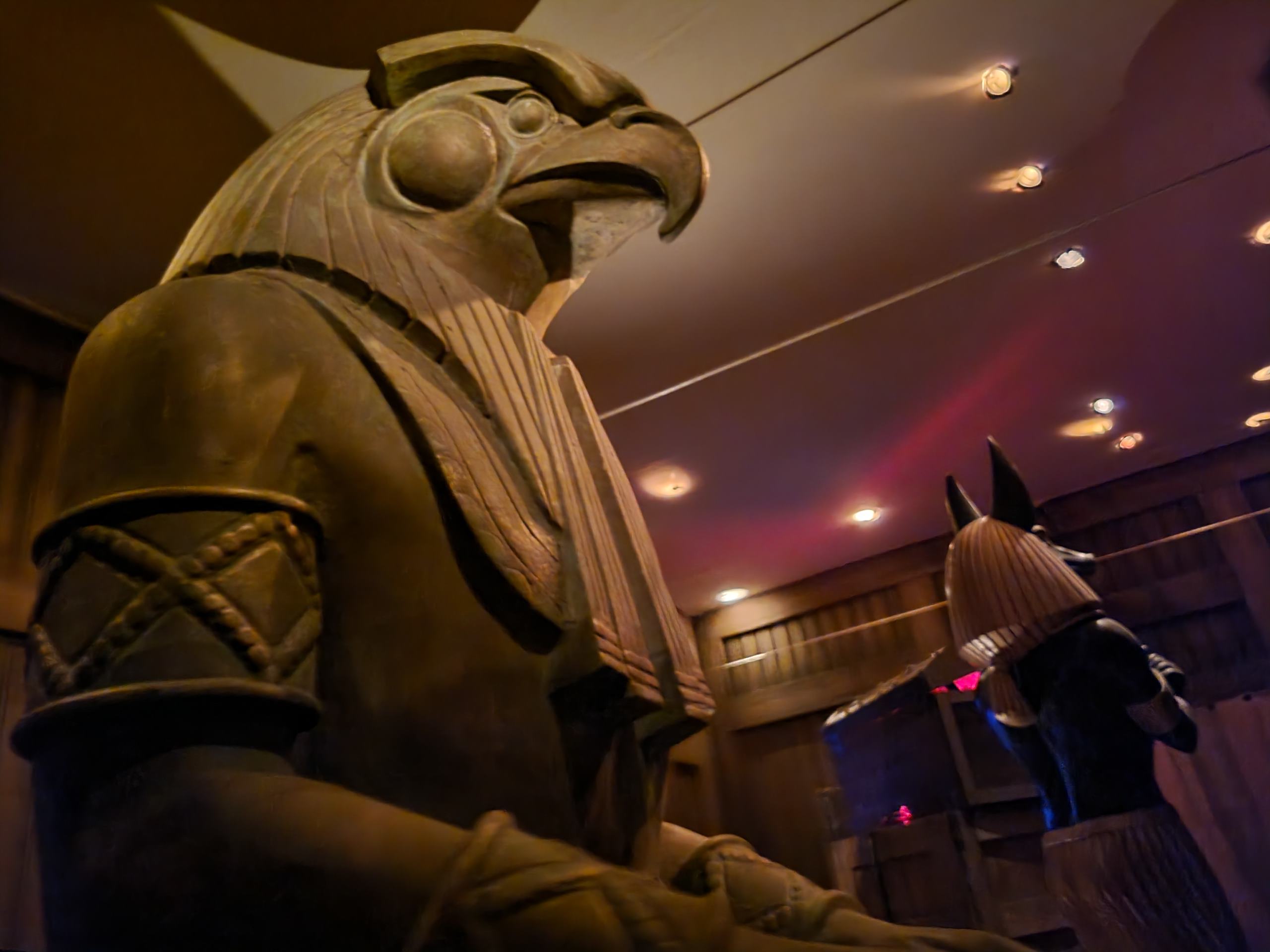 Universal Monsters: Legends Collide pits Dracula, the Mummy, and the Wolf Man together like never before and lets them loose. While Orlando's version centers its set location in the Egyptian dig site as part one of an overarching story, Hollywood's version is part two taking place in London from a trading dock to a museum.
The creative team did not skip out on the prop design with everything contributing to the storytelling from maps of London, glowing amulets, and even screen-used statues from The Mummy film franchise. It helps when a haunted house based on Universal Monsters is built in a theme park attached to a working film studio with a giant warehouse full of movie props. Music artist Slash of Guns N' Roses fame collaborates again with Universal for another banging, head-bobbing original soundtrack.
Can we get an album of Slash's work of Universal haunted house music created already? I'm sure fans would love a copy produced on vinyl record. Notable set pieces sees Dracula emerging on an office window sill, a projection of flying bats coming together in the form of Dracula, then having the head vampire himself appear, and the "zombie sled" effect used effectively for Dracula's brides and a swarm of mummies.
A lot of the set design choices were based on the classic monster pictures as seen from the Universal film library and then taking even more inspiration on real locations like Highgate Cemetery. Be sure to keep an eye out for Anubis inspired creature reinterpreted with the head of a wolf instead of a jackal.
Universal Monsters Photo Gallery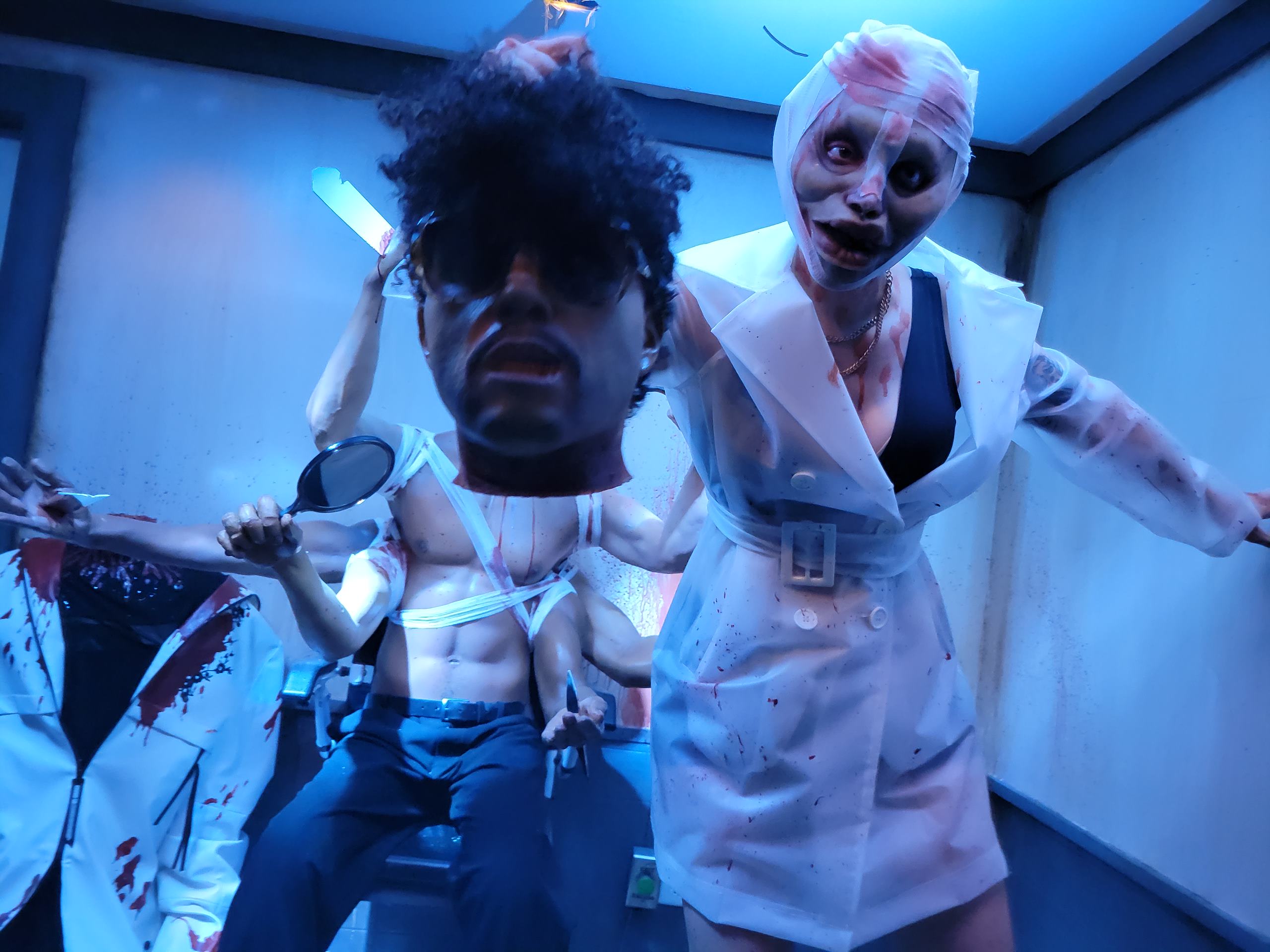 The Weeknd: After Hours Nightmare takes inspiration from the music artist and invites guests onto the set of his many music videos. I will admit, I am not the target audience for this experience as I am not familiar with the music industry. Having said that, the long waits seem to have captured the attention of those in the know. Being an outsider, I did not walk out hating it.
Felt more like I was walking from one twisted music video into another. A guest expressed it was a cool experience, especially if it was music that she actually listened to. Which I would have to agree with that statement. The concept of a music artist bringing his music videos and mindset to a lively ghoulish delight will appease fans of that genre.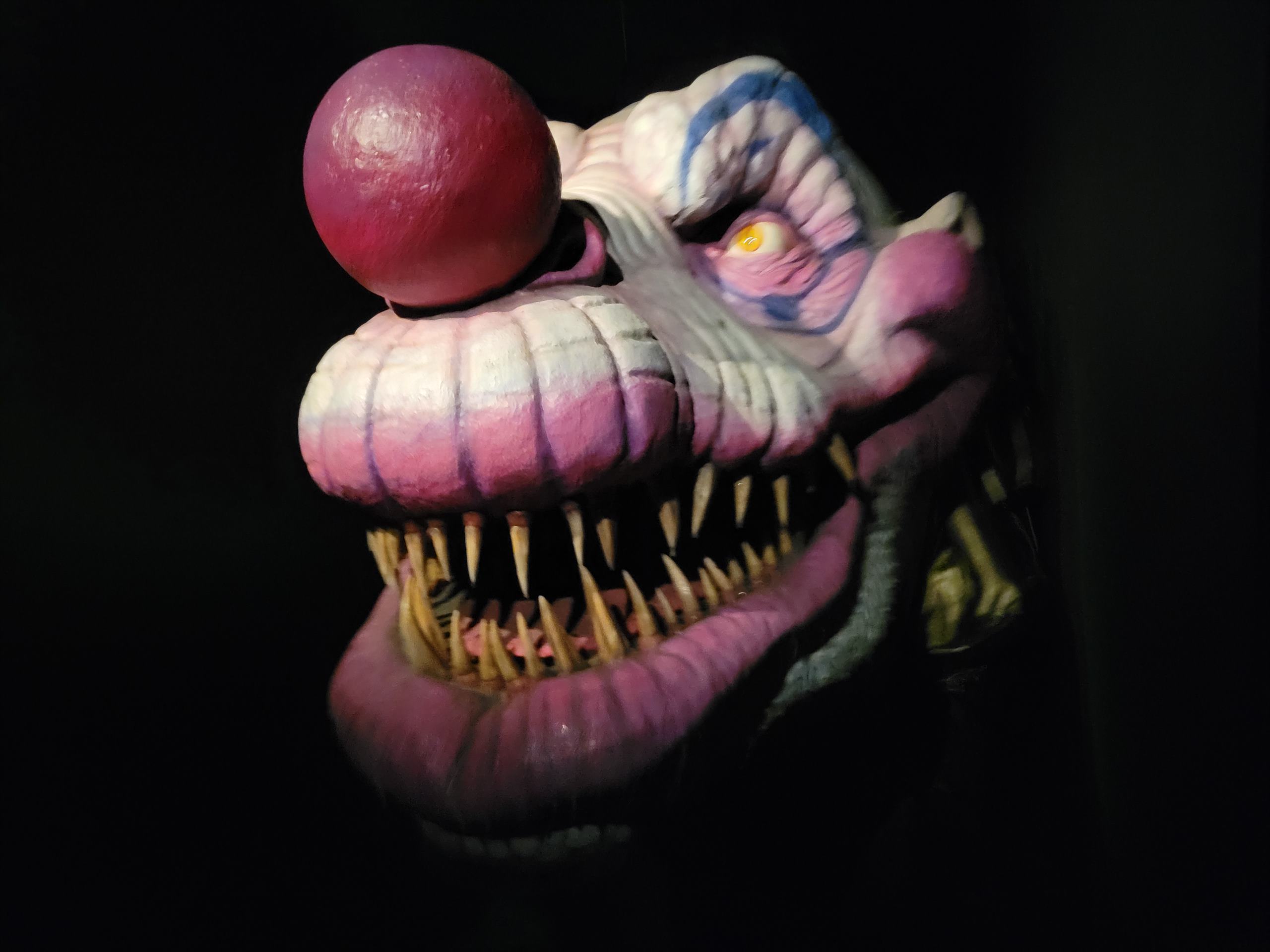 Killer Klowns From Outer Space returns to Halloween Horror Nights just as colorful and full of dark humor as ever. Not only a cult favorite, but a favorite with Universal fans as well. If you haven't seen the 1988 horror-comedy movie, it's widely available on many free streaming services. The title pretty much says it all. Alien beings in the form of over-the-top demonic looking clowns have come down from outer space, trap humans in cotton candy, and liquify them for consumption. Simple as that.
First you board the alien space ship shaped like a circus tent and into a blacklit fun house. Nothing sinister about that. Along the way will be shadow puppets, bathroom attacks, and pies ready to melt your entire body. Complete with cherry on top for the full effect.
Killer Klownz Photo Gallery
Terror Tram features something both old AND new this season! Hollywood Henry returns to exact his revenge on the studio lot. Taking over the Psycho path from the Bates Motel to the mansion and the War of the Worlds set. Chainsaws buzz by your scampering feet. Cross paths with black cats for luck. A gruesome pumpkin patch lights your way. Traveling past the old tram pick-up spot, guests get to walk even further along the front lot and actually into the world of Jordan Peele's NOPE and US.
The Tethered from the movie US crosses the globe and find their way into the aftermath of Jupiter's Claim from the film NOPE. The screen-used set location of a small business Western theme park is now overrun by survivors and people clad in red broiler suits.
The body movements of the Tethered was choreographed by the same instructor from the movie US. Admirers of Jordon Peele's movies will certainly be awe-struck with this real-life merging of his cinematic universe. We hope this walk-through of a real movie set receives enough praise to return next year.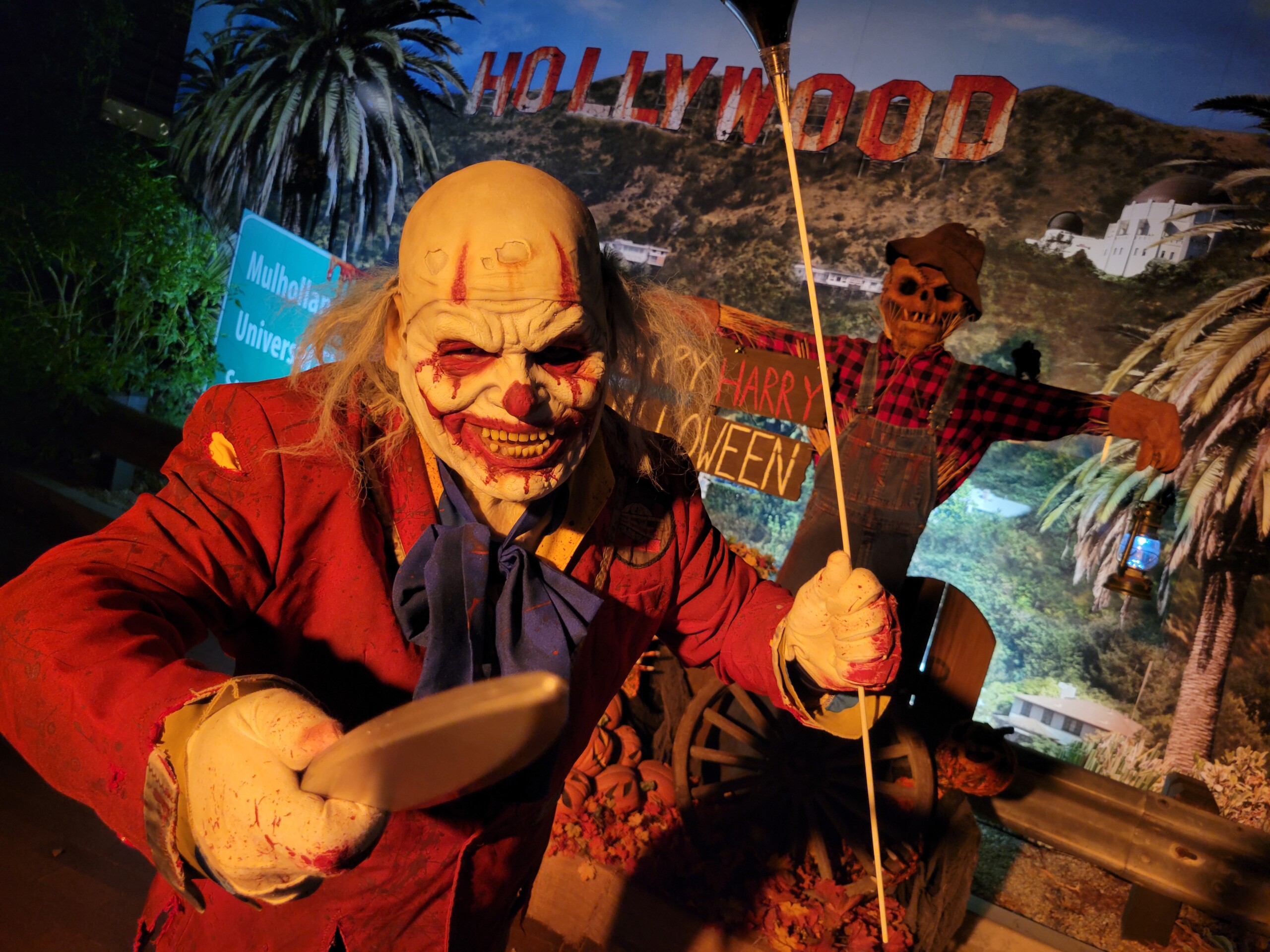 Terror Tram Photo Gallery
A new seasonal store has opened in Universal Citywalk located near the Voodoo Doughnut store. Many collectible items can be found here. More selections can be found in the Studio Store in Citywalk, inside the park gates, and Production Central store to commemorate this season's hauntings.
Halloween Merchandise 2022 Photo Gallery
Halloween Horror Nights tickets can be purchased online or at the Universal Studios Hollywood front gate, providing guests with Early Event Admission to select mazes, beginning at 6pm each night of the event (subject to change). Various ticket options are available for purchase:
R.I.P. Tour is a premium product, inviting guests to scare with a VIP treatment that includes an expert guided tour of the event with exclusive experiences along the way.
Universal Express includes one-time express to each scare maze, Terror Tram, ride and attraction. Express access is a separate line with a shorter wait time and does not apply to food and retail locations.
After 2 P.M. Day/Night
Popular passes: Frequent Fear Pass and Ultimate Fear Pass, which allow guests to experience the scares again and again.
General Admission
Halloween Horror Nights begins on Thursday, September 8 at Universal Studios Hollywood with eight frightening scare mazes. The event will run select nights through Monday, October 31. For more information and to purchase tickets, visit www.HalloweenHorrorNights.com.