This post contains affiliate links and our team will be compensated if you make a purchase after clicking on the links.

Don't throw away your shot to catch one of the biggest Broadway hits of all time this fall at the Segerstrom Center for the Arts. The musical smash, "Hamilton", has returned to Orange County for a limited run from September 28th to October 16th.
"Hamilton" does not disappoint, delivering a stellar performance that pulls on every heartstring and emotion, weaving a brilliantly performed tapestry of talent onto the stage in a way that can only be described as unforgettable!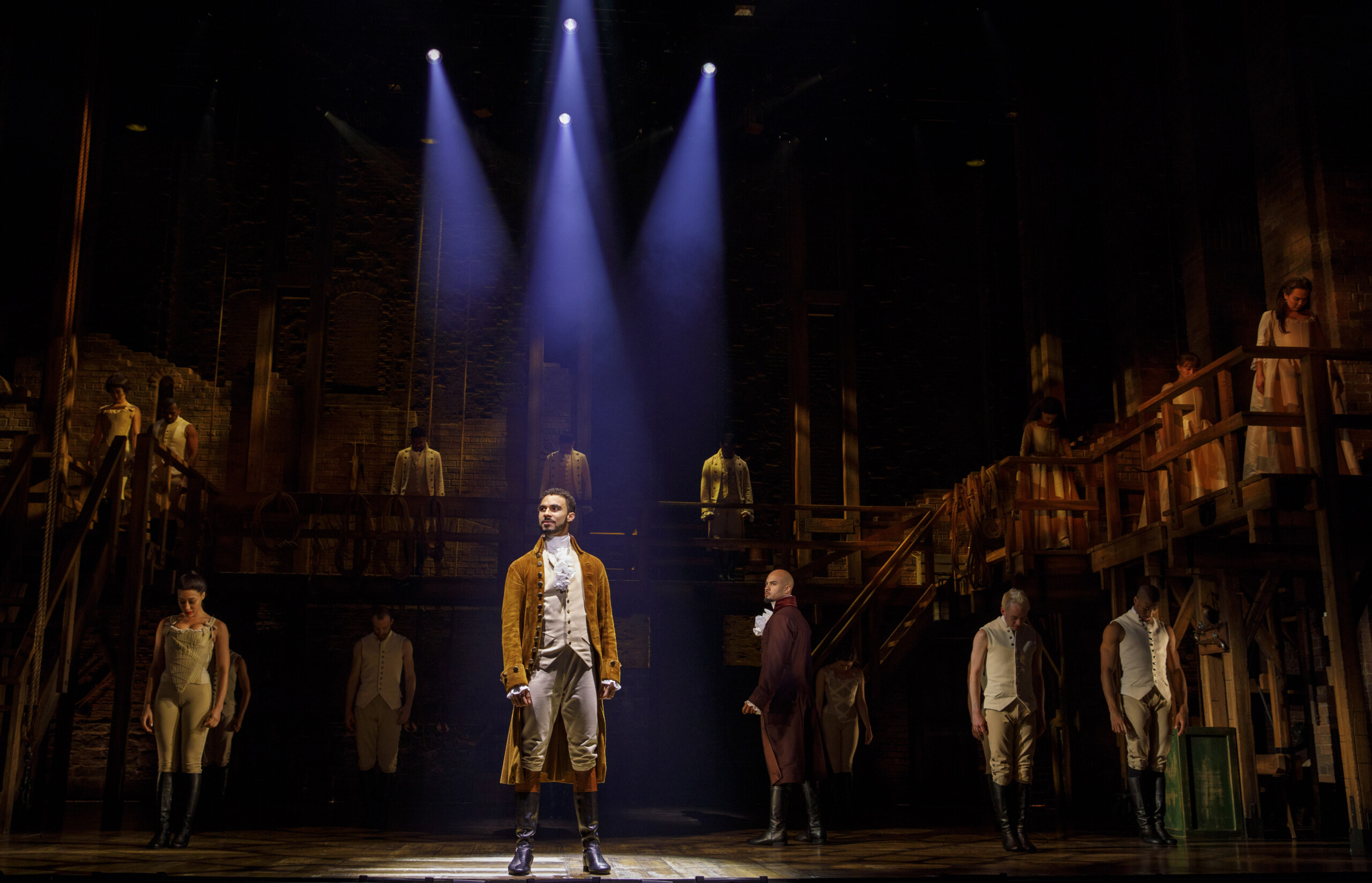 Coming from someone who has never had the opportunity to see this performance live and only being able to see the Disney+ release of the original cast recorded performance, "Hamilton" delivers, shaking and rattling the historic and legendary foundations of the production's origins, satisfying in bringing the same energy, vigor, and unique qualities that made that original cast and production such an instant classic.
It all comes down to the magnetic performance of Deaundre' Woods as Alexander Hamilton. From start to finish, Woods encapsulates every element of what Hamilton represents, not throwing away any opportunity to bring the audience closer into the heart and mind of the title character.
Yet, the best part of his performance comes from the chemistry he sets on fire with the rest of his cast, navigating the larger than life persona of Hamilton with ease, still making room in the spotlight for the rest of his ensemble; especially looking at his dynamic with Donald Webber Jr, who brought in a wonderful performance as the infamous rival to Alexander Hamilton, Aaron Burr.
Webber Jr was the perfect foil to Woods, dialing in all the right elements to showcase the complex and complicated relationship Burr had with Hamilton throughout the fray of the revolution and construction of a new nation. In the end, he delivered a show stopping performance, slowly and patiently building you up to the final moments with a mixture of empathy and scorn. We cannot help but love every second of it!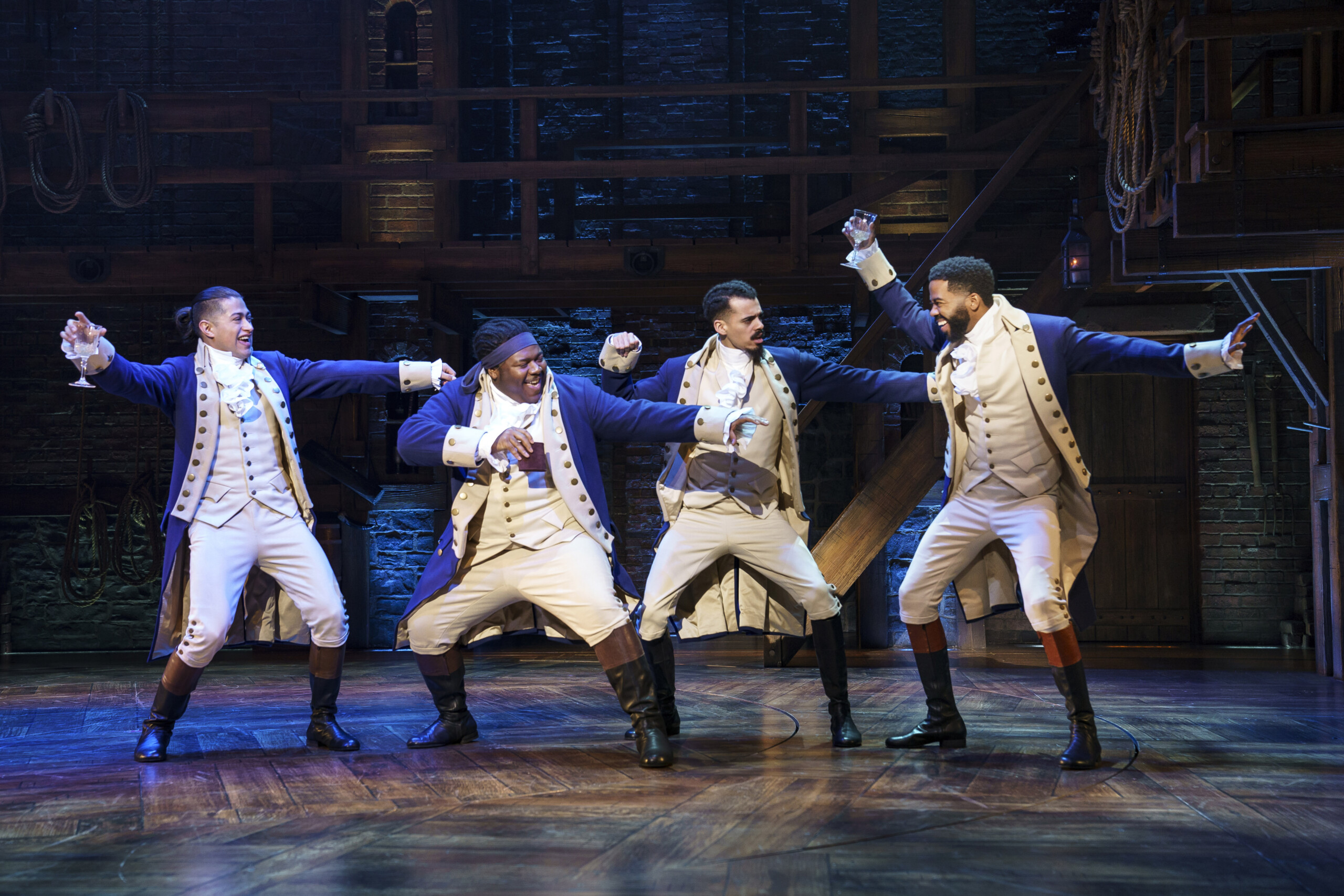 Regardless of some of the more serious and melancholic historical tones "Hamilton" has packed in, the laughs and whimsical moments are still plentiful, with many of the laughs coming from Paris Nix, who took the dual roles of both Marquis de Lafayette and Thomas Jefferson, as well as Jared Howelton for his dual roles of John Laurens and Philip Hamilton. We also cannot forget to mention Rick Negron's King George, who in true 'Hamilton' fashion, brings down the house with non-stop laughter. Each of these remarkable players brings the charm and then some, making the show's energy balanced and full of fun.
Though we have to save the best for last, as we cannot forget the where the spotlight may have shined its brightest. Morgan Anita Wood and Marja Harmon absolutely slay as Eliza Hamilton and her sister, Angelica Schuyler. Anita Wood took our breath away time and time again, while Marja Harmon's Angelica left a lasting presence that was impossible to ignore. The core of "Hamilton" is the music, and hearing Anita Wood and Harmon's renditions of "Satisfied" and "Schuyler Defeated", it doesn't take long for the audience to "look around" and find that every single note is a masterful tribute that creates a totally new experience each time!
It's safe to say "Hamilton" is as popular and strong as ever, with the entire cast bringing their all in a limited engagement that is unlike any other. Whether you're a "Hamilton" veteran, or have yet to see a performance, make sure to grab your tickets soon before this tour fades into the history books.
Here's a full look at your opportunities to catch "Hamilton" below:
Show Schedule
9/29- 1:30PM/7:30PM
10/1- 2:00PM/8:00PM
10/2- 1:00PM/7:00PM
10/4- 7:30PM
10/5- 7:30PM
10/6- 7:30PM
10/7- 7:30PM
10/8- 2:00PM/8:00PM
10/9- 1:00PM/7:00PM
10/11- 7:30PM
10/12- 7:30PM
10/13- 7:30PM
10/14- 7:30PM
10/15- 2:00PM/8:00PM
10/16- 1:00PM/7:00PM
You can purchase tickets and learn more about Segerstrom's upcoming performances by clicking here!