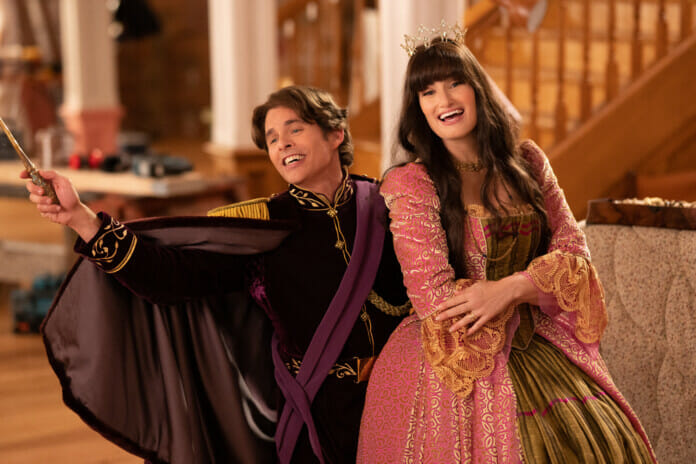 This post contains affiliate links and our team will be compensated if you make a purchase after clicking on the links.

Idina Menzel's voice is one of the most iconic, powerful, and well known in all the land, so it may come as a mystery why Menzel wasn't given a single note to sing in 2007's hit film,  Enchanted. Yet, that mystery may have just been uncovered almost 15 years to the debut of the original film and more importantly the why behind one of Disney's most puzzling questions.
With the upcoming release of Disenchanted on Disney+, Menzel sat down and had a chance to speak about her song work for Enchanted with legendary composer, Alan Menken, who like Menzel, is returning for the highly anticipated sequel.
Menken revealed that Menzel was not only meant to sing in the original Enchanted, but had crafted specifically with her in mind. "We had two attempts in the first movie to do that, we just couldn't get it in. It was timing," he admitted.
Idina recalled one of the songs, discussing what it was like working with Menken on trying to get Nancy's song into the film. "We shot one of them and I remember Jenny said 'this isn't going in the movie, it's gonna be on the cutting room floor.' I was like, what do you mean it's gonna get cut? She's like, 'It's never gonna make it'
Yet, Menzel admitted that it had to happen to fit with the pacing of the rest of the story despite her musical chops. "It was just superfluous at the time because you (Menken) were trying too hard and I really appreciate that but now you made up for it in so many ways that I'm singing a song that I can barely sing live if I tried".
Menken once again teams up with legendary songwriter, Stephen Schwartz, crafting all new songs for Disenchanted, that include two songs for Menzel, both of them bringing fans what many would consider 15 years in the making.
"When you have someone like Alan and Stephen writing for you, because they are so incredibly talented, even for character, the way they write melodies and these soaring melodies, it's kind of their little sign to tell you how to approach it. You don't even have to think that much because the way they write gives you everything you that you need. To have someone like them write for you, for all of us, it's such a gift, to have someone take you in," Menzel exclaimed.
Disenchanted will also give a chance for other returning cast to join in on the musical fun, including Patrick Dempsey's Robert. Dempsey discussed bringing a new side to Robert and the fun in transforming the character beyond his less-than-enthused attitude towards song and dance from the original film.
Dempsey said it was "great fun with the singing and the dancing. It was a joy! That whole process of going through finding your voice, working with the coach on that. Learning the lyrics and the dance was an extraordinary experience and something I've never done before."
Yet, it was a bit out of his comfort zone as he would go on to admit, nevertheless, something Dempsey was more than willing to take on with enthusiasm and excitement. "It was a great opportunity to play something that was so broad. I don't get that opportunity and I really loved it. It's a little bit scary at first but you know it was great, it was a safe environment to work in. It was fun to play and I hope people enjoy that."
It's a perfect mix, especially with Menken and Schwartz leading the way with their musical charm. "Rather than writing for any individual actors, Stephen and I, write for the characters and the storyline and take it from there. It so happens that the actors are perfect for this," Menken said proudly. He, like many returning, feel that Disenchanted will bring the right tune to fans.
"The first Enchanted had the most amazing premise. We start in the world of early Walt Animation and this animated princess has a spell put on her and and is thrown up in Times Square, where's she's totally unequipped to deal with what happens and the score kind of grows up with her as she gets to adapt to this world. In the new version, she longs for that world, so we still go back to that," Menken mentioned.
"They know our voices and they can write for our strengths and then we can really shine and to have that kind of back and forth with composers like the two of them is just, yes," Menzel added.
Disenchanted debuts exclusively on Disney+ on November 16th. Make sure to check out our full coverage, including our interviews with the entire cast and crew of the new film!