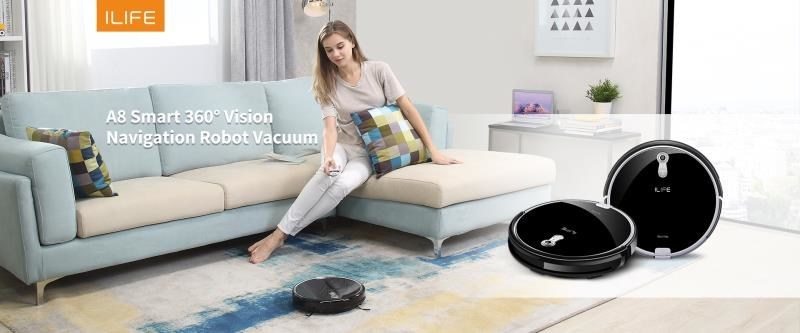 This post contains affiliate links and our team will be compensated if you make a purchase after clicking on the links.

ILIFE, a world renowned robot vacuum manufacturer, is unveiling its flagship robot vacuum A8 at the 51st Consumer Electronics Show (CES), which opens its doors today. ILIFE will also showcase its classic robot vacuum collection, displaying the company's latest achievements and competency in robotic cleaning technology. Among the models, the all-new A8, a robot vacuum equipped with a 360 degree live-vision camera navigation system, has drawn the most attention from the public and the media with its aesthetic design and superior automation.
Robot vacuum cleaners have been introduced into homes and offices as a cleaning tool requiring no human assistance. In general, robot vacuums perform random or planned cleaning. Random cleaning models have dominated the market with their competitive price range. Although planned cleaning robots are more intelligent and cover a larger area with higher cleaning effectiveness, high technological requirements and development costs have made them a relatively costly option to the consumers.
The all-new A8 is a self-navigating robot vacuum enabled by PanoView, which navigates spaces precisely with a high-definition camera. The information collected will be processed by three built-in data chips and CV-SLAM graphics algorithm for mapping and route planning. Assisted by a three-stage cleaning system, A8 cleans along the planned route without missing or repeat cleaning any areas. Also featuring a pause/resume navigation system, A8 automatically returns to its charging base when the battery runs low, and resumes cleaning when its task was interrupted, making it an autonomous large room cleaner. Moreover, it has a voice alert system that gives real-time status announcement. At only 7.2cm thick, A8 can easily scoot under the beds and sofas to catch dust and dirt in hard-to-reach areas.
"The launch of A8 means there's a more affordable robot vacuum option available to the consumers," noted Chen Koon Leung, Vice General Manager of ILIFE. "Following our mission 'Make Cleaning Easy for a Better Life,' we'll continue to bring the highest-quality, technologically advanced robotic cleaning offerings, which are also reasonably priced, to the consumers around the world."
Since ILIFE branded products went global in 2015, their market penetration has continuously expanded. ILIFE's technological know-hows and advanced products have also received wide recognition. In 2016, ILIFE received Amazon Global Selling "Amazon Top Newborn Brand Award"; in 2017, ILIFE V5s Pro stood out from the pack and won "Water Tank Structure Innovation Award" at the IFA Product Technical Innovation Award, and V8s was honored "China Good Design Award" by Red Dot Design Award in Germany. In the same year, ILIFE's robot vacuum was named the top global bestseller and "AliExpress 11.11 Top 10 Brands" in AliExpress 11.11 Global Shopping Festival.
ILIFE will be launching A8 worldwide through online shopping platforms including Amazon and AliExpress. Besides A8, ILIFE will also showcase its classic models including A4s, A6 and V5s Pro at CES.