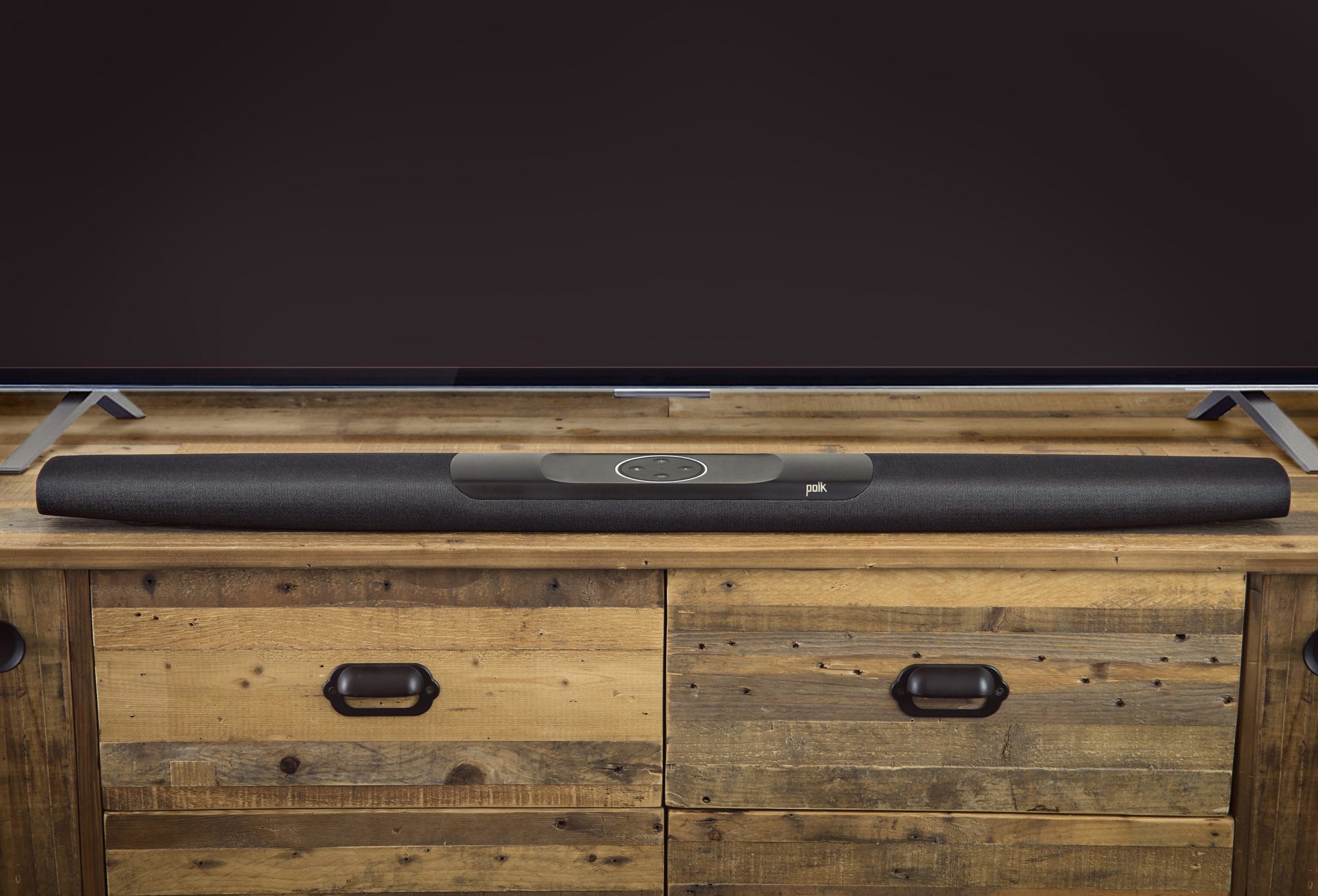 This post contains affiliate links and our team will be compensated if you make a purchase after clicking on the links.

Today at CES, taking place in Las Vegas from Jan. 9 – 12, Polk Audio, a high-performance audio brand with a 40 plus-year legacy of sound engineering and design, introduced the Polk Command Bar, the first announced voice-controlled sound bar with the Amazon Alexa Voice Service built in. The Polk Command Bar delivers the power and convenience of Amazon Alexa in a superior home theater solution that produces loud, rich audio ideal for movies, music and wireless music streaming. Available in the spring 2018, the Polk Command Bar will retail in the U.S. for $299.95.
The Polk Command Bar is the new heart of the smart home theater. It boasts integrated far-field microphones atop the sound bar to easily control master volume, mute, bass, sound modes, and source selection with voice commands through the Polk Connect Skill. In addition, the Polk Command Bar includes a dedicated HDMI port designed to fit Amazon Fire TV devices and other HDMI streaming devices with wide form factors. With the Alexa Voice Service integrated into the Polk Command Bar, customers can use their voice to control Fire TV, connected smart home devices and the sound bar. With ease of setup in mind, a built-in USB port in the rear panel can power compatible Fire TV devices. The Polk Command Bar also supports a full set of smart home skills to control lights, locks, and HVAC in addition to a variety of Amazon Alexa-supported music services, including Amazon Music™, and can even read books from Audible. Support for additional music services will be announced later in 2018.
"Intelligent voice services like Amazon Alexa have fundamentally transformed how we interact with our surroundings. However until now, the home theater was devoid of an elegant solution," said Kevin Duffy, CEO and president, Sound United. "For the past year, we worked to develop a sound bar that profoundly changes how we interact with the home entertainment experience. The result is a product that produces Polk Audio-quality sound for movies and music, while simultaneously delivering voice control not yet found in a traditional sound bar."
Featuring Polk Audio's performance-tuned drivers, the Polk Command Bar is loaded with two 1.25 x 3.25-inch full-range drivers, two 1-inch tweeters and a ported, wireless 6.5-inch subwoofer for big, dynamic sound. Despite its powerful driver arrangement, the Polk Command Bar's optimized far-field microphone array enables customers to easily ask Alexa to share the time, weather, set alarms, tell jokes, or turn on the lights from anywhere in the home theater. When audio is playing at the loudest levels, owners can use the duck button in the Polk Command Bar's remote control to lower playback volume and make it easier for Alexa to hear voice commands. Additionally, the sound bar is compatible with 4K HDTVs and ensures HDR content looks beautiful with dual HDMI 2.0b inputs. Support for Dolby and DTS surround formats provides customers with an immersive room-filling home theater experience.
"Voice is an incredibly natural way to interact with your home, and we're excited to work with Polk Audio to bring customers a new Alexa experience for the home theater," said Dave Limp, senior vice president of devices and services at Amazon. "With the new Polk Command Bar, customers get great sound quality and Alexa voice control for an even better entertainment experience."
 Polk Audio Command Bar Details:
Amazon Fire TV Compatible—The Polk Command Bar boasts HDMI ports custom designed to fit Fire TV devices and other wide HDMI streaming devices. A built-in USB port can also power compatible Fire TV devices.
Amazon Alexa Voice Control—At launch, customers will be able to simply ask Alexa to play music, control smart home devices, provide information, read the news, set alarms, read audiobooks from Audible, control Amazon Video on Fire TV, and more. The Polk Command Bar also features Universal control via HDMI CEC, IR Remote and Alexa voice commands. Alexa is always getting smarter and the Polk Command Bar receives automated over-the-air updates to provide customers access to new services and features.
Connectivity—Polk Audio's Command Bar is Wi-Fi-and Bluetooth®-enabled and has a full suite of wired inputs, two built-in 4K HDMI 2.0b inputs (Dolby Vision, HDR10 and HDCP 2.2 compliant), one HDMI (ARC) output and optical input for TV audio. It also ships with both HDMI and optical cables.
Polk Voice Adjust™ for Crystal Clear Dialogue—Polk's proprietary dialogue-enhancing technology, VoiceAdjust, allows consumers to isolate and adjust the voice channel for clear, crisp vocals.
4K TV Compatible—Works with 4K and HDTVs—plus, built-in dual HDMI 2.0b inputs ensure 4K HDR content looks great.
Polk Smart Remote Compatibility: Whether connecting via Optical or HDMI cable, Polk Command Bar features built-in support for popular IR TV remotes from Samsung, LG, Sony, and Vizio. It is also compatible with most CEC-enabled TVs.
Optimized Sound Modes—The Polk Command Bar is outfitted with several preset sound modes for Night, Movies, Music, and Sports, which optimize the sound bar and subwoofer levels to ensure owners get the clearest dialogue, big room-filling sound and deep bass.
Simple Mounting—Designed for both tabletop and wall-mounting with built-in keyholes slots, the Polk Command Bar is easily mountable anywhere in the living room.
Pricing and Availability
Polk Audio's Command Bar will be available in the U.S. and Canada in the spring 2018 and will retail in the U.S. for $299.95. Preorders start April 1, 2018 at www.Amazon.com. It will be available in the UK, Germany, Australia and more regions later in 2018.