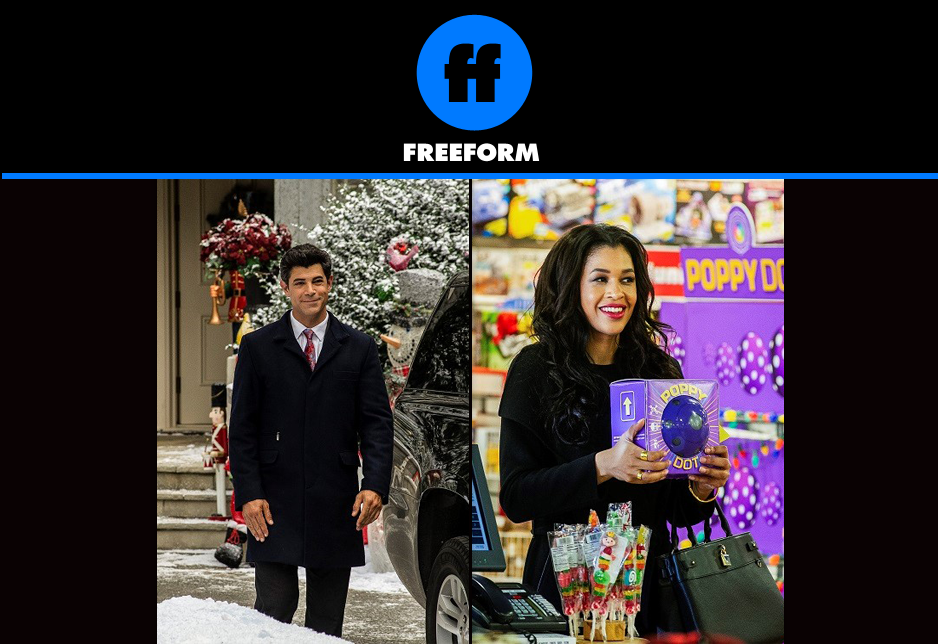 This post contains affiliate links and our team will be compensated if you make a purchase after clicking on the links.

As the Halloween season comes to a close, Freeform will continue to be the home for all holiday programming as the brand-new "Kickoff To Christmas" programming event starts on NOV. 1. Adding a month full of holiday fun, the programming event will also include the premiere of the Freeform original film "The Truth About Christmas," from MarVista Entertainment, airing SUNDAY, NOV. 25 at 9:00-11:00 p.m. EST/PST.
In "The Truth About Christmas," Kali Hawk ("New Girl") stars as Jillian, a successful political consultant confident in her ability to put a spin on anything, whose next big project is the upcoming mayoral campaign for her boyfriend George (Damon Dayoub, Freeform's "Stitchers"). On the way to meet George's family for the first time during the holidays, an unusual confrontation with a toy store Santa results in a drastic change in Jillian where she can't stop herself from wildly spilling the truth. Ali Ghandour (Freeform's "Alone Together") co-stars as George's brother Blake, who believes you should always be true to yourself but thinks Jillian just might be losing it. Jillian must find a way to make it stop before her holidays, her job and her relationship are ruined.
Below is a night-by-night list of the movies airing during "Kickoff To Christmas":
Thursday, Nov. 1
5:00 p.m. – "Christmas with the Kranks"
7:10 p.m. – "Tim Burton's The Nightmare Before Christmas"
8:50 p.m. – "Disney-Pixar's Inside Out"
12:00 a.m. – "Snowglobe"
Friday, Nov. 2
2:30 p.m. – "Christmas with the Kranks"
4:40 p.m. – "Tim Burton's The Nightmare Before Christmas"
6:20 p.m. – "Disney-Pixar's Inside Out"
8:30 p.m. – "Disney's Frozen"
12:00 a.m. – "12 Dates of Christmas"
Saturday, Nov. 3
7:00 a.m. – "Titanic" (1997)
11:30 a.m. – "12 Dates of Christmas"
1:35 p.m. – "The Holiday"
4:50 p.m. – "Disney's Frozen"
7:20 p.m. – "Pitch Perfect"
10:00 p.m. – "Life-Size" – Freeform Premiere
12:00 a.m. – "Snow"
Sunday, Nov. 4
7:00 a.m. – "Sixteen Candles"
9:05 a.m. – "Snow"
11:10 a.m. – "The Holiday"
2:25 p.m. – "Life-Size"
4:30 p.m. – "Pitch Perfect"
7:10 p.m. – "Just Go With It"
9:50 p.m. – "Maleficent"
11:55 p.m. – "Sixteen Candles"
Monday, Nov. 5
4:00 p.m. – "Just Go With It"
6:30 p.m. – "Maleficent"
8:30 p.m. – "Jumanji" (1995)
12:00 a.m. – "Billy Madison"
Tuesday, Nov. 6
3:30 p.m. – "Billy Madison"
5:30 p.m. – "Jumanji" (1995)
8:00 p.m. – "Mrs. Doubtfire"
12:00 a.m. – "Angels Sing" – Freeform Premiere
Wednesday, Nov. 7
3:30 p.m. – "Angels Sing"
5:30 p.m. – "Mrs. Doubtfire"
8:30 p.m. – "Sweet Home Alabama"
12:00 a.m. – "The Family Stone"
Thursday, Nov. 8
3:30 p.m. – "The Family Stone"
6:00 p.m. – "Sweet Home Alabama"
8:30 p.m. – "Love the Coopers" – Freeform Premiere
12:00 a.m. – "Babe"
Friday, Nov. 9
1:00 p.m. – "Babe"
3:05 p.m. – "Alvin and the Chipmunks" (2007)
5:10 p.m. – "Alvin and the Chipmunks: The Squeakquel" – Freeform Premiere
7:15 p.m. – "Storks" – Freeform Premiere
9:20 p.m. – "Tim Burton's The Nightmare Before Christmas"
12:00 a.m. – Beethoven
Saturday, Nov. 10
7:00 a.m. – "Alvin and the Chipmunks" (2007)
9:10 a.m. – "Alvin and the Chipmunks: The Squeakquel"
11:15 a.m. – "Alvin and the Chipmunks: Chipwrecked"
1:20 p.m. – "Richie Rich's Christmas Wish"
3:25 p.m. – "Storks"
5:30 p.m. – "Disney's Meet the Robinsons"
7:35 p.m. – "Tim Burton's The Nightmare Before Christmas"
9:15 p.m. – "Dr. Seuss' How the Grinch Stole Christmas"
11:55 p.m. – "Call Me Claus" – Freeform Premiere
Sunday, Nov. 11
7:00 a.m. – "Decorating Disney: Holiday Magic"
8:00 a.m. – "Alvin and the Chipmunks: Chipwrecked"
10:10 a.m. – "Richie Rich's Christmas Wish"
12:20 p.m. – "Call Me Claus"
2:25 p.m. – "Disney's Meet the Robinsons"
4:30 p.m. – "Deck the Halls"
6:35 p.m. – "Dr. Seuss' How the Grinch Stole Christmas"
9:15 p.m. – "Disney-Pixar's The Incredibles"
11:55 p.m. – "Norm of the North" – Network Television Premiere
Monday, Nov. 12
4:00 p.m. – "Norm of the North"
6:10 p.m. – "Disney-Pixar's The Incredibles"
8:50 p.m. – "Ice Age: Continental Drift" – Freeform Premiere
12:00 a.m. – "Dennis the Menace" (1993)
Tuesday, Nov. 13
4:30 p.m. – "Dennis the Menace" (1993)
6:40 p.m. – "Ice Age: Continental Drift"
8:50 p.m. – "Despicable Me"
12:00 a.m. – "I'll Be Home for Christmas" (1998)
Wednesday, Nov. 14
4:30 p.m. – "I'll Be Home for Christmas" (1998)
6:40 p.m. – "Despicable Me"
8:50 p.m. – "Disney-Pixar's The Good Dinosaur"
12:00 a.m. – "Daddy Day Care"
Thursday, Nov. 15
4:00 p.m. – "Disney-Pixar's The Good Dinosaur"
6:00 p.m. – "Deck the Halls"
8:00 p.m. – "Mrs. Doubtfire"
12:00 a.m. – "A Cinderella Story"
Friday, Nov. 16
4:00 p.m. – "Deck the Halls"
6:00 p.m. – "Mrs. Doubtfire"
9:00 p.m. – "Disney-Pixar's Toy Story"
12:00 a.m. – "Boxtrolls"
Saturday, Nov. 17
7:00 a.m. – "Race for Your Life Charlie Brown"
8:35 a.m. – "Bon Voyage Charlie Brown"
10:10 a.m. – "Little Giants"
12:45 p.m. – "Christmas with the Kranks"
2:50 p.m. – "Disney-Pixar's Toy Story"
4:50 p.m. – "Disney-Pixar's Toy Story 2"
6:55 p.m. – "Disney-Pixar's Toy Story 3"
9:25 p.m. – "Disney's Wreck-It Ralph"
11:30 p.m. – "Jumanji" (1995)
Sunday, Nov. 18
7:00 a.m. – "Little Giants"
9:35 a.m. – "Christmas with the Kranks"
11:40 a.m. – "Jumanji" (1995)
2:15 p.m. – "Disney-Pixar's Toy Story 2"
4:20 p.m. – "Disney-Pixar's Toy Story 3"
6:50 p.m. – "Disney's Wreck-It Ralph"
8:55 p.m. – "Disney's The Lion King" (1994)
11:00 p.m. – "Disney's The Lion King II: Simba's Pride"
1:00 a.m. – "Decorating Disney: Holiday Magic"
Monday, Nov. 19
2:30 p.m. – "Disney's The Lion King II: Simba's Pride"
4:30 p.m. – "Storks"
6:30 p.m. – "Disney's The Lion King" (1994)
8:30 p.m. – "Cinderella" (Live Action) (2015)
12:00 a.m. – "Sixteen Candles"
Tuesday, Nov. 20
12:00 p.m. – "Sixteen Candles"
2:00 p.m. – "Titanic" (1997)
6:30 p.m. – "Cinderella" (Live Action) (2015)
9:00 p.m. – "Disney-Pixar's Brave"
12:00 a.m. – "Uncle Buck"
Wednesday, Nov. 21
11:30 a.m. – "Uncle Buck"
1:30 p.m. – "Mrs. Doubtfire"
4:30 p.m. – "Disney's Mulan"
6:30 p.m. – "Disney-Pixar's Brave"
8:30 p.m. – "Disney's Zootopia"
12:00 a.m. – "Happy Gilmore"
Thursday, Nov. 22
7:30 a.m. – "Happy Gilmore"
11:00 a.m. – "Mrs. Doubtfire"
2:00 p.m. – "Disney's Mulan"
4:00 p.m. – "Ice Age: Continental Drift"
6:00 p.m. – "Disney's Zootopia"
8:30 p.m. – "Disney-Pixar's Ratatouille"
12:00 a.m. – "The Lego Movie"
Friday, Nov. 23
7:30 a.m. – "Santa Paws 2: The Santa Pups"
11:00 a.m. – "The Lego Movie"
1:30 p.m. – "Ice Age: Continental Drift"
3:30 p.m. – "Jumanji" (1995)
6:00 p.m. – "Disney-Pixar's Ratatouille"
8:30 p.m. – "Disney-Pixar's Finding Nemo"
12:00 a.m. – "Call Me Claus"
Saturday, Nov. 24
7:00 a.m. – "Bon Voyage Charlie Brown"
8:30 a.m. – "Beethoven's Christmas Adventure" – Freeform Premiere
10:30 a.m. – "Jumanji" (1995)
1:05 p.m. – "Disney's Tarzan"
3:10 p.m. – "Despicable Me"
5:15 p.m. – "Disney-Pixar's Finding Nemo"
7:45 p.m. – "The Santa Clause"
9:50 p.m. – "The Santa Clause 3: The Escape Clause"
11:55 p.m. – "Life Size"
Sunday, Nov. 25
7:00 a.m. – "Yogi Bear"
8:35 a.m. – "Richie Rich's Christmas Wish"
10:35 a.m. – "Disney's Tarzan"
12:40 p.m. – "Despicable Me"
2:45 p.m. – "Life Size"
4:50 p.m. – "The Santa Clause"
6:55 p.m. – "The Santa Clause 3: The Escape Clause"
9:00 p.m. – "The Truth About Christmas" – Freeform Original Film Premiere
11:00 p.m. – "Mrs. Doubtfire"
Monday, Nov. 26
12:00 p.m. – "The Truth About Christmas"
2:05 p.m. – "Mrs. Doubtfire"
5:10 p.m. – "Disney's Meet the Robinsons"
7:15 p.m. – "Tim Burton's The Nightmare Before Christmas"
8:55 p.m. – "Paddington" – Network Television Premiere
12:00 a.m. – "Disney's The Hunchback of Notre Dame" (1996)
Tuesday, Nov. 27
1:00 p.m. – "Disney's The Hunchback of Notre Dame" (1996)
3:00 p.m. – "Disney's Meet the Robinsons"
5:05 p.m. – "Tim Burton's The Nightmare Before Christmas"
6:45 p.m. – "Paddington"
8:50 p.m. – "Despicable Me"
12:00 a.m. – "Eight Crazy Nights"
Wednesday, Nov. 28
12:00 p.m. – "Eight Crazy Nights"
2:00 p.m. – "Unaccompanied Minors"
4:10 p.m. – "Jumanji" (1995)
6:40 p.m. – "Despicable Me"
8:50 p.m. – "Disney's A Christmas Carol"
12:00 a.m. – "Unaccompanied Minors"
Thursday, Nov. 29
1:00 p.m. – "Jumanji" (1995)
3:30 p.m. – "The Holiday"
6:40 p.m. – "Disney's A Christmas Carol"
8:50 p.m. – "The Santa Clause"
12:00 a.m. – "Jingle All The Way 2" – Freeform Premiere
Friday, Nov. 30
1:30 p.m. – "The Holiday"
4:35 p.m. – "Christmas with the Kranks"
6:40 p.m. – "The Santa Clause"
8:50 p.m. – "The Santa Clause 3: The Escape Clause"
12:00 a.m. – "I'll Be Home for Christmas" (1998)