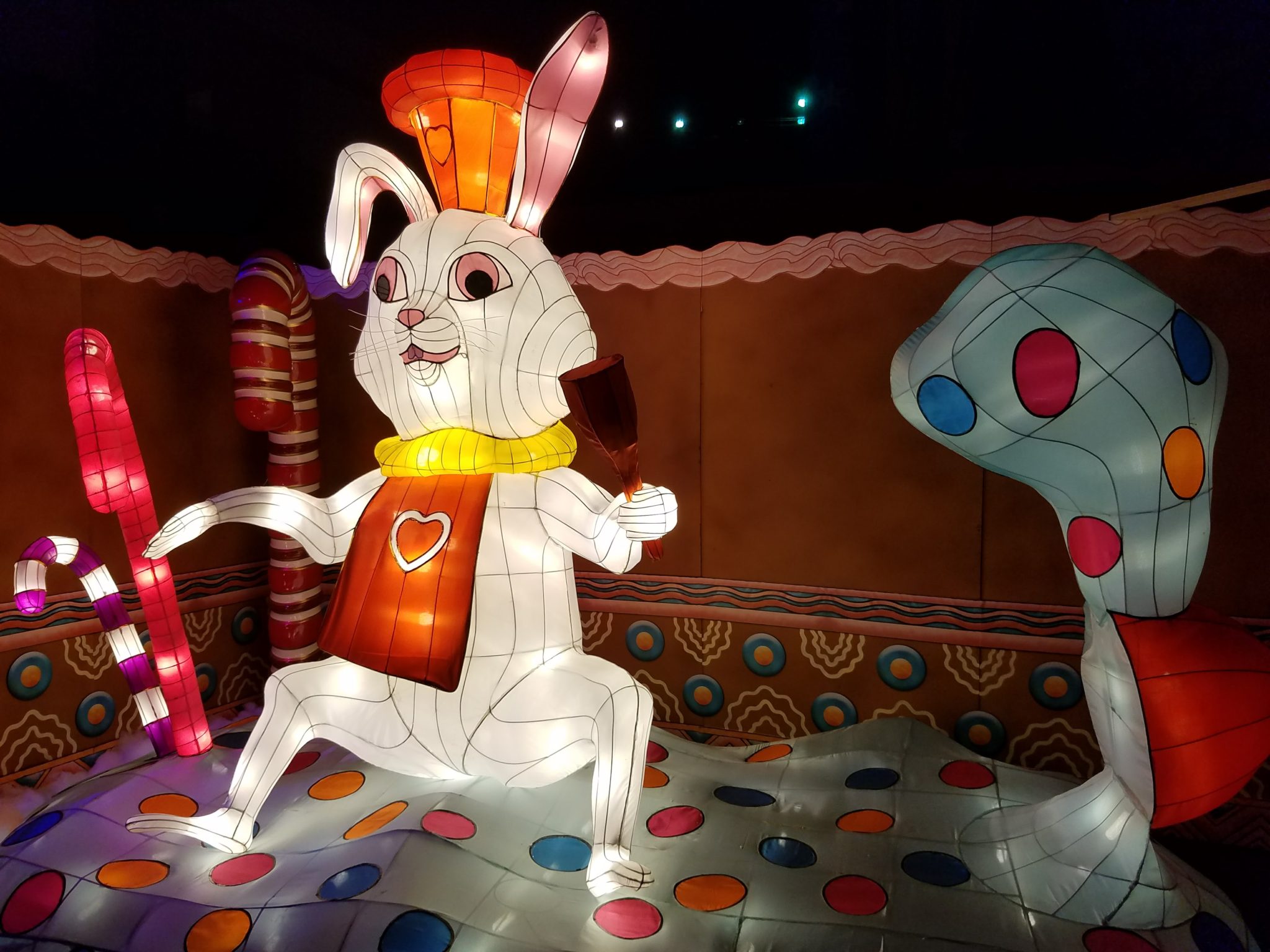 This post contains affiliate links and our team will be compensated if you make a purchase after clicking on the links.

Recently we had the pleasure of going down the rabbit hole and visited Queen Mary's CHILL Alice In Winterland. It was a surreal journey diving into the wold of Lewis Carrol's beloved tale in a gigantic form come to life by using a unique blend of the classic tale and weaving in a winter theme.
When you step thru the entrance Chill, you will be taking a few pictures in front of a green screen that you may purchase that will have you and your group inside of a snow globe, under the giant caterpillar or with the March Hare. As you make your way into the old Spruce Goose building, the giant white dome where the exhibit is, you will walk passed a small little village with plenty of photo opportunities and some awesome activities for an additional cost, such as decorating your own stocking, building a gingerbread house, family or village, helping the elves paint toys at the workshop by using paint balls, story time with Mrs. Clause and the elves, a photo with the main man himself Santa Clause, a giant rocking horse ride, a swing ride from Neverland Ranch and ice skating and tubing racing down a snowy hillside with some friends.
Getting in line for Alice in Winterland you will be corralled into the queue and enter the Mad Hatter's Haberdashery where you  will have the chance to purchase a Mad Hatter hat or White Rabbit ears that light up. If you purchase the head wear they are interactive through out the walk thru, where ever you see a Cheshire Cat paw prints just follow the instructions and watch the magic come to life. Part of the fun when entering the story book was Tweedle Dee and Tweedle Dum were bantering back and forth telling me which way to enter the story best. You can choose to step into the pages of the book or crawling into it. Both paths will lead you to another decision of either the rabbit hole or the hall of mirrors, we took both paths and they were both unique but my favorite was the rabbit hole but it is not for everyone. In the large room of doors they were all interactive and you do not need the special head wear, except for one door. While exploring the doors we ran into Alice herself being curious as well. As we ventured further into Winterland we came across the Door Mouse and Cheshire Cat being quite mischievous, They wouldn't have it any other way.
The attention to detail that the gigantic handmade Chinese style lanterns was incredible, it is a dying art form and we were glad to see it getting a whole new light. While following the path we ended up on the Queen of Hearts path and was asked for our assistance in taking down the Queen of Diamonds. Our response was that she was the only Queen, the King of Hearts loved our answer and said I could keep my head, this time. Luckily the Queen of Diamonds was waiting for our arrival and thanked us for visiting her kingdom.
Another cool experience is that you can visit the Queen Mary's 4D experience (for an additional fee), the film shown was taken from the classic "The Polar Express" which is a holiday favorite for all ages.
CHILL pricing starts at $39.99 for adults and $29.99 for kids (ages 4-11). Tickets include entrance to Alice in Winterland, Ice Tubing, CHILL Village and access to the Queen Mary ship. Hotel and VIP packages are also available. CHILL is NOW open through Jan. 8. For more information, including hours or to purchase tickets online, visit http://queenmary.com/chill/
BREAKFAST WITH SANTA
Nestle up with Jolly St. Nick for storytime and sing-along with The Baker and Ginny Gingerbread while you decorate cookies and fill your bellies with your favorite breakfast treats! This event brings families together to celebrate the holiday season in a fun and welcoming environment. Participants enjoy a warm breakfast, the opportunity to meet and take pictures with Santa!
The festive holiday breakfast will take place every Saturday from 9AM – 12PM in a Historic Salon aboard the Queen Mary. Admission to CHILL sold separately. CLICK HERE for the menu.
Breakfast With Santa Takes place on Saturday, Nov. 26th, Dec. 3rd, 10th, 17th & 24th
Cost: $19 Kids Under 12, $39 Adults 12+