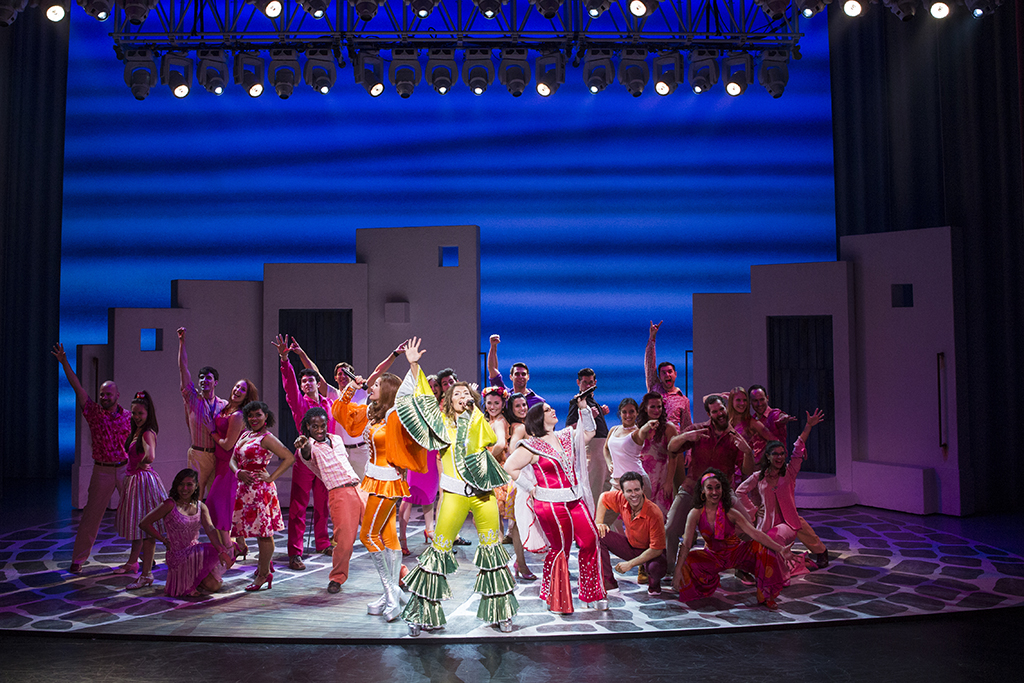 This post contains affiliate links and our team will be compensated if you make a purchase after clicking on the links.

ABBA fans of Orange County are dancing in their seats as Benny Andersson and Bjorn Ulvaeus' 'Mamma Mia!' makes its way to Segerstrom Center for the Arts for a stop on its farewell tour. From its very first run opening back in 1999, and a true-to-story film adaptation hitting the big screen in 2008, this energetic and heartfelt story has become a staple in the musical theatre world.
Despite having over 50 different productions world-wide in its lifetime, this tour tops it all. With 23 vibrant and colorful ABBA songs to help the story along, 'Mamma Mia!' is the jukebox musical that will have you singing long after the show has ended. Hits like "Dancing Queen," "Take a Chance on Me," "Voulez-Vous," "The Winner Takes All," "SOS," and "Does Your Mother Know" rock the audience with an overwhelming feeling of nostalgia and excitement. This passionate and lively story holds family near and dear, and hits home the idea that friends are just as valued and cherished as family.
Located on the serene island of Kalokairi in Greece, this show has only one setting and yet still manages to emanate a sense of excitement, movement, and liveliness. The set itself is both simple and effective, and gives way for the audience to place themselves on that island and make it a home of their own. With shades of blue to highlight and break apart the vast white and cream buildings Greece is known for, the audience may be able to feel fully submersed without needing anything grand or intricate to get there. The audience will also experience some of the most vibrant and flashy costumes to date, and in the best way possible. Trust me when I say, these costume designs alone could tell the story in a kaleidoscopic and engaging way.
Our show opens on hopeful and ambitious Sophie Sheridan, a young bride-to-be who has spent 20 years not knowing who her father is. Sophie, played by national tour first-timer Lizzie Markson, has managed to pin-point three men (with the help of her mother's diary) who could potentially be her father. Unsatisfied with her mother's silence and solitude on the subject matter, Sophie devises an innocent plan to take matters into her own hands and invites all three men to her wedding, in hopes of having her true father walk her down the aisle. Without cluing in her mother, the hard-working and spirited Donna Sheridan, or the unknowing gentlemen from Donna's past, Sophie's harmless intentions turn chaotic and hysterical. Donna, played by the talented and sensational Betsy Padamonsky, is just a day away from her daughter's premature marriage and is placed in the awkward and hilarious position of facing the men she thought she'd forgotten for good.
Of course, no production of 'Mamma Mia!' could be successful without a strong and brilliant cast to portray the remaining leads and lively ensemble. Most notable, Cashelle Butler (Tanya) and Sarah Smith (Rosie) are veterans of 'the island' and do a marvelous job playing Donna's closest and most cherished friends. The dynamic between these three will have the audience laughing so hard they turn nearly as blue as the stage! With the help of these two, the ladies band together to make this wedding and their time together as smooth and meaningful as possible, respectively. Between their friendship, the three father figures Sophie gains from the experience, and ever-improving mother and daughter relationship between Donna and Sophie, this show would not be what it is without tugging on a heartstring or two.
This cast truly makes the many great ABBA hits come alive in this story, and heightens this production greater than anything you could ever want in a farewell tour. Hitting the Costa Mesa stage for a very limited engagement, you most certainly do not want to miss this iconic and sensational musical theatre classic. "Take a chance" on 'Mamma Mia!' now through 11/27!