This post contains affiliate links and our team will be compensated if you make a purchase after clicking on the links.

The nightmare-filled world of Knott's Scary Farm is now open for its 46th season with a completely transformed park that brings terror to life as the largest immersive Halloween experience in Southern California. Every inch of the park is covered with hidden frights, prowling creatures, new spine-chilling scares, and terrifying twists. Knott's Scary Farm awakens the most hellish nightmares by unleashing 14 haunted attractions including new mazes and frightful scare zones that place guests face-to-face with monstrous creatures and a world of horror.
Knott's Scary Farm opens for 25 horrifying nights from September 20 – October 31, on select nights. New and original scares are in store for this season starting tonight as the park debuts two grueling never-before-seen mazes and the birth of a new hair-raising scare zone.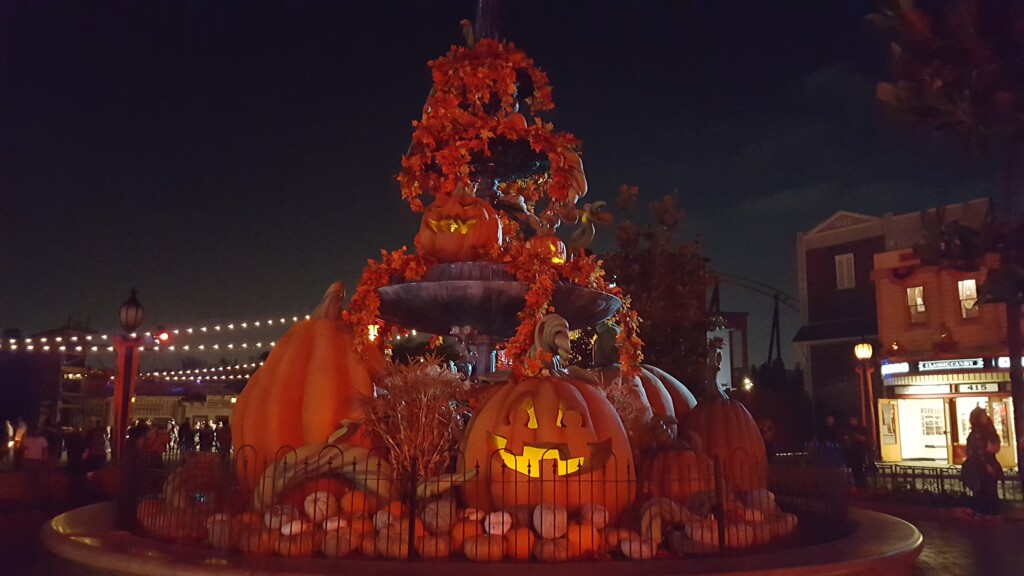 ---
SCARE MAZES
The 2018 season, Knott's Scary Farm offers nine full scare mazes.  Two of which are new this year.
[pt_view id="cbd88fckhx"]
Perhaps the newest and best looking maze of the season is "The Depths", which replaces "Voodoo" from years prior.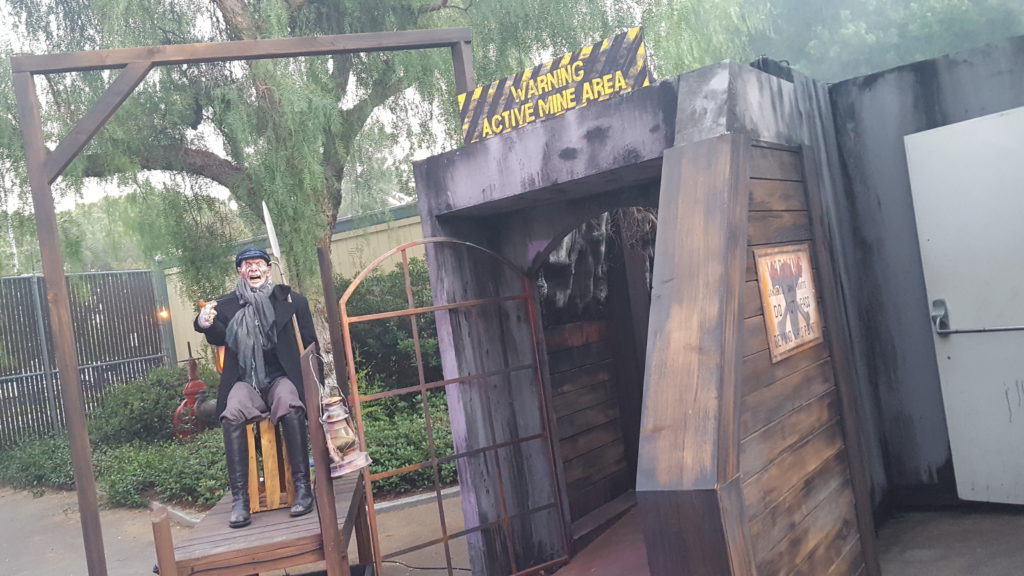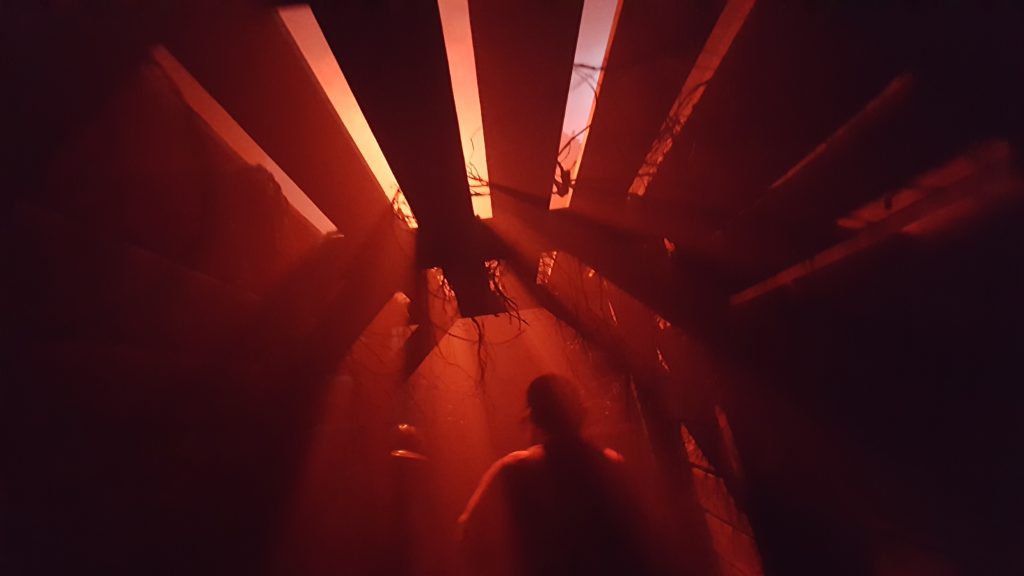 The first half of this experience has you exploring a cave by the seaside.  Miners and divers clad in heavy gear warn you of nautical danger.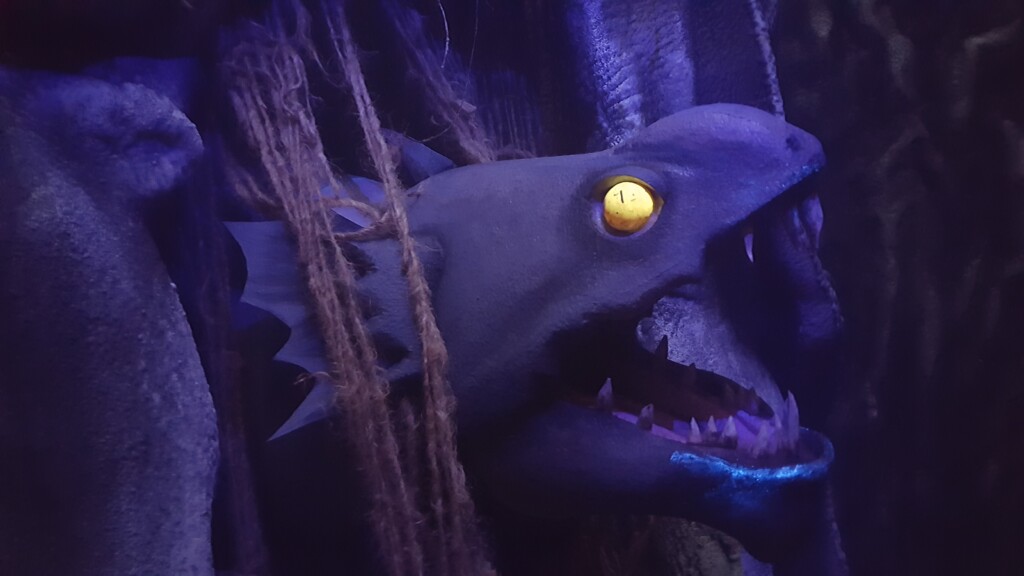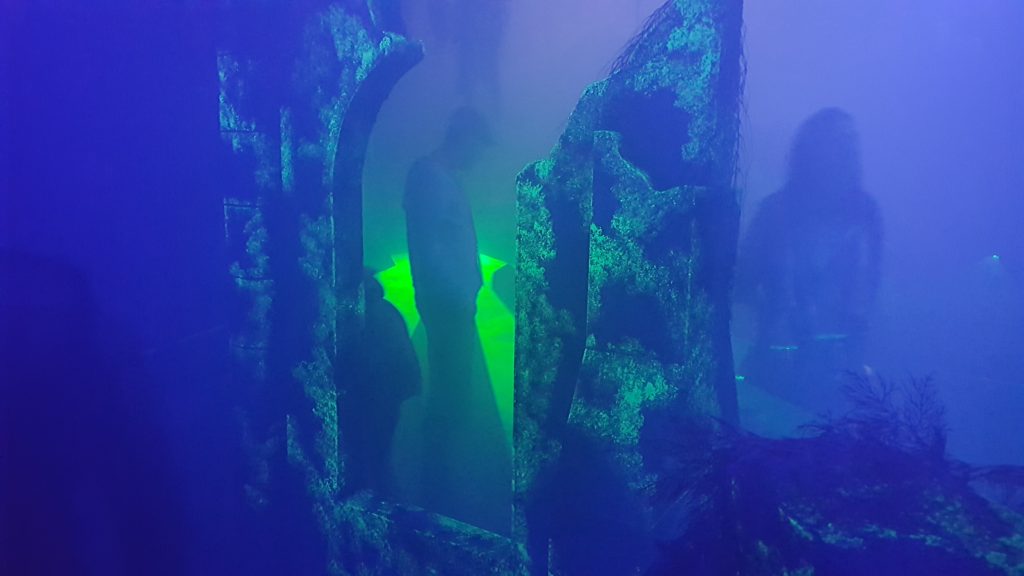 Sounds dangerous.  Let's have a closer look!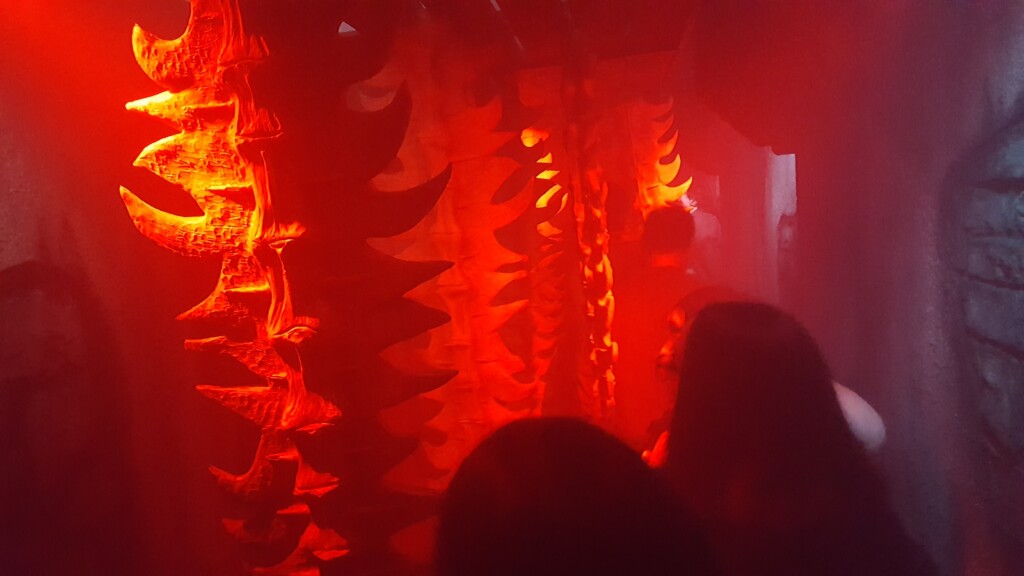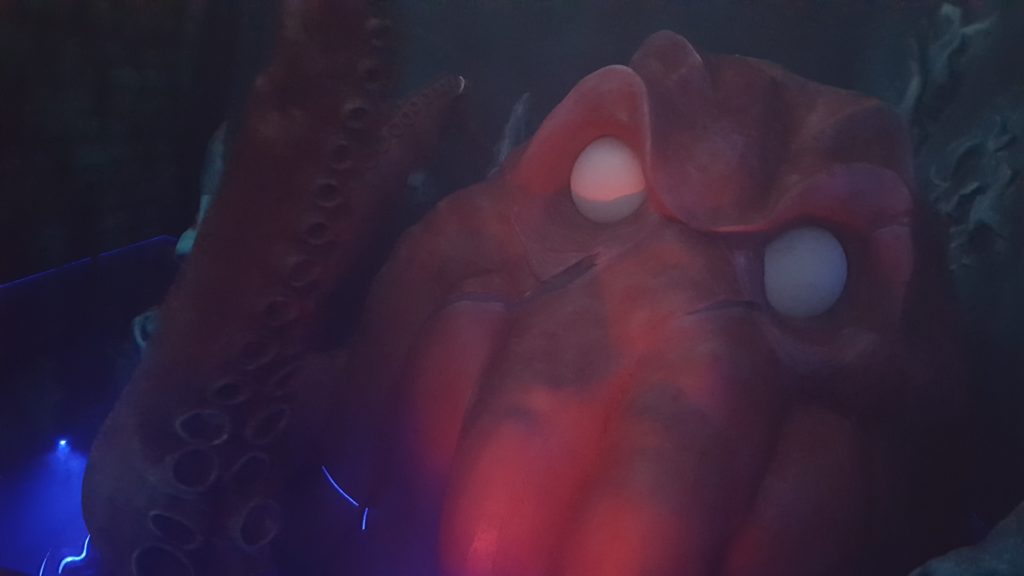 This maze makes quite an extraordinary use of space compared to the location's previous tenant. The level of detail in the props and sets have really brought another level to what Knott's is capable of in that department.  The giant bones, rocking ship, oversized sea creatures, and a low-tide simulation with laser and fog with potential scares really sets this apart from your typical theme park haunt maze.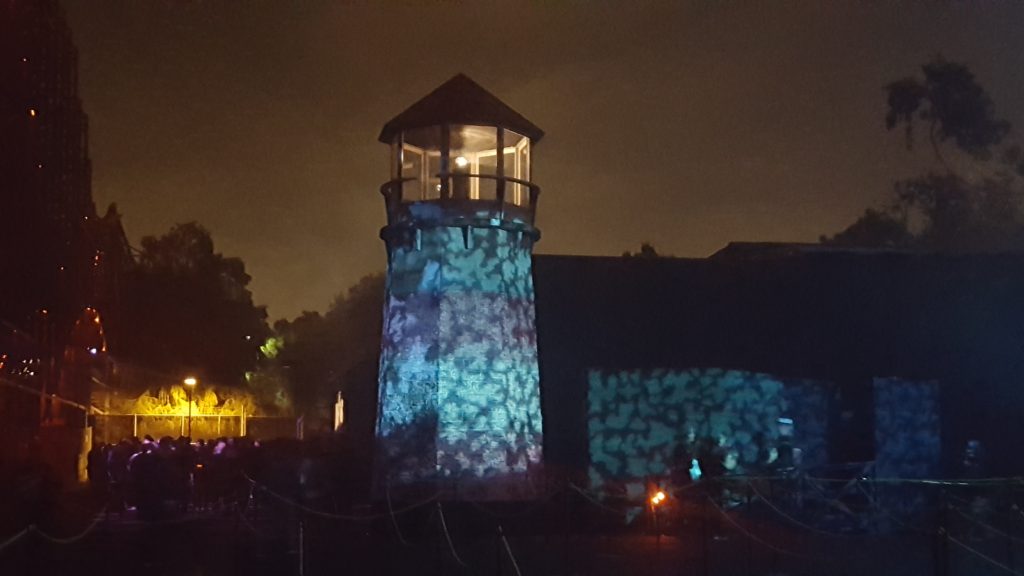 If you adore H.P. Lovecraft or the Pirates of the Caribbean film franchise, this may be your new favorite.
---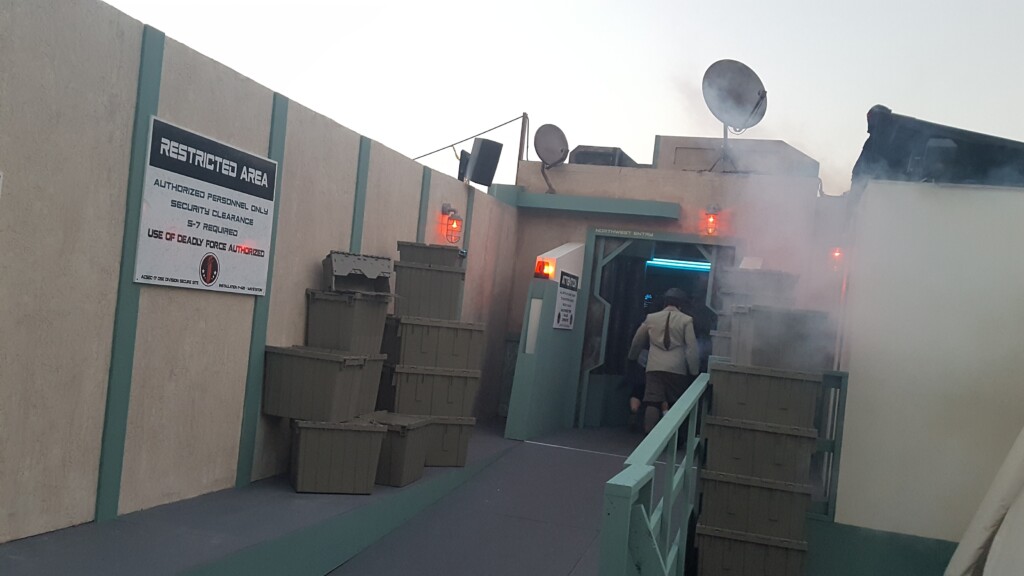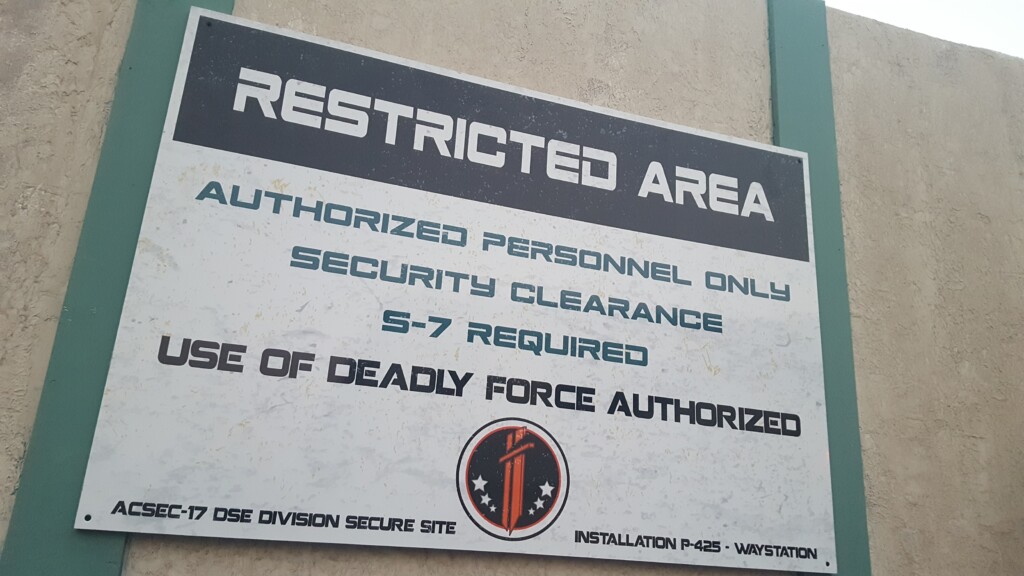 The other new maze for the season comes in the form of a sci-fi space alien mission gone wrong in "Dark Entities".  This offering replaces "The Tooth Fairy".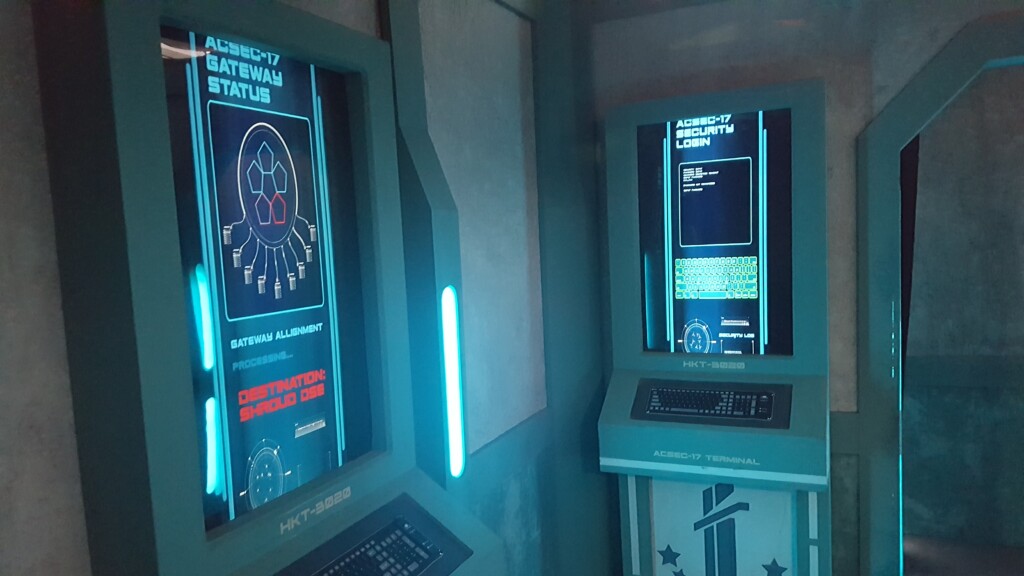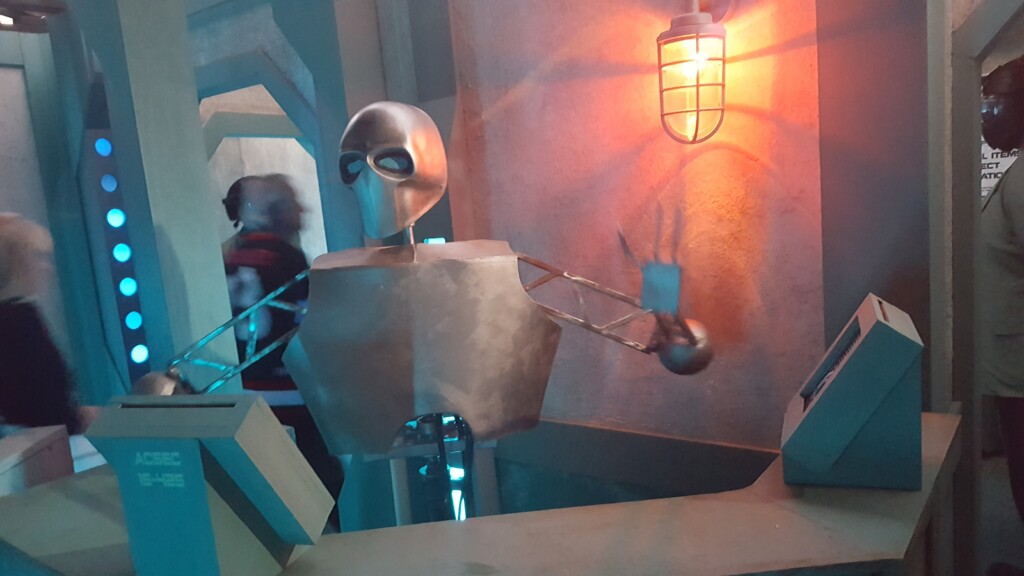 Alarms are blaring and the ventilation system is billowing smoke.  A foreign species attacks your space station with no end in sight.  This thing is in search for a new host and devours the crew.  Will you be able to make an escape back to earth?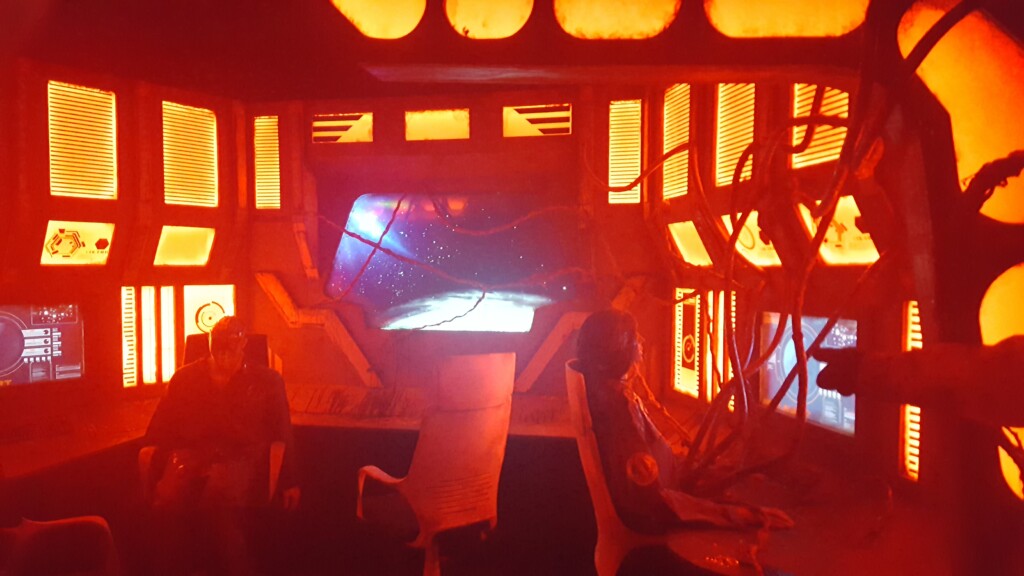 If you love the Alien movie franchise or 1997's "Event Horizon", this sci-fi horror themed maze will blow you away.
---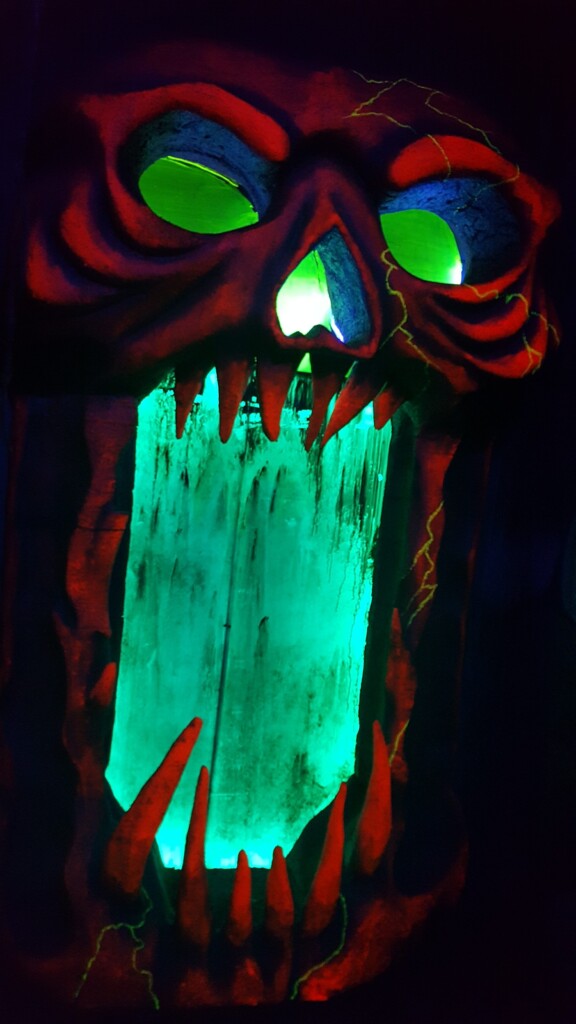 Returning for a second year is the thrilling "Dark Ride".  Walk in, if you dare, into an abandoned dark ride full of illusions and magic designed to amuse.  What's more amusing in this amusement park ride is the residents that still reside within the facility itself.  Be careful of the maintenance bay, there are sharp tools and whirling gears in there.
This maze has many twists and turn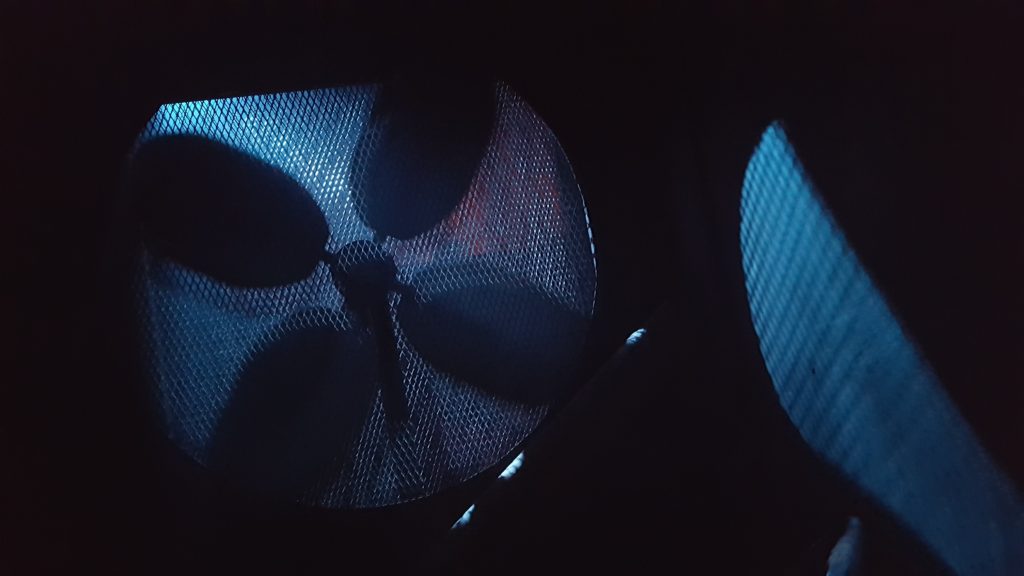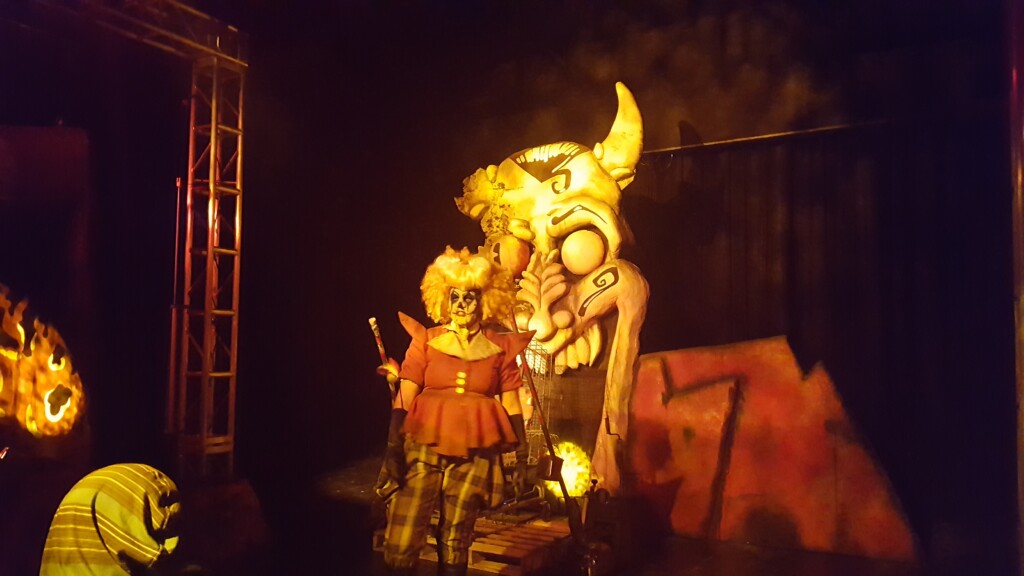 The set design is full of details with its winding pathway.  Yet another maze that surpasses its predecessor in the same space.  Not much has changed from last year, but It's still entertaining as always.  The entrance starts with you following the path of a bus bar for a dark ride.  Think of the scene in the first live-action Scooby Doo movie where the gang explores a closed dark ride. The big finale room full of clowns has the path peaking in here before verifying and back, giving you just a taste before exiting.
---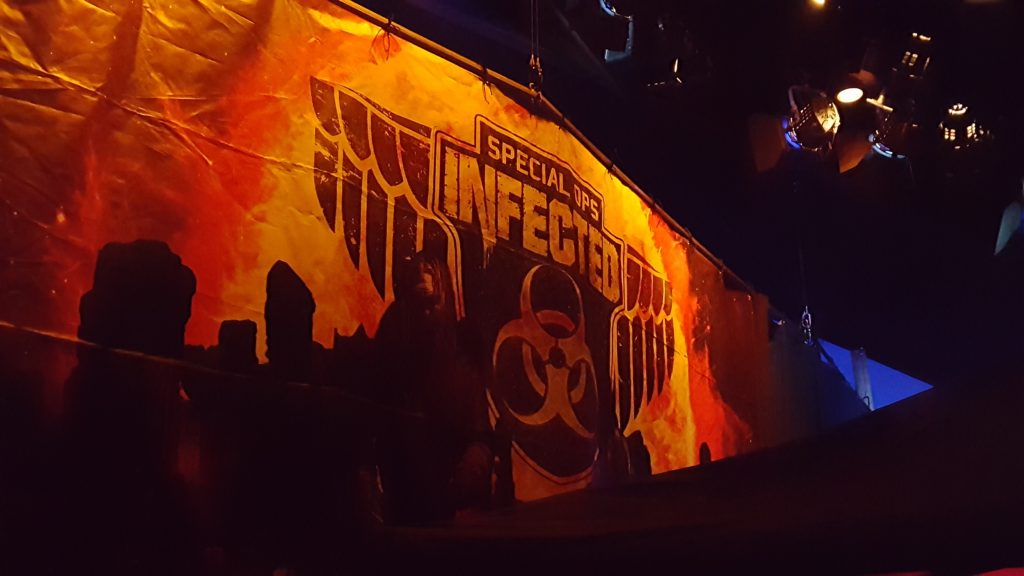 "Special Ops: Infected" is a welcome return to an interactive scare maze.  Guests are armed with rifles and sent out into a zombie infected city in search of destroying a deadly virus.  Game points are collected with headshots only.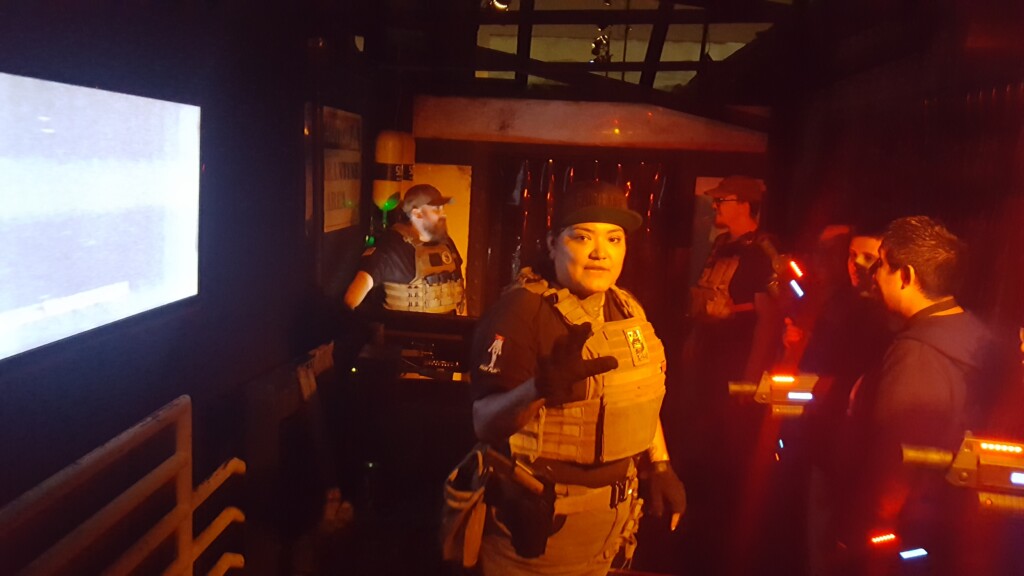 It's still quite an amazing sight to see practically full size helicopters and damaged cars in the cityscape.  Walking thru a shopping reminds recalls scenes from 1978's "Dawn of the Dead" and a train full of zombies is like the scene from 1990's "Predator 2".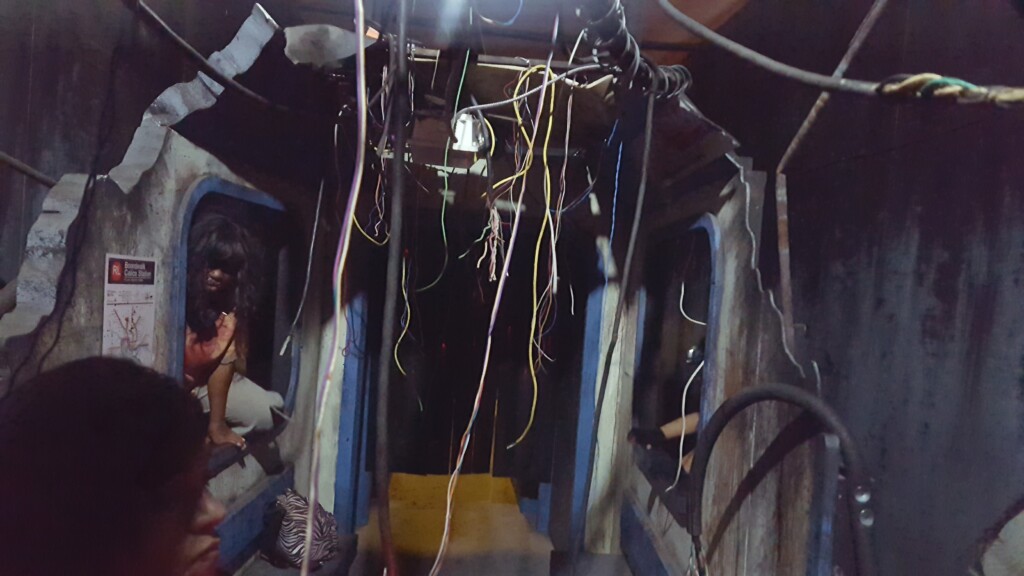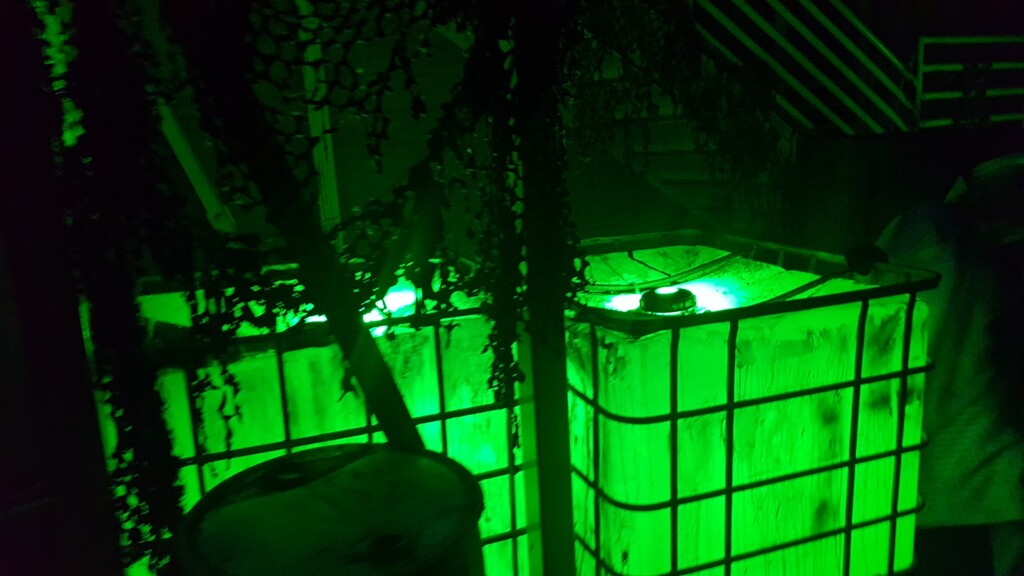 The finale has been repositioned so guests can try and get a better look at its boss battle baddie. What also makes this maze have such a high repeat value is the focus between shooting zombies and the detailed set design. There's a lot to go back to check out.
---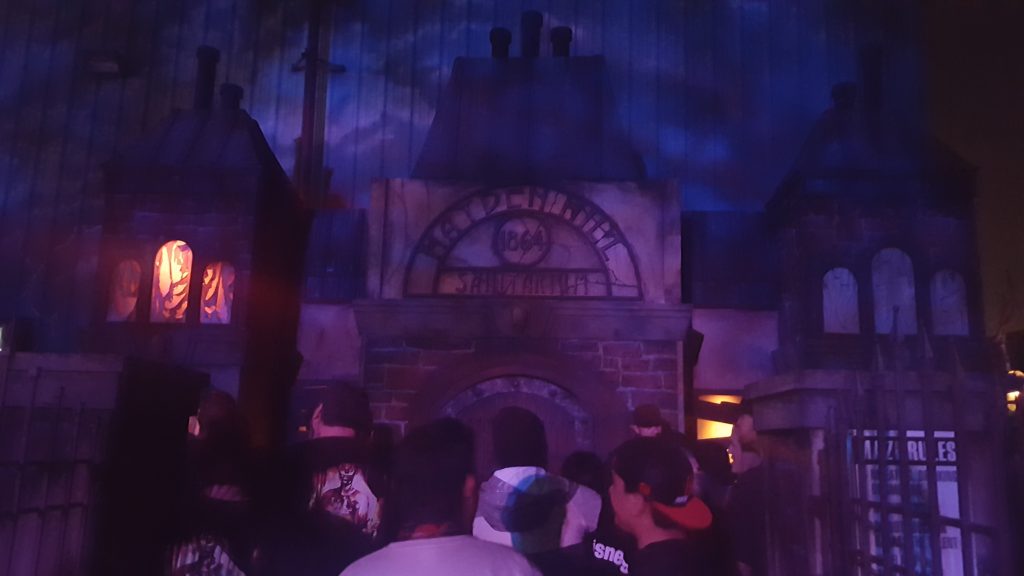 Investigations continue with "Paranormal Inc" with case #13 – the haunting of Harden Hill.  The queue video still does an excellent job of bringing the audience into the world of the maze and sets them up for their investigation.  The first room still packs an awe-inspiring punch, especially for first timers.  Because as we know, every good theme park attraction starts off when something goes terribly wrong.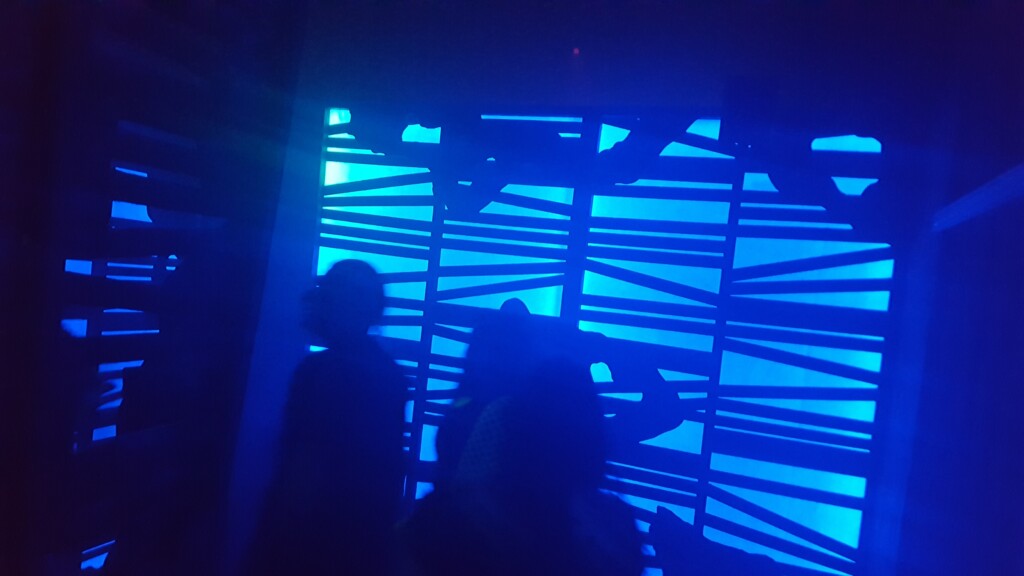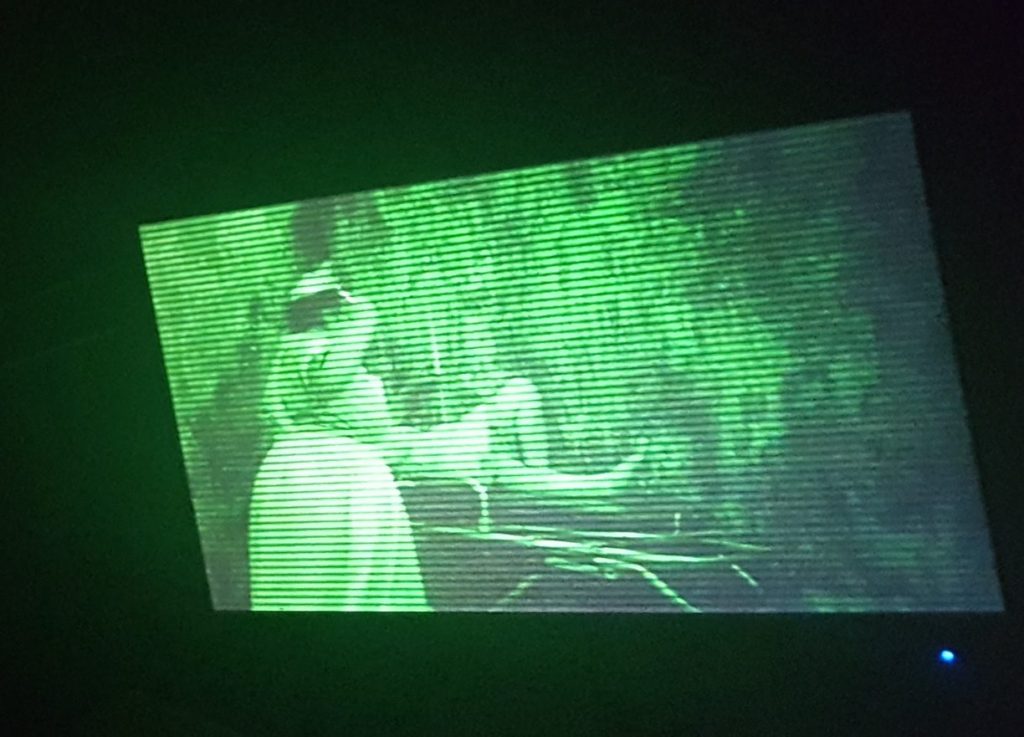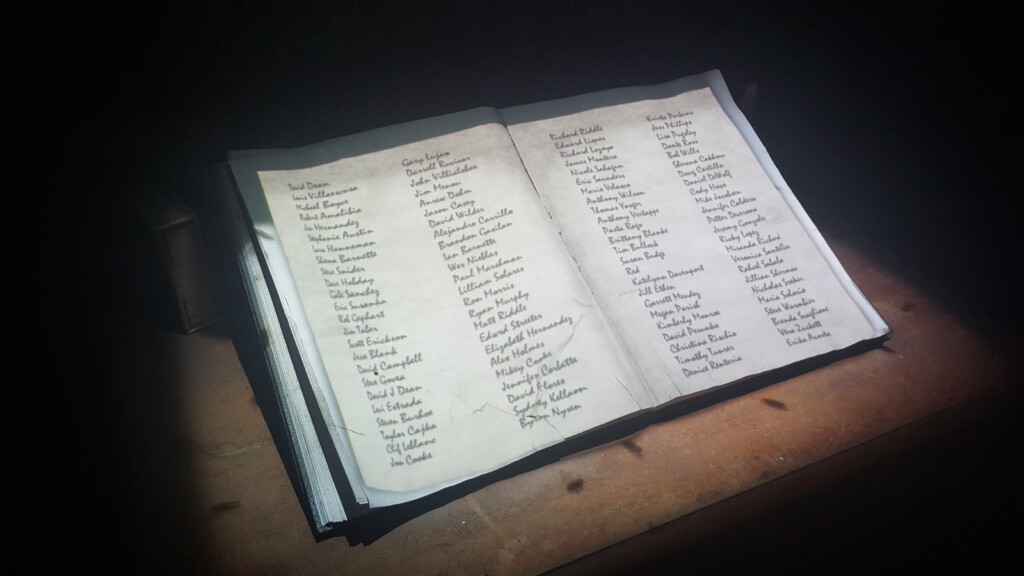 First you're at an abandoned hospital known for torturing its patients.  Then next thing you know, you're pulled into another world full of darkness.  Will you become the newest patient of this murderous medical staff?  The talent here undergoes many physical feats to deliver the scares.  If you've conquered this case before, beware of a brand new ending that may satisfy your curiosities.
---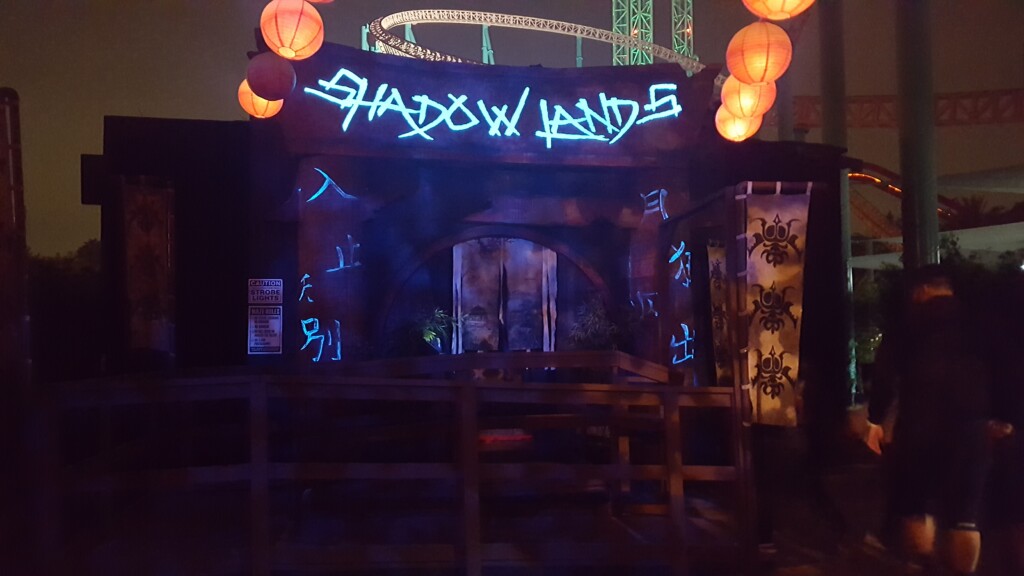 Enter "Shadow Lands" and bring honor to your soul.  Undead demon samurais raise their blades for new victims to slice and dice.  Do not be seduced by the geishas, they have other plans for you behind closed doors.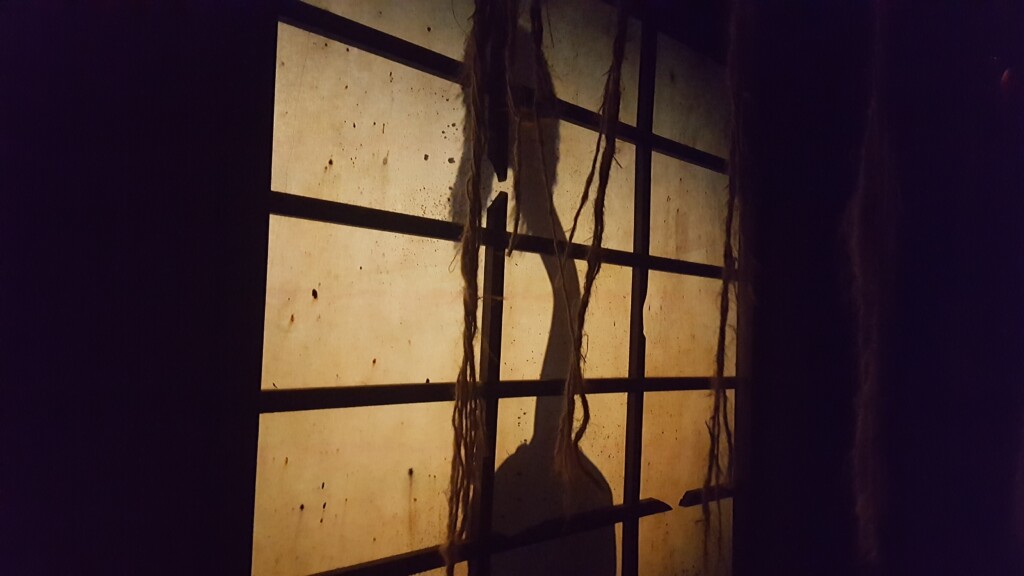 This was quite the winning maze when it first debuted with many Japanese motifs that drape the design.  The images also harkens back to Japanese inspired horror movies like "Ringu" and "The Grudge" with its water wells and long-haired deities.  The bath house scene can be unsettling.  The music delivers a false sense of eerie serenity.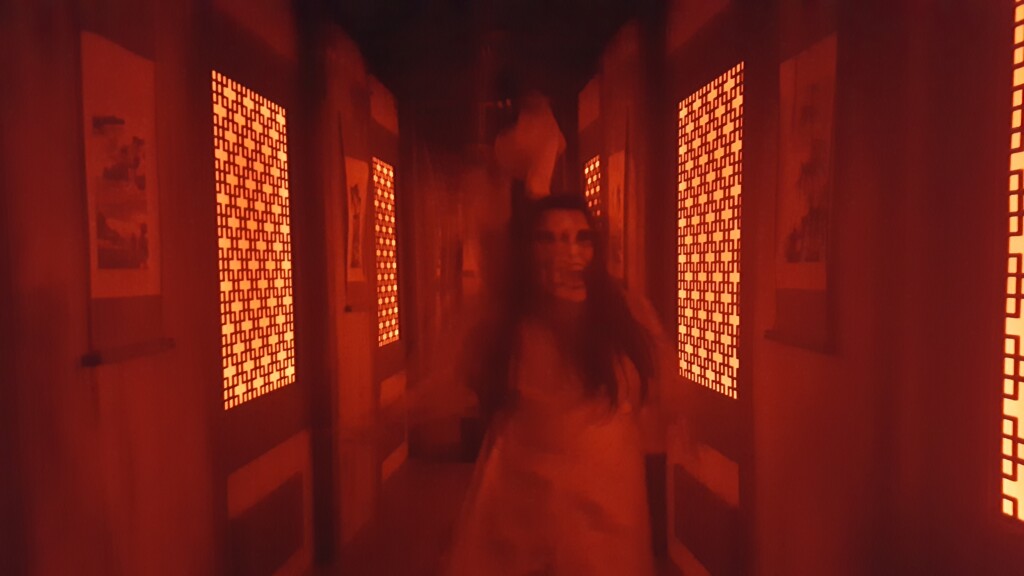 There is one hallway full of samurai statues against either side of the walls that would benefit from one change.  A scare talent is among the statues, but they can be seen out of place compared to the rows of statues already there.  If one of those upper half-body statues on a pedestal could be replaced if a live person, that would probably be more effective and visually appealing.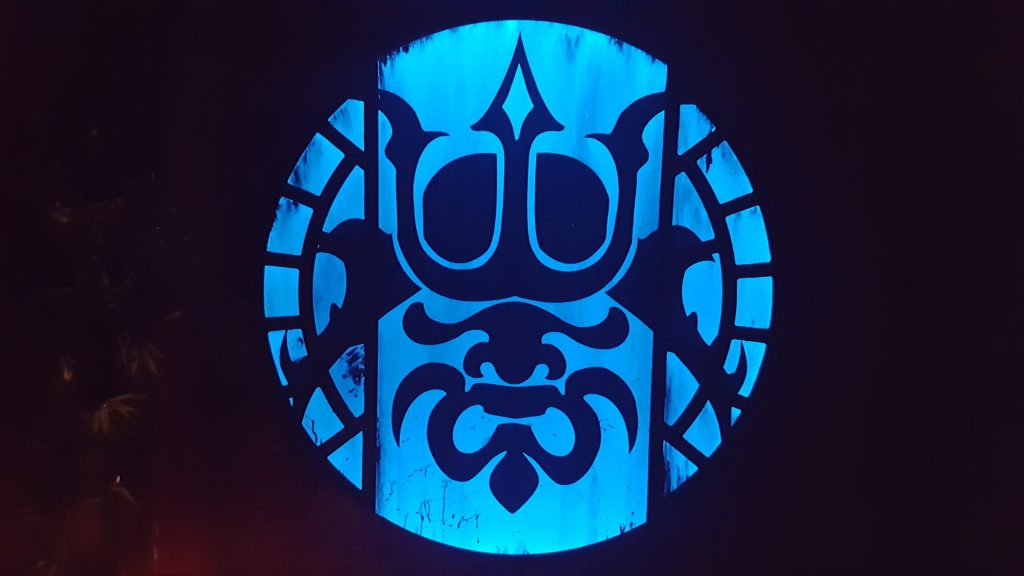 If you're a repeat visitor, you may have noticed the opening room has been omitted and you are lead straight into an exterior scene.  That first room didn't quite lend itself to as much of an impact as "Paranormal Inc.", so this is a welcome change that gets you straight into the setting.  The original layout may have proven too cumbersome for guests to grasp.
---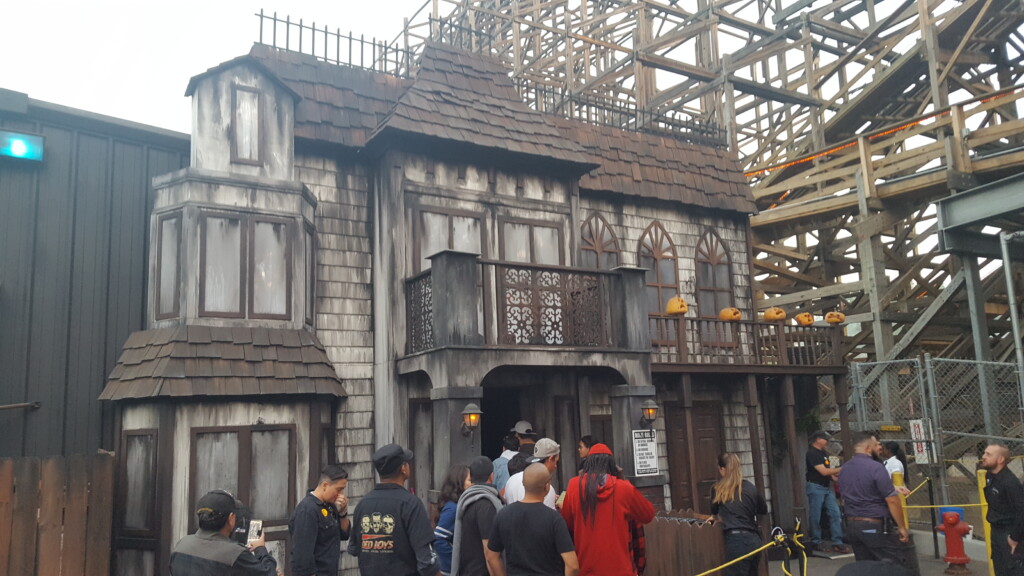 A long stable with Halloween Haunt since the return of the Green Witch has been "Trick or Treat".  Even with room modifications every year and an upgraded facade, a new element was introduced last year that kept this experience alive.  And people are loving it.  Guests are given a flashlight to navigate through the house.  But just like in the movies, your light flickers on and off.  At times it reveals special messages and designs hidden under a blacklight effect.
---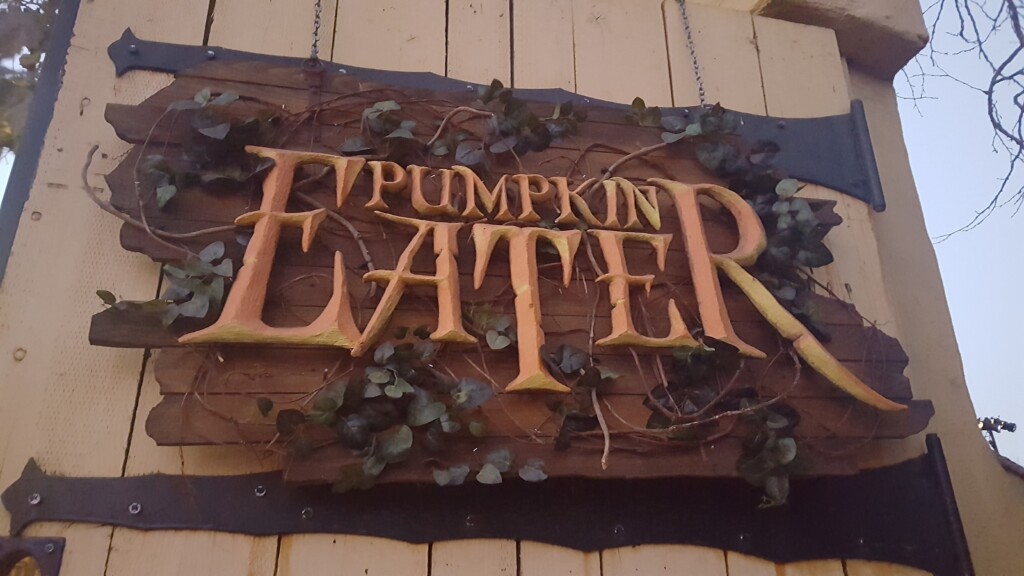 "Pumpkin Eater" returns for a second year located nearest to the park entrance.  Based on the nursery rhyme of which the character Peter kept a wife in a pumpkin shell.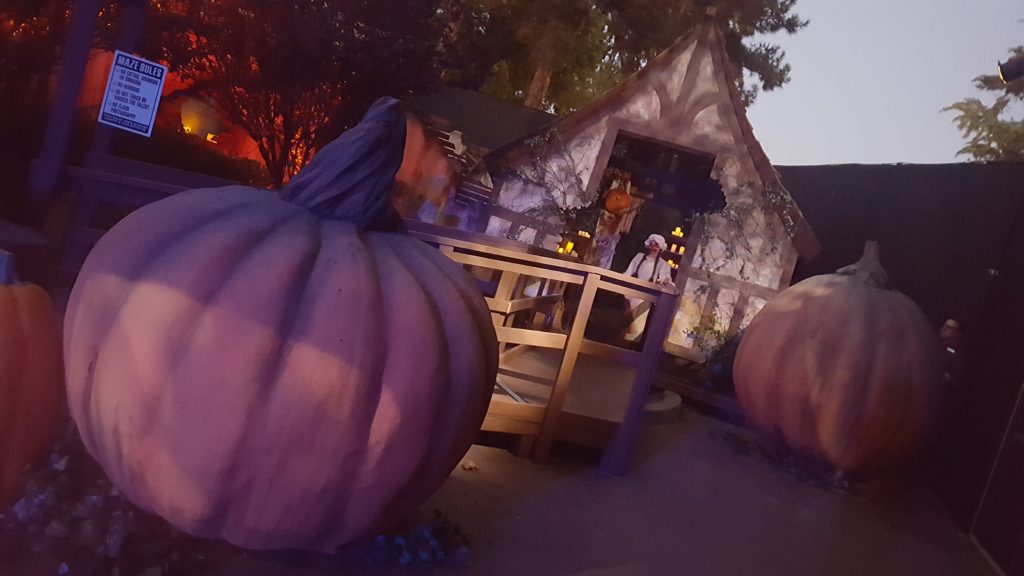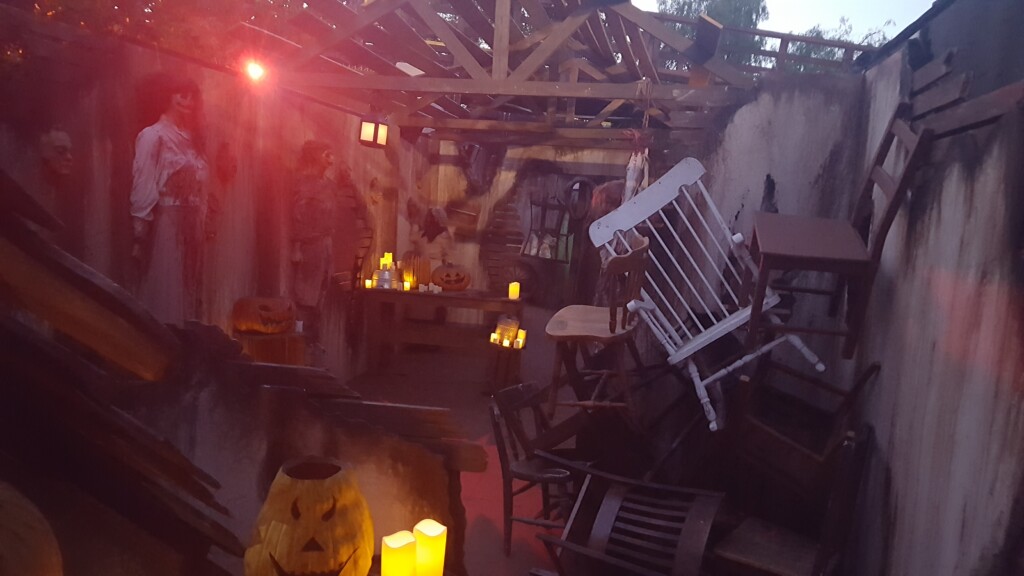 This maze has a stellar design with its pathway and set aesthetics.  The scarecrow pumpkin head at the front is still animated, speaking to guests as they enter.  But this experience suffers from flat and dim lighting,  especially once you enter inside the pumpkin head.  There is a lot of grotesque walls of decomposition from the pumpkin that must be left to the imagination.  The talent this year has seen an improvement in comparison to its opening season.
The area before entering the pumpkin mouth is slightly different.  But it's hardly noticeable.  Whether it be intentional or not, the corn maze near the end is an appreciated nod to an old maze, 'Corn-stalkers".
Guests enter a large oven as they will be part of the special ingredient for pumpkin pie.  Yum!
THE RED BARN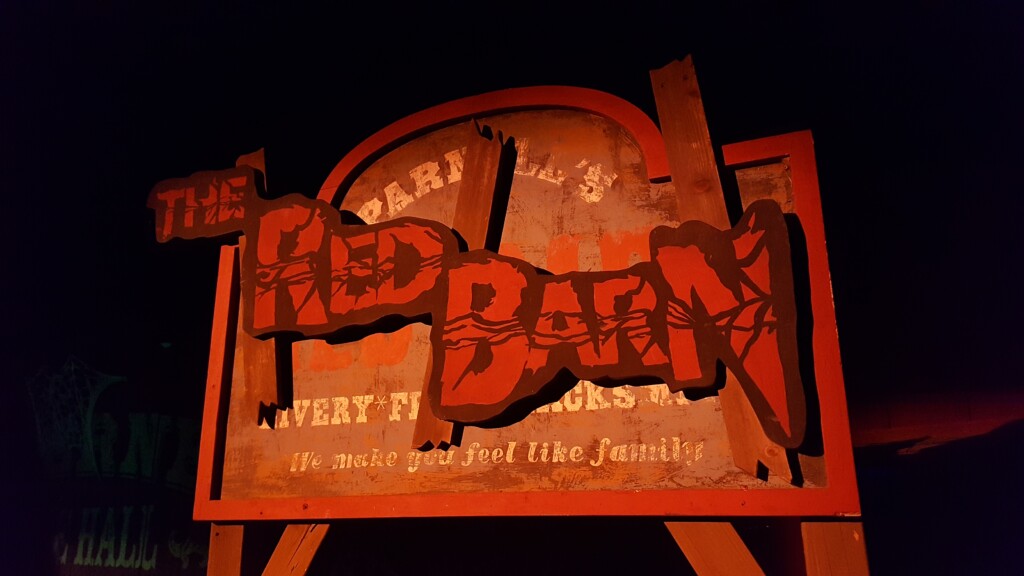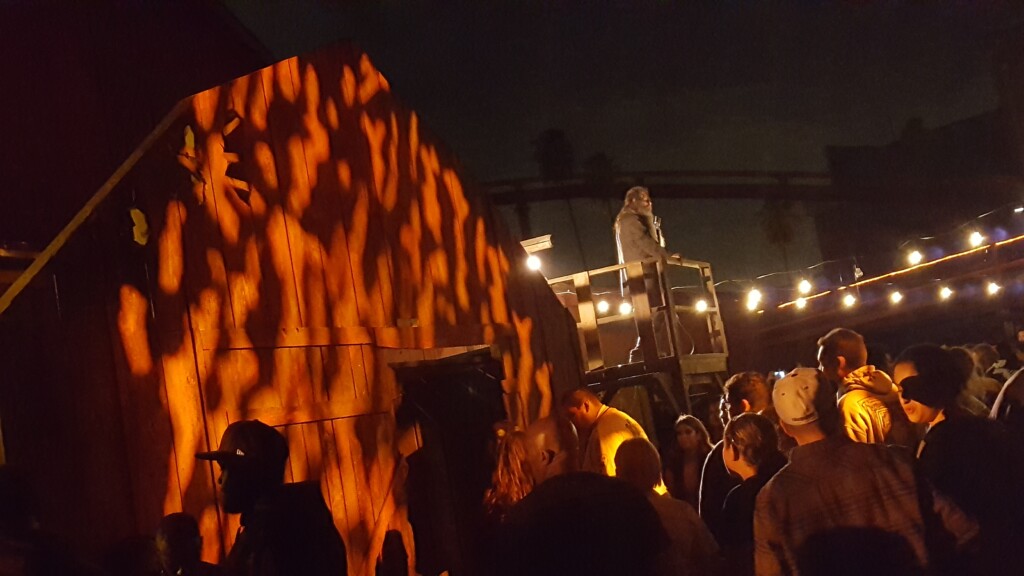 Returning for another herd of cannibalism is "The Red Barn".  The maze features a new entrance which makes much more logical sense.  An auctioneer-type individual is also at the front calling for more victims.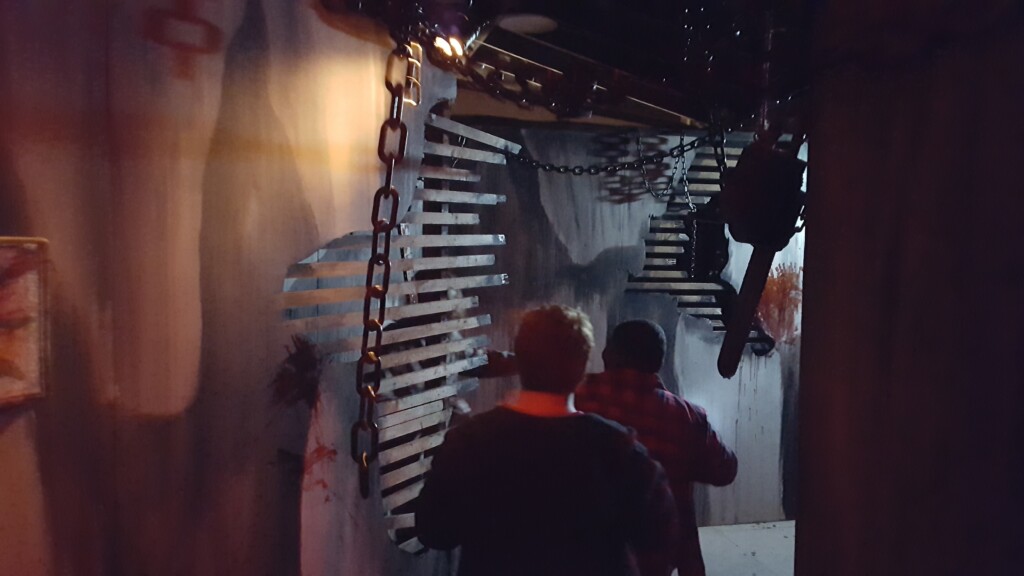 This is perhaps one of the goriest scare maze options you can find in the park.  So if you are easily startled by disembodied limbs and dripping blood, best to stay clear.  For everyone else, it's a horrific hootenanny!  There's plenty of pigs and demonic horses for you to ride off into sunrise.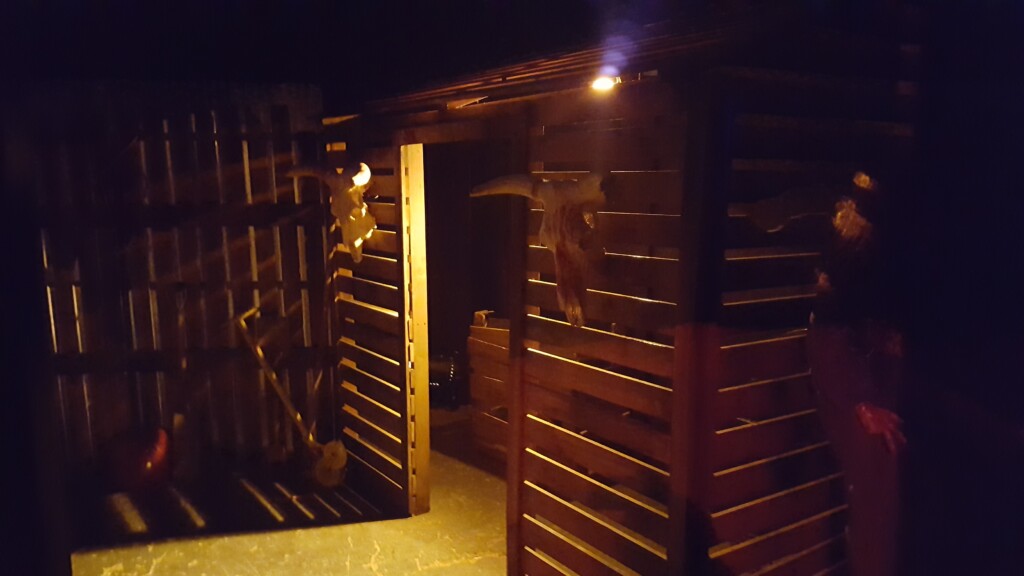 ---
LIVE SHOWS AND EXPERIENCES
Knott's Scary Farm offers three main shows and at least three mini-shows throughout the season.  For those with a Halloween Haunt season pass, this will definitely be a benefit as some shows are not the same twice.  In other cases, there are mini-shows to be discovered.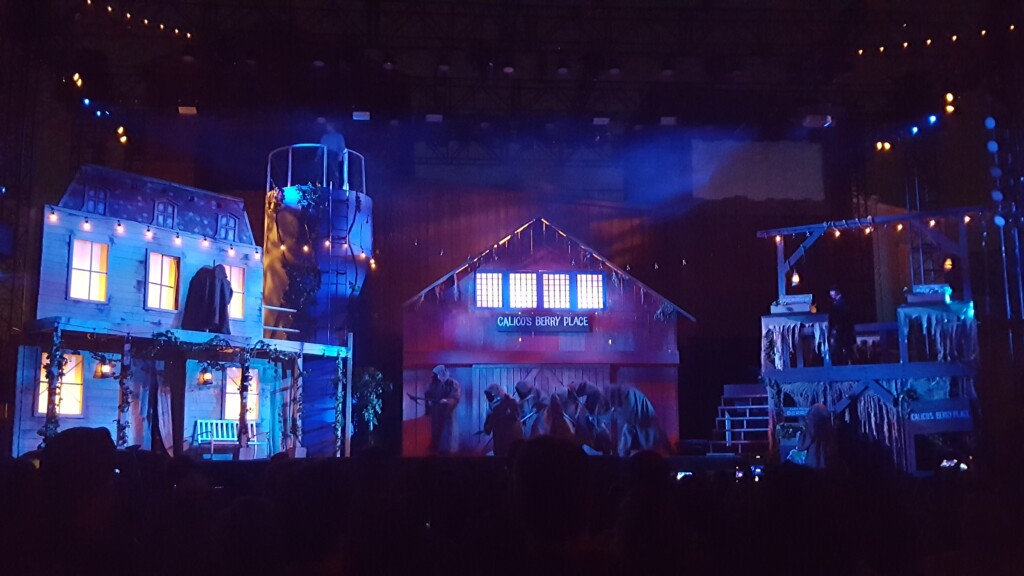 This annual parody show has always been a hit-or-miss depending on the quality of the writing.  Sadly to say, this is one of those lackluster performances.  The Lawman and the Executioner try to avoid the censorship from taking away the annual tradition hanging the worst offender of the year.  The two are met with pop-culture references, fights, and gags to entertain the "good citizens of Calico".  There seemed to be a lack of dance choreography given the absence of any other dance show offerings inside the Charles Schulz Theatre.  You'll find characters going head to head with each other such as Han Solo, Black Panther, Pennywise the Dancing Clown, Elastigirl, Lara Croft, Venom, Deadpool, The Avengers, Ready Player One, and The First Purge.  The set is inspired by "A Quiet Place" with its string lights switching from white to red.  This is probably one of the better references to this year's show.  As for the person actually being hung for the finale, The Hanging selected two others before making the final choice.  That character's introduction actually fits well within the context of the show.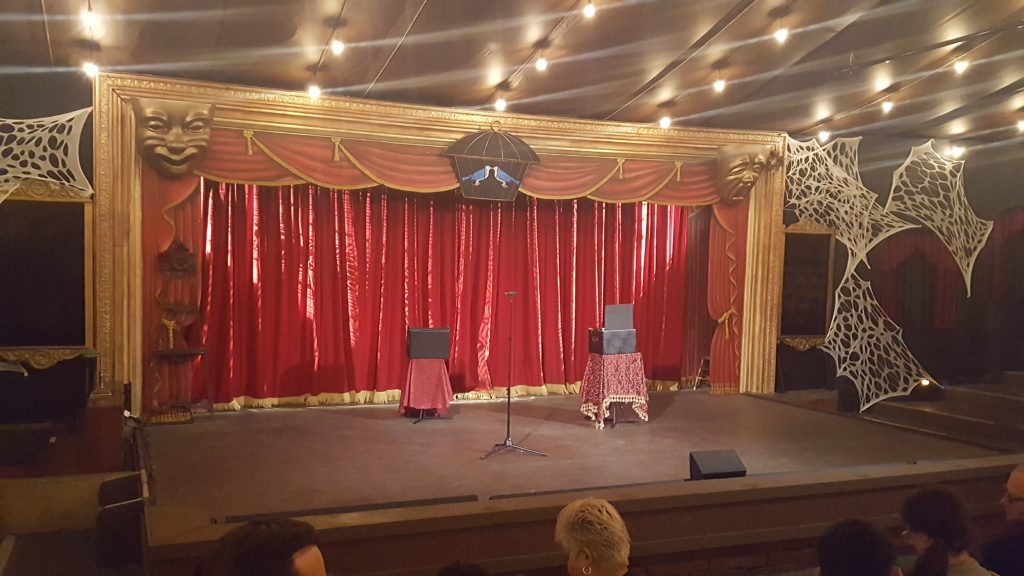 The show that will most likely win over audiences is surprisingly a magic show.  September features a new magician every weekend.  But one artist will perform throughout October.  On opening weekend, Dana Daniels delivered his brand of mind-reading acts blended with good, clean humor.  The theatre often permits food and drinks inside.  Something to keep in mind if you're on a tight schedule.  We recommend to be in line +30 minutes before showtime.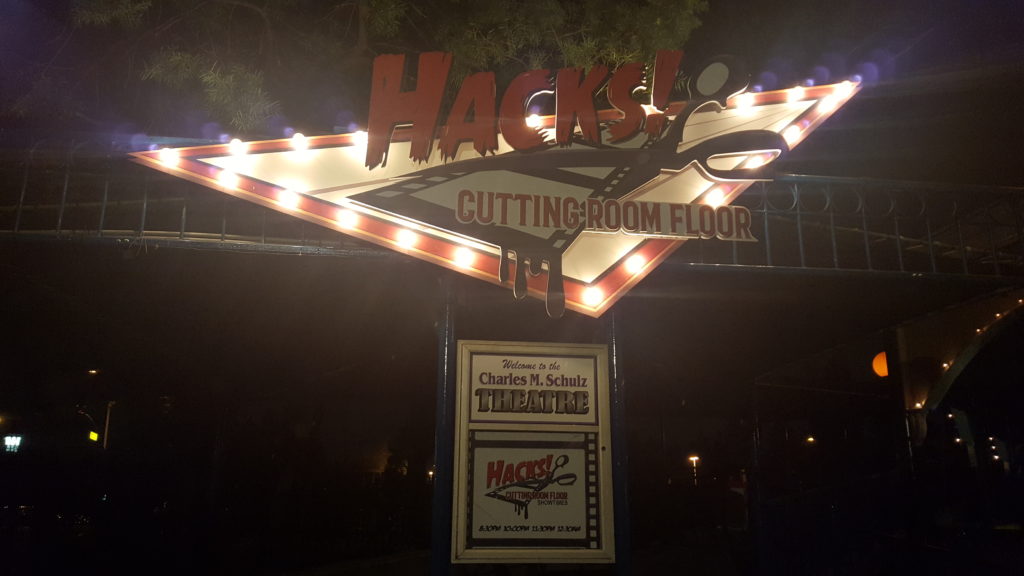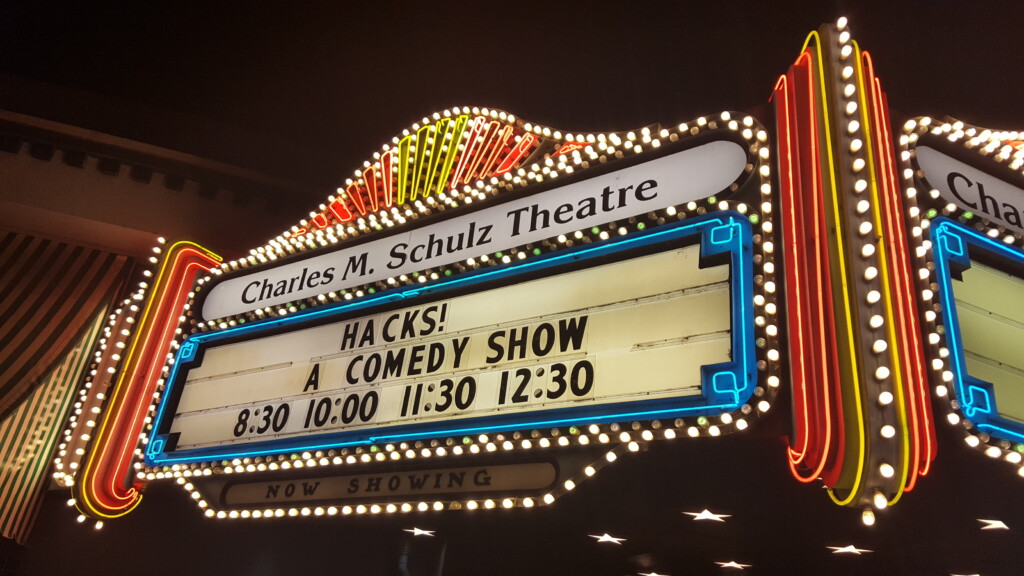 A team of improv performances invites audiences to participate in a variety of acts.  Portions include moving the actors bodies to match their dialogue or creating sound effects with their mouths.  The stage is nicely decorated to encompass the spirit of old movie palaces.  Each show will be different, so your mileage will vary.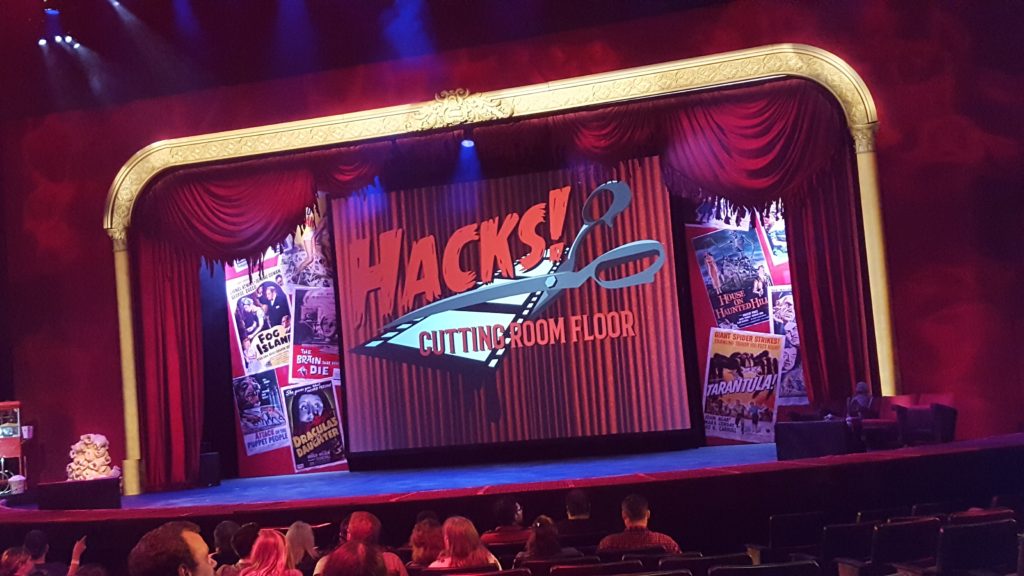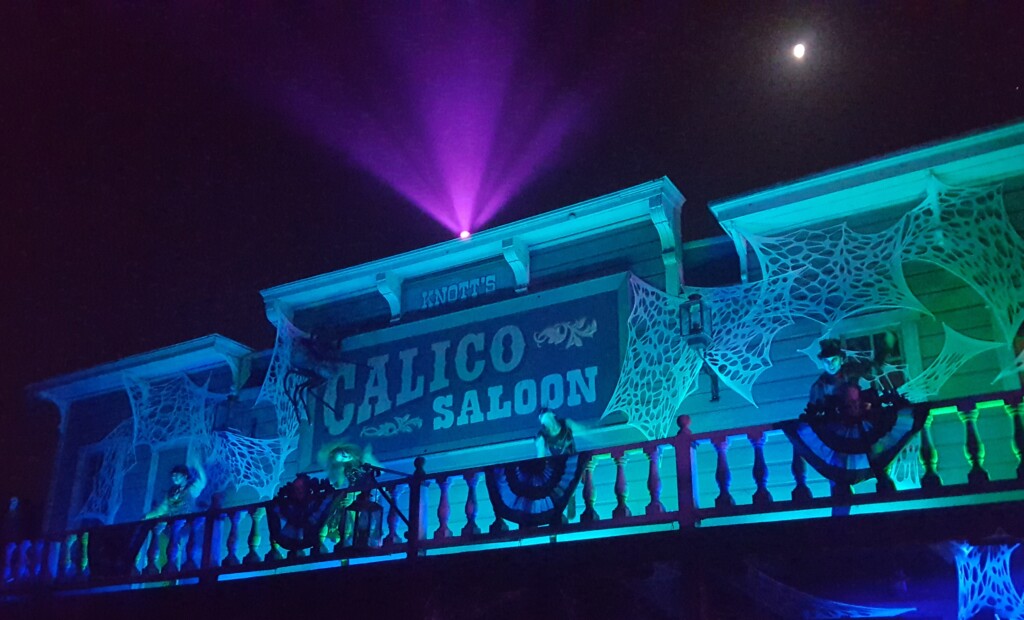 The most entertaining of these unscheduled mini-shows is atop of the Calico Saloon.  Dancers come out to upbeat tunes as a gathering audience watches from down below.
The new Forsaken Lake scare zone, located underneath Silver Bullet, debuts with a procession of the undead.  Lighting and crowd control can be difficult in this area.  You'd definitely want to at least go for the music: it's to "die" for.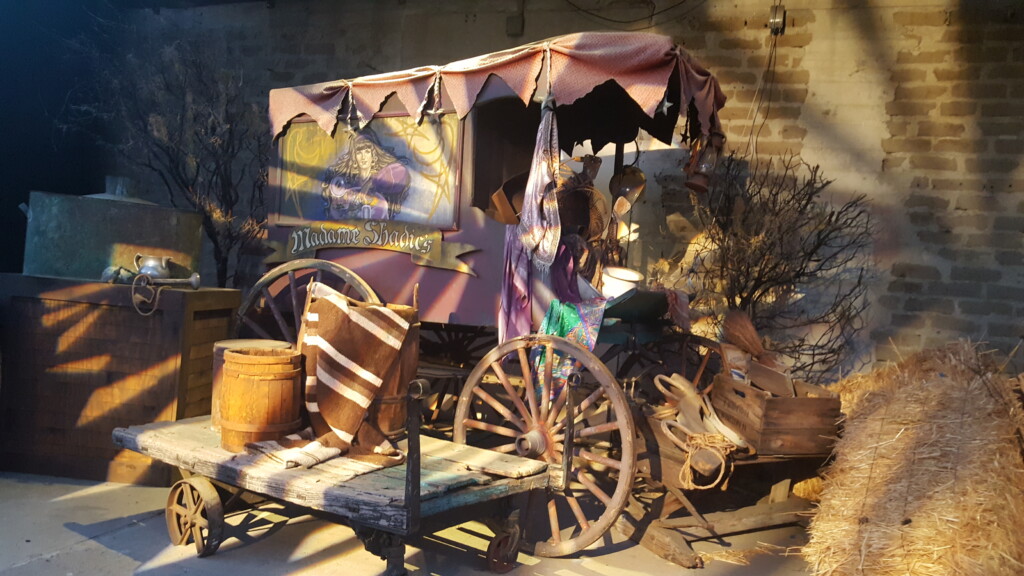 The Calico Medicinal wagon has been perched by the exit store of the new Hangtime roller coaster where you can meet and greet a character for photos.  Something similar has occurred before with the steam locomotive at the train station.
An art show in the Bizarre Bazaar, a zombie VR, and Awaken the Dead, a dance party in the Fiesta Village, completes the live entertainment and experience offerings.
---
OVERVIEW
Knott's Scary Farm has really been stepping up their game with the quality showmanship of their maze designs.  Just needs some lighting work with darker areas.  The reduction in live show offerings is noticeable with very little headliners.  Hopefully the unscheduled mini-shows will see growth in the future as they can be quite the little treat.  Overall, a fun season in this year's lineup.
Knott's Scary Farm has welcomed millions of visitors over the past 46 years and has become an institution in the Southern California theme park landscape. This year, the event returns September 20, 21, 22, 27, 28, 29, 30 October 4, 5, 6, 7, 11, 12, 13, 14, 18, 19, 20, 21, 24, 25,26, 27, 28 and 31. Knott's Scary Farm is open 7:00 pm – 1:00am on select Wednesdays, Thursdays, and Sundays, and 7:00pm – 2:00 am Fridays and Saturdays. Due to the explicit and frightening nature of the event, it is not recommended for children under 13. This year's Knott's Scary Farm experience is Where Nightmares Never End!
For more information on Knott's Scary Farm, including admission, park hours and events, visit knottsscaryfarm.com or download the Knott's Berry Farm app for your smart phone.