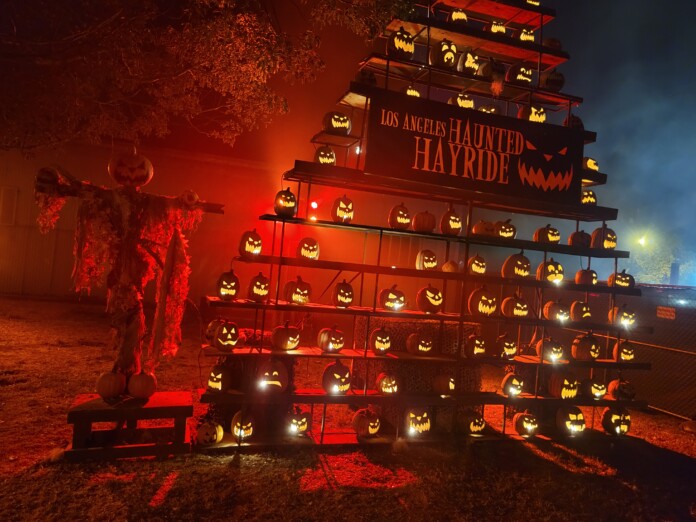 This post contains affiliate links and our team will be compensated if you make a purchase after clicking on the links.

L.A. Haunted Hayride rolls back in Griffith Park for another Halloween season. And sadly, in more ways than one. The annual spooky Halloween event of scary mazes, fair food, engaging characters, live entertainment, and the supposed crown jewel, the hayride itself, returns to the stretch of the park that marked ingenious design and layout from its debut last year, has somehow fumbled and tossed its pumpkins into a rotting mess.
The new and improved hayride last year was an invigorating jolt of life the event needed to welcome visitors after being held back from the 2020 season. There was so much potential to rise up from. The mothballs flew out and didn't stick the landing. What is considered new, feels old. Is it time to put the L.A. Haunted Hayride out to pasture? We hope a few lessons are learned and major adjustments can be made for next season.
"New Terrifying Attractions for 2022" is proclaimed but does not clearly deliver. What exactly is regarded as "new" could be a stretch. New costumes, facade, maze name, tweaks to a maze layout, a giant figure, and a new citizen? The classic pyramid of jack-o-lanterns is positioned inside the main grounds. That's about the best decision made when you have a line of guests waiting to get their photos.
But everyone agreed the lack of proper lighting made for dark faces. The fair food consisted of choices from Mexican, lemonade, burgers, nachos, and Cinnabon. The menu changed with the BBQ. At least it had an impressive grill themed to a steam locomotive. The ice cream truck is back with ice cream flavors to try. The pickup truck and radio station are back for photo backdrops alongside flats of a main street. The community of Midnight Falls with supernatural townsfolk, neighborhood, and businesses is becoming an underdeveloped and stagnant concept. Still a promising premise, but without any new stories to build and tell, what's to bring guests back?
Midnight Mortuary invites guests to tour the property to see wait awaits them upon death. The facade is new and creates a more engaging entrance towards the queue. Step inside a funeral home and a wake. Try and a get special on an empty coffin. Roam through the cemetery past tombstones. A stroll inside a mausoleum would be great addition.
The morgue for embalming cadavers is the last portion of this returning favorite that still works. The end of the maze could use a change from oversized spiders and white bed sheets on mannequins. Perhaps an incinerator would fire things up or stepping into a walk-in cooler. And more victims like a live embalming, trapped in a coffin, or burnt corpse can give actors more to play with to engage guests and enhance the environment.
Laughterhouse is considered a "new" maze. But returning guests will recognize most of the elements here is recycled from last year's Dead End Diner maze. The diner facade is now a backdrop for the hayride queue. The meat packing warehouse facade and name change pulls you in to a false sense of a brand new experience only to be let down. After a short interior "S" turn, guests are thrown back outside to a truck stop lot with winding covered chain link fences into a blinding fog of strobe lights.
Approaching the barn was lackluster step down from last season devoid of any build-up. The series of wooden pallet walls strikes a visual appeal, but the anticipation leads to disappointment. Gone is a demonic goat and in its place, a giant Resident Evil-like giant carrying a buzzsaw. It's guaranteed there were probably more strobe lights to hide the minimal number of active actors. It would have been more acceptable to keep the diner facade in the beginning and conclude the maze with the meat packing warehouse.
Trick or Treat is tired and needs to retire from being a returning maze. The suburban neighborhood of Midnight Falls welcome trick-or-treaters. The homeowners, if they're even around, greets you even before you ring their doorbells. Facades of the homes could still be reused as photo backdrops in the open areas of the special event. Let's see a new scare maze set in a school with the eerie school bus that's already here.
Haunted Hayride has fallen from grace. The gas station theme still works to start the journey. The first show scene is able to pull together with the spirit of Halloween giving life to the scarecrow jack-o-lanterns. After the barn, it's still a hodgepodge of discombobulated and disjointed show scenes with disregard to cohesion. It's been like this before, but even more apparent now that the hayride makes no show stops.
That's right, the tractors do not stop at the scenes and just keeps driving. Some enclosed scenes had a laser light or just completely dark with no actors. Overhanging mummies look like they should be more hidden. The event commonly feels like it's plagued with technical problems. There was a significant amount of stationary props and set pieces hiding in the dark. The guests are pulled from a glowing lake, silent guillotine, laughing clowns, UFO crash sight, a biker hangout, and inflatable spiders you can probably find from Home Depot.
The hayride needs to tell a story of why we are on this ride. Hosted by a twisted operator like Captain Spaulding? Uncovering phenomenons like Gravity Falls? A fix is needed, and quickly.
Monte Revolta and His Band of the Living Dead is about the only saving grace and worthy enough for a visit. Guests can pass through security and not have to present a hayride or maze ticket. People are welcome to shop in the store, grab a bite to eat, and interact with the fun townsfolk while jamming to the only live entertainment on the stage.
In fact, some of the residents could inspire their own scare mazes. For example, the exterminator could be collecting and housing bugs instead of killing them. Mayor Monte has the alluring charisma of Beetlejuice. The Midnight Falls citizens are approachable and very willing to chat and take photos with out-of-towners. Between shows, the atmosphere is dead. A live DJ would brighten up the mood between sets. The band covers musical tributes to popular horror movies. They even dress up for each number.
It breaks my heart to see and experience L.A. Haunted Hayride take a stumble. It can do better. It needs to do better. The Halloween event still has legs, it just needs to spread its wings. The hayride runs out of fuel and falls flat for the 2022 season. Thirteenth Floor Entertainment Group perhaps suffered a fallout from putting together their new event only a few miles away in Long Beach at the Queen Mary, Shaqtoberfest.
The event runs on select nights now until October 31, 2022. Different ticket options are available from $29.99 to $109.99 for Hayride only, General Admission to all attractions, VIP for limited waits, and Platinum for immediate entry to all attractions. More information at www.losangeleshauntedhayride.com