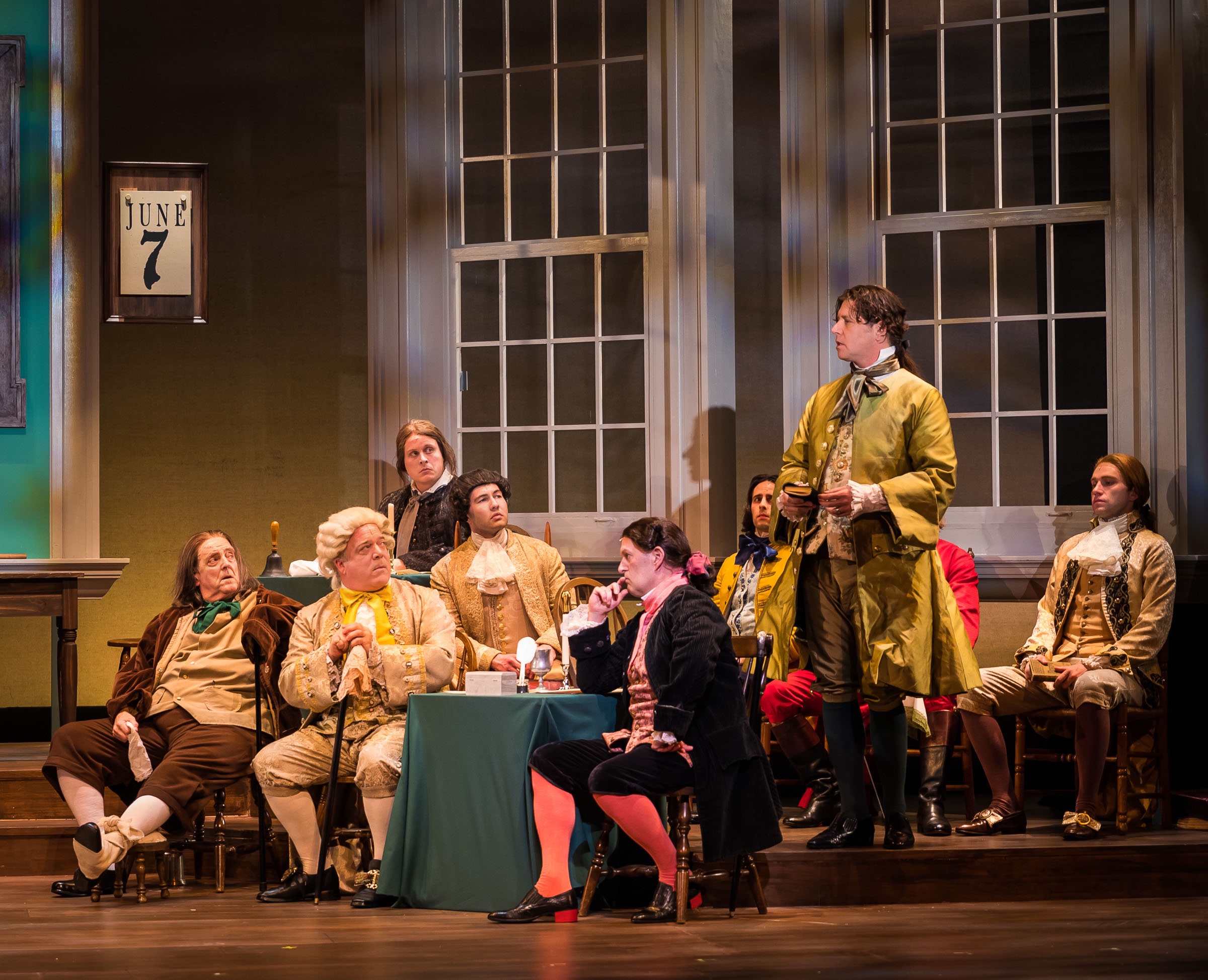 This post contains affiliate links and our team will be compensated if you make a purchase after clicking on the links.

The revolution has begun at the La Mirada Theatre of the Performing Arts in glorious fashion with the debut of the hit, 1776 The Musical. Directed by Glenn Castle, the show is a roaring spectacle, bringing you on your feet and tossing you right into the most pivotal moment in American history.
From start to finish, 1776 is just what we need right now, a satirical look at the foundations of American government. The show is comedy gold, shedding the light on how far we think we've come and what struggles we still face today in the very halls that were forged by the squabbling, attention seeking, and tantrum-prone Congress that the American people idolize with glorious acclaim. Just like the likes of Hamilton, 1776 is pulled right from the pages of history, bringing in a modern flair that brings the past to life in a way that no history class or documentary could ever hope to attempt.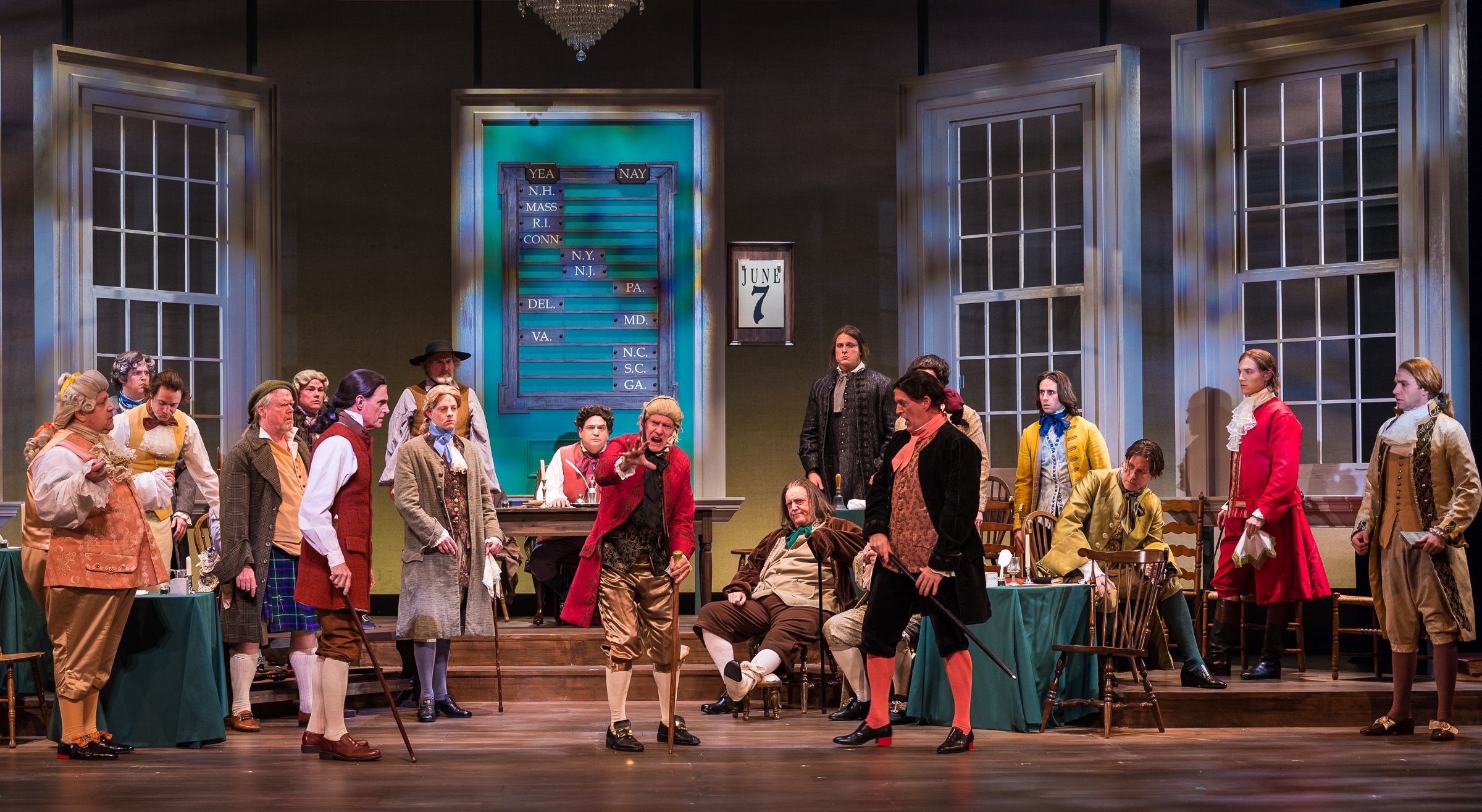 The show stars an all star cast featuring the brilliant styles of James Barbour as "Edward Rutledge," Peter Van Norden as "Benjamin Franklin," Andy Umberger as "John Adams," Teri Bibb as "Abigail Adams," Caleb Shaw as "Thomas Jefferson," Ellie Wyman as "Martha Jefferson," Nick Santa Maria as "John Hancock," Peter Allen Vogt as "Samuel Chase," Victor E. Chan as "Robert Livingston," Brad Rupp as "George Read," Gordon Goodman as "Stephen Hopkins," Jason Chacon as "Dr. Josiah Bartlett," Joey Ruggiero as "Joseph Hewes," Jordan Goodsell as "Charles Thomson," Jordan Schneider as "Dr. Lyman Hall," Jotapé Lockwood as "Lewis Morris," Matthew Kimbrough as "Colonel Thomas McKean," Michael Dotson as "Roger Sherman," Michael Rothhaar as "Andrew McNair," Michael Starr as "Richard Henry Lee," Michael Stone Forrest as "John Dickinson," Mitchell McCollum as "Reverend John Witherspoon," Ted Barton as "James Wilson," Rodrigo Varandas as "Leather Apron/Painter," and Nick McKenna as "Courier."
Van Norden and Umberger were absolute standouts, never letting the laughs die down in their extremely memorable performances. They drove the rest of the cast to a whole new level, bringing it home in an act worthy of a standing ovation. La Mirada Theatre has truly done it again, bringing only the highest quality stage acts in a venue that continues to impress. Along with a recently updated sound system and renovated seating hall, it's the perfect place to kick off a new year of entertainment. 1776 The Musical will run from January 12th to February 3rd.
You can purchase tickets for the show and see the rest of the 2019 season by checking out La Mirada Theatre's official site. Make sure to stay tuned, as more exciting things are to come, including the hit musical, Beauty and the Beast!