This post contains affiliate links and our team will be compensated if you make a purchase after clicking on the links.

Director Derek Cianfrance's The Light Between Oceans, based on the novel M. L. Stedman, comes to blu-ray courtesy of of Walt Disney Pictures. The film, starring Micael Fassbender, Rachel Weisz, and Alicia Vikander, is a melancholy, sweeping, and often times beautiful film, that follows a couple who can't have children, only to have a baby swiftly entering their lives. The couple learns to love and care for the baby, but when the child's mother shows up in their lives, it quickly causes upheaval in everyone's lives.
The Light Between Oceans follows Tom Sherbourne, played by Michael Fassbender, a World War One veteran who returns home to Australia after the war, looking for peace and solace after what he's been through. Working in an isolated lighthouse, Tom eventually falls in love with a young woman named Isabel, played by Alicia Vikander. One night, a boat washes up at the lighthouse, with a dead body and a small child on board. Tom and Isabel decide to take the baby in and raise it on their own, bringing a new light to their life. But the light could potentially be put out when the child's real mother shows up in their life, threatening to take their new found happiness away from them.
The film really is quite engaging for the first two acts, but once it gets to its third act, it quickly starts to unravel, and it gets too sentimental and sappy, bringing the film to a grinding halt. But even for the film's issues, it's worth a watch for Michael Fassbender's and Alicia Vikander's incredibly emotional and real performances. Fassbender is one of the best actors currently working in Hollywood, and he brings Tom's broken nature, but that hope for love and life so amazingly to life. It's hard to take your eyes off him when he's on the screen. Vikander as well really owns the screen, with a really moving performance, and she plays brilliantly off Fassbender. The two share such great chemistry, it's hard not to be enthralled by them, and really pull for them to come through in all this.
Dereke Cianfrance's film is strikingly beautiful, with amazing cinematography by Adam Arkapaw. The film, which was filmed in Australia and New Zealand, is a true treat, and the blu-ray really brings the film spectacularly to life. The transfer is gorgeous, really bringing the way Arkapaw shot the move to life. The island that Fassbender's Tom Sherbourne lives on is ripe to filmed, and this blu-ray makes the locale pop with natural beauty. Though, there are a few instances of noise in the film that pop up from time to time, it's not enough that it detracts from the film's overall transfer. This is an incredibly beautiful looking film, and for that alone, it's worth a pick up.
The film also boasts an excellent 7.1 lossless audio track that really brings the film's score and dialogue to life in an absolutely great way. Though the film isn't a big action film that is going to push your speaker system to it's limits, it does make the film sound crisp, and brings the theater experience home in style. The use of nature throughout the film, with the gusty wind that surrounds the island, and the waves from the ocean, really do make great use of the speakers, and it surrounds you, encapsulates you, and makes you feel like you're right there with the characters in the film. It's really a fantastic sounding disc, and one that really is one that's a standout for its subtly, not just being in your face with the sound.
It's too bad the disc doesn't have too much in the way of special features. While it has a decent making of featurette, it's nothing too special. Clocking in at just over fifteen minutes, it explores how they brought the film to life, from its themes, its shooting locations, the casting and chemistry between them, and more. But for such a short run time, it doesn't feel fleshed out at all. It's too much information in too short a time, making it feel too rushed. On the other hand, Derek Cianfrance's commentary, with Film Studies Professor Phil Soloman, is engaging, and very thoughtful. You get a much better feel for the way the film was put together, and it's more what the making of featurette should be. It's easily worth a listen for any fan of the film. The final featurette, Lighthouse Keeper, is a quick five minute bit that is about finding the right lighthouse to film in. Much like the making of, it's far too short, and feels rushed, but it is an interesting watch even for its short time frame.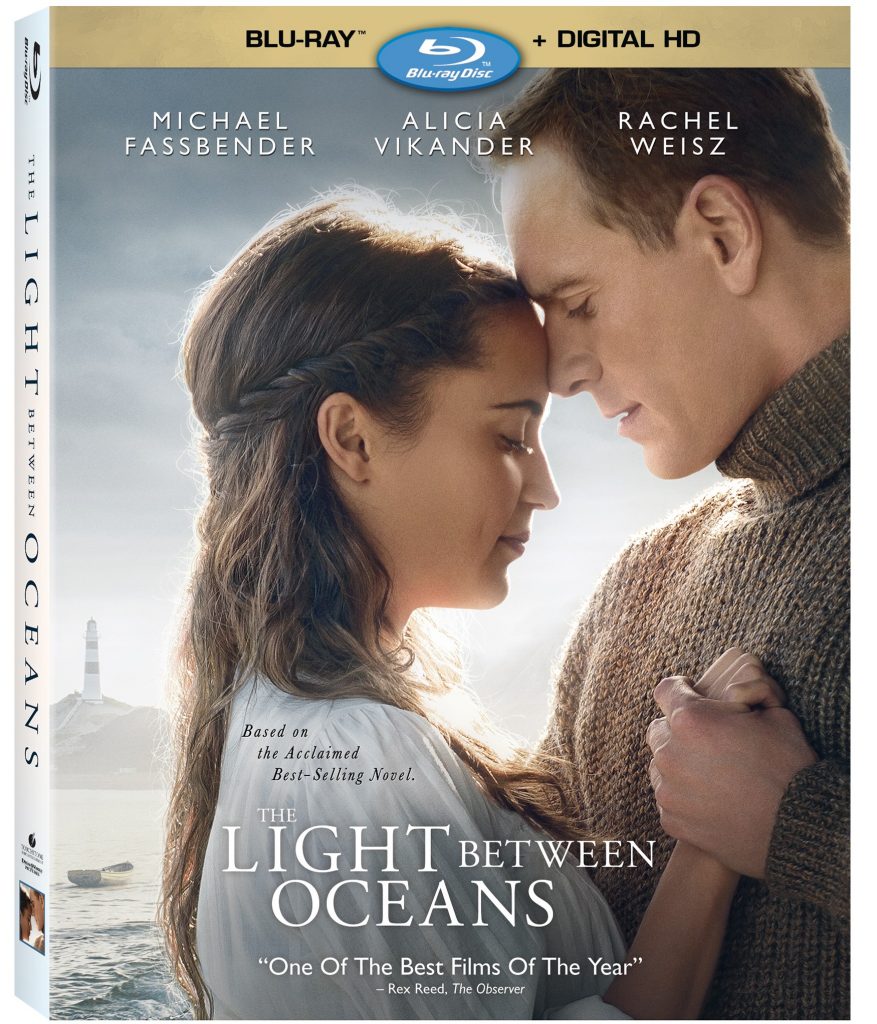 The Light Between Oceans is a mostly engaging film with wonderful performances in its leads Michael Fassbender and Alicia Vikander, who really sell the film, even if it never comes together fully. The blu-ray release comes with a stunning transfer, and a great sound mix, but barely adequate special features that really don't add to much. Still, the film is more than worth a look for the performances, and its stunning cinematography by Adam Arkapaw. For that alone, the disc gets a solid recommendation.