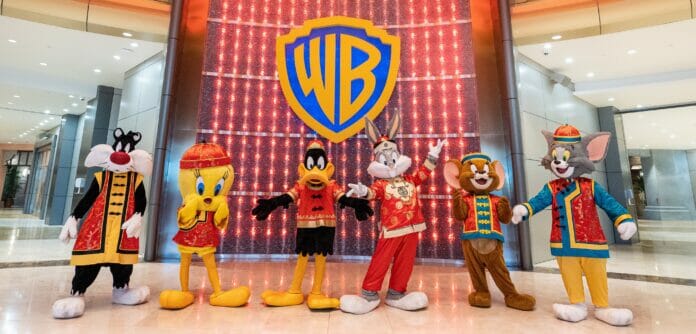 This post contains affiliate links and our team will be compensated if you make a purchase after clicking on the links.

The Lunar New Year on January 22, 2023 kicks off the Year of the Rabbit. Naturally, international superstar and cultural icon Bugs Bunny can hardly wait for, according to him, "the best year ever!" To help fans celebrate Lunar New Year and provide a fun twist on Year of the Rabbit, Warner Bros. Discovery has joined with top licensees, as well as created new content, starring Bugs and featuring his fellow Looney Tunes.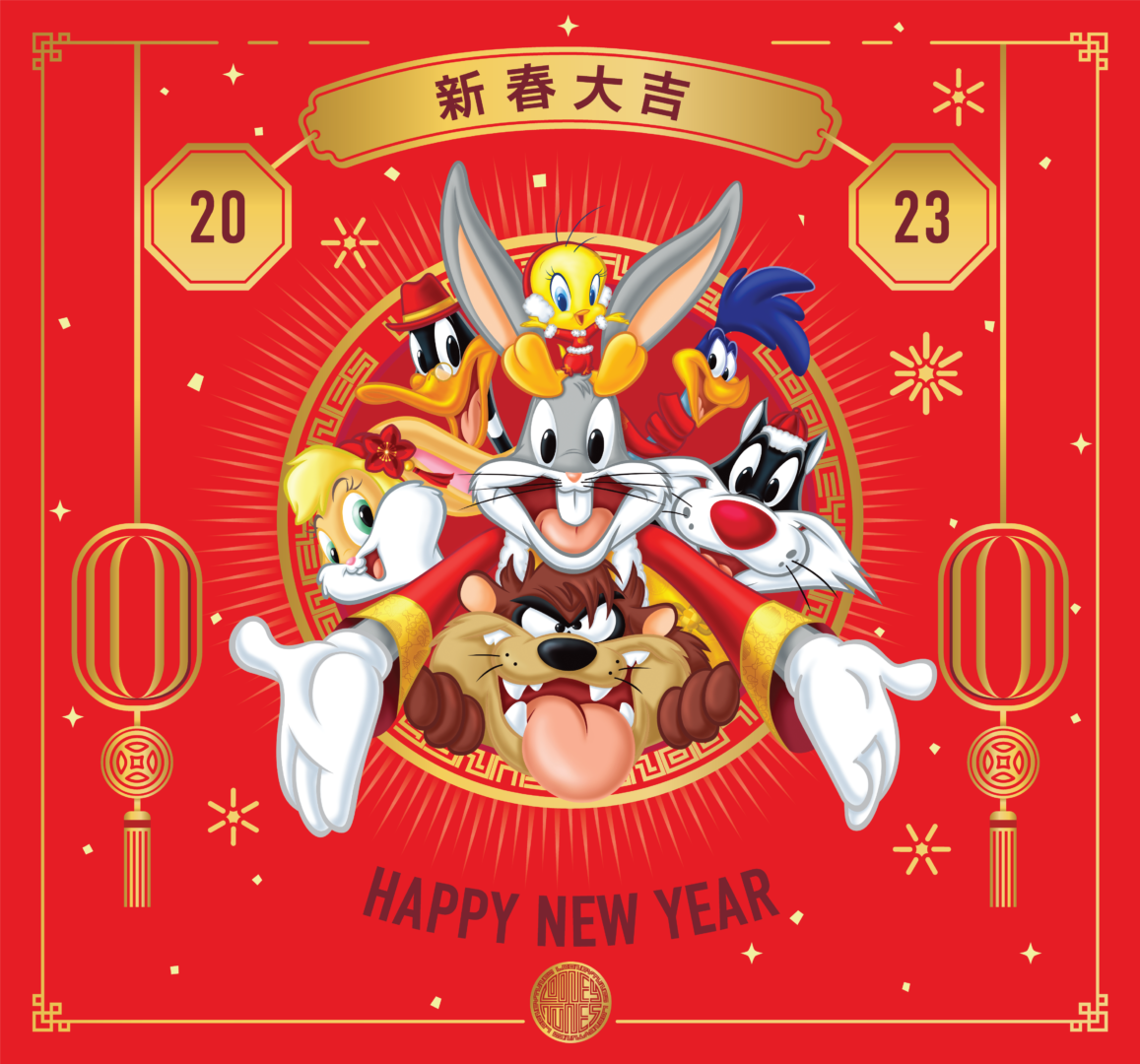 The unique, all-new Year of the Rabbit-themed merchandise, animated content, experiences and gaming from Warner Bros. Discovery Global Consumer Products and Themed Entertainment, Warner Bros. World Abu Dhabi, Cartoonito, Warner Bros. Animation, and Warner Bros. Games will engage fans around the world.
Warner Bros. Discovery Global Consumer Products and Kohl's partnered to create a gender neutral Sonoma Community apparel collection for adults and kids featuring Bugs Bunny, available exclusively at Kohl's and on Kohls.com in the U.S. Through this collaboration, WBDGCP and Kohl's aim to celebrate Lunar New Year through a modern relevant lens. WB Shop also joins the celebration with an all-new Year of the Rabbit – Looney Tunes collection. Available now, this unique collection features the Looney Tunes wearing vibrant, Year of the Rabbit-themed costumes across accessories and apparel that make for great, distinctive gifts all year-long.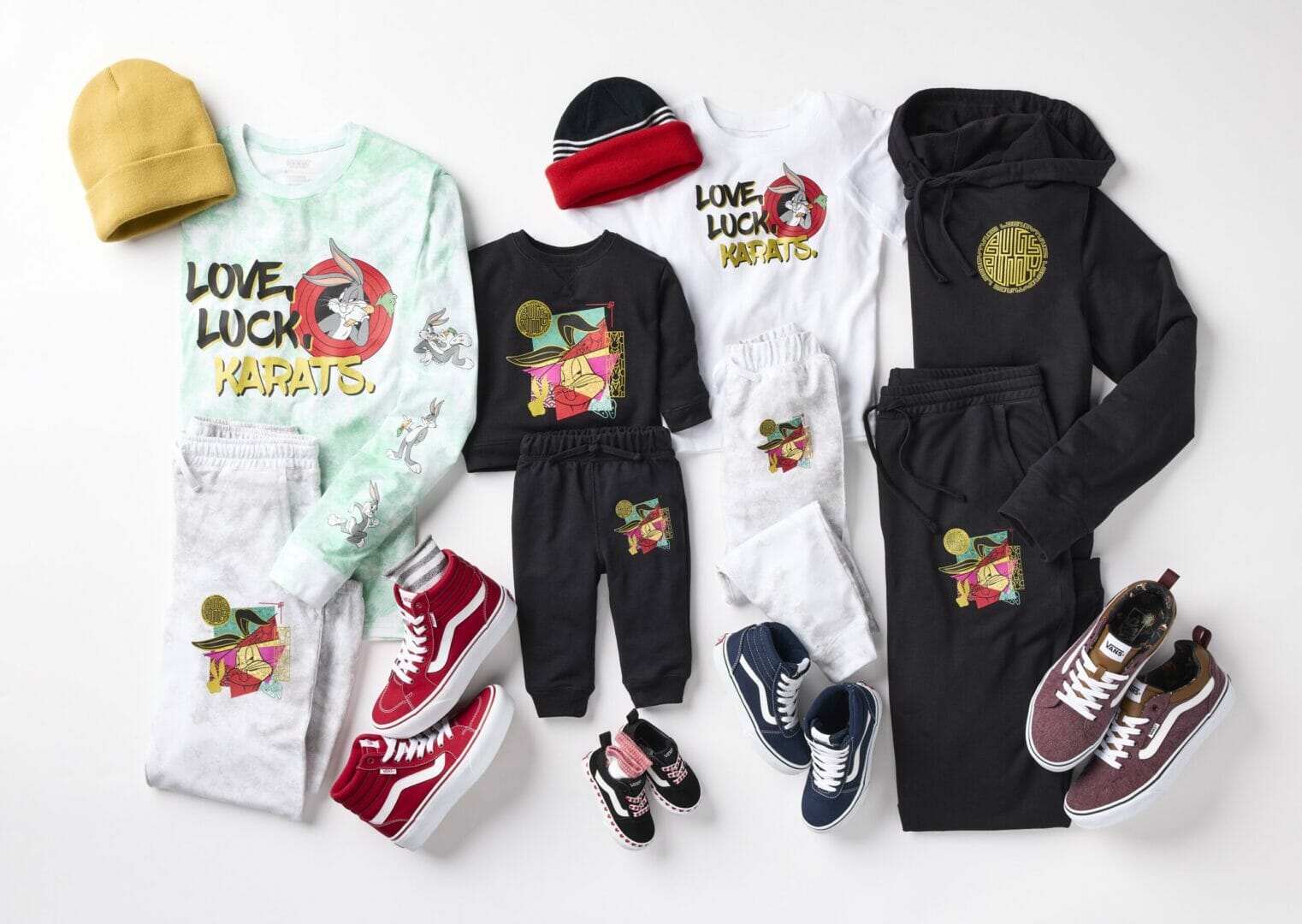 Available now online and at BOSS stores, the Looney Tunes x BOSS capsule collection of adult and kids' apparel consists of laid-back jerseywear, knitwear and outerwear pieces embellished with flashes of festive red and gold, key Looney Tunes catchphrases, and bunny and carrot motifs for a fresh, fun aesthetic. Available now, Moschino is set to bring Bugs into the world of Italian luxury with a 23-item collection of women's ready-to-wear and accessories, including a leather boxing-glove clutch, gold bijoux pieces, printed leather moto jackets and bunny-ear high heels.
In addition, Amsterdam-based brand Scotch & Soda will launch a bunny-themed capsule for adults and kids in spring 2023, with hero pieces including a varsity jacket showcasing Bugs Bunny on the front and the back, finished with the letter S (for Scotch & Soda). That's not all folks as Spanish fashion retailer Desigual is also set to launch a women's and kid's collection with key lines including sweatshirts inspired by vintage Bugs Bunny movies, trucker jackets with college style lettering and distressed-effect t-shirts.
In Australia, Cotton On celebrates the Year of the Rabbit and all things Lunar New Year with a very lucky Looney Tunes capsule collection. Offering customers a joyful twist to Lunar New Year dressing and a modern take on tradition, Cotton On's Looney Tunes collection includes over 50 styles across Womenswear, Menswear and Rubi accessories. From traditional button-ups to print party shirts and pop-color graphic tees, with trend-lead accessories and preppy rugby polos.The new collection is available online at cottonon.com and in all Cotton On and Rubi stores across Singapore, Malaysia, Hong Kong & Thailand. Target Australia is also supporting with a gorgeous range of Bugs Bunny family sleepwear, including a pet option, launching at the end of January 2023.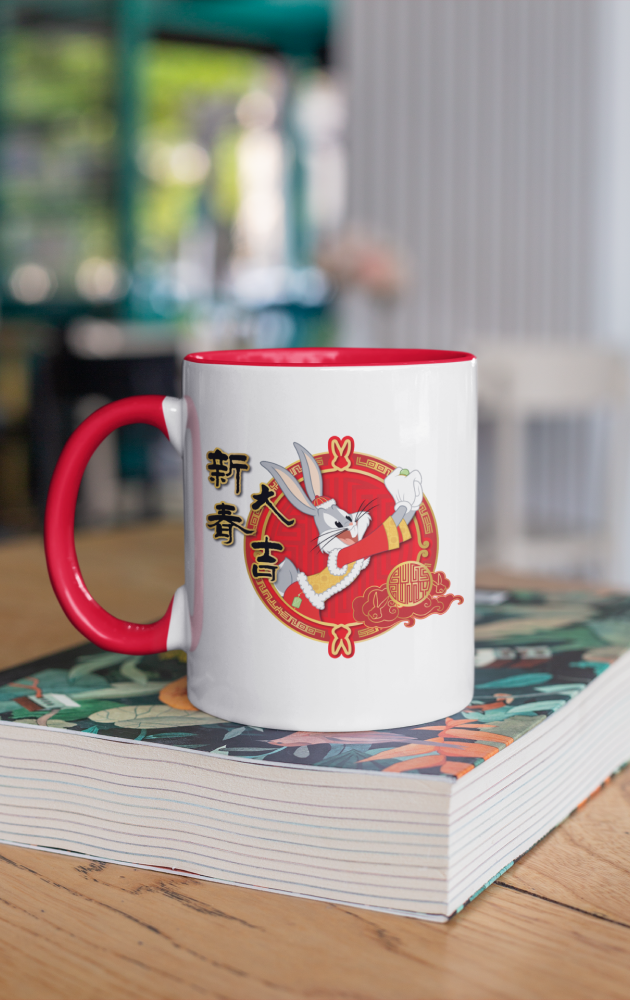 Fashion retailer GAP launched a Bugs Bunny apparel collection in mainland China, Hong Kong and Taiwan, available now. Select styles from the GAP collection will also be available in North America. Retailer GU also launched a new Bugs Bunny apparel collection, available now in Japan, Taiwan, mainland China and Hong Kong. Also in China, a Looney Tunes-themed mall exhibition is located at the Beijing Hopson Mall through February 5.
Across Southeast Asia and Taiwan, WBDGCP has partnerships in place with many retailers and licensees across apparel, accessories and food categories. Two key regional agreements include a new cap and apparel range with New Era and a line of trainers and apparel by FILA.
In Thailand, CPS Chaps has released a Bugs range of streetwear. Giordano and Matahari Department Store in Indonesia and Padini in Malaysia also have impressive looking apparel ranges. Rabbit fans will love premium fashion items in the region including jewelry from Lotus Archi and a "prosperity" Happy Rabbit Year 0.5g gold bar by Aurora Italia. Keep an eye out for a Bugs Bunny bag and wallet collection from Carlo Rino in Malaysia during January and February. In Singapore and Malaysia, Baskin Robbins has unveiled its range of ice cream inspired by Bugs Bunny, including a Carrot Farm selection and a Looney Tunes pack.
Warner Bros. World Abu Dhabi also joins the celebration with the Year of the Rabbit experience running January 20 through January 22nd. Fans can celebrate with Bugs Bunny, Daffy Duck, Sylvester, Tweety, and Tom & Jerry as they appear on the seasonally themed Plaza Stage wearing their Lunar New Year outfits.
Cartoonito's preschool series, "Bugs Bunny Builders" released a new, two-minute short (check it out below) celebrating Lunar New Year. Airing in the US and APAC market, the bite-sized episode features Bugs and Lola Bunny teaching the Looney Builders about the annual celebration and perform their own Looney lion dance to help bring good luck and fortune to the new year. Families can expect new, full-length episodes of the acclaimed series on Cartoonito on Cartoon Network and HBO Max.
2023 will also see Bugs starring in new episodes of "Looney Tunes Cartoons" on HBO Max, plus appearing alongside two other beloved Looney rabbits, Babs and Buster, in Cartoon Network and HBO Max's highly anticipated new series, "Tiny Toons Looniversity." "Bugs Bunny Builders" and "Looney Tunes Cartoons" are produced by Warner Bros. Animation. "Tiny Toons Looniversity" is produced by Amblin Television in association with Warner Bros. Animation.

"MultiVersus," the free-to-play platform fighter videogame from Warner Bros. Games featuring Bugs Bunny and more Looney Tunes characters alongside more heroes and personalities, will celebrate the Lunar New Year with themed in-game items, including a Red Guardian Reindog character variant, Ringout, Banner and Profile Icons, all commemorating the Year of the Rabbit. Content will be available for purchase from Jan. 17 (10 a.m. PST) through Jan. 31 (10 a.m. PST).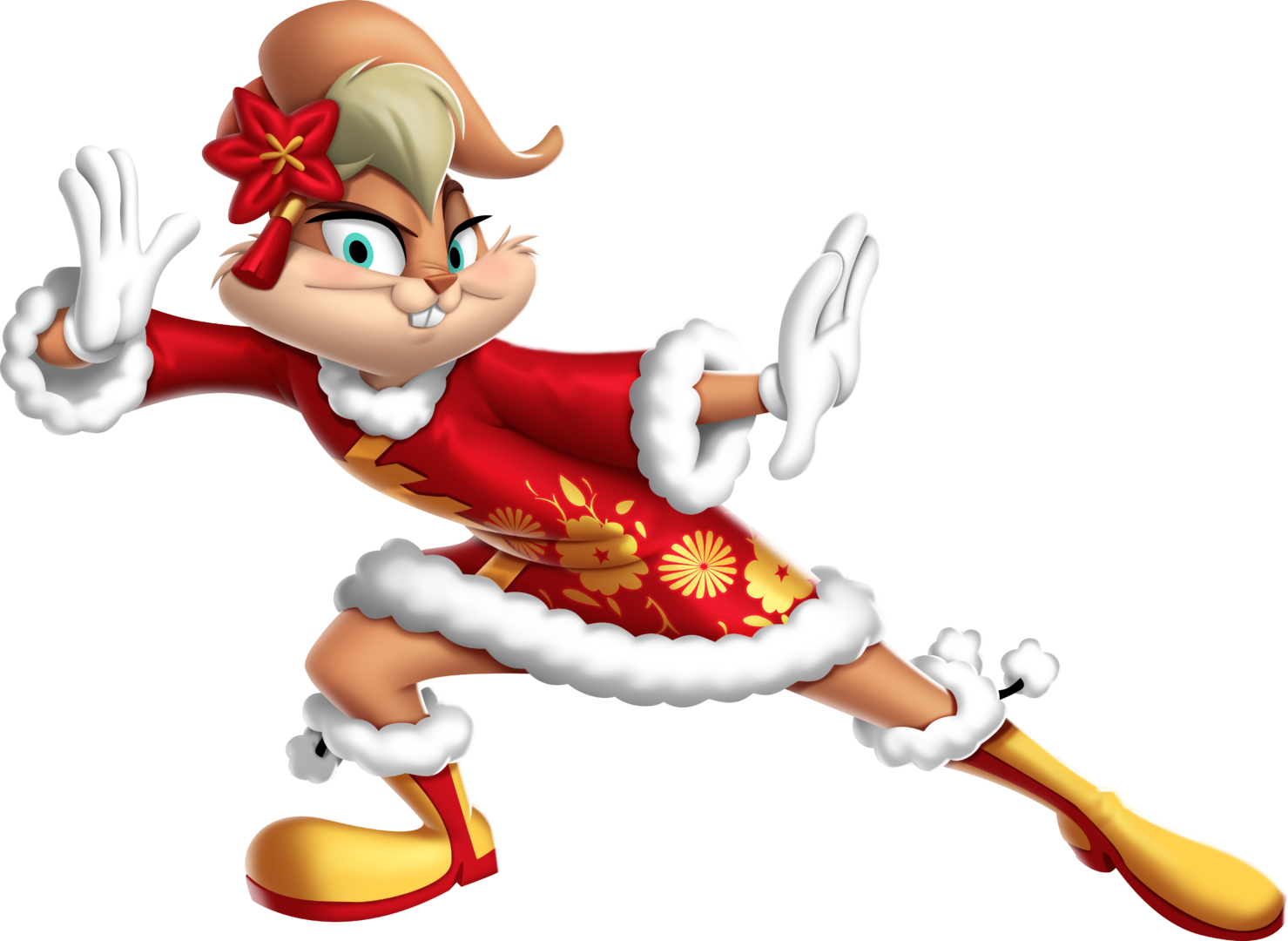 From Scopely, "Looney Tunes: World of Mayhem" will celebrate the Year of the Rabbit with a month-long limited time event. Players can unlock two brand new Epic Rabbit characters, Lunar Bugs and Lunar Lola, through the following methods:
Battle Pass: Players who engage in daily activities and Lunar New Year events for 28 days and earn 70 Milestones worth of rewards and unlock Lunar Lola.
Event: On January 20, players can enjoy a 7-day event with Campaigns, Quests, and Leaderboards to immerse themselves in the Year of the Rabbit and have a chance to unlock Lunar Bugs!