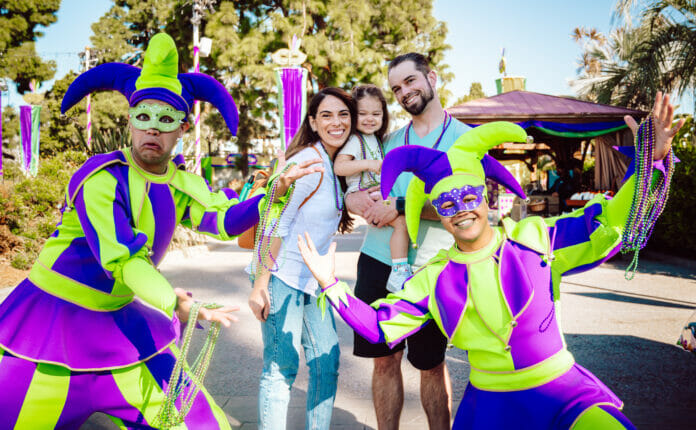 This post contains affiliate links and our team will be compensated if you make a purchase after clicking on the links.

SeaWorld San Diego is bringing back New Orleans flare, food, and festivities with the return of Mardi Gras. The excitement of Mardi Gras comes to life with a party vibe full of ALL-NEW live music and performances including a New Orleans Jazz band, Mardi-Gras processional, Louisiana-inspired laser show, plus multiple performers, colorful costumes, and festive decor. Guests can indulge in new and returning authentic menu items including king cake, beignets, and gumbo. The event runs every weekend from January 21 to February 26, plus select dates. To get the most out of Mardi Gras and all SeaWorld has to offer, guests can enjoy unlimited visits throughout 2023* for the price of a single day ticket with a 2023 Fun Card.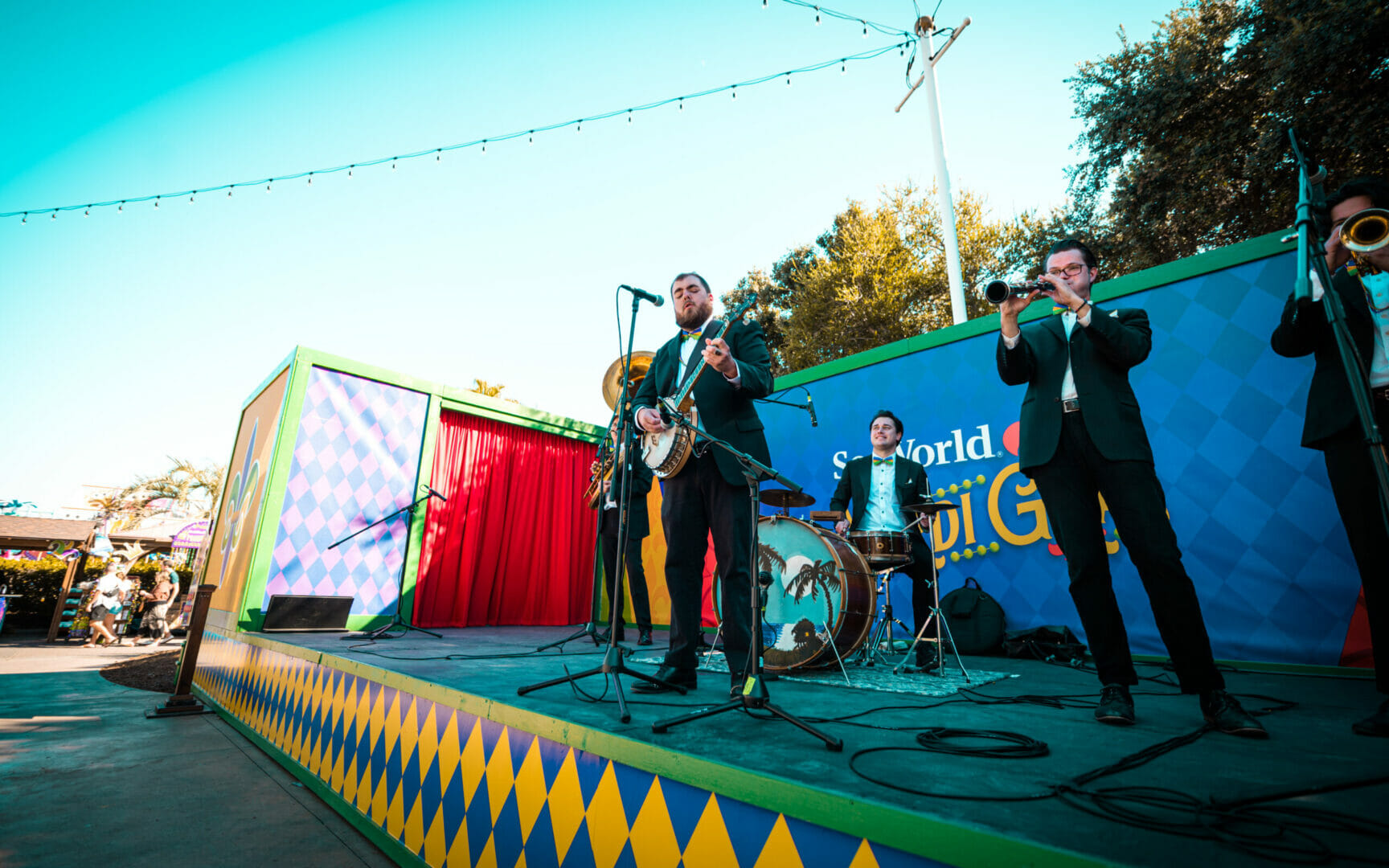 "We're excited to bring an even bigger and better Mardi Gras experience to SeaWorld San Diego this year," said Tim Hamilton, Vice President of Entertainment at SeaWorld San Diego. "Guests are invited to join the soiree because we're offering a true New Orleans-style party. Just like dancing in the streets, our guests will be dancing through the park and immersed by the sights, sounds, and tastes of a San Diego-style Mardi Gras. Laissez le bon temps rouler!"
Mardi Gras is included with park admission. Event times are subject to change or cancellation without notice. Please see seaworld.com/san-diego/park-info/theme-park-hours for the daily schedule.
ALL-NEW Bourbon Street-Style Entertainment
Guests are cordially invited to join the park's colorful cast of performers to let the good times roll. SeaWorld will be jumping with upbeat, musical fun during Mardi Gras with the ALL-NEW Mardi Gras-inspired lively processional led by Mardi Gras Madame, Mama, and full of festive Mardi Gras performers, including stilt walkers, dancers, and jugglers. The processional will move around the park, encouraging park partygoers to join along the way and culminate at the Mardi Gras stage. The processional will end, yet the party continues as the crowd will be treated to a rousing song and dance number, "No Bad News."
The Mardi Gras stage will also showcase performances by an ALL-NEW New Orleans Good Time Jazz Band, performers from the San Diego Circus Center, and a DJ for non-stop rockin' fun every event day. During the evening hours, guests can walk through the SeaWorld Tunnel of Lights and enjoy an ALL-NEW special laser Louisiana-inspired light show, both filled with traditional Mardi Gras colors. The festival area will also include a face painting booth, ribbons, lights, masks, and more!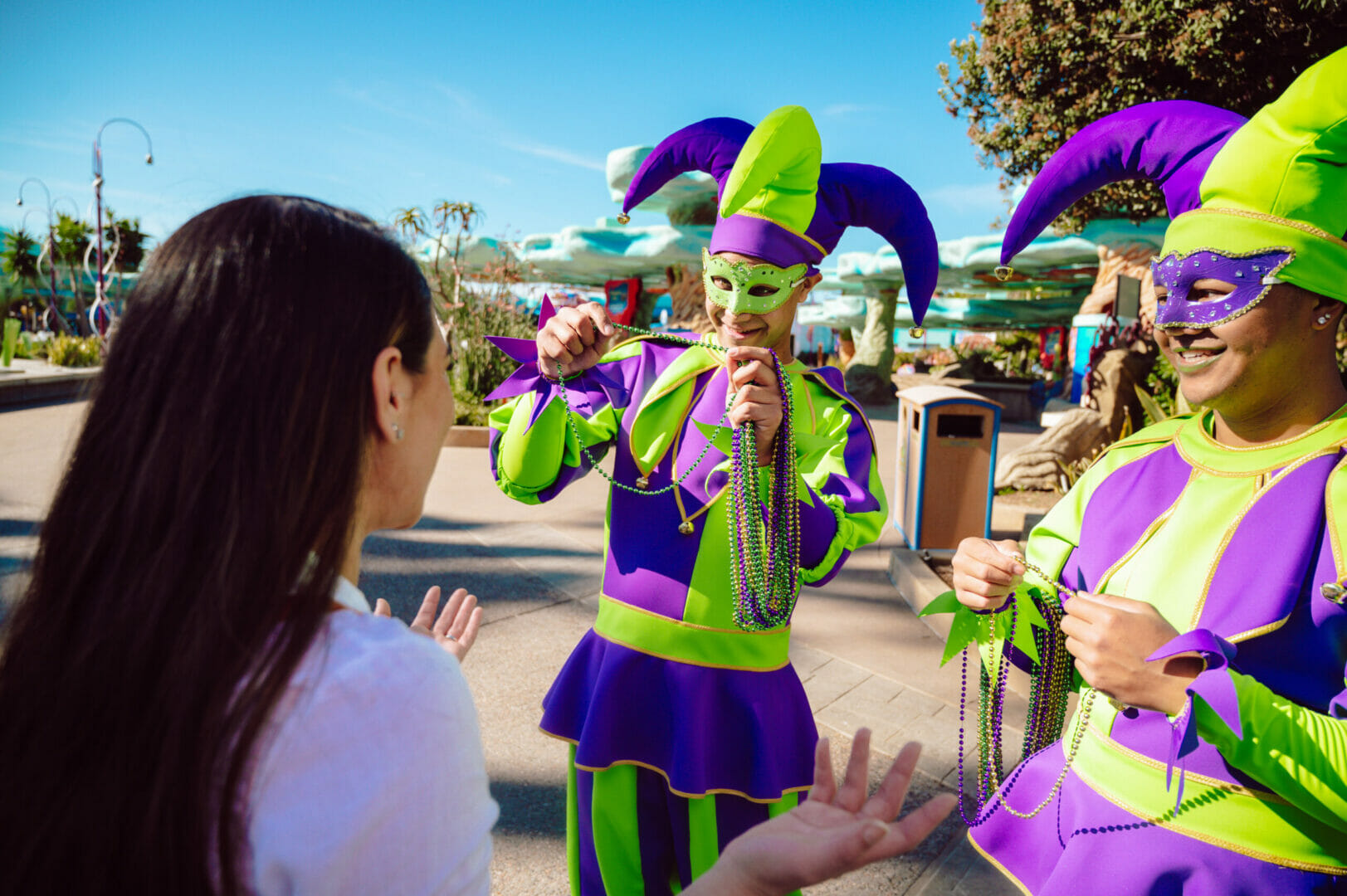 Tastes of New Orleans
Mardi Gras isn't complete without delicious New Orleans-style food and drinks! Guests will be able to enjoy the tastes of the South with new and returning specialty menu items created for the event.
Guests can indulge in classic food dishes including a choice of Shrimp or Roast Beef Po'Boys, plus Muffulettas and Andouille Sausage and Shrimp Jambalaya. Vegetarians can choose from ALL-NEW menu items including a plant-based Dirty Rice, Seafood Jambalaya, and Hush Puppies. A sweet side of Mardi Gras returns with Beignets or guests can opt for the NEW Pecan Praline King Cake, both pair perfectly with a tasty Chicory Coffee. Drink options will also be aplenty, with a beer trailer and mimosa bar serving Mint Juleps, Hurricanes, and Abita New Orleans Beer.
A Year of Fun at SeaWorld
Mardi Gras is just one part of an exciting 2023 event lineup at SeaWorld San Diego. Other upcoming events include:
• Seven Seas Food Festival: March 3-April 30 (Select Dates)
SeaWorld is bringing back international flavors, amazing beverage tastings and live music performances with the return of Southern California's fan favorite Seven Seas Food Festival. In addition to hundreds of tasty bites and delicious drinks, guests can enjoy live music and their favorite animal exhibits, including dolphins, sea lions, bat rays, flamingos, sea otters, and more.
• Viva La Música: May 5 – May 14 (Select Dates)
Experience this festive, family-friendly Latin celebration in a new way as you dance to the hottest music, sample fiery flavors, and much more.
• Arctic Rescue Coaster: Opening in Spring
The newest addition to SeaWorld San Diego, Arctic Rescue will be the fastest and longest straddle coaster on the West Coast! This family-friendly multi-launch ride invites guests to hop on a snowmobile and launch at up to 40 mph on a chilly adventure as they race through the unpredictable arctic climate to help animals in danger.
Pay Less than a Day and Play All Year Long
The best way to play all year round is with a 2023 Fun Card! For the price of a single day ticket at $99.99, guests can enjoy unlimited visits* throughout 2023. With a Fun Card, guests can roam and explore the park as many times as they want to visit amazing animals, enjoy family and thrill rides including upcoming family-friendly coaster Arctic Rescue, the longest and fastest straddle coaster on the West Coast, opening in Spring 2023. Plus, guests can take advantage of events including Mardi Gras, Seven Seas Food Festival, and Spooktacular all year long – all included in park admission.
*Some restrictions and blockout dates apply. 2023 Fun Card valid through December 31, 2023.
For more information on events, park hours and to purchase tickets and/or Fun Cards, visit SeaWorldSanDiego.com.