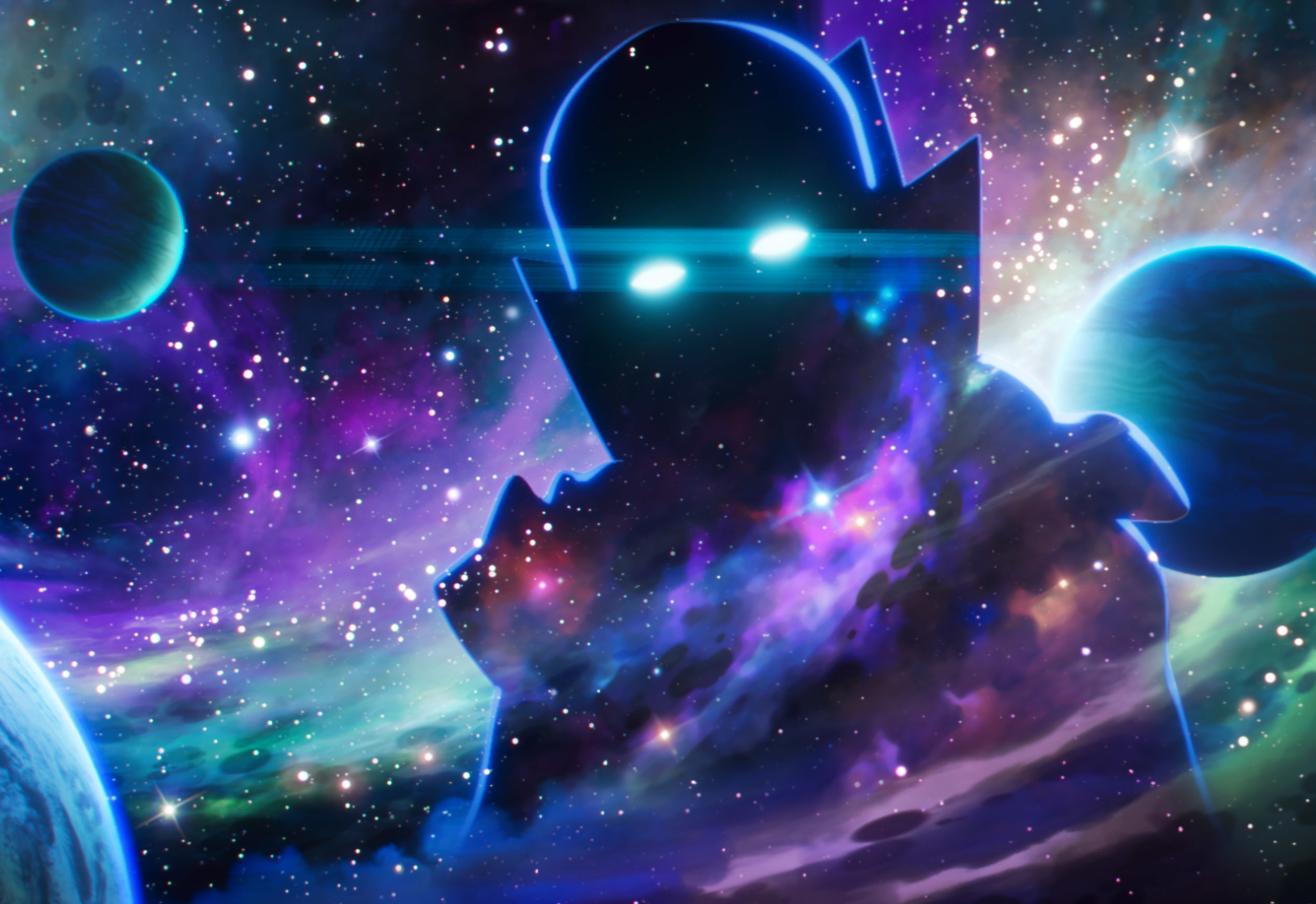 This post contains affiliate links and our team will be compensated if you make a purchase after clicking on the links.

Marvel Studios' "What If…?" flips the script on the Marvel Cinematic Universe, reimagining famous events from the films in unexpected ways. Creating a multiverse of infinite possibilities, "What If… ?" features fan-favorite characters, including Peggy Carter, T'Challa, Doctor Strange, Killmonger, Thor, and more. Debuting exclusively on Disney+ on Aug. 11, 2021, "What If… ?" features the voice of Jeffrey Wright as The Watcher.
Marvel Studios' first-ever animated series also features the voices of a host of stars who reprise their iconic roles in the MCU—though their characters' journeys promise to be wildly unique. "It's an anthology," says executive producer Brad Winderbaum. "The Watcher introduces us each week to these alternate storylines— each a kind of cautionary tale in the spirit of 'The Twilight Zone.' We bounce around genres and tone—some episodes will be dramatic; some will be tragic or comedic."
Marvel Studios veteran Bryan Andrews was called on to helm the series. "He's boarded many of our major action sequences over the years," says Winderbaum. "He's an animation director and has been behind some of the best-animated shows, 'Samurai Jack,' 'Sym-Bionic Titan' and the original 'Star Wars: Clone Wars.'
During a recent press conference, we learned more about this new Marvel series from Bryan Andrews (Director), AC Bradley (Head Writer), Brad Winderbaum (Exec. Producer), and Jeffrey Wright (voice of the "The Watcher").
Q: What inspired "What If…?" and why is now the time to dive into an animated multiverse story like this, on Disney+?
Brad Winderbaum:  I mean, it's, to be honest, was a stroke of inspiration that happened on the drive home from work one day.  And I found myself in my driveway just texting with Kevin Feige, back and forth, about what this show could be. And by the next day, the wheels were in motion and we were on our way to making this thing.  And I think that and it was obvious from the beginning that it needed to be animated because of all the-of all the locations and sets and characters and elements from the MCU we were gonna revisit it, it had to kind of be in a medium that would allow us an infinite scope of whatever we could conceive of.
AC Bradley, the writer on that show, had come in to pitch for 'Captain Marvel,' which didn't work out due to some other obligations, and producer Jonathan Schwartz recommended her for 'What If…?' We brought her in and she understood what we wanted to do immediately. She came back and pitched this emotional character-focused version of the Captain Carter story.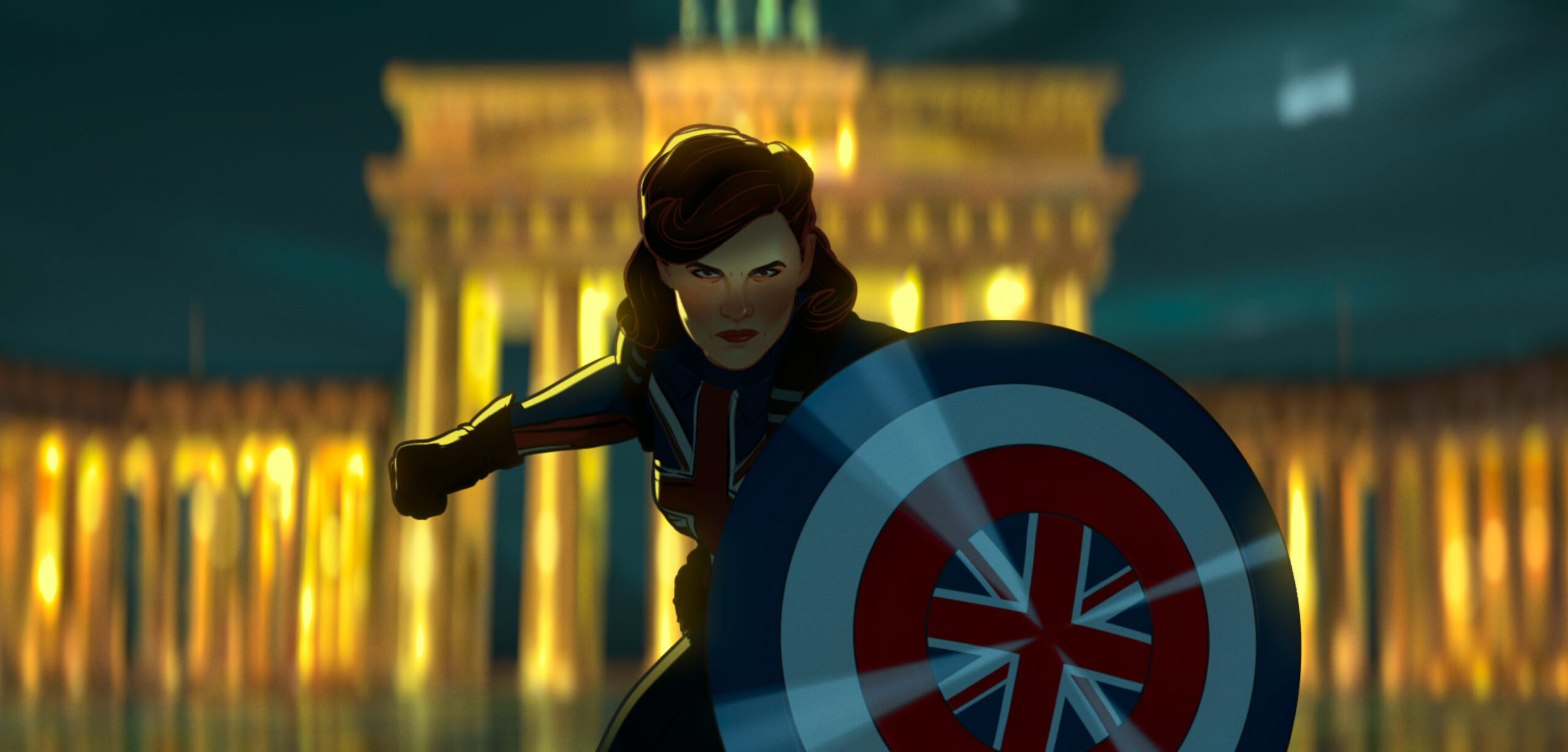 For Andrews, the opportunity allowed him to summon everything he knew about animation, the MCU and storytelling. "We'd get together and basically nerd out," says the director. "We had an embarrassment of riches in terms of characters, storylines, twists—the sky's the limit, really."
Q: Jeffrey, I'm gonna turn to you.  Your character, quite famous in the Marvel Comics lore. Introduce us to who you're playing in "What If…?" and what his role is in-in the series overall.
Jeffrey Wright:  Yeah, I'm, playin' The Watcher, who is, described in his first appearance in Marvel Comics, I think it was in 1963, something like the most dramatic being in all the known universe.  This is something like this.
He's a fairly dramatic guy.  He's a fairly powerful guy.  He's kind of overseeing, the entire, MCU.  He's overseeing the multiverses, and he plays somewhat of a Rod Sterling role.  Kind of narrating, kind of not.  In some ways, as may be the biggest Marvel fan, there is. Watching all that transpires and dealing with, certain temptations to involve himself.
"The Watcher views humanity as simple, lowly, disgusting," Bradley continues. "But at the same time, he's fascinated by what he's seeing. And the more he sees, the more his understanding of humanity evolves."
Bryan Andrews:  It's like, you never know what you're gonna get, you know.  You might get an episode that's a comedy, you might get an episode that's kind of dramatic and serious, like, super emotional, full of action.  Brad, myself, Kevin, Victoria, it's like, we all love cinema.  We all love movie-we love everything in it, whether it, you know, all the genres.  And this gave us an opportunity to apply a little taste of a variety of genres into the Marvel cinematic universe, you know what I mean?  So, one can maybe go a little bit darker.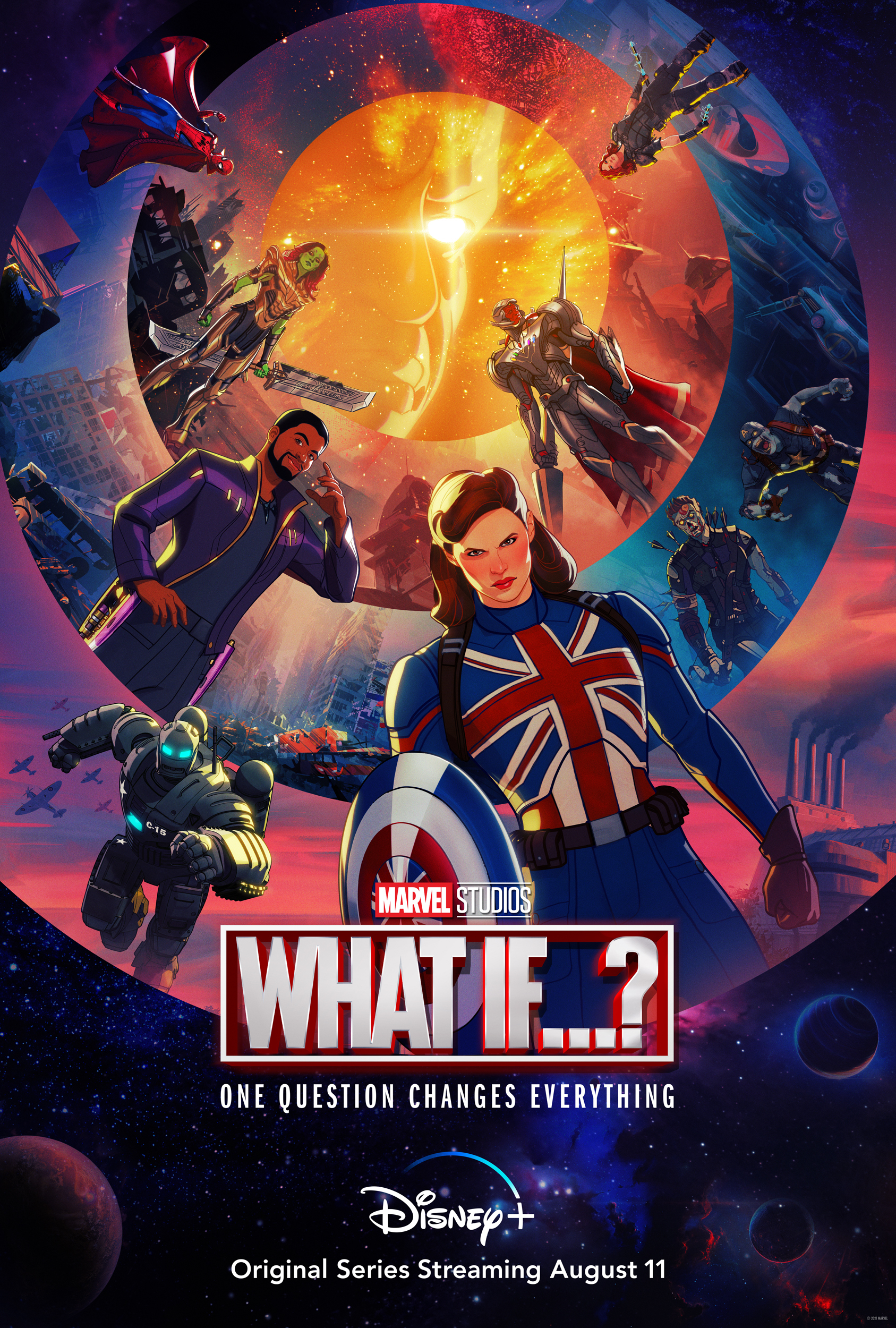 About What If…?
Inspired by Marvel Comics' "What If…?" comic book anthology series, which debuted in 1977, the new animated series introduces new scenarios based on characters from the vast world of the MCU, which launched in 2008 with "Iron Man." "That gave us a broader brush to paint with, so to speak," says Andrews. "It's immediate in to a massive audience, many of whom aren't familiar with the comics, but just loved the movies."
According to Andrews, the look of the series is illustrative. "We reached back in time and looked at classic American illustrators," says the director. "There's a certain kind of heroic, hyper-realized, super-idealized look that feels iconic. There's a style to it but it's not pushed or cartoony."
"What If… ?" features the voices of more than 50 MCU cast members who reprise their roles, including Andy Serkis, Angela Bassett, Benedict Cumberbatch, Benedict Wong, Benicio Del Toro, Bradley Whitford, Carrie Coon, Chadwick Boseman, Chris Hemsworth, Chris Sullivan, Clancy Brown, Clark Gregg, Cobie Smulders, Danai Gurira, David Dastmalchian, Djimon Hounsou, Dominic Cooper, Don Cheadle, Emily VanCamp, Evangeline Lilly, Frank Grillo, Georges St-Pierre, Hayley Atwell, Jaimie Alexander, Jeff Goldblum, Jeremy Renner, John Kani, Jon Favreau, Josh Brolin, Karen Gillan, Kat Dennings, Kurt Russell, Leslie Bibb, Mark Ruffalo, Michael B. Jordan, Michael Douglas, Michael Rooker, Natalie Portman, Neal McDonough, Ophelia Lovibond, Paul Bettany, Paul Rudd, Rachel House, Rachel McAdams, Samuel L. Jackson, Sean Gunn, Sebastian Stan, Seth Green, Stanley Tucci, Taika Waititi, Tilda Swinton, Toby Jones, Tom Hiddleston and Tom Vaughan-Lawlor.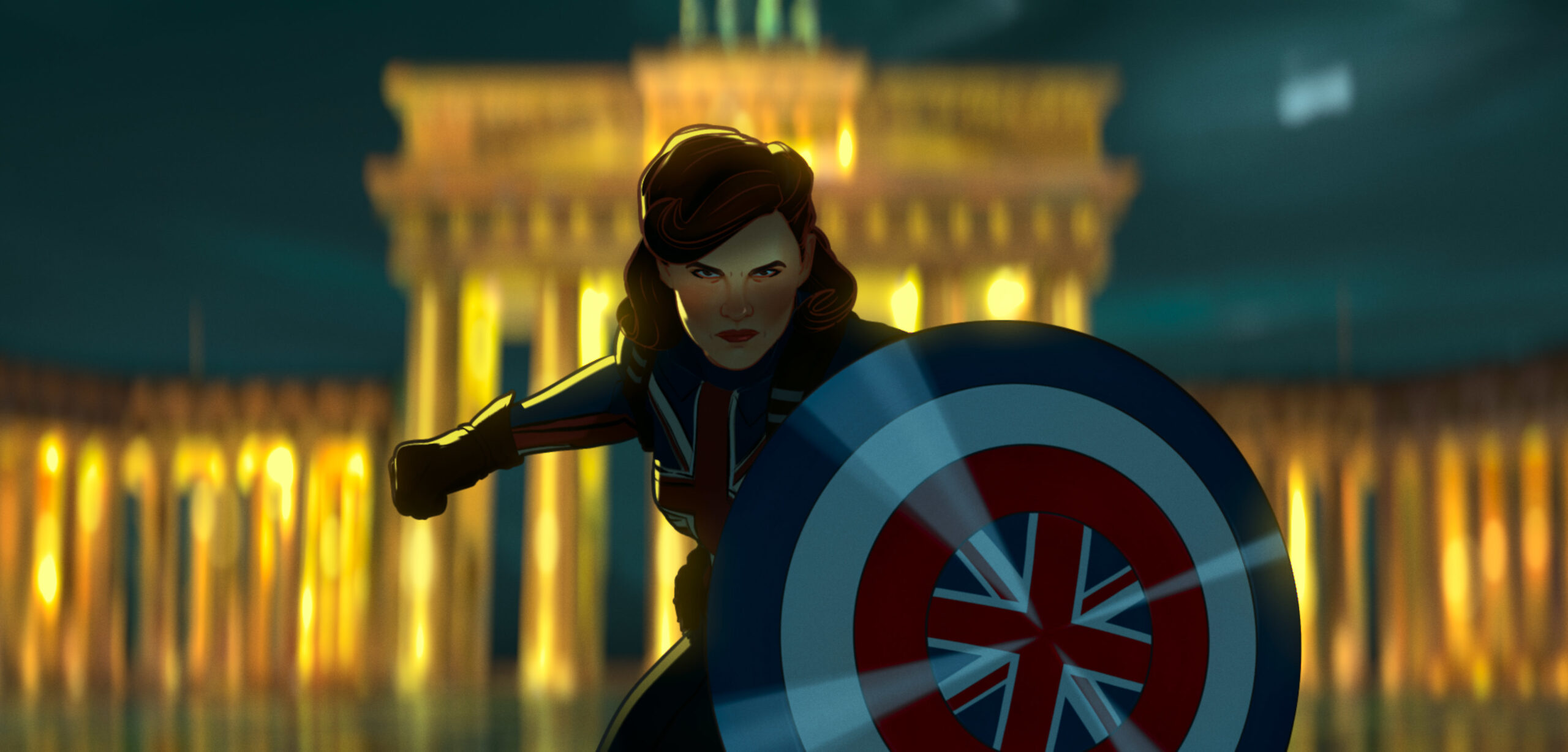 As Marvel Studios' first-ever animated series, "What If…?" ventures into uncharted territory. "What struck me was how limitless animation is," says executive producer Brad Winderbaum. "You have to determine your artistic code and set parameters early."
Filmmakers rooted the look of the series in classic American illustration, leaning into renowned artists like J.C. Leyendecker, a pioneer known for his iconic ads and magazine covers including The Saturday Evening Post. "Leyendecker inspired Norman Rockwell," says director Bryan Andrews, who also looked at artists including Tom Lovell and Mead Schaeffer, the latter whose family actually posed as models for Rockwell's Saturday Evening Post illustrations.
"Their work included a lot of mood and atmosphere. Disney's 'Lady and the Tramp' was also something we looked at because there's not a lot of harsh line work—it's always beautifully painted."
Ultimately, the team developed a specific and unique style that embraced their reference material, as well as that within the Marvel world.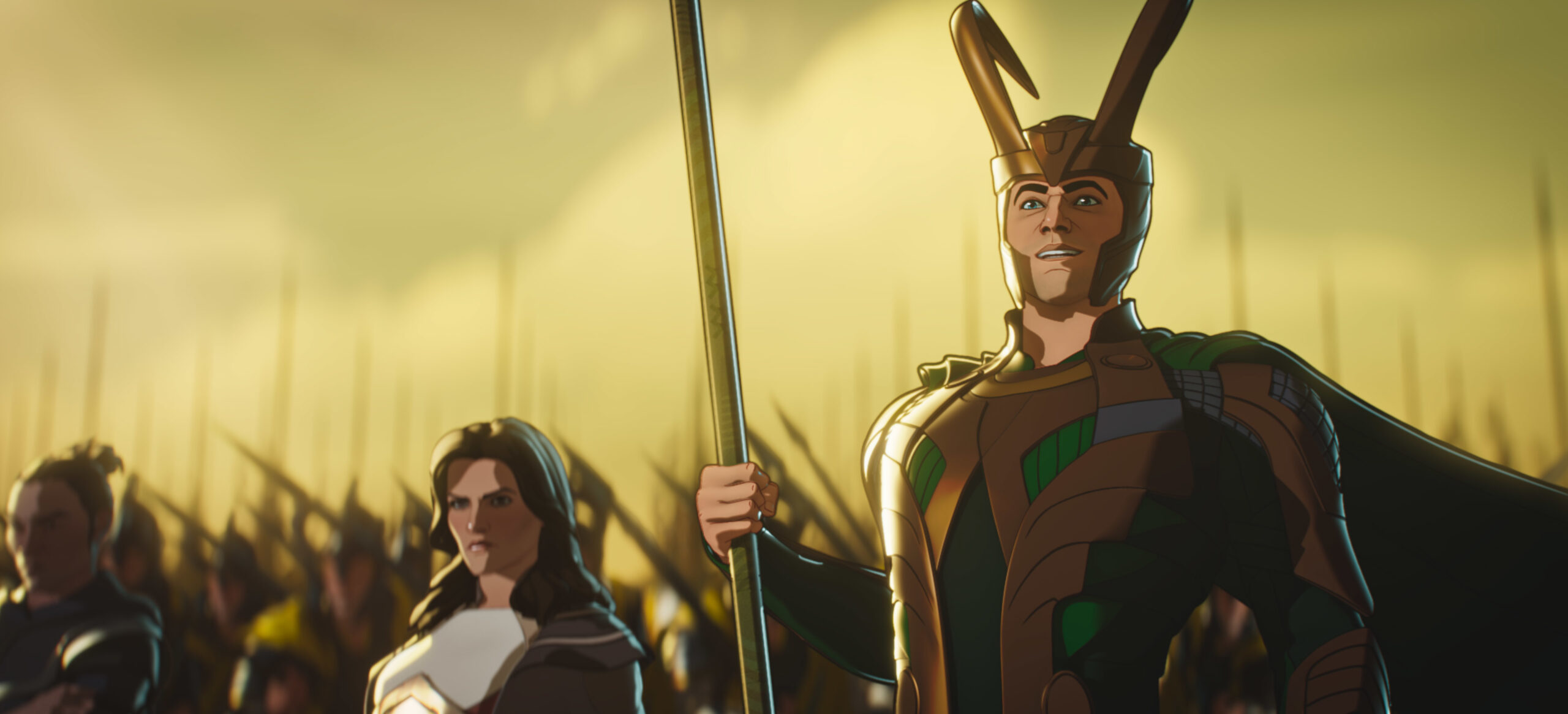 Marvel's "What If…?" is now streaming on Disney+.