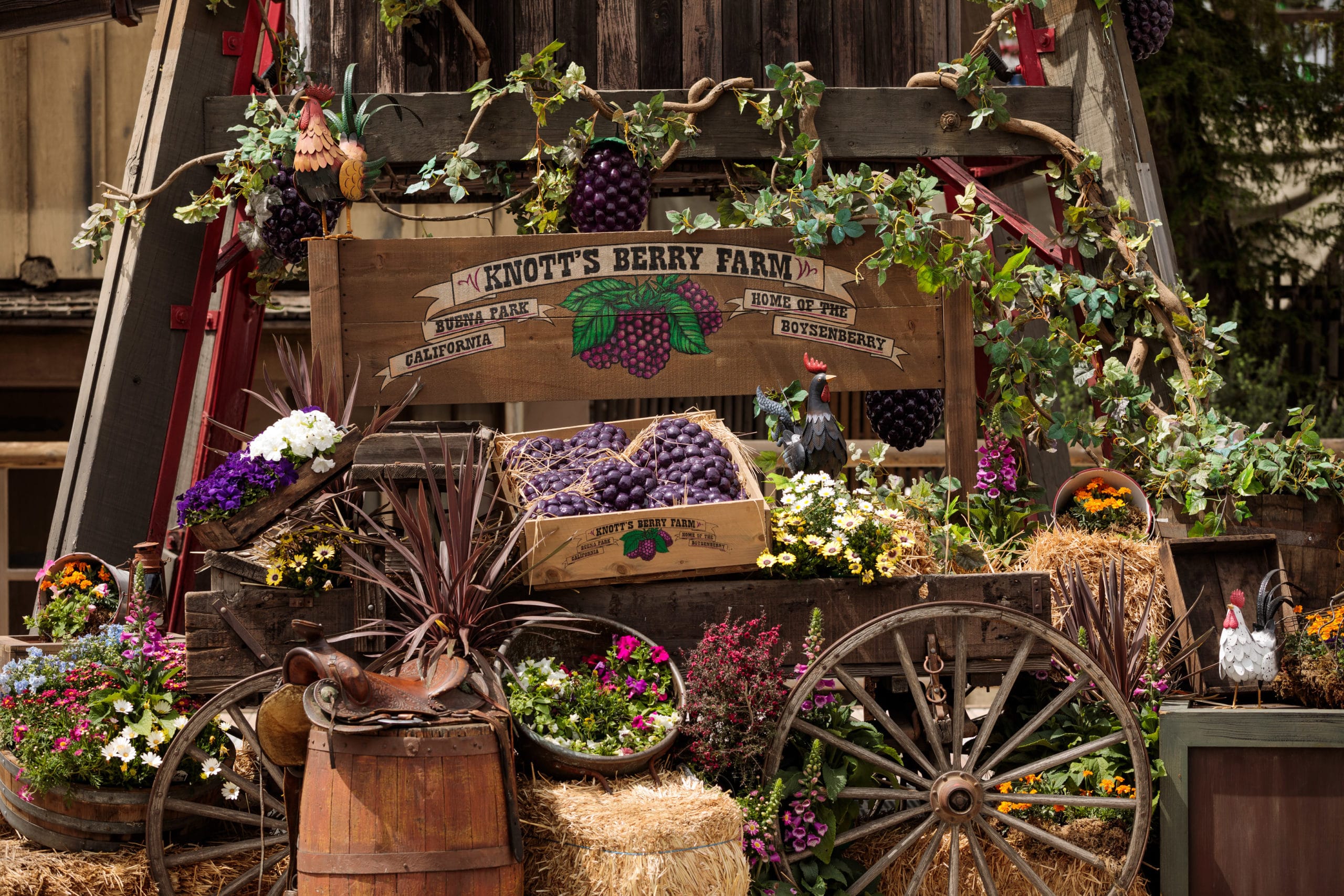 This post contains affiliate links and our team will be compensated if you make a purchase after clicking on the links.

The Knott's Boysenberry Festival is an annual food-inspired event that celebrates the park's historic roots by highlighting the little berry that started it all, the boysenberry. This year's festival will feature more than 75 unique boysenberry-inspired creations crafted by the Knott's culinary team. Guests will have the opportunity to indulge in a tantalizing line up of dishes ranging from savory foods with a boysenberry twist to one-of-a-kind specialty desserts and drinks that can only be found at Knott's Berry Farm during this time of the year. In addition to the numerous food and drink offerings, the Knott's Boysenberry Festival offers a wide selection of local crafters, live music, musical stage shows, and fun activities for guests of all ages to enjoy. The Knott's Boysenberry Festival runs 31 days starting March 20, operating daily through April 19, 2020. This year's event will introduce an entirely new food lineup featuring a selection of 26 food and drink tasting items. The new lineup includes:
Refreshing lemonade with basil and boysenberry
Boysenberry Beer cheese soup with a boysenberry drizzle topped with brown butter croutons
Sautéed brussel sprouts topped with boysenberry balsamic and bacon
Tender beef tips served with creamy boysenberry mashed potato
Rich chocolatey boysenberry chicken mole on cilantro rice
Boysenberry Sangria
Boysenberry Cajun shrimp served over a bed of buttery grits
Two chicken drumsticks bathed in boysenberry BBQ sauce
Hearty boysenberry steak chili with an oven-fresh boysenberry cornbread muffin
Samosa's with boysenberry chutney
Pork Bao bun dumpling with boysenberry kimchi and Nam pla
Citrusy boysenberry ceviche with crispy tortilla chips
A sweet boysenberry smoothie packed with fruity flavors
Homemade crunchy chips paired with a zesty boysenberry onion dip
Grilled boysenberry sausage in a bun with boysenberry ketchup
Elote rolled in boysenberry mayo  topped with a boysenberry tortilla crumble and cotija cheese
Creamy mac and cheese bites with a tangy boysenberry ketchup
Glazed donut holes served with rich boysenberry ice cream and topped with boysenberry coulis
Boysenberry bread pudding topped with boysenberry coulis and anglaise sauce
Hot pastrami sandwich on a pretzel bun with boysenberry mustard
Boysenberry macaron, a sensational French dessert
Churros powdered with boysenberry sugar
Extra creamy boysenberry ice cream
Boysenberry Beer
Boysenberry Wine
Boysenberry Mimosa
A great way to indulge in the new boysenberry food items during the festival is by purchasing a tasting card priced at $40 and $38 for season pass holders. The tasting card will offer eight tastings from a selection of 26 boysenberry-inspired dishes and drinks.  A variety of signature boysenberry items will also be available for purchase a la carte. Tasting cards are available at Knotts.com or at the theme park.
Guests can also take home a taste of the boysenberry festival with limited edition merchandise found throughout the park. This year's new merchandise includes a new selection of event themed apparel, pajama sets, festival-inspired parasols plus new packaged food items perfect for take-home souvenirs like the new boysenberry tequila and whiskey and spiced wine preserves, boysenberry Irish cream coffee, boysenberry cake batter cookies,  boysenberry vinaigrette dressing, boysenberry hot sauce, and boysenberry sarsaparilla. The Knott's Berry Market also features signature boysenberry items like the delicious boysenberry BBQ sauce and our classic jams and preserves. Unique boysenberry inspired artisan products will also be available at the Boysenberry Festival Craft Fair returning with 30 local craft vendors, each crater will feature boysenberry theme items.
Entertainment:
Knott's Boysenberry Festival offers endless entertainment options for the festival goer:
Snoopy's Boysenberry Jamboree! – Guests are invited to join Snoopy, Charlie Brown and the entire Peanuts Gang in a musical stage show that will have families dancing along at the Calico Mine Stage
Riverboat Revenge – Knott's pays tribute to its past at the Legendary Bird Cage Theatre with a special presentation of the brand new comedy melodrama, Riverboat Revenge. All Aboard for this Boysenberry Bon Voyage!
Krazy Kirk and the Hillbillies – A group of krazy talented performers will have guests toe-tappin', vine dancin' and knee-slappin' to a comedic country music show at the Wagon Camp stage.
Boysenberry Fun and Games – Get in on the fun of some of the craziest and messiest games along with our famous Boysenberry Pie Eating Contest.
Old MacDonald's Farm – Young ones and young at heart are invited to cozy up to the cutest critters on the farm including horses, sheep, goats and other furry friends. Old MacDonald's Farm pays tribute to one of the farm's original attractions
Knott's Totally Tubular 80's Dance Party – A Classic returns!  Travel back to the 80's as you dance the night away to the best songs of the decade.
Boysenberry Blues – Pull up a chair as our blues trio conjures up some of the smoothest tunes performing at the Boardwalk BBQ patio
Musical Performances – Various musical duos playing Country and Bluegrass tunes will take the stage at Fireman's BBQ.
DJ Cruz – Knott's resident DJ keeps the night pumpin' with the latest dance hits sure to make you hit the dance floor
History of the Boysenberry – Grab a slice of history in our museum dedicated to the fruit that made it all possible
The Boysenberry Festival is included with admission to Knott's Berry Farm.  Additional costs apply for food tasting experiences within the event. Knott's will have extended hours on select days March  20 – April 19, allowing guests extra time to take advantage of all of the limited-time offerings.