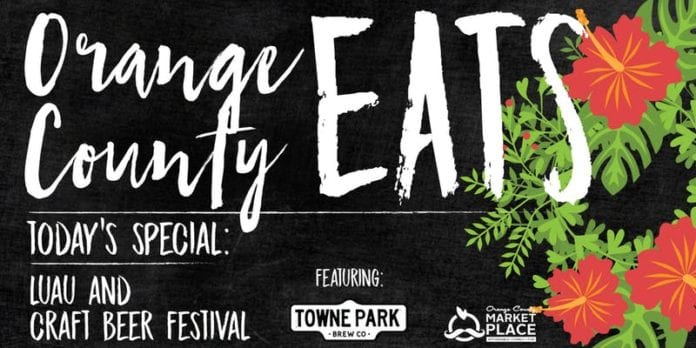 This post contains affiliate links and our team will be compensated if you make a purchase after clicking on the links.

The Orange County Market Place, Towne Park Brewery, Chihuahua, and OC Breweries across the county are joining forces to bring locals the Orange County Eats:  Luau and Craft Beer Festival. The special event will take place in Costa Mesa on Sunday, October 21st. Between the hours of 11AM and 3PM, guests will get the rare opportunity to sample craft brews, Hawaiian inspired fare, and fun games.
During the event, L.A.vation will be on site with a local U2 Tribute band to entertain guests with their musical talents. Sample lanyards will be available for the event for $20, allowing them to taste ten items from a selection of craft beer and ciders. Some of the participating breweries include Towne Park, Kona, Ace, Chihuahua, Golden Road, 4 Sons, and Left Coast. Many more will be on site, giving plenty of options for everyone. The lanyard will come with a souvenir sampling cup, provided by Towne Park Brewery. Guests will also receive a festive lei and pretzel necklace with the lanyard.
The event, along with the OC Market Place is free to the public with a pre-RSVP. You can get your free ticket by clicking the official event link. For those stopping by the day of the event, admission is only $2.00. More information can also be found on the Orange County Market Place Site.