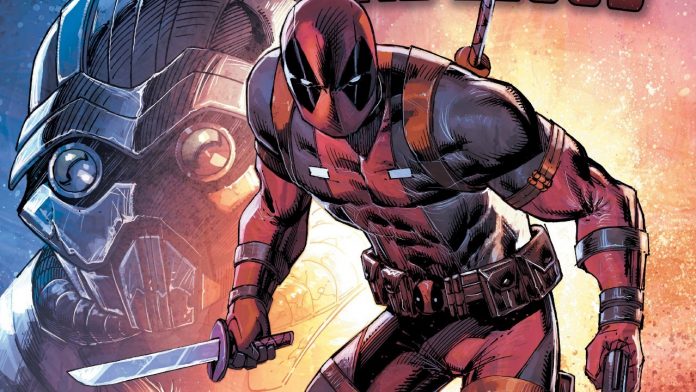 This post contains affiliate links and our team will be compensated if you make a purchase after clicking on the links.

Last week, Deadpool returned in a big way in the new Marvel Original Graphic Novel, Deadpool: Bad Blood, which is not only the character's first original graphic novel, but also the return of the character's creator, Rob Liefeld. The new story was conceived and drawn by Liefeld, is the beginning of the Bad Blood trilogy, and sheds some light in a new way on some of Deadpool's past. To celebrate the graphic novel's new launch, I was on hand at Rob's Q&A and signing at the Barnes & Noble at the Grove, where Rob passionately interacted with his fans who'd come to support his new book.
The most amazing thing about Rob, that became quite clear during the Q&A, is how energetic and full of life he is. Instead of sitting back behind a table, fielding questions, Rob was running around the room with a microphone, talking to his fans, and answering their burning questions. When one fan asked him what it felt like to be a "god amongst men", Rob couldn't quit laughing about it, but the truth is, for many he is someone they look up to. Rob created, arguably, one of the most popular comic book characters ever. That's no small feat, and for him to be so humble and open with his fans still is truly inspirational. Rob then met with everyone fan, one on one, taking pictures and signing their copies of Deadpool: Bad Blood, much to everyone's excitement.
As the evening wound down, I got the chance to interview Rob about his new book, as well as pick his brain on the casting of Cable in upcoming Deadpool 2. You can listen to the full interview below, but here are some of the highlights of what he had to say:
John Wick: Chapter 2's ending had a big influence on how Rob saw his for Deadpool: Bad Blood. He wanted his audience to have the kind of reaction that made them want the next book right away, needing more, not just wanting more.
Speaking of the next book, Rob is already working on the follow up graphic novel, Deadpool: Badder Blood, which will be capped with Deadpool: Baddest Blood, to tie off the trilogy.
The idea of creating a new villain for Deadpool came from the idea that for Rob, Deadpool really never had his own sustainable foe or Rogues Gallery. Many of Deadpool's biggest enemies came from other comic titles. Rob wanted to create a new villain that could really build off Deadpool's past, and become a top tier Deadpool villain.
The new villain, Thumper, comes from Rob's childhood and seeing Bambi. He loved the name of Bambi's best friend, but knew he had to use it as the name of a villain some day.
The idea of Thumper was how a kid who idolized Wade when he was young would become his nemesis.
Rob sees that everything that happened with the Deadpool film happened for a reason, from his first appearance in X-Men Origins: Wolverine, to the 2016 film directed by Tim Miller. He said that the summer after Origins opened, the Donner Production company reached out to him and said they really wanted to get it right, and he knew from there the film was on the right track.
When it came to the casting of Cable, Rob got a kick out of how many actors would throw their name into the ring to get the role. Every day he'd see new names thrown around, and within a day or two, a fully realized concept design of them as his character would pop up online.
When Brolin got cast in the role, Rob was just ecstatic because he's so perfect for the role. "You can cut paper on his chin!"
You can pick up Deadpool: Bad Blood now wherever books are sold!