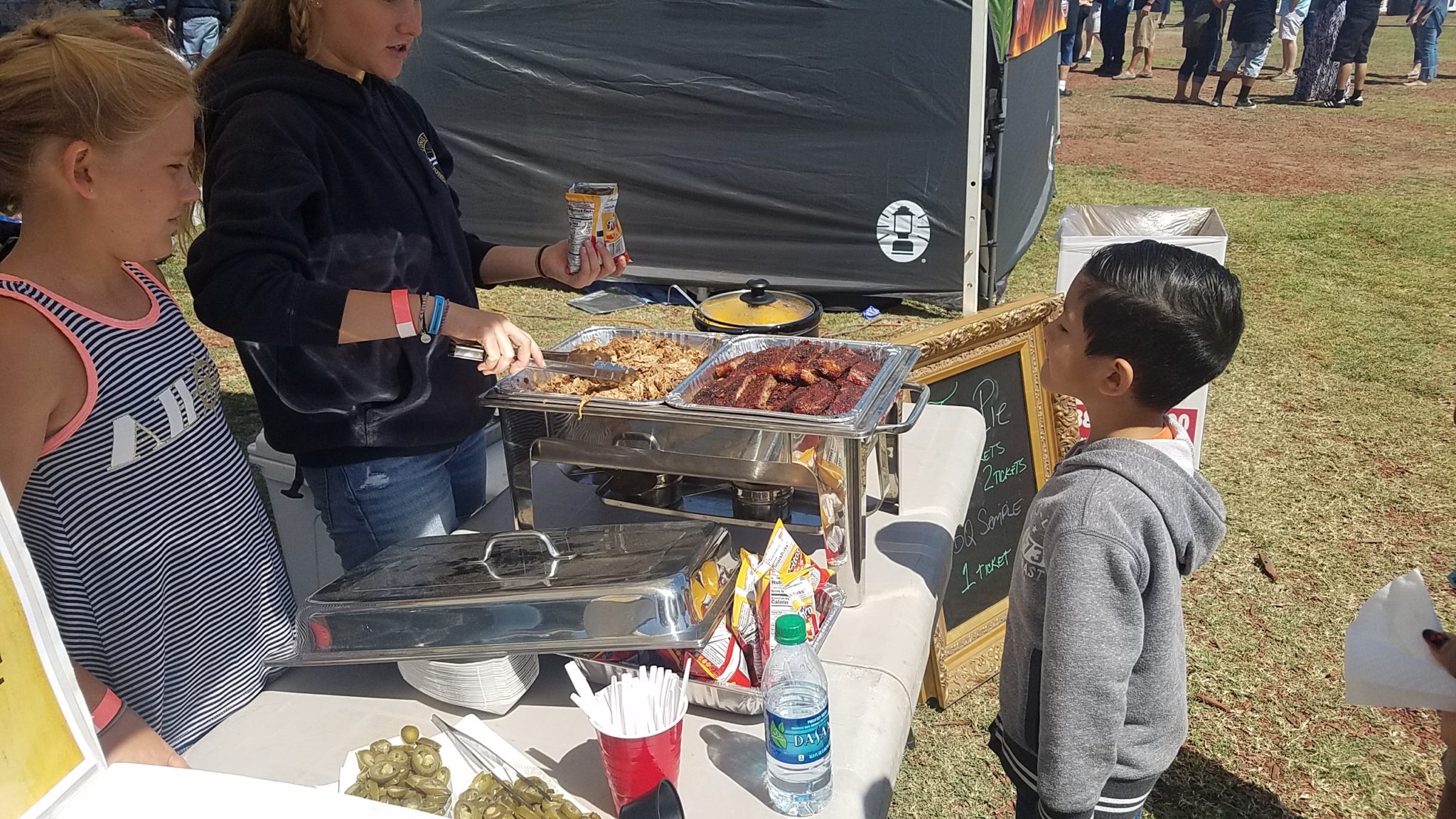 This post contains affiliate links and our team will be compensated if you make a purchase after clicking on the links.

When I was invited to attend the 6th Annual West Coast BBQ Classic at the Queen Mary in Long Beach I jumped at the opportunity. I have enjoyed BBQ in Louisiana, Georgia, Florida, Alabama, California, and Kentucky. Although I would not call myself an expert or an aficionado when it comes to BBQ, I do enjoy a good dry rub and a sassy sauce. I arrived at the Queen Mary Waterfront Events Park ready to tempt my taste buds with amazing BBQ goodness.
After parking, I checked in and received my event wrist band and 5 tasting tickets and headed to the well marked entrance to take on the task of choosing the best BBQ among the 50 master and amateur grillers. The staff were helpful and there were several large maps to guide me around the event grounds. I did wish that the map showed the names of the various BBQ booths placed throughout the two large rings of popup tents and BBQ rigs. The event area was small enough that in the end I did not need the map to guide me as the aroma of pork, brisket, hot links and sauces filled the air.
I decided to walk around the entire event area before choosing which wares I wanted to sample. The area was filled with BBQ experts whose booths bore titles meant to entice the taste buds. With titles like, Outta Gas, The Woodshed, Hickory & Spice, Smoke Hound, and Uncle Al's Smokehouse, I was now ready to sample some smoky goodness.
I first tried the beef rib tips from 'No Fuss BBQ', which is operated by a wonderful group of veterans. These tips were dry and did not add any sauce to them. I was a little surprised at the portion size as at most of the booths required two tasting tickets to sample the goods. The beef tips were enjoyable. The dry rub was just right with the perfect amount of smoke and pepper flavor. I would give them a solid 3 out of 5 stars.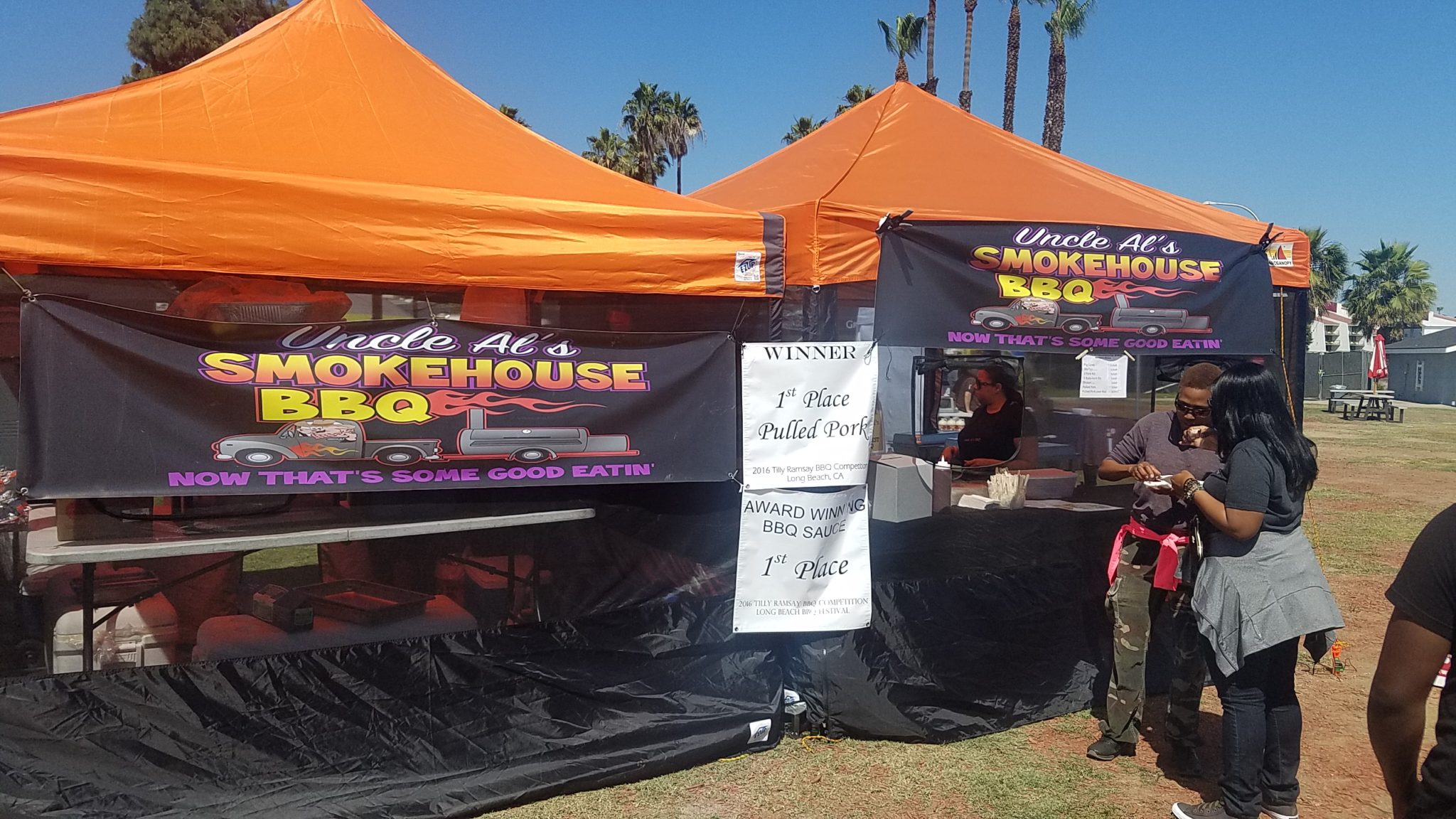 I moved on to 'Qued Up BBQ'. I was drawn in as the daughters of the grill master yelled with the gusto of a carnival barker for me to come and "try the ribs". This booth was one of the most reasonable as it only required one ticket for two of their pork ribs. My taste buds were not disappointed. The ribs were some of the best BBQ I have ever tasted and easily rated a 5 out of 5 stars. I was tempted to que up and plunk another ticket down for these amazing ribs. I decided to move on and tempt my pallet with other offerings.
I realized I was going to need more tickets to be able to get an accurate sampling of the various food items available. I next tried a hot link, which is a spicy sausage. I headed to 'Outta Gas BBQ'. This link was HOT! I am accustomed to spicy food but I found myself haveing to take my time between bites on this one. Rating: 4 stars.
Next I headed to 'The Woodshed' to try something different. I plunked down one of my precious tickets for a generous slice of grilled pineapple. It was a welcome distraction for my mouth as it helped cool my tongue with a sweet and juicy pineapple spear. It is hard to rate a grilled spear of pineapple to slow smoked BBQ but I did enjoy the sweet taste and would rate it 4 out of 5 stars.
I think the biggest disappointment on my tasting tour was the bourbon infused BBQ meatball from BJJBBQ. There was almost no hint of bourbon or even BBQ as I took a bite of the small portion. I decided to move on to the next temptation and leave my disappointment behind. Next up; BBQ beans from 'Smoke Hound' BBQ. They had an amazing zesty tast with just enough sweetness to pair with the BBQ sauce. A solid 4 star rating here.
It was on to an independent booth that had no fancy name but the only grilled corn on the cob at the whole festival. Slathered with butter and a light coating of seasoning salt I quickly demolished the tasty treat. No rating here since it is hard to ruin corn on the cob, but it was good! I decided to save desert for last. Nothing fancy, just Ice Cream made on the spot using liquid nitrogen at the 'Creamistry" booth.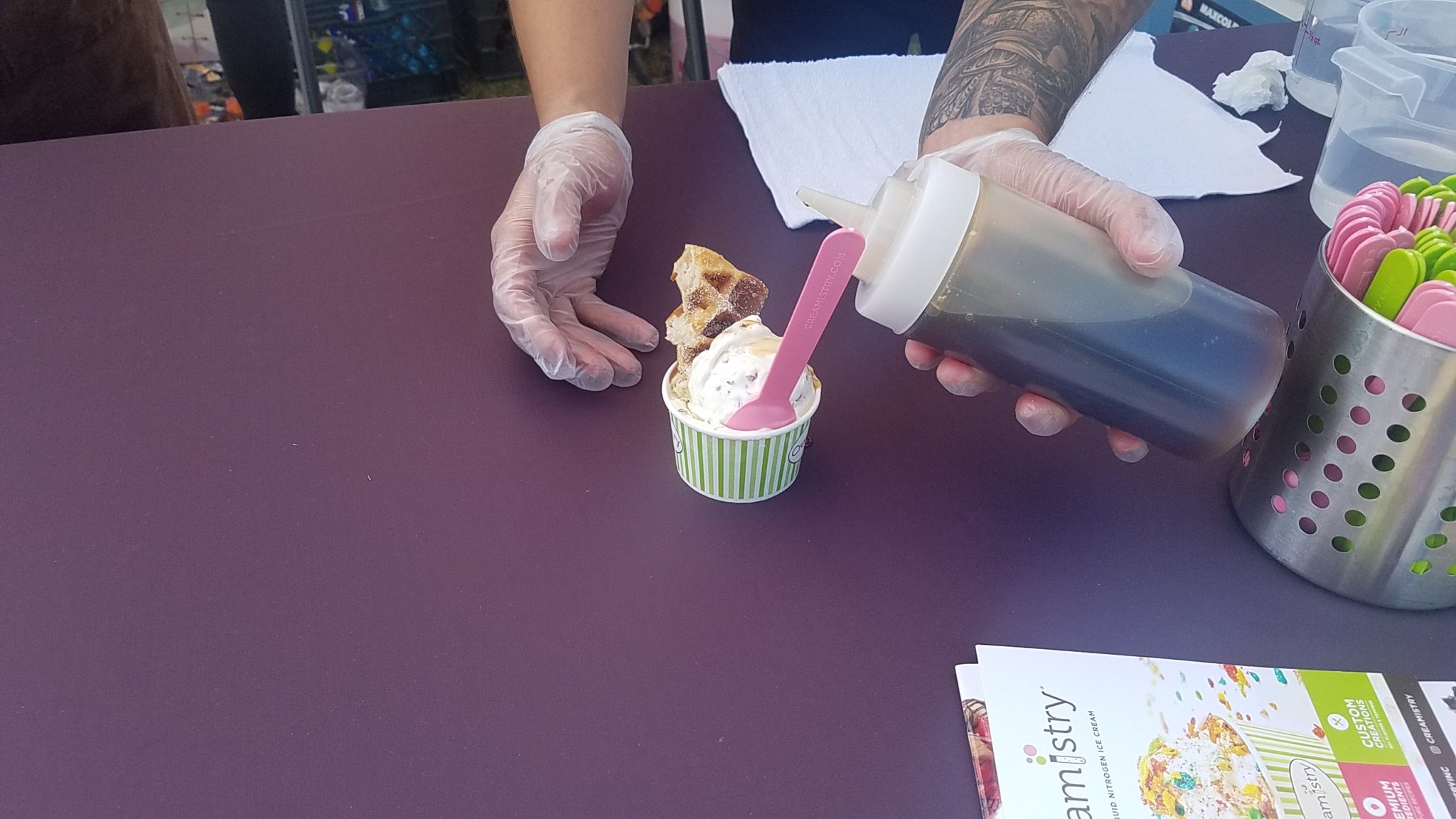 I have to admit I was amazed at how good the maple and bacon ice cream tasted. It was creamy with an abundant amount of bacon and maple syrup. It was a great end to my tasting tour.
There was more than food at this festival. There were two watering holes(bars), and of course the obligatory VIP lounge area which was lined with comfy couches with an amazing view of the harbor. There was also a play area for the kids, a DJ spinning current tunes, and a stage for the stream of country music artists that played throughout the afternoon.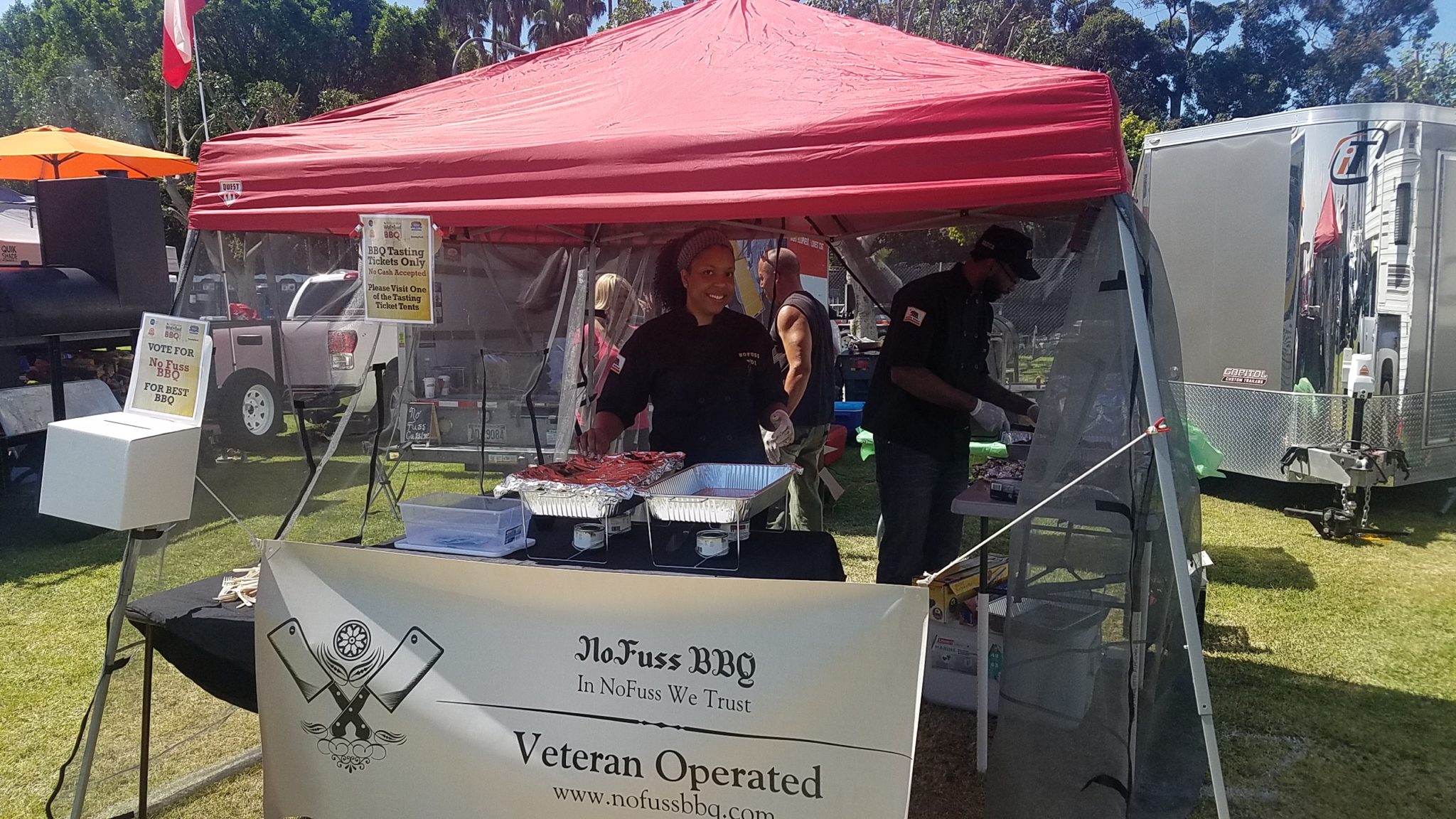 As I wrapped up my day at the 6th Annual West Coast BBQ Classic it was clear that I had stuffed myself with some amazing BBQ and the time had come to cast my vote for the 'Peoples Choice' award. I cast my vote for 'Qued Up's amazing ribs. If you love BBQ., I highly recommend that you save the date for next year's 7th Annual BBQ Classic.