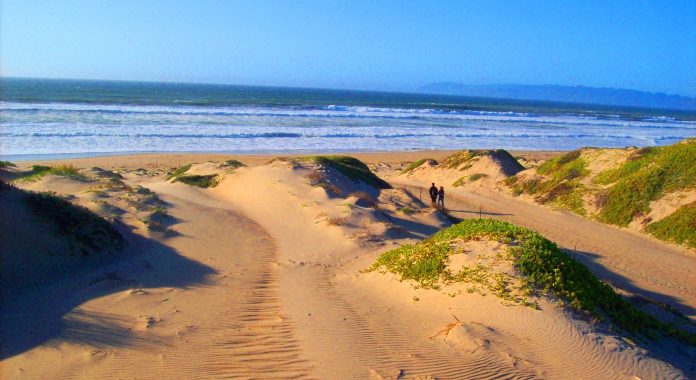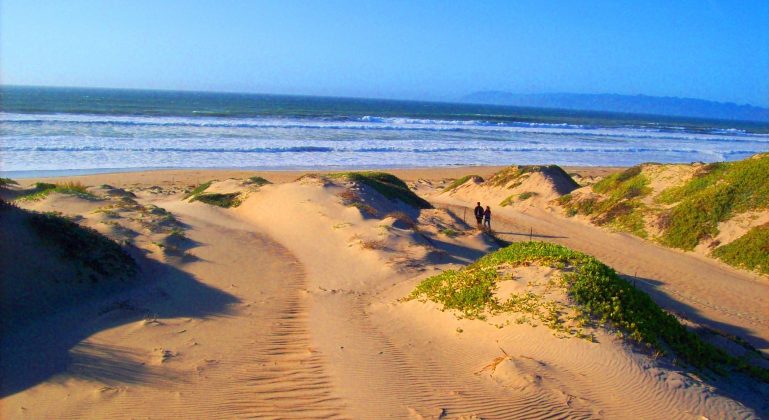 This post contains affiliate links and our team will be compensated if you make a purchase after clicking on the links.

I didn't drive to Santa Maria with the Radisson Hotel in mind. I went to see unique Californian sand dunes, to eat at a historic steakhouse and to sample local wine. But after checking into a room located a few yards from a runway full of small airplanes, the hotel became a surprising highlight.
When not watching planes take-off and land from my room (I couldn't hear them because the hotel is well insulated), my friend and I were busy exploring Santa Maria Valley's more popular attractions. One of our favorite discoveries was the legendary Guadalupe-Nipomo Sand Dunes (www.dunescenter.org), home to 19 miles of the largest, most bio-diverse coastal dune-lagoon ecosystem on earth.
To make the most of our visit, we started at the Dunes Center in the city of Guadalupe. Here, inside a beautifully restored craftsman house / visitor's center, we joined an expert guide, who led a group of us on a hike into the 22,000-acre park.
During the tour, the guide showed us the spot where the silent movie classic "The Ten Commandments" was filmed in 1923. Today the remains of the movie set are eerily buried in fluffy sand hills, with only a few artifacts visible. The dunes were also featured in the movie "Pirates of the Caribbean III," which starred Johnny Depp as Capt. Jack Sparrow.
Our next stop was Oso Flaco Lake. The tour of this area begins with a walk through a riparian forest teeming with Arroyo willow, cottonwoods, ox tongue and twinberry, as well as poisonous hemlock, stinging needles and poison oak. While investigating the plants, we saw pack rat nests built in trees and ran into a few cute raccoons looking for scraps.
The lake has been called Oso Flaco, meaning "skinny bear," ever since 1769 when Gaspar de Portola's expedition passed through. The reason for this is attributed to a fateful meal shared by the explorers. The group saw, shot and subsequently ate a skinny bear they had seen on the shores of the lake. By the next day, several of the men had died.
At the banks of the natural, fresh water lake we stepped onto a serene wooden footbridge leading to the ocean. While on the bridge we saw ducks, swallows, American coots, cormorants and herons. We also saw large footprints in the sand left by roaming bobcats.
After touring the Dunes, we drove to the nearby town of Orcutt for an unforgettable dinner at Far Western Tavern (www.farwesterntavern.com), a 50 year-old local establishment known for juicy steaks and fresh seafood. The restaurant serves contemporary California ranch cuisine inspired by local traditions. It is recognized as a landmark of Santa Maria Style Barbecue, a renowned regional fare rooted in native ingredients and methods that were first popularized by 19th century rancheros.
The Far Western Tavern was established in 1958 by the Maretti family. Originally located in the historic Palace Hotel building in the town of Guadalupe, the Far Western Tavern quickly became a hometown favorite, attracting locals and visitors alike with its legendary fare and welcoming ambiance. Today the restaurant has its home in a beautiful building in Old Town Orcutt.
Our Far Western dinner began with a Tumbleweed Shrimp appetizer with crispy pastry threads and lemon aioli, and a house salad. For main courses I went with the restaurant's signature Bull's Eye, a deliciously tender, boneless rib eye steak, with generous marbling. My friend enjoyed a half-rack of succulent baby back ribs, with citrus and sherry wine glaze. On the side we added a side of Mac N' Cheese Relleno, with roasted pasilla, three cheeses and guajillo sauce.
In the morning, we watched planes come and go from our room and then went wine tasting at Riverbench Vineyard and Winery (www.riverbench.com), located along Foxen Canyon Rd, in the heart of Santa Maria Valley wine country. Specializing in Chardonnay and Pinot Noir, the 300-acre winery features a unique tasting room located inside an historic 1920s Craftsman house.
Riverbench Vineyard was established in 1973, when the first Chardonnay and Pinot Noir grapes were planted on the bank of the Sisquoc River, known as the Santa Maria Bench. Since then, some of the most renowned wineries have purchased Riverbench fruit for their wines.
For more information on visiting Santa Maria Valley, visit www.santamaria.com. For information on staying at Radisson Hotel Santa Maria, visit: www.radisson.com/santamariaca