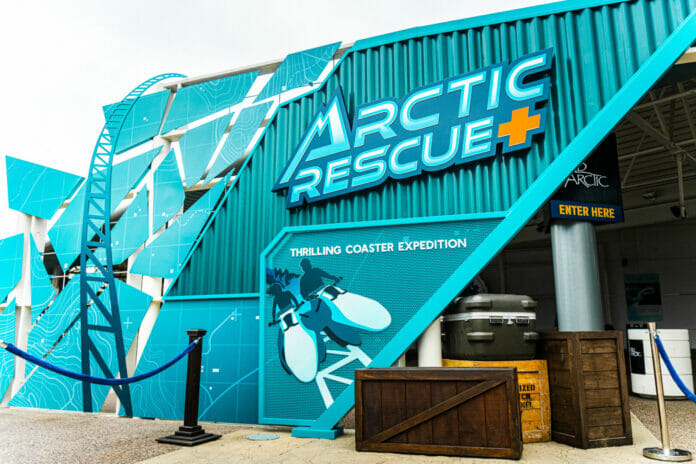 This post contains affiliate links and our team will be compensated if you make a purchase after clicking on the links.

Regarded as the longest and fastest straddle coaster on the west coast, the all-new Arctic Rescue family thrill coaster is now open at SeaWorld San Diego. Park guests are enlisted by the SeaWorld Rescue Team to aid struggling wildlife in distress at the Wild Arctic habitat. Teams are equipped with snowmobiles capable of three launches upwards of 40 mph, reaching heights of 30 feet, and following 2,800 feet of track. Manufactured by Intamin, riders sit in eight rows of two people for a total of 16 people per train. With a 48-inch height requirement, this family-friendly launch coaster packs in an exhilarating punch to the growing lineup of roller coasters in the San Diego park.
Arctic Rescue Entry Photo Gallery
Although other recent additions such as Electric Eel and Emperor can be overwhelming for most visitors to this zoological theme park, Arctic Rescue is an excellent addition to welcome and offer new and younger audiences a steady path to those bigger and higher thrills. At first glance, many may make immediate comparisons of the newest roller coaster offering to the Manta Coaster located on the other side of the park.
Manta features overhead lap bar restraints, speeds of 43 mph, a 54-foot drop, and snuggles riders inside comfortable seats with full back and headrests while allowing dangling feet. Arctic Rescue has riders lower down into a straddle position, legs apart inside feet rests, and a lap bar restraint that lowers in front of you. With this seating configuration, there's no need to constantly lean forward like in other motorbike launch coasters found in other theme parks.
Think Disney's TRON: Lightcycle / Run and Knott's Pony Express with their backseat restraint, and think more of Universal's Hagrid's Magical Creatures Motorbike Adventure. With Arctic Rescue's seating design, riders have the ability to lean into wild turns weaving side-to-side at dramatic twists and curves.
Lockers and Corridor Photo Gallery
SeaWorld has similar ride experiences with Intamin's motorbike family launch coaster design in other properties. Jet Rescue opened in Australia in 2008. Wave Breaker: The Rescue Coaster opened in San Antonio in 2017. While both share a jet ski ride vehicle approach, all three share an animal rescue storyline that impacts wildlife. In case of Arctic Rescue, it is a spiritual successor to the jet helicopter motion simulator that previously offered a ride experience before reaching the Base Station Wild Arctic animal exhibit.
Nods to the retired attraction can still be spotted with the jet helicopter sitting on a landing pad in Arctic Rescue's ride path alongside yellow caution signs, wayfinding signages, metal arch cover, billowing wind sock, waving flags, and minimal landscaping. The load station is even named Mission Outpost 97. Most likely a nod to the 1997 opening year of the previous ride occupant.
The station features a charming overhead lighting fixture with an aurora borealis – like effect giving riders a sense of immersion in freezing temperatures that can be found in an Arctic climate. Like its predecessor, Arctic Rescue exits into the Wild Arctic animal encounter. But not without passing a view of your ride photo and lockers for storage of loose belongings before entering the ride.
Load Station and Ride Vehicle Photo Gallery
A ride or animal exhibit would not be complete without a merchandise line to commemorate and retain the memories upon your visit. SeaWorld offers an assortment of hats, shirts, mugs, tumblers, magnets, and stickers for Arctic Rescue's opening season. In addition, a new alcoholic beverage will debut on the ride's opening day.
The new Arctic Rescue Hard Seltzer is a custom-made seltzer created by Hess Brewing. It is a delightful fusion of real juicy raspberries and tangy lemonade, creating a harmonious balance of sweet and tart flavors. This blue-colored liquid concoction will get you revved up for any sub-zero adventure.
Merchandise and Drink Photo Gallery
Arctic Rescue is only the beginning of an exciting summer 2023 season at SeaWorld San Diego. The open-air Bayside Amphitheater will debut a swashbuckling new pirate and mermaid-themed stunt show titled Pirates Ahoy: The Battle for Mermaid Cove. In light of the opening of the Sesame Place San Diego theme park, the Sesame Street area inside SeaWorld San Diego is being converted to SeaWorld Rescue Jr. And Shipwreck Reef Café is getting some much-needed TLC in preparation for a busy summer season.
Coming Soon Photo Gallery
Arctic Rescue is now open at SeaWorld San Diego. For more information, download the official app and/or visit their website at https://seaworld.com/san-diego/