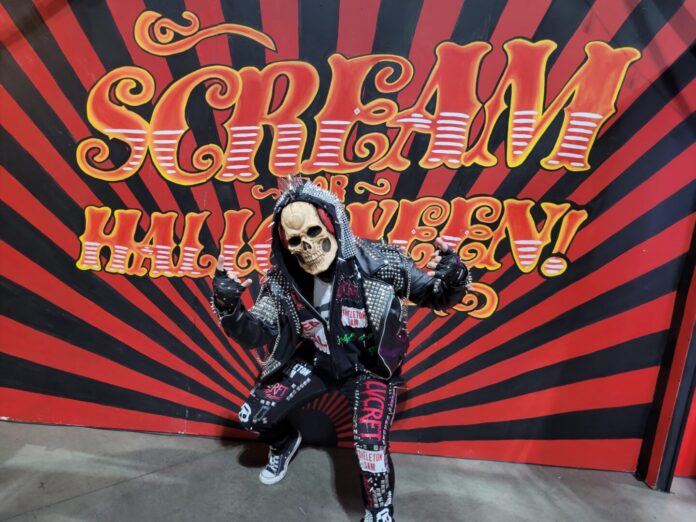 This post contains affiliate links and our team will be compensated if you make a purchase after clicking on the links.

Midsummer Scream rises to full glory with horror creators and consumers basking in the splendor that is Halloween. The event was held on July 28-30. Exhibitors, decorations, costumes, announcements, scare mazes, trinkets, and the like made their return and debut in one of the country's largest Halloween and horror conventions calling Long Beach its home away from home. A beacon of fall colors in the middle of one of the hottest summers on record.
Attendees found a plethora of horror supplies and novelties to quench the thirst of any horror and Halloween fandom. Everything from original artwork, masks, makeup, fog machines, jewelry, clothing, figurines, sculptures, candles, prints, stickers, sweet treats, bags, purses, tiki mugs, lamps, and so much more to see and do. The temptation is immeasurable.
Show Floor and Exhibitors Photo Gallery
The weekend was filled to the brim with sights and sounds enough to satisfy any horror fan until the real screams come alive once more in autumn. Major haunt exhibitors make a triumphant return from their noticeable absence last year. Major players such as 13th Floor Productions (LA Haunted Hayride, Shaqtoberfest, Delusion, and Magic of the Jack O'Lanterns), Knott's Scary Farm, and Six Flags Fright Fest made their presence known on the show floor with alluring photo op backdrops and costumed performers.
Attendees also came in their own fantastic garments to show off their love for the spooky season. Try your hand at spinning a wheel or tossing a bean bag to win discounts and free tickets to haunt experiences and axe throwing. Best of luck solving an escape room game before time runs out.
Major Exhibitors Photo Gallery
The SAW movie franchise made its return with its new prequel coming to theaters. An experience was set up with props and costumes from the new movies, including a new trap and photo op.
Another horror movie, The Boogeyman (2023) also offered a dark experience to break the curse. Actor David Dastmalchian was also in attendance. But not as an actor promoting any screen projects due to the SAG-AFTRA strike against Hollywood. The actor was at Midsummer Scream for his Dark Horse comic book, host for the 13th Floor panel, and above all else, as a horror fanatic.
THE BOOGEYMAN arrives on Digital on August 29 and on Blu-ray and DVD on October 10.
In fact, attendees can often be treated with a meet and greet from their favorite celebrities at their booths taking pictures and signing autographs. Big draws this year were actors from "Halloweentown" and "The Lost Boys". A unique activation enlisted willing participants to search the Long Beach Convention Center for specially marked apparitions to perform tasks and collect cards in order to complete the challenge. Workshops provide instructions and hands-on courses in making tombstones. Zombie Joe's Underground Theatre proved popular with performance art from strange and unusual to dark and dirty. Other forms of entertainment featured drag, fashion, musical parody, stand-up comedy, film festivals, and podcasting.
Haunt Exhibitors, Costumes, and Experiences Photo Gallery
Family fun affair is also thrown into the mix. A walk-thru art exhibit celebrated Día de Los Muertos in colorful blacklight. The Black Cat Lounge provided a space to admire and cuddle with furry felines ready for adoption. Magic and puppet shows in a dedicated children's space were on the main show floor.
Saturday evening ended with an after-dark party with a dance floor, live DJ, bars, games, costume contest, and a 20-minute show all engulfed around the theme of a slumber party. The show is a fun addition to this year's party that plays true to the evening's theme and should return in some capacity every year.
Fun and Fancy Photo Gallery
Hall of Shadows lures patrons into the darkness for extra spooky thrills. A highlight of the show takes residence in the back half of the main show floor. Many returning attendees look forward to the themed entrance which changes every year. This year features the role-playing game world of Dungeons and Dragons. Beyond the sword-wielding monster that talks back at you wait for a graveyard, a pumpkin patch, a pizza truck covered in killer dolls, and ghoulish sliders.
This is where small scaled professional haunts showcase their talents with just a taste of the scares yet to come for the Halloween scare season. Most are locals to the Southern California area. But this year the haunt has grown to reach as far as Denver, CO! You may discover a haunt closer to your location compared to major players in theme parks, Los Angeles, or the Queen Mary. Everyone has a creative angle and unique flavor to distinguish them from the rest.
Hall of Shadows Photo Gallery
Major players in the Southern California haunt scene at Midsummer Scream take the stage to excite the audience with who they are and what they do best.
13th Floor Entertainment Group announced the return of LA Haunted Hayride to the town of Midnight Falls and its 1980s undead residents. Monte Revolta and his Band of the Living Dead is a music concert highlight with their covers and thematic play. A new seating configuration for the wagons should mean less sitting on the loose hay. The monster neighborhood of Trick or Treat has more candy to pass out. Remember to ring those doorbells. Updated features are expected at Midnight Mortuary: Scorched Remains.
The 2023 season is Hellbilly Halloween. With that being said, the "new" maze from the previous season was essentially a couple of old mazes put together with a new facade. So more of a revitalized concept than an entirely fresh offering. With 2023 being the last season Phillips Mansion in Pomona will be used, the interactive story experience "Delusion: Nocturnes and Nightmares" will be an accumulation of highlights from past stories.
Last year's debut of Shaqtoberfest proved to be enough of a Halloween Festival success that 2023 will excitedly take on a maze INSIDE the Queen Mary ship. Dark Harbor is still fresh in many haunters' memories, so there is a lot to live up to. 13th Floor Entertainment Group is also bringing the light show of pumpkin carvings to Whittier Narrows with "Magic of the Jack O'Lanterns".
Winchester Mystery House turns a new chapter on its 100th anniversary. In addition to the 100 Years of Mystery exhibition, "Unhinged: Housewarming" adds more mystique with a lavish garden party, immersive story elements, and Halloween Museum. They even brought a sample of scares to come in the Hall of Shadows on the main floor of the convention.
Major movie studios participated in Midsummer Scream 2023. A game changer that sets the bar up again for this growing Halloween and horror convention. 20th Century Studios presented "The Boogeyman Experience" inspired by the horror movie of the same name released in June of this year. The promotion for the physical and digital release had participants find objects in a dark bedroom in order to break the curse.
Lionsgate Films made its "SAW X" debut in with a new movie trailer release for the prequel film in the long-running film franchise. PLUS an exclusive clip from a scene from the movie that shows exactly how the newest trap works as featured in the promotional materials. A panel discussion for long-time fans included the new movie's producer and editor. An exhibit on the show floor displayed authentic props and costumes from the movies.
Haunting Experiences Photo Gallery
The biggest draw for panel discussions at Midsummer Scream will forever be from the major theme parks of the Southern California region. Players such as Knott's Scary Farm, Six Flags Fright Fest, and Universal Studios Hollywood Halloween Horror remain stables for haunt fanatics.
Knott's Scary Farm treated fans of things to come. The panel paid tribute to its past and its first host, Seymour, The Master of the Macabre with images and recently uncovered film footage. A new 50th-anniversary history book of Knott's Scary Farm will debut with the new Legacy Haunt Store & Museum in the Emporium store. Many concept arts of the store, seasonal decorations, and merchandise were on hand including clothing, pins, "Scary Farm-opoly", Loungefly bag, and an interactive lantern. A new character host inspired by Seymour made his debut called "The Keeper".
Six Flags Fright Fest continues to amuse guests with the incredible talent of make-up artists and performers. Celebrating their 30th anniversary comes a new character making their debut over the weekend "Nightmare". The City Under Siege filled with scary clowns make their return to the DC area of the park. Expanding the kid's offering is Boo Fest with Willoughby the Bat as host. "Scream Break" during the Spring Break season will make a return. The biggest announcement to come out was not only one but TWO mazes will be based on horror movie franchises. Get ready, folks, The Conjuring AND SAW X will be in Six Flags Fright Fest 2023!
The best was saved for last with Universal Studios Hollywood Halloween Horror Nights. "Monstruos: The Monsters of Latin America" brings more scary Latin American stories to life after the successful reception of originals like La Llorona and El Cucuy. The new maze will feature three infamous monsters from Latin American myths and legends. Tlahuelpuchi, la lechuza, and el silbón. John Murdy and his team do extensive research in bringing these characters to life in intimidating environments.
The grave digger "Muerte" will be your guide. In addition, the scare zone "El Terror de las Momias" brings more Latin American cinema influence. Continuing the legacy of bringing Universal Monsters to scare maze life comes "Unmasked". Coinciding with "The Hunchback of Notre Dame (1923)"'s 100th anniversary, Quasimodo, The Phantom of the Opera, The Invisible Man, and Dr. Jekyll and Mr. Hyde will be featured in this new maze under the city and within the catacombs of Paris, France. And what's a Universal Studios Hollywood maze without the music of Slash?! The soundtrack was gloriously played for Midsummer Scream attendees.
Theme Park Haunts Photo Gallery
Midsummer Scream 2023 certainly was a milestone achievement compared to the previous year. With major movie studios now in the game, the bar has been raised yet again. Which also means bigger crowds and congested hallways, particularly between panels from the Grand Ballroom. If the convention wishes to remain in Long Beach, more space needs to be rented or a new location may have to be considered. But growth is healthy and Midsummer Scream has satisfied the summer thirst for thrills and chills.