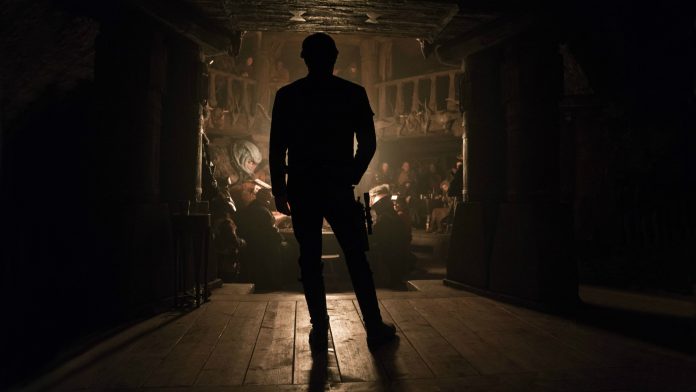 This post contains affiliate links and our team will be compensated if you make a purchase after clicking on the links.

Punch it to a new level, as Solo: A Star Wars Story brings the Millennium Falcon home in a stunning Blu-Ray collection chalked full of fun surprises, in depth features, and extended scenes. The collection has over an hour of additional footage, giving you an intimate overview of the project from start to finish.
Starting in its earliest stages, Solo was a labor of love and this collection reaffirms that in true Star Wars fashion. Viewers get the opportunity to peek into the minds of Larry and Jonathan Kasdan through their struggle at bringing the film's story to life. It's a tale of Star Wars, but also of family. For both father and son, the connection to the space saga is strong, but in drastically different ways. Having two differing approaches proved intriguing when watching the feature, as it aims deeper than fan service and gives you a stronger appreciation for not only the Kasdan legacy, but what it truly means to be Han Solo. For any aspiring screenwriter or movie buff, it's a touching reflection worth watching.
Moving beyond the page, what makes Star Wars so iconic is the melding of cutting edge special effects with practical film magic. Solo is no exception to the rule, bringing in the best of both worlds to create a balance of old school film trickery with state of the art digital work. One of the best examples of this comes directly from the cockpit of the Millennium Falcon. Previous filming with the iconic ship relied on green screen matting and pure imagination during shooting. Rather than stick to the past method, ILM punched things up a notch, creating a fully immersive film screen environment for the actors to interact with in real time. Every scene was shot with real reference footage, including Lightspeed. It's innovative, fresh, and one hundred percent ILM magic.
Though, their work doesn't stop there, as the features list pours over the use of complete practical sets, on location shooting, unique sound recordings, and an expansion on Wookie vocal range. From start to finish, there's a lot to learn and appreciate behind the scenes. Regardless of how you may feel about the new era of Star Wars, it's a great reminder that the traditional film making still is alive and well at Lucasfilm. It's a fun ride!
Here's a look at the complete list of features:
Solo: The Director & Cast Roundtable
Sit down with director Ron Howard and the stars for an intimate and entertaining discussion of the film's making.
See what it takes to bring your favorite Wookiee to life in this lighthearted look behind the scenes.
Kasdan on Kasdan
Iconic Star Wars screenwriter Lawrence Kasdan and son Jonathan share what it was like to write the movie's script together.
Remaking the Millennium Falcon
Track the transformation of the most famous ship in the galaxy, from Lando's swank and impeccable pride and joy to Han's stripped-down hot-rod freighter with "special modifications."
Escape from Corellia
Get behind the wheel for the making of this high-octane chase through the streets of Corellia.
Explore the challenges and thrills of creating this action-packed sequence, including its remote location and spectacular effects.
Meet the newest droid—and the talented actor who helps bring her to life.
Scoundrels, Droids, Creatures and Cards: Welcome to Fort Ypso
Take an in-depth tour of the rough-and-tumble bar where strangers mix and gamblers risk all in the legendary card game, Sabaac.
Into the Maelstrom: The Kessel Run
Join Han and Chewie at the controls of the Millennium Falcon to see how this legendary moment in Star Wars history unfolds.
o   Proxima's Den
o   Corellian Foot Chase
o   Han Solo: Imperial Cadet
o   The Battle of Mimban: Extended
o   Han Versus Chewie: Extended
o   Snowball Fight!
o   Meet Dryden: Extended
o   Coaxium Double-Cross
You can pick up your copy of Solo: A Star Wars Story at most major retailers, though special limited edition copies will be available from Best Buy and Target in limited quantities. To learn more about the movie, make sure to check out our complete movie review!