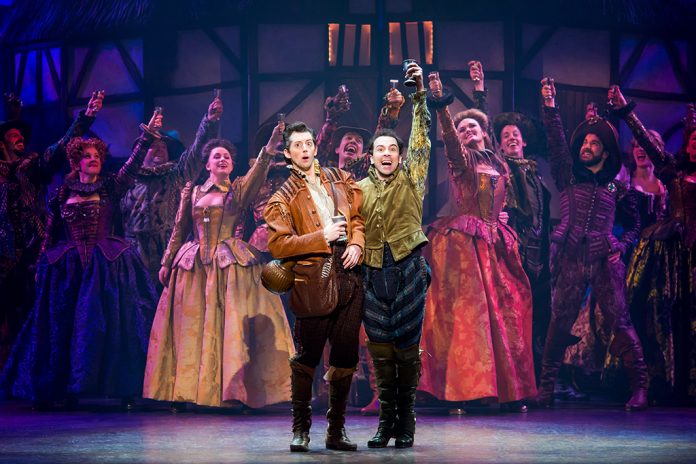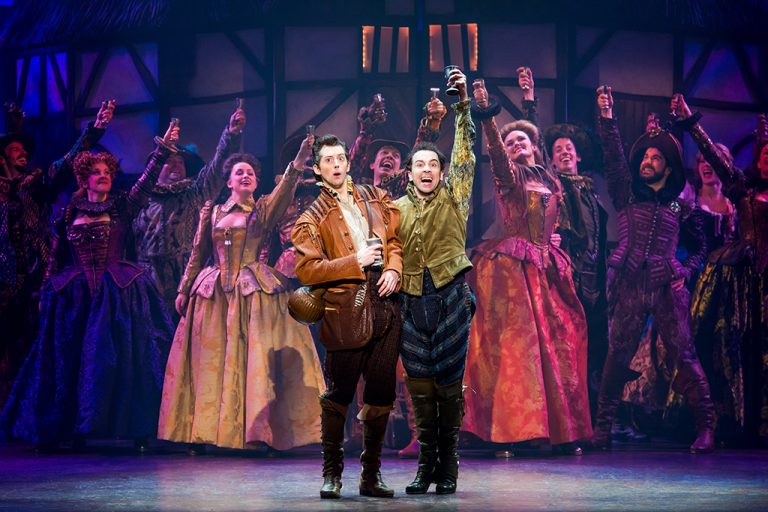 This post contains affiliate links and our team will be compensated if you make a purchase after clicking on the links.

The unequivocally outrageous and hilariously unapologetically over-the-top Broadway smash hit that is "SOMETHING ROTTEN!" has made its debut in Costa Mesa at Segerstrom Center for the Arts. Let's cut to the chase;  There isn't much more that needs to be said other than it is no wonder why this relatively new show is already so well-loved. If you are looking for a well-rounded musical that will make you laugh nonstop, lets you forget about the real world, and never takes itself too seriously, "Something Rotten!" is your show!
"Something Rotten!" could be described as "Forbidden Broadway" crossing paths with "Spamalot" and a PG-13 rated "Book of Mormon" and then having a love child with every single famous musical from recent memory! This ode to Broadway musicals, regardless of style, is an onstage tribute to all off them. At times it teases the absurdness of the very concept of a 'musical' and other times places it front and center on a pedestal, cherishing everything about them.
Taking place in the '90's… the 1590's, the show follows struggling playwrights Nick Bottom (Rob McClure) and brother Nigel (Josh Grisetti). The Bottom brothers, you can see how easily the jokes will come, are finding it difficult to compete with the already infamous Shakespeare (Adam Pascal, "Rent"). Nick quickly figures out that he must do something inventive to gain England's public interest, so he seeks mentorship from a cooky soothsayer who may be a little off with his predictions of the future.
Taking his new found ideas back to his troupe, Nick finds difficulty in convincing his cast and crew in his silly new concept… but he continues to pursue it as he encounters other challenges with his brothers new love interest, lack of money and backers for the show, and a wife at home that's trying to be seen as an equal (in the Renaissance era).
A collaboration between the Kirkpatrick brothers and John O'Farrell, "Something Rotten!" is also choreographed and directed by Casey Nicholas ("The Book of Mormon" and "Aladdin").  With his direction alongside songs to such songs as "Welcome to the Renaissance", "God, I Hate Shakespeare", and "Make an Omelette", it should come at no surprise the style of humor at hand.
Keep in mind, the entire first Act is practically just bashing Shakespearean plays, in an intelligently comical way, but make no mistake, it knows where to poke fun without truly discrediting the amazing work of the best-known playwright of all time. In fact, there are countless subtle nods to Shakespeare workings that will fly over many heads, most notably mine as well.
Combining some slapstick and childish low-brow humor with brilliant wittiness and insider jokes for musical fans, "Something Rotten!" finds a niche for a clever yet light-hearted theater-going experience.  Finding ways to give nods to such fan-favorites like "Les Miserables", "Phantom of the Opera", "Wicked", "Chicago", "Evita" and "Rent" to just name of few, Casey Nicholas is still able to create an entertaining show for those that might not be as familiar with the 'inside jokes'.
While much of "Something Rotten!" has elaborate period specific (though not entirely period accurate) costumes, the look and feel has a romanticized modernized stylized flair including a comedic contemporary look for Shakespeare that reminds me of the self-aware Robin Hood: Men in Tights. Even though the choreography is great and the production the highest of quality, he show does not take itself seriously, and I mean that in the best way possible.
With a talented well-established cast, this production ends without a flaw in the acting department. The Bottom brothers are nothing short of fantastic. McClure has phenomenal stage presence and could carry the show without issue. Grisetti (original Broadway cast) playing his dorky hopelessly romantic brother has perfect comedic timing and characterization.  This paired well with his love interest Portia (Autumn Hurlbert) who seemingly would be a perfect Kristin Chenoweth replacement as Glinda in "Wicked". The supporting cast, while all great, has some notable additions. Brother Jeremiah, a flamboyant Puritan leading crazy man, was brilliantly played by Scott Cote. Probably getting some of the best laughs in the entire show, Cote killed it and I loved how much they played him up. Some gags grew a little tired, but at no fault to the actor. Norstradamus, the fortune-telling soothsayer, was the best comedic character, and brought the house down with "Musical", the show-stopping number of the show.
"Something Rotten!" is just outrageous fun at the theatre that will have you cracking up all the way home.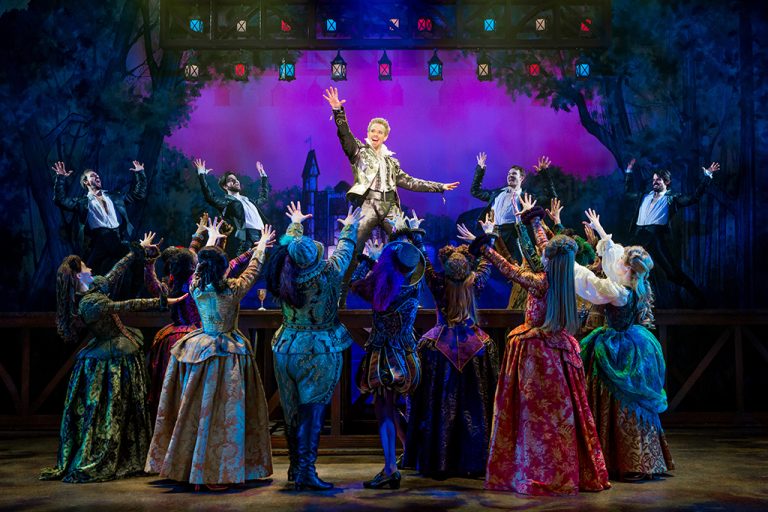 Those seeking the show just for Adam Pascal, this is your friendly reminder that his role should be considered as an "also starring" type of role. While Shakespeare is no doubt a vital character, his character has no redeeming qualities. This Billy Idol like portrayal can be annoying at times and left Pascal without a chance to shine himself. His number "Will Power" seems unnecessary and becomes a bit of bore after the initial gag of the song wears off. Again, no fault to the actor, but just seems like just an excuse to cram in solo for Mr. Shakespeare.
It's a show made for pure entertainment and give a little nod to the musicals we all cherish. The show is in no way attempting to be something its not, but is able to still be a top-notch production with a traditional, glamorous production purposely designed to celebrate classic Broadway. Sure, there is some further plot and subplots that when overly thought about may make them seem unnecessary, but ultimately, "Something Rotten!" is just outrageous fun at the theatre that will have you cracking up all the way home. That's all that matters in this case.
"Something Rotten!" is now playing at Segerstrom Center for the Arts through Sunday, 11/19.
Visit SCFTA.org for more information.