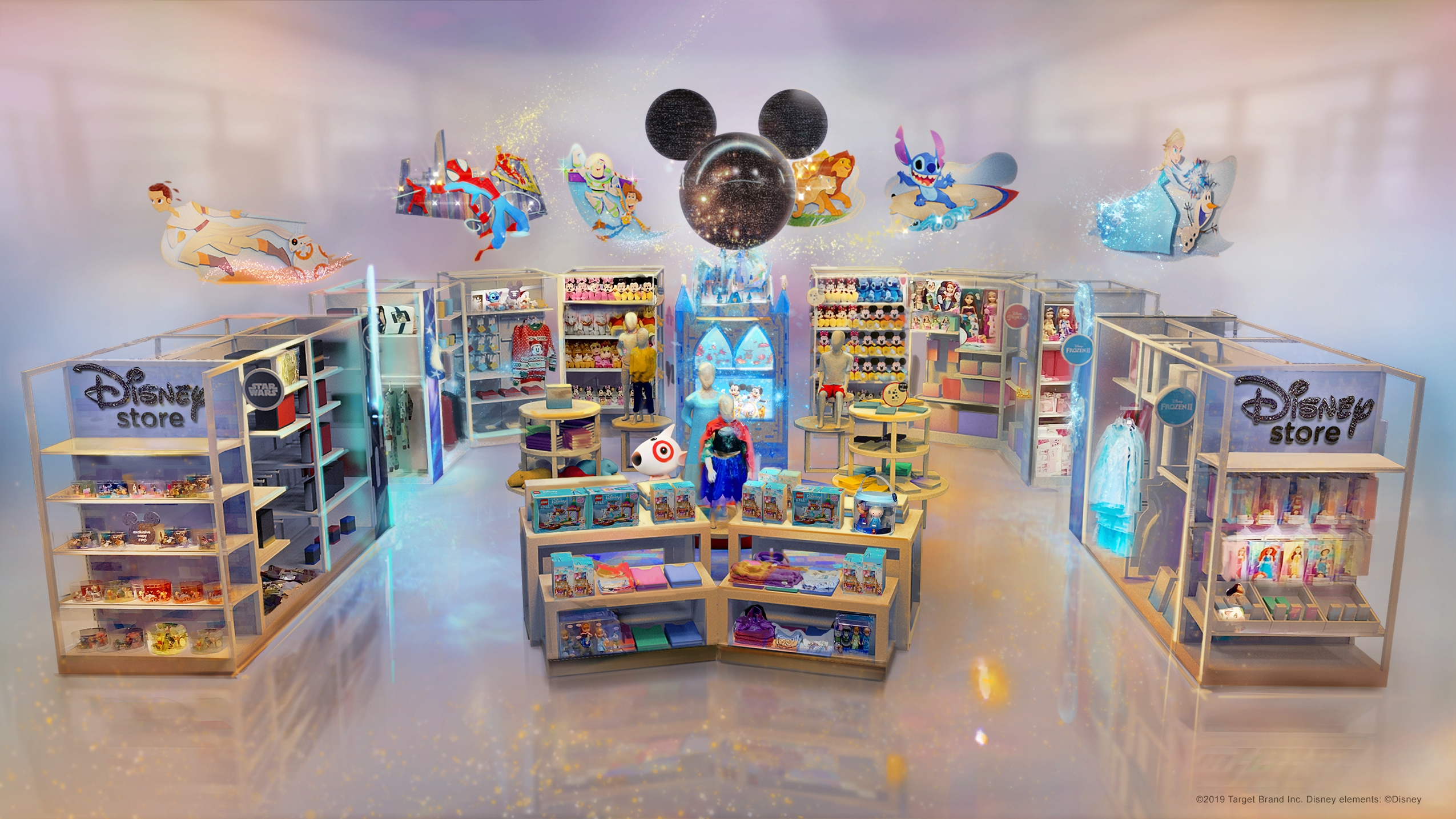 This post contains affiliate links and our team will be compensated if you make a purchase after clicking on the links.

Target and Disney announced a creative retail collaboration to help bring the magic of Disney to the joy of shopping at Target at this year's D23 Expo.
This new collaboration encompasses experiential retail and merchandising including the launch of 25 Disney stores within select Target stores nationwide on Oct. 4, with 40 additional locations opening by October 2020. Guests will find an all-new, Disney focused the digital experience on Target.com which is available now. Additionally, a new Target store will open at Flamingo Crossings Town Center at the western entrance of the Walt Disney World Resort in 2021 to bring the convenience of Target shopping to Disney park guests. Target and Disney share a strong guest overlap with a focus on families.
Disney and Target worked closely to co-develop and design an experience that will bring the magic of Disney store to Target guests in new and unique ways while extending the Disney store footprint. Disney store at Target locations will be among the select places in the U.S. where guests can browse and purchase Disney store specialty merchandise from Disney, Pixar, Marvel and Star Wars.
Disney store at Target will launch just when the new assortment of merchandise from Disney's Frozen 2 and Star Wars: The Rise of Skywalker hits shelves. Additional locations will be added to more Target stores over the next year to expand the Disney store retail footprint and meet Disney fans when and where they want to shop.
Disney store at Target locations will be a Target-operated, branded "shop-in-shop" layout with an average of 750 square feet, strategically located inside Target stores adjacent to kids clothing and toys, replicated online at Target.com/Disneystore and in the Target app, available for download on iOS and Android. The "shop-in-shop" will feature an enhanced Disney assortment of more than 450 items, including more than 100 products that were previously only available at Disney retail locations.
Guests will be able to browse and shop a variety of Disney Princess, Star Wars, Marvel, Disney Junior characters, classic Disney plush, apparel, home, and holiday-specific products. They'll also be able to access collectible merchandise, including the Disney Animators' Collection with dolls, clothing, and accessories. Items will range in price from $2 – $200, with many items under $20.
Disney store at Target will offer a welcoming and engaging shopping experience for the entire family, with music, interactive displays, photo opportunities and a seating area where families can relax and watch Disney movie clips and Park events.
Disney store at Target will launch online on Oct. 4 at Target.com/Disneystore and in the Target app. The new online experience serves as a hub for the Disney stories and characters guests love, all in one place. The collection of merchandise will include an expanded assortment of new items in October, coinciding with the in-store launch.
Disney store at Target will open in October in the following 25 Target stores:
Allen North #2516 (Allen, Texas)

Austin NW #1797 (Austin, Texas)

Bozeman #1237 (Bozeman, Mont.)

Brighton #922 (Brighton, Mich.)

Chicago Brickyard #1924 (Chicago, Ill.)

Clearwater #1820 (Clearwater, Fla.)

Denver Stapleton #2052 (Denver, Colo.)

Edmond #1398 (Edmond, Okla.)

Euless #1368 (Euless, Texas)

Houston North Central #1458 (Spring, Texas)

Jacksonville Mandarin #1300 (Jacksonville, Fla.)

Keizer #2110 (Keizer, Ore.)

Lake Stevens #1331 (Lake Stevens, Wash.)

Leesburg #1874 (Leesburg, Va.)

Loveland #1178 (Loveland, Colo.)

Maple Grove North #2193 (Maple Grove, Minn.)

Mobile West #1376 (Mobile, Ala.)

Murrieta #1283 (Murrieta, Calif.)

New Lenox #2028 (New Lenox, Ill.)

Pasadena #1396 (Pasadena, Texas)

Philadelphia West #2124 (Philadelphia, Pa.)

San Jose College Park #2088 (San Jose, Calif.)

South Jordan #2123 (South Jordan, Utah)

Stroudsburg #1260 (Stroudsburg, Pa.)


Waterford Park #2068 (Clarksville, Ind.)